CPS News: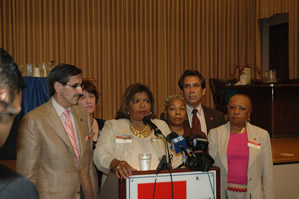 There was no lack of militancy at Chicago's Plumbers Union Hall on August 8. Beginning at 3:00 that afternoon, the Chicago Teachers Union held an "informational" meeting of its 800-member House of Delegates to report on the contract negotiations for the union's 32,000 members.Chaired by newly re-elected CTU President Marilyn Stewart, the meeting was half pep rally and half report on negotiations.
Find out more about this article, including video recordings of its aftermath, in our Web Updates section.
The Chicago Public School System has abandoned most of the high school students who live in Austin, the largest community within the City of Chicago.
Question: How do you know you don't have a budget crisis? Answer: When you keep adding redundant executive positions that cost over $100,000 a year. The May Substance blows the whistle on the hypocrisy.
NCLB provisions that punish schools for "inadequate improvements" do more harm than good, studies say.
A study conducted with the collaboration of a University of Illinois professor suggests that school closings do far more harm than good to the displaced students.
Military ROTC leaders had their hands full handling Englewood's finest, backed up by some Vietnam Veterans.
Despite receiving 5% more funding from last year, the Chicago Board of Education is pushing a Daley-backed budget that gives teachers just a 3% pay raise.
Security problems plague numerous Chicago high schools due to a resurgence in gang activity.
Senn High School has faced the brunt of the Daley administration's effort to militarize the public schools, but other schools are at risk as well.
The Olympics may bring civic pride, but the multi-million dollar bankroll Chicago gives visiting companies gets taken away from school funds.
Meeting Updates: