How much propaganda can ISBE continue on behalf of PARCC nonsense? Raise Your Hand challenges ISBE over PARCC claims, basically calling Meeks and Koch liars
George N. Schmidt - February 06, 2015
The Raise Your Hand coalition has issued a statement challenging the claims by the Illinois Board of Education (ISBE) over the PARCC claims. The "Raise Your Hand" coalition has emerged since its founding three years ago as one of the most important and well informed critics of the crazed policies, including massive testing, of corporate "education reform."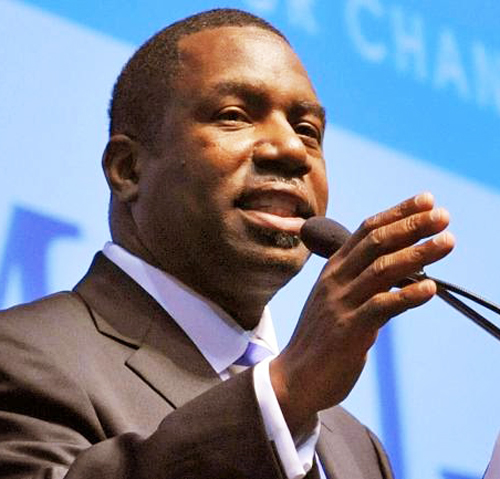 The appointment by Governor Bruce Rauner of the Rev. James Meeks to the post of President of the Illinois State Board of Education marked a new culmination in the reactionary career of the Mega Church pastor who compared the Chicago Teachers Union to Chicago's worst street gangs. Meeks's claims to be a force for improving public education for the children of Chicago and Illinois has regularly been challenged for the lies, some (like the street gang comparison) have been outrageous.Their statement follows:
Raise Your Hand Parents Charge Superintendent and ISBE with Misleading Public About PARCC
CHICAGO, February 5, 2015 -- Parent education advocacy group Raise Your Hand (RYH) sent a letter to State Superintendent Chris Koch and recently appointed IL State Board of Education Chair James Meeks charging them with misleading the public and threatening school districts unnecessarily with regards to administration of the PARCC exam.
"Instead of threatening districts across the state with loss of funding, ISBE should be doing everything in its power to make sure taxpayer dollars are going to the most vital areas in public education. Protecting the interests of children across Illinois not corporate interests of Pearson or regulatory interests of the federal government should be the fundamental duty of the state board," said Cassandre Cresswell of Raise Your Hand.
Raise Your Hand, which, along with CPS and several Illinois School districts has been strongly advocating for a one-year delay on the PARCC exam and has collected over 5,600 signatures on its petition in that effort. The Raise Your Hand letter points out several inconsistencies in recent statements from the ISBE:
1) ISBE never even requested further ESEA flexibility but they now claim the US Department of Education refused to grant this flexibility.
2) ISBE misinterpreted language from a USED letter and exaggerated claims that the state would lose $1.2 billion in federal funding. Withholding of federal education funds that would result in a net loss to and impact on classrooms and children would be unprecedented.
3) ISBE is allowing many districts to administer the test solely via paper-pencil due to technical issues on PARCC/Pearson's end but has not disclosed this to the public.
4) Neither ISBE nor PARCC has produced any validity studies for PARCC field-testing; as such, administration of PARCC may be in violation of Illinois School Code.
5) ISBE has already chosen not to comply with requirements in the NCLB waiver granted in April 2014 and is picking and choosing which parts they claim will lead to loss of funding.
RAISE YOUR HAND LETTER...
5 February 2015
Dr. Christopher Koch, State Superintendent of Education
James Meeks, Board Chair Illinois State Board of Education
100 N 1st ST Springfield, IL 62777
Dear Superintendent Koch and Chairman Meeks:
We have serious concerns about the threatening and misleading letter that you sent to Illinois school districts on January 30, 2015. You have not listened to the voices of administrators, teachers and parents across the state who have asked you to seek a one-year waiver for the PARCC. We have also learned that some districts are receiving approval for using all paper-pencil testing due to tech issues discovered during field testing. This information needs to be made public to taxpayers and stakeholders.
In addition: 1) The letter misleadingly threatens dire consequences if all students do not take the Partnership for Assessment of Readiness for College and Careers (PARCC) assessments. No state has ever lost Title I funds for deliberately breaching the assessment requirements of the federal Elementary and Secondary Education Act (ESEA) sec. 1111(b)(3)(C). At most, the U.S. Department of Education (ED) has prevented state agencies from keeping a small part of the Title I funds at the state level; there has never been a net loss of funds.
For example, California had permitted half of its 8th graders (219,000 students) to take a test aligned to 6-7th grade content standards for several years. As a consequence, ED required that California's department of education had to pass on 6% of its Title I administrative funds directly to the districts. Last year, California unilaterally administered the Smarter Balanced assessment as a field test, without any reporting at the student or school level and with 5% of the students taking an exam in either math or English, not both. ED granted them a waiver. This year, Massachusetts unilaterally allowed its districts to choose between the PARCC and the MA assessment for which they received the sanction of a letter of reprimand.
2) You threaten to create the very consequence you hope to avoid: the loss of Title I and other funds to school districts. We fail to see how a limited assessment of students with a test of dubious quality would imperil their education, compared to the denial of multiple funds. This is cutting off one's nose to spite one's face.
3) High schools giving the PARCC will not be testing all students in English and math in any single grade. Instead, students will take the assessment based on what courses they completed, which means that some students will not take any assessment. In addition, high school districts were given the choice of which (partial) cohort of students to test this year---either those completing first year, second year or third year coursework; and so there will be no uniformity across the state in which year will be tested this spring. There is no provision in the ESEA testing requirements or Illinois' flexibility waiver for either of these modifications. Your position appears to be that the federal law cannot be violated except when you want to violate it. Why do you get to pick and choose which part of the law you will comply with?
4) The PARCC has not been shown to be valid and reliable. As stated above, some districts are using pencil-paper versions due to technical glitches discovered during field testing. Other students are taking the electronic version on a variety of devices, with different screen-sizes and resolutions. Without validity studies completed, the validity of the test across different modes and platforms (especially for different student subgroups) is uncertain. As such, we question your commitment to "implementing valid and reliable performance measures for our schools" and the legality of using the PARCC in its current forms as an accountability assessment under IL School Code sec. 2-3.64a-5(i) and ESEA Sec. 1111(b)(3)(C)(iii), which require that all assessments be shown to be valid and reliable.
5) The State Board of Education (ISBE) could have pursued a one-year waiver to postpone the PARCC assessment but refused, despite petitions from the public, school districts and legislators asking you to do so. We do not understand why you wrote the U.S. Department of Education (ED) in November 2014 to ask what current law stated -- something we already knew -- rather than seeking reasonable, temporary changes to the Illinois test schedule like those that were granted in California last year.
6) It is unclear how ISBE will comply with the ESEA requirements for grade-span testing of students in science. No students will be assessed in science this year. This means that unless next year's 5th graders and 12th graders take science exams, which they have never previously done, Illinois will violate the federal requirement that such students be assessed in science between grades 3-5 and 10-12. Are we to believe that in only a year, Illinois will be able to commission, design, and field-test a valid and reliable science assessment for 5th and 12th graders?
7) ISBE has violated the terms of state testing law in the past. From 2011 to 2013, ISBE failed to assess students in grades 3, 5, 6, and 8 in writing despite state law requiring it to do so. ISBE argued then that the General Assembly did not appropriate enough money.
We call on you to retract the threats you've made to districts, produce validity studies for PARCC, and seek the one-year testing waiver that parents and districts have asked for.
Sincerely, Wendy Katten
Executive Director on behalf of Raise Your Hand
[About Raise Your Hand for Illinois Public Education: Raise Your Hand is a growing coalition of Chicago and Illinois public school parents, teachers and concerned citizens advocating for equitable and sustainable education funding, quality programs and instruction for all students and an increased parent voice in policy-making around education. www.ilraiseyourhand.org.]