'Just because you're rich doesn't mean you're smart...' (Gerald Bracey)... How Bill Gates received a totalitarians' welcome to the AFT national convention on July 10, 2010 and the complete text of the speech he delivered
George N. Schmidt - July 11, 2010
Despite the enormous efforts of national and local leaders of the American Federation of Teachers (AFT) to prevent any protest against the speech by billionaire Bill Gates at the union's national convention, a significant protest was held against Gates during the convention and the shock of Gates' message and the apparent acceptance of it by AFT President Randi Weingarten and many (not all) of the union's national leaders will continue to be debated long after the more than 3,000 convention delegates return to their homes and workplaces on July 12.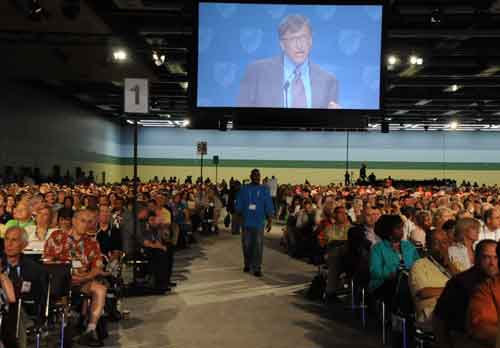 Blll Gates, billionaire Microsoft founder and head of the Bill and Melinda Gates Foundation, addressed the convention of the American Federation of Teachers on July 10, 2010, in Seattle. Above, Gates on the big screen as he read his carefully prepared speech to the delegates, most of whom gave him a polite welcome, some of whom walked out, and many of whom gave him a standing ovation at the speech's conclusion. Substance photo by George N. Schmidt.Before providing readers with the exact text of Gates's speech (which is below, and which was delivered almost verbatim), it's necessary to put some of the Gates controversy in the context of the convention. The Gates controversy was the largest of the convention, although there were many others, including a debate on the war in Afghanistan and several confrontations regarding teacher evaluation.
A video of the protests against the Gates speech has been posted by our colleagues from New York City at Ed Notes:
Apologies that the link doesn't work, but by cutting and pasting the following readers can see the video.
http://www.youtube.com/watch?v=x6Ezri0pVOg
My report here is from inside the convention hall, since others covering the stories from AFT for Substance are preparing an account of the protests, with photographs.
AFT President Randi Weingarten, who was reelected on July 10, told the convention that she had been going from delegation to delegation asking that delegates not be rude to Gates. Her forceful message, given the structure of the AFT, was not lost on most of the delegates. (Most of the local leaders of the AFT have to have regular relations with the AFT national office). Randi Weingarten began her introduction of Bill Gates by praising the charitable work of the Bill and Melinda Gates Foundation. "They have invested – and he has invested – considerable energy and resources into better evaluation. Our position is that this is so we can do our jobs better," she told the delegates. "I want to tell him a little about us. This august body is totally and completely committed to improving public education. We also have a role in improving health care policies in our contry as well. AFT has been very active in preventing AIDS in Africa..." she said.
She told Gates that the convention had just approved a major resolution "that establishes the AFT as a major player on the effort to overhaul teacher evaluations…" she said.
Finally, as she brought the billionaire forward to the microphone, she said: "We will lead and propose, not [just] oppose...I hope you will give Bill Gates a famous AFT welcome."
At that point, some delegates left from the back of the large room, but most of the more than 3,200 registered delegates to the convention remained, and a swarm of people rushed forward to take photographs of Gates as he took the podium. [A separate report in Substance will cover the walkout and protests from some of the delegates].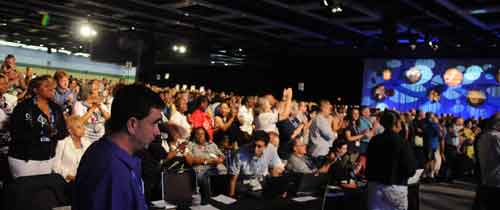 Although hundreds of delegates refused to stand following Bill Gates's speech to the July 2010 AFT convention, the majority of the delegates, led by Randi Weingarten's Progressive Caucus, rose to give a standing ovation to the Gates speech. The photograph above shows the standing ovation from the front of the auditorium. Substance photo by George N. Schmidt.Because of the control that has always been exercised over AFT conventions by the huge (750 delegates out of 3,000) New York City (United Federation of Teachers, Local 2 AFT) delegation, the reception accorded to Gates was pre-ordained from the time Weingarten and the AFT leadership had decided to place Gates on the agenda as a major speaker. Those who knew how the AFT worked at its national conventions were not surprised. An almost ritual support of Gates followed, culminating in a standing ovation for the speaker at the end of his speech.
As i sat in front of Bill Gates as he delivered the carefully prepared and scripted text below (he read it almost verbatin from the text below, which is now available on the AFT website), I was thinking back to one of the essays our friend and colleague Jerry Bracey wrote in response to Gates's use of phony data and teacher bashing numbers a few years ago. Jerry's essay was entitled "Just because you're rich doesn't mean you're smart." It took apart every "fact" Gates was citing to bolster his attacks on public schools, teachers, and teacher training.
Gerald W. Bracey died unexpectedly on October 20, 2009, so we don't have Jerry any longer to take on Gates today. However, a quick Google search shows that Jerry's books and articles are still widely available, and a Search within the Substance websites (both here at www.substancenews.net and at our "old" site, www.substancenews.com) will yield dozens of Bracey articles that people can review, many of them directly critical of Gate's misuse of so-called "facts."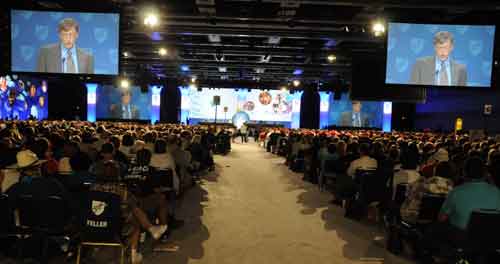 The Big Brother part of the AFT convention was no better illustrated than from the back of the convention hall on July 10, 2010, as delegates listened to the speech of billionaire Bill Gates. Although between 50 and 100 delegates and visitors walked out of the event in protest against Gates, the majority remained. Not all of the 3,000 delegates to the AFT convention sat enthralled with Bill Gates and gave a standing ovation to his July 10, 2010 speech to the AFT — just the vast majority of them. Above, the view from the rear of the auditorium at the Seattle Convention and Trade Center during Gates's speech. It shows that the majority of the delegates to the convention did not walk out in response to Gates's restatement of his regular attacks on teachers using distorted data and false versions of history. Substance photo by George N. Schmidt.I would like to think Jerry would have been with us at the press table while Gates read the words below to the AFT convention, since he was living in Port Townsend, Washington, not too far from here, at the time of his untimely death. But one way or the other, we owe it not only to Jerry's memory but to everything we've stood for to read carefully and critique completely every "fact" Gates offered.
Ironically, the most powerful national voice currently debunking the lies, half-truths, and false "facts" that dotted the speech Gates delivered to the teachers today is Diane Ravitch, who for two decades supported the positions taken by Gates and was opposed by Jerry Bracey. But Diane Ravitch was not at the AFT convention (she had been at the NEA convention the week before). In her best-selling book "The Death and Life of the Great American School System", Ravitch takes to task most of the myths promoted in Seattle by Gates, and wraps up her critique of corporate "school reform" with a delightful chapter ("The Billionaire Boys Club") about how Bill Gates, Eli Broad, and the Walton family (Wal-Mart) are using not-for-profit grants to set the national agenda for the debate on public education.
But Ravitch was not in Seattle, and Gates was not allowing any debate. The AFT national press office, which had arranged a press briefing with Randi Weingarten on the first day of the convention following her keynote speech, censored any press contact with Gates following his speech. Only a blogger for Education Week was allowed to interview Gates himself. The manipulation of the message was not limited to the massive security that was deployed to prevent the protests that were taking place against Gates.
There were probably few places in the USA where you could find more people that day who knew, chapter and verse, every lie that Gates told in his speech. From college and university professors who had written extensively against the use of so-called standardized testing to classroom teachers who know the limitations of the claim (made by Gates repeatedly) that every classroom should have a "great" teacher (sort of like claiming that every spot in a baseball team's batting order should have a "great" slugging hitter), the room was filled with people who could have debated Gates and who should have been allowed to ask him questions. Yet for all the talk about 'democracy' at the AFT convention, the Gates event was strictly controlled.
We hope our readers will comment on the following, which is what Blll Gates said to the AFT's 3,000 delegates in Seattle, Washington on July 10, 2010.
BILL GATES'S SPEECH DELIVERED JULY 10, 2010 TO THE AFT NATIONAL CONVENTION
Speech To AFT Convention By Bill Gates, http://www.aft. org/pdfs/press/sp_gates071010.pdf
EMBARGOED UNTIL 4:00PM PDT/7:00PM EDT, JULY 10, 2010 Bill Gates American Federation of Teachers July 10, 2010
Thank you, Randi, for inviting me here to speak. I want to also thank you and the AFT members for supporting historic reforms in public education. You all have surprised a lot of people lately by launching reforms with a long list of unexpected partners. Melinda and I are proud to have our names on that list. We have made public schools our top priority in the United States, because we believe — as you do — that nothing is more important for America's youth, and nothing means more for the future of the country.
As everyone here knows, Randi opened this year by unveiling a model for teacher development and evaluation that surprised some critics with its commitment to reform. Since then, we have seen a year of exciting change.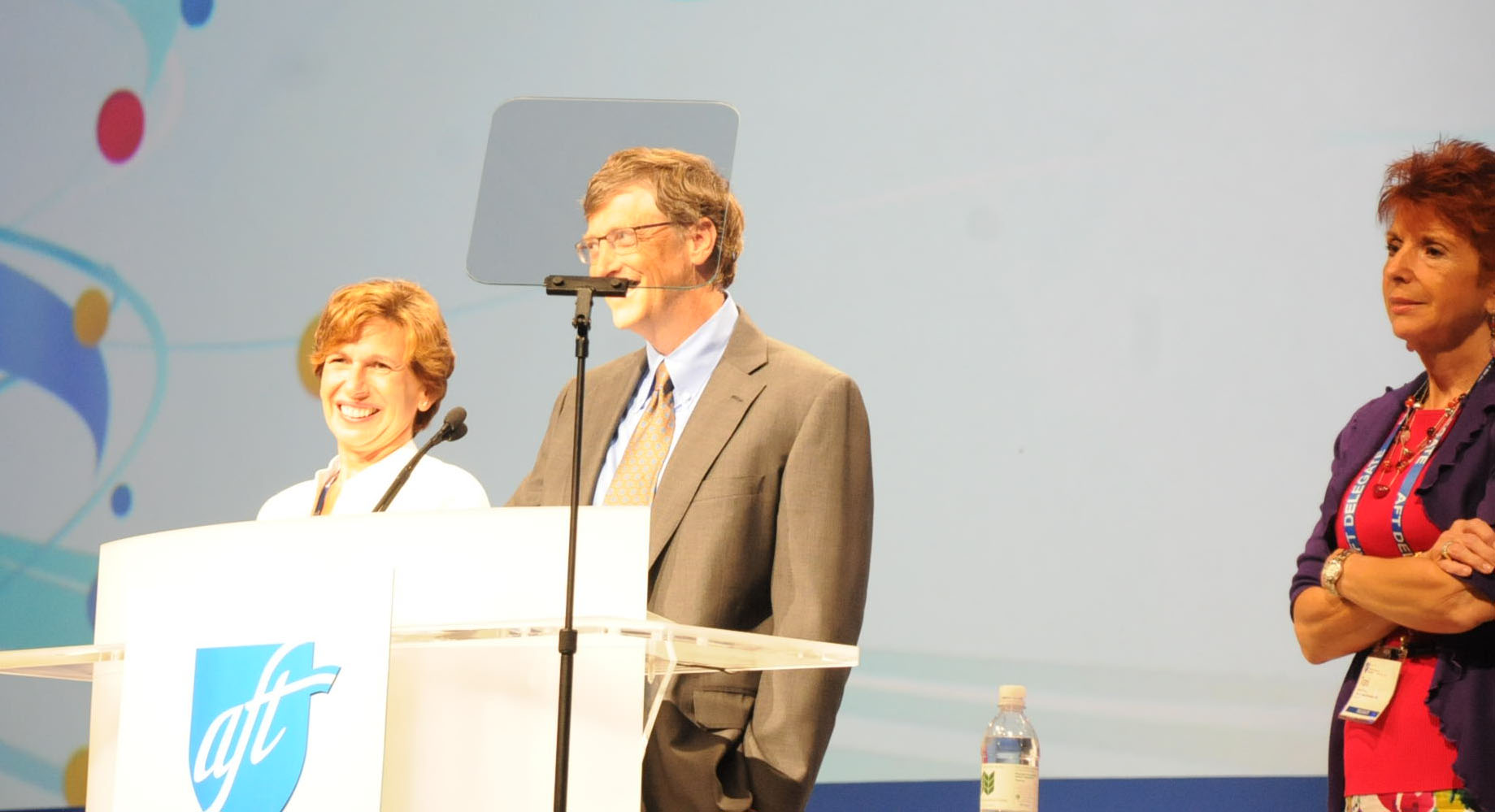 American Federation of Teachers President Randi Weingarten (left), Bill Gates, and AFT Secretary Treasurer Antonia Cortese (right) at the time Randi Waingarten introduced Bill Gates to the 3,000 delegates at the AFT's Seattle convention on July 10, 2010. Substance photo by George N. Schmidt.In school districts and legislatures across the country, you in the AFT have been using your voice to get teachers the feedback and training they need to make a difference for students. Critics who've long complained that teachers unions don't care about student outcomes have been forced to reconsider. In Washington, D.C., New York, New Haven, Tampa, Pittsburgh, Colorado — you have taken historic steps to bury old arguments and improve student achievement. I believe these reforms can make a huge difference for students — as long as you keep pushing — and bring all America's teachers along with you.[pause]
It would be easy for someone to mock new enthusiasm for school reform. The United States has been struggling for decades to improve our public schools. We have tried reform after reform. We've poured in new investments. Since 1973, we have doubled per-pupil spending. We've moved from one adult for every 14 students to one adult for every eight students. Despite these efforts, our high school scores in math and reading are flat. Our graduation rates have plunged from 2nd in the world to 16th. And our 15-year-olds now rank behind 22 countries in science and behind 31 countries in math. There is no denying it — these are dismal results in student achievement.
Yet, I believe the conditions are ripe for dramatic improvements in our schools. There are a growing number of public schools — including charter schools — that smash old prejudices about what low-income and minority students can achieve. They give us models to study, understand, and spread. There is a new understanding that school reform must include teacher partnership. If reforms aren't shaped by teachers' knowledge and experience, they're not going to succeed. Most important, I believe the field of school reform is finally focused on the right strategic lever. There is an expanding body of evidence that says the single most decisive factor in student achievement is excellent teaching. You've known this for a long time. We're all learning it now. The research shows that when each of the variables under a school's control is correlated with student achievement, the teacher is the one that makes the biggest difference — and that difference can be dramatic. This point shouldn't be misconstrued. The pivotal impact of the teacher does not mean that parents, principals, and administrators have fewer obligations. It means they have greater obligations — to support better teaching. We have to make sure that teachers get the evaluations, training, standards, curriculum, assessments, and the student data they need to improve their practice. And teachers deserve our support and respect as they do this. [pause].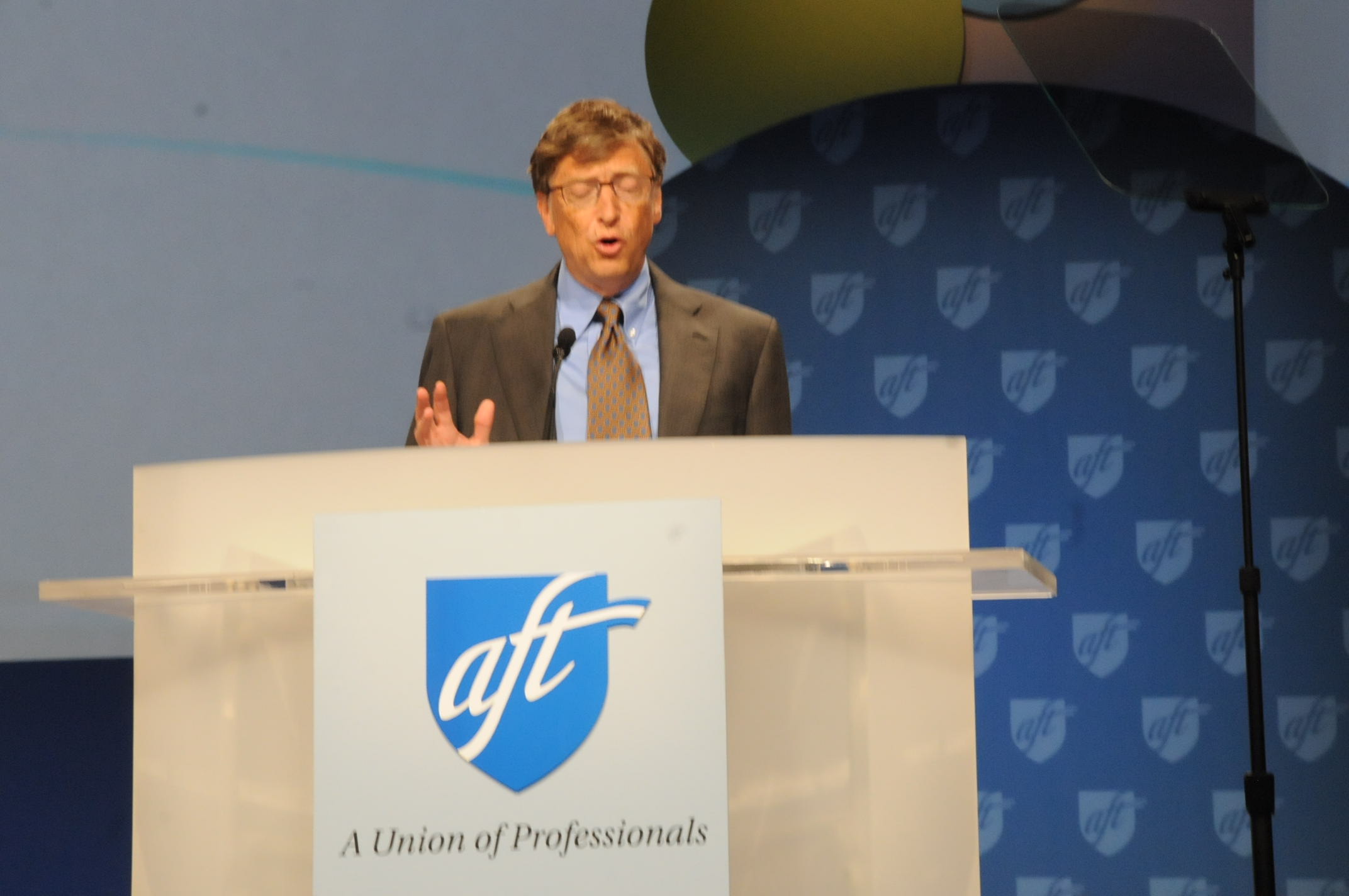 Gates at the AFT podium during his speech. Substance photo by George N. Schmidt.Great teaching is the centerpiece of a strong education; everything else revolves around it. This is the main finding of our foundation's work in education over the past ten years.
I have to admit — that is not where we started. Our work in schools began with a focus on making high schools smaller, in the hope of improving relationships to drive down dropout rates and increase student achievement. Many of the schools we worked with made strong gains, but others were disappointing. The schools that made the biggest gains in achievement did more than make structural changes; they also improved teaching.
If great teaching is the most powerful point of leverage — how are we going to help more teachers become great? That question is the focus of our foundation's projects in public schools and our work with the AFT. I'm excited about what you are doing right now to back new agreements, write new contracts, and support new laws to reward and expand great teaching. The truly impressive reforms share the same strategic core — they all include fair and reliable measures of teacher effectiveness that are tied to gains in student achievement.
Public schools have never had this before. It's a huge change — the kind of change that could match the scale of the problem. Of course, this is controversial. Some teachers are concerned it could be capricious. Some believe it would come with high overhead. So those of you who are backing these new measures are taking a big risk. Why would you do it?
In 2008 and 2009, our foundation partnered with Scholastic on a national survey to learn the views of 40,000 teachers on crucial questions facing your profession. Teachers said in huge numbers that they don't get enough feedback. They're not told how they can improve. They're not given training that can address their weaknesses or help them share their strengths with others. This has helped spark the movement for change.
Teachers want to help set the expectations that they will be held accountable for. You want to be rewarded for results. You want better evaluations. You're tired of subjective, infrequent evaluations by administrators who don't know how to improve instruction — the people who come into your class and write ―"Yes" or ―"No" for things like: ―"arrives on time" and ― "maintains professional appearance."
But even fair and insightful teacher evaluations are not enough to improve student gains; they have to be tied to great professional development that is customized for each teacher. After all, the goal of evaluation is not to sort teachers into groups; it's to help every teacher get better. This is the heart of the challenge — how do you set up a system that helps every teacher get better? Teaching is difficult. It's hugely complex. You have to be able to make a subject clear — and also make it interesting. You have to calm the disruptive kids, challenge the advanced kids, humor the bored kids, and reach the kids who learn at a different pace. And you've got to do it with 30 students in the classroom – some of whom might be tough kids who want to see you fail. A lot of people – and I'm sure this must drive you crazy – but a lot of people who've never been in front of a classroom think they could just walk in one day and teach a course. That's nonsense.
I've had one brief, informal experience in teaching that was rather humbling. I tried to teach science to two kids at the same time. I couldn't do it. So I taught them one at a time. I guess that's the ultimate in class size reduction. I could make that change because they were my own children, and I was trying to supplement their regular courses. I enjoyed it. My students did their homework. They didn't disrupt class. Parent-teacher contact was high. In other words, conditions were pretty optimal -- and still it was hard.
If you told me I had to teach 30 students, I don't know how I'd do it. I have watched great teachers keep thirty students riveted for an hour. That takes dazzling skill. But what amazes me about most great teachers, is that in most cases nobody taught them how to be great. They figured it out on their own. That takes a spark of genius. But there's a problem with that method. If we leave teachers to learn it on their own, we will never make the most of their talent.
If we don't develop the talent of our teachers, we're going to waste the talent of our students. We can't afford that. We need to make sure that every teacher can learn from the best – and keep learning every year for their entire career. That's what drives a profession forward. When I was working in software, many times I would look at the computer code someone wrote and I'd say: "Oh, wow, this guy is good. That's better than what I would have written. What process did he go through? How did he model it?"
Whenever I found someone great, I would study how they worked. I looked at every factor that made that person successful. This happens in a lot of fields. Some of you may have read a book by Steven Jay Gould about baseball. Gould explains that in the 1920s and '30s, there was a big gap between the highest and lowest batting averages. But over time, people learned from each other, the gap narrowed – and the average hitter today is much closer to the best hitter.
That's an important mark of a profession: the difference between the average and the great becomes smaller – because everyone is eager to get better, and they're doing everything they can to learn from the best. That trend improves the entire profession. But it requires a process: you have to identify the skills of the best and transfer them to everyone else. That hasn't been happening enough in teaching. And that give us a big opportunity.
If we analyze the teachers whose students are making big gains, if we identify what they do, and if we find out how to transfer those skills to others – then every teacher can move closer to the top. It will elevate the whole profession. Teachers will experience the same thrill of getting better that they make possible for their students.
This is the work our foundation is trying to foster in Pittsburgh, Hillsborough County, and other communities that have agreed to be part of two projects we're funding: the Measures of Effective Teaching project, and our Intensive Partnerships for Effective Teaching. Measure of Effective Teaching and Intensive Partnerships The first of these projects addresses a big gap in our knowledge: There has been a lot of research done about the impact of effective teaching, but little research has been done on what makes teaching effective.
That's the research we're doing now with nearly 3,000 teachers in six school districts who have volunteered to open their classrooms to visitors, to video cameras, to new assessments, to watching themselves teach and talking about their practice. Many of these teachers are members of the AFT. I want to thank those of you who are here today for being part of this project. The chief goal is to work with teachers — using technology, data and research — to develop a system of evaluation that teachers believe is fair and will help them improve. Project teams record student gains on two assessments – one a state multiple choice test, the other a more open-ended, problem-solving test to make sure the test scores reflect real knowledge and not just test-taking skill. They assess the learning atmosphere in the classroom – asking students if they agree with statements such as: ― "If you don't understand something, my teacher explains it another way."
The teams will watch more than 13,000 videos of classes this year and 13,000 more again next year. They'll put special focus on classes that showed big student gains and try to map it backwards to identify the most effective teaching practices. They'll also look for what doesn't work. If a struggling new teacher comes to a veteran colleague and asks: ―What am I doing wrong?‖ he should get an evidence-based answer. The project is also launching ideas for how to use video technology to help identify and transfer best practices. Some years ago, if you wanted to watch a great teacher, you had to find one who was teaching in your building during the hour you had free. But today, every teacher should be able to watch great teachers — to see how a master in classroom management handles a disruptive student, or how a great geometry teacher makes a proof interesting. Even just watching your own class can offer huge insight. One teacher in Hillsborough County said: "It's amazing how much you can learn when you just sit and watch yourself teach."
Technology can also offer students on-line self-assessments that help them quickly see what they understand and what they don't. The clarity can be very motivating for students. If the assessments are free, easy to find, and connected to the curriculum, they can be an awesome tool for teachers and students. When research scientists discover something new and useful, they publish it so everyone in the field can study it and build on it. Technology can help us do the same with the art and science of teaching. The sites in our second project – the Intensive Partnerships– will draw on the teacher-designed evaluations in our first project to make teacher effectiveness the center of the whole system.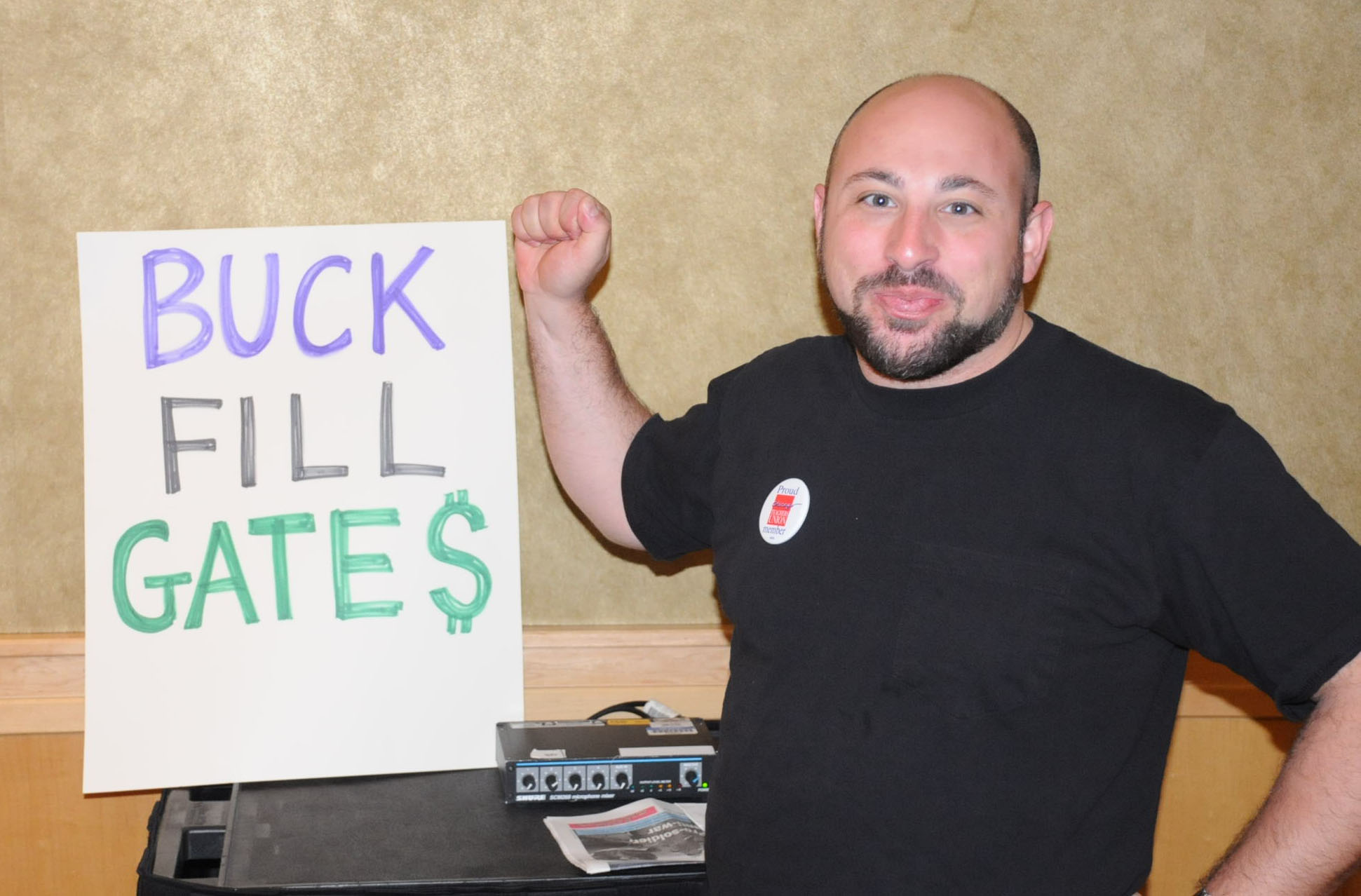 Chicago Teachers Union delegate Nate Goldbaum (Whittier Elementary School) stands with one of the signs union members created for the Gates protest. Many asked why the AFT didn't educate its members about the rich history of workers' rights and union struggles in the Seattle area (and the Pacific Northwest), instead choosing to feature on its program a man who refuses to allow workers in Microsoft or the Bill and Melinda Gates Foundation to unionize. Substance photo by George N. Schmidt.Measures of excellent teaching will guide the way they recruit, evaluate, develop, assign, compensate and promote teachers. Two of the four Intensive Partnership sites — in Pittsburgh and Hillsborough County — are represented by AFT, and it was the enthusiasm of John Tarka and Jean Clements and their supporters that made these sites so attractive to us. I want to thank them for their work.
Hillsborough made its new evaluation and development system public this May. It offers teachers a chance to have side-by-side coaching with master teachers. In Pittsburgh, they're creating incentives for highly effective teachers to go into low-performing schools. In certain schools, if students have better-than-expected gains in learning, their teachers earn additional pay. In another program, teachers will work as a team with a group of incoming ninth graders and stay with those kids for two years. If at the end of 10th grade the kids are on track for college, the whole team will get a bonus.
Great teachers shouldn't have to leave the classroom to advance their careers. One veteran teacher — a member of the union's executive board in Pittsburgh — was speaking to a large group of teachers before the vote last month to ratify the new contract. She said that she had been telling her college-age daughter: "I'm not sure I want you to be a teacher." But after she saw the career opportunities included in the contract, she told the audience: "I would be proud to have my daughter become a teacher - right here in Pittsburgh."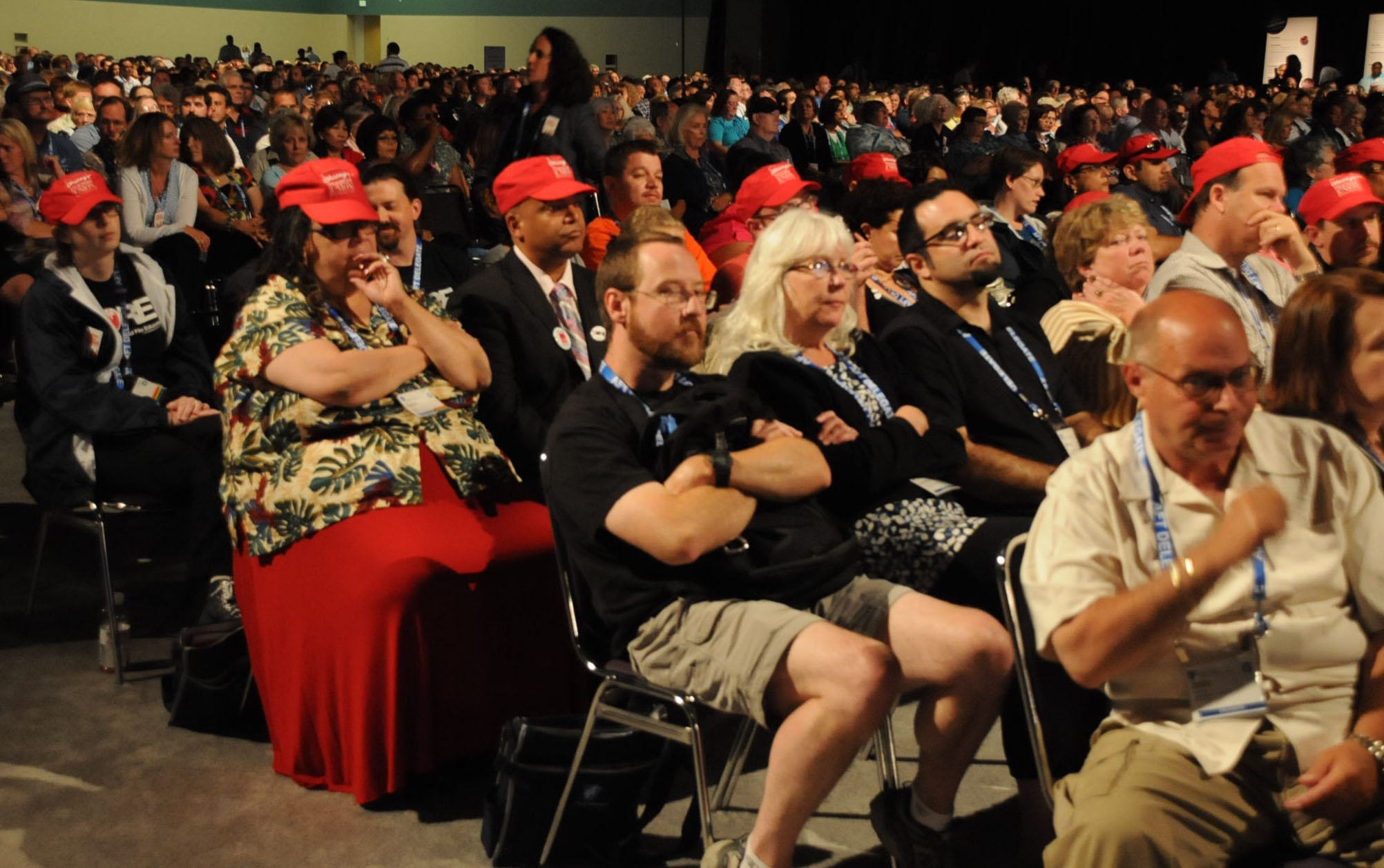 Many of the members of the Chicago Teachers Union delegation, including President Karen Lewis and Financial Secretary Michael Brunson (above) remained in the hall during the walkout protesting Gates's speech. They then sat silently listening to Gates while delegates from some other union locals, especially New York City, gave Gates a standing ovation even after he promoted charter schools, merit pay, and an end to tenure in his speech (see speech). Substance photo by George N. Schmidt. These are the kinds of changes that can renew the profession of teaching. Your commitment to this bold work is already having an impact. By partnering with school districts in key states, you bolstered the states' applications for the federal Race to the Top program. This collaboration will bring crucial new funding for schools that teach some of the nation's most underserved students. The Challenge
The work underway today is impressive. But this is only the beginning. The aim is not just to create a few more strong schools — it's to make every school strong. It might seem like an unrealistic hope, but it's not. You are part of a large national network of professionals who meet, talk, and share what you know. If, over the next two to four years, you teachers who are involved find that you're getting better outcomes, you should spread the word that this method works, it helps the students, and taking the risk is worth it. If you do this, you will help good teachers become great teachers. But there is another way you can make a big difference.
Many teachers say they know someone who—even after getting the support needed to improve—simply doesn't deserve to get tenure. You owe it to your profession and your students to make sure that tenure reflects more than the number of years spent in the classroom.
It should reflect the quality of the work you do in the classroom — and that means student achievement should be a factor in decisions about tenure. [brief pause] In the past, the AFT has served the vital purpose of protecting teachers from low wages, poor working conditions, political interference, and the arbitrary judgments of administrators. It gave voice and visibility to people who have very little power in the system.
This work is important. But if you're fighting only for wages, hours and working conditions, then it's just teachers fighting for teachers.
If you're also fighting for evaluations tied to student gains and training that makes an impact in the classroom, then it's teachers fighting for students. This is not a new idea — not for the AFT.
Twenty-five years ago, Al Shanker gave a talk at the New York State United Teachers Convention, at Niagara Falls. He told a story of the time when collective bargaining for teachers was just beginning. He would go to lunch meetings and after-school meetings and make lists of all the things that teachers wanted. Some of the items were salary increases and related issues, but many of them were things that the teachers wanted that would help kids learn. And he was amazed by what happened next.
He thought that the Boards of Education would resist salary increases, but would be open to teachers' ideas about ways to benefit both teachers and students. But it was just the opposite. The Boards said – we'll talk to you about anything to do with salaries or working conditions; but we won't talk to you about anything that's good for children, because you're not elected to represent the children. You're not their collective bargaining agents. So Al Shanker told members of this union 25 years ago that teachers should fight to get a voice in matters that affect students.
Decisions about what works and what doesn't work should include the people who do the work. Today, in states and districts across the country, you are helping shape new systems that create more accountability for teachers – but you're also insisting on better teacher development, more ways to grow, and a partner's role in designing the system. You're gaining the voice Al Shanker was arguing for 25 years ago. Don't give it back. Take the risk — and keep speaking up.
Conclusion
No one can choose a world without change. We choose only whether we drive change or react to it. You in the AFT said it well. You said: "We do not want others to drive the decisions that affect the future of our profession."
So now, you are driving the decisions to improve teaching. You are driving the changes that will accelerate student gains. No other union is doing what you are to make this happen. But there is more risk and hard work ahead. Not every teacher is eager for change. Not every local wants reform. If you want teachers unions to lead a revolution in American education, please remember: sometimes the most difficult act of leadership is not fighting the enemy; it's telling your friends it's time to change. [brief pause]
We already have the key ingredient. There are many great teachers in America. Now we need to understand what makes them great, and help all teachers learn from them. This is worth our best combined efforts — because of all the factors that affect our future, schools are the most important. And of all the work that goes on in our schools, teaching matters most. Thank you.
