The Huberman disinformation campaign revisited... Even as Huberman was halfway out the door, Board refused to provide list of all the schools and each of the areas despite a $58 million increase in area office budgets this year... Try and find it at Board's website(s)
George N. Schmidt - November 22, 2010
A few good questions as the semester drones on. Who are this year's CAOs. Where are this year's CAOs? What schools are in each area under each CAO? That should be public "transparent" information, especially in a system that prides itself on "accountability" and "data driven management" and "performance management." But..
On Wednesday, November 19, 2010, Chicago Public Schools "Chief Executive Officer" Ron Huberman delivered his final report to the Chicago Board of Education. In the report, among other things, he said that management needed robust accountability tools to monitor what he called "performance" at the school, classroom and student levels. Those tools were needed so that what he called "accountability" is able to take hold — and be what he calls meaningful. As those who've followed Huberman's career (see, for example, "Numbers Man" in the August 2009 edition of Chicago magazine), Huberman is supposedly the technocrat who knows his numbers and handles "data" very very very very well.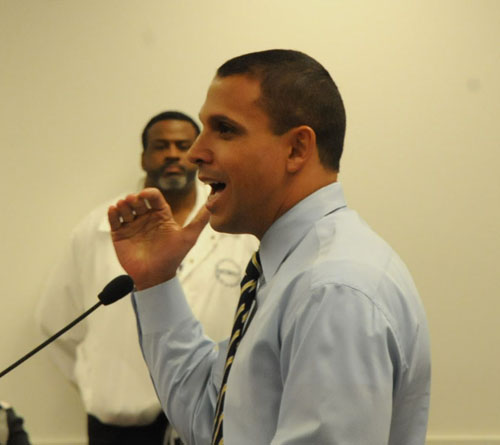 Despite the fact that he had been in office less than two years and knew as little about public school teaching and learning as he was leaving as he did when he came into office in January 2009, outgoing Chicago schools Chief Executive Officer Ron Huberman (above) delivered an arrogant final report to the Board, attacking teachers and unions, promoting charter school lies, and covering up the major mistakes of his own administration. Substance photo by George N. Schmidt.Actually, not. With Huberman, more than with any other chief Chicago's public schools have ever had, what he says and claims to be are in fact the opposite of what he is and can do. The Huberman mystique was almost completely the creation of the clout of Mayor Richard M. Daley and a supine corporate media, which over time simply recycled uncritically Huberman's own press clippings and publicity version of himself.
Consider Hubeman's public claims that he was making everything at CPS more "transparent." Nobody in the media except Substance ever tried to hold Huberman himself accountable for that. And as his time went on, Huberman worked overtime to keep as much information as possible from the public. Administrators were warned repeatedly not to talk to the media or release information that should have been public, and eventually everything was channeled through Huberman's propaganda chief, former Police Public Affairs chieftan Monique Bond.
Monique Bond rarely answered e-mails, never answered her phone, routinely promised to provide information and then later refused to do so, and scheduled secret press "briefings" for select reporters with Huberman, excluding virtually everyone else who covered the Board (especially Substance).
His final meeting with the Board of Education was just one example. Nothing of Substance was discussed at the public meeting. His rant about how Chicago needed more "accountability" and more charter schools was just part of that show. The Board recessed into executive session, as usual, and then emerged a couple of hours later to rush through (ion a record ten minutes) the entire agenda, spending millions of dollars in the process. Oh, at the time the Board also approved the appointment of a new "Chicago Area Officer" recommended by Huberman. No discussion of the appointee was held during either end of the public Board meeting (either during the first part, which includes public participation; or during the brief ten-minute time after executive session when the Board voted to approve all but one of the items on the agenda).
In fact, anyone who tries to find out even the simplest information from the current public website of the Chicago Board of Education can see just how poorly Ron Huberman has performed as a public service. Take the area offices and schools under their domains. This year, Huberman claimed that CPS would have a "billion dollar" deficit if the Illinois General Assembly didn't allow him to raid the teachers' pension fund, and the Chicago Teachers Union didn't allow him to cut $100 million from teacher raises or jobs. At the same time, buried in the 2,000 pages of budget documents, Huberman had an extra $58 million he gave to the so-called "Chief Area Officers".
But trying to find out who those are, and where they are, and what schools they oversee, is more difficult than trying to find the Wiz down the Yellow Brick Road, thanks to Huberman's destruction of the integrity of the CPS data systems, especially the CPS public website.
On November 22, 2010, I spent more than two hours trying to get the answers to two simple questions: Where are the areas and who are the CAOs today? What schools are in each area? And where does the public find that information on the Board of Education's websites now that we've completed nearly two years of "accountability" courtesy of Ron Huberman and so-called "Performance Management."
CPS couldn't give me the answer to either of those questions. Thanks to Mr. Numbers, the data are confused, obfuscated, and covered up — while the data guy pretentiously lectures the Board and public about "accountability..." Below is an e-mail I sent to the last guy I was sent to trying to get an answer to this $100 million question (who provided an answer, but the information still was nowhere to be found on the Web).
November 22, 2010
Happy Thanksgiving _____,
I just finished a 35 minutes odyssey [actually, I checked my notes and it was 75 minutes] trying to get an answer to the simplest of questions:
What schools are in each of the current areas and where can I find that information -- current -- on the CPS website?
Simple enough, that, should be in this era of transparency and performance management and data driven management and all that good stuff...
However.
As you know, this information is not available at cps.edu. (Nor is a current up to date list of the areas; check that out for an archeological wonder; it's from before BEW took her $154,000 annual pension and left for Benton Harbor or wherever). So I began my odyssey at cps.edu. No luck.
Then I called the "Office of the Chief Executive Officer" (773-553-1500) where a very nice lady told me that the information was in Flavia's office (773-553-2150).
I spent five minutes on hold with Flavia's answerer, only to be cut off. When I called back, a nice lady named "Rosa" kept me on hold for another five minutes, but at least didn't dump me. Her final unequivocal answer was: "We're sorry, Mr. Schmidt. This office does not handle that information anymore. You really have to go to the office of the Chief Executive Officer..."
ME: "That's where I began."
SHE: "I'm so sorry. Would you like me to transfer you back there?"
ME: Sure. CEO's FEMALE VOICE (no identification): "Wow! Really. Hold on..."
ANOTHER FIVE MINUTES PASSES, AND THEN...
"Mr. Schmidt, we do not handle that... I don't know why they told you that... Maybe you should try the Office of Demographics and Planning..."
ME: "But I'm only trying to find it on cps.edu..."
SHE: "Their number is 553-3270... Would you like me to connect you?"
ME: Sure.
After going through the cps.edu mess with Sarai (very nice lady; very polite; very efficient)... I was told I had to leave her my number and e-mail you for the information. In the course of our conversation I noted to her that Ron Huberman increased the area office budgets for this year by $58 million over last year, and so it would be nice for the public to be able to find a list of (a) the actual area offices (and officers) as of today (as opposed to as of March 2010, which is the "current" list) and (b) a list of all the schools in each of the areas (again, digitally, of course, and on the Web, naturally).
Hence this message to you.
God bless and God speed and all that holiday stuff.
George N. Schmidt