Trump administration's 'illegal immigrant' guidelines will make enforcement of anti-gang rules even more difficult for Chicago Public Schools... Chicago's drug gangs will find it even easier to operate under the Trump administration's attacks on immigrant communities...
George N. Schmidt - February 22, 2017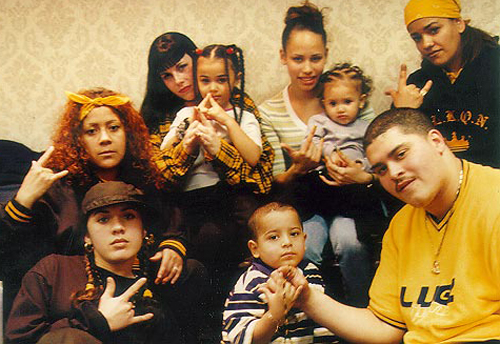 The reasons why I chose this photograph out of dozens you can find by Googling "Latin Kings" is that it shows that families are part of the culture. At early as 25 years ago, I was invited to a birthday party in Chicago for the third birthday of a child of a young woman who had been an officer of the Amundsen High School National Honor Society. I told my companion for that even to wear neutral colors and be ready for a surprise. On the wall of the living room was the Latin King crown, and the baby being honored already had a crown tattooed on her. That was when Chicago's drug gangs were in their third generation. Now they are in their fourth or fifth. Above, the LKQN means "Latin Kings and Queens Nation." Note that the babies are already being taught to do the crown handshakes and other symbols. By proclaiming that immigrants who get in minor trouble are to be classified as "illegals" along with drug gangsters, the Trump administration has guaranteed that the large and well organized drug gangs of Chicago and elsewhere will continue to proliferate and profit from the latest "law and order" administration. Here is a prediction from an expert on gang crimes in Chicago schools who has been blacklisted by Chicago's corporate media for years and years (me): For more than 25 years, I have been one of the Chicago Teachers Union's best informed anti-gang activists. During my years as union delegates at Amundsen and Bowen High Schools, and later during my three years as the CTU's "Director of Gang Security and Safety," I tried to get both the CTU and CPS to promulgate and implement serious anti-gang provisions. As everyone who has had to work in those schools where Chicago's major street gangs are most active (by my estimate at one point, about 100 of the city's more than 600 public schools), gang members active in the schools are a bigger problem than simple misconduct. And as a result, CPS officials at the local school level need different stages of sanctions against active duty gangsters in the schools, ways to distinguish the gang members plying their trades on behalf of their gangs (usually, violence and drug sales) and other students who were simply acting out misconduct. Even in the best of times, this wasn't easy.
But now things have gotten much more difficult.
As a result of the most recent edicts by the Trump administration, virtually all immigrant families who have members get into trouble will be lumped in with the most violent criminal drug gangsters -- and subject to federal raids and possible deportation. While the unfolding of these problems is beginning now, it's easy for those of us who have known these Chicago realities for decades to predict what will happen, both in the communities and in the schools: The federal attacks on all immigrants will help provide camouflage behind which the worst of the gangsters can lurk.
When I was "gang security coordinator" at Bowen High School (1995 - 1999), it was clear that the gangs rehearsed their members is a certain repertoire of excuses. When caught in gang activity (including the most violent), they would immediately proclaim "You're picking on me because I am ________" (fill in the blank -- Mexican, Puerto Rican, Latino, Black...). If the school didn't have a clear policy, that sometimes worked. But we had to make clear that "If you do the crime, you will do the time..." and that we were dealing with the behavior -- not with the gender or race or ethnic background of the criminal.
During the years I worked against gang crime in the city's public schools, it became clear that all of the gangs had international ties (otherwise, where would they get the drugs that could not be produced in Chicago?), but that the "Latino" gangs had the clearest cross-border connections. At one point, we joked at Bowen High School that members of two of the largest Mexican gangs would rotate their cadre back and forth to Mexico. I said a few times that they were sent to Mexico for "AIT" (in the Army that's "Advanced Infantry Training"). "Kids" would disappear for a few months and then return able to more skillfully employe weapons like the AK-47s (which even fifteen years ago were becoming common on the streets of South Chicago).
Little has changed, and the excuses remain the same as well.
But with the public announcement by the Trump White House that virtually all infractions (from traffic tickets to weapons and drug crimes) will be treated as "criminal" in the deportation juggernaut now beginning, the confusions will only increase. Please begin to provide Substance (to Csubstance@aol.com) with you input on these escalations and their predictable consequences.
TRUMP ADMINISTRATION OFFICIALS DEBUNK TRUMP'S CLAIMS, CALL SITUATION ON IMMIGRATION 'CHAOS'... (Chicago Tribune story, February 24, 2017 below)...
ANALYSIS
Immigration message borders on chaos
Trump team's messy effort instills fear, advocate says
By Michael A. Memoli, Washington Bureau
WASHINGTON — When President Donald Trump boasts of progress he's made on his biggest campaign promise, to build a wall and stem the flow of illegal immigration across the southern border, he speaks in terms of unadulterated success.
But few others in the administration go so far. And with White House spokesmen, Cabinet secretaries and immigration officials more willing than the president to acknowledge the far more complicated state of immigration in the U.S., only a muddled picture has emerged on where the Trump administration is headed.
Thursday offered a clear example of the problems that arise when Trump and his top aides send different messages.
Discussing recent immigration raids around the country, the president touted an unprecedented "military operation" targeting criminals that resulted in 680 arrests.
"You see what's happening at the border. All of a sudden for the first time, we're getting gang members out," he said.
But just last week, the Department of Homeland Security cast the operation as routine.
And in Mexico City, hours after Trump spoke, Homeland Security Secretary John Kelly pushed back on accusations that he had embarked on a mass deportation of people living in the U.S. illegally.
"We'll approach this operation systematically, in an organized way, in a results-oriented way, in an operation and in a human dignity way," he said on a diplomatic mission with Secretary of State Rex Tillerson.
White House press secretary Sean Spicer tried to reconcile one apparent contradiction between Trump's and Kelly's comments: The president meant only that the operation was military-like in its efficiency.
The back-and-forth underscored the communications confusion that has quickly become a signature of the Trump administration.
Some immigration experts say the conflicting messages serve their own purpose.
"The only thing to me that is clear coming from the chaos of the administration is the priority is fear, instilling fear," said Marshall Fitz, an immigration expert at the Emerson Collective, a nonprofit advocacy organization based in Palo Alto, Calif.
It is too early to say whether Trump's orders boosted deportations. Figures for February, Trump's first full month in office, won't be available for weeks.
Deportations in January were down slightly from the same month in 2016.
In an address to conservative activists outside Washington, White House chief of staff Reince Priebus and Trump's chief strategist, Steve Bannon, both listed the administration's early approach to immigration as among the most critical steps Trump has taken.
In a host of areas, the president and aides are keen to demonstrate a break from Obama-era policy.
Trump campaigned on the threat to national security posed by criminals illegally crossing the border, and his remarks Thursday echoed that.
"What has been allowed to come into our country, when you see gang violence that you've read about like never before, and all of the things — much of that is people that are here illegally," Trump said.
But with his harsh rhetoric, Trump has mostly ignored that President Barack Obama also sought stronger border security and immigration enforcement. Obama was in part trying to create space for a bipartisan legislative effort to enact more comprehensive reform.
Deportations under Obama peaked at 400,000 people in 2012, touching off widespread criticism from immigration advocates, which prompted Homeland Security to scale back deportations.
It could take months before deportation levels increase, as immigration officials have a limited amount of staff and detention space to hold people. Also, immigration courts are severely backlogged, leading to long delays before a judge officially authorizes someone to be removed.
In the meantime, immigrants in the U.S. illegally can find themselves plumbing any utterance from the administration for signs of what's to come.
"It is attrition through terror or creating so much chaos that people throw up their hands and leave," Fitz said of the administration's strategy so far. "It is certainly not a plan that has carefully delineated set of priorities based on certain judgments on who presents a threat and who doesn't."