A LIST competition expands and grows more intense as Substance broadens criteria for the award... 'Not all Network Chiefs are A_______ -- just the majority'
George N. Schmidt - April 17, 2014
Within two days after Substance published the first of our monthly recognitions of self-important semi-competents at the top levels of administrative power in CPS, the A LIST, we began hearing that we had been unfair to our first awardee -- former Ohio administrator Rhonda Saegert, who was imported to Chicago less than a year ago by Barbara Byrd Bennett and currently lords over Network 10 on Chicago's southwest side. There even seemed to be some jealousy among teachers in other Networks, especially given the fact that the Network chiefs who dutifully lied before the "turnaround" hearings by reading their carefully prepared scripts had surpassed their usual standards by dissembling in pursuit of power and a failed strategy.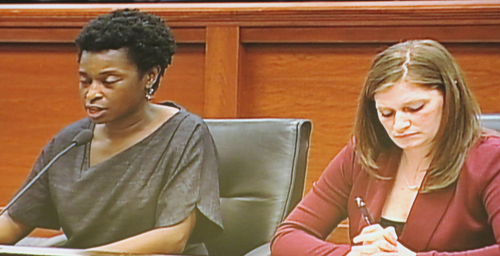 Network Chief Liz Kirby (left) testified against Gresham school at the show trial "turnaround" hearing on April 9, 2014 at the Chicago Board of Education. For ten years, the "Network" chiefs (in earlier days, called "Area" or "Region" chiefs or officers) have read from carefully prepared scripts which claimed, falsely, that schools on the annual CPS Hit List (for "turnaround" or other corporate attacks) had been provided with a plethora of extra helps from the "Network" (or "Area" or "Region") but that all that extra money and help just didn't work so the only alternative was "turnaround." Substance photo by Jean Schwab. Despite the fact that a growing number of principals are vying for the A LIST, it looks like Network Chiefs will be the main contenders for the next several months. Other administrators are eligible for different awards, but the A LIST is reserved for those who come directly into direct contact with teachers, other staff, and children and prove that the real education of Chicago's children would be much better served if they went back where they came from. Provided they did not wind up in a classroom (which many of them are ineligible to do because they do not have any Chicago teaching experience or certification).
In addition to the Network people who provided mendacious versions of reality in the turnaround hearings, also in the running are Network Chiefs who have taken to singling out individual teachers and other staff for their personal pedagogic attention. More than one Network Chief in the past six months has taken it upon itself to personally visit and "observe" teachers, usually those who have been active in union activities.
Substance will also be discussing how to generate an appropriate award in some form making clear the way in which the Network Chief should be honored. A couple of suggestions from recent episodes of South Park, however, have been rejected.