Sam Anderson at National Opt Out conference... Arne Duncan's claim that this is the
Kati Gilson - April 04, 2014
Sam Anderson spoke to the National Opt Out Conference in Denver on March 28, 2014. Dr. Anderson spoke about the difference between the struggle for education as a human right or as and opposed to education as a civil right. He talked about the historical context of education. He quoted Malcolm X, 1964, "We can never get civil rights in America until our human rights are restored" and Dr. Martin Luther King Jr. "We have moved from the era of civil rights to the era of human rights".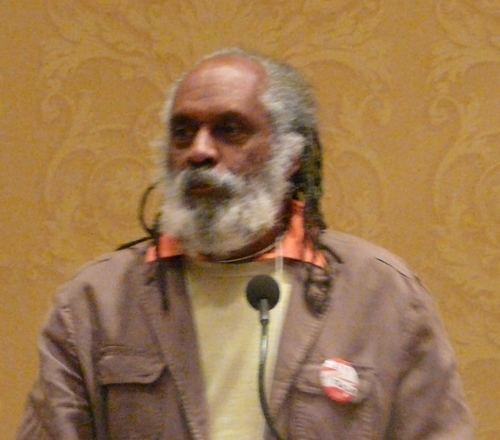 Dr. Sam Anderson speaking to the National Opt Out conference on March 28, 2014. Substance photo by Kati Gilson.He referred to Carol Anderson's book "Eyes off the Prize: The United Nations and the African American Struggle for Human Rights, 1944-1955." According to Dr. Anderson, after World War II, the NAACP (National Association for the Advancement of Colored People) sensed an opportunity for human rights, which include political, legal, education, housing, jobs and health care needs. NAACP took these issues before the United Nations.
The history was extensive. Free Schools were created in the 1700s. The African Free School was an institution founded by members of the New York Manumission Society on November 2, 1787, including Alexander Hamilton and John Jay. It was founded to provide education to children of slaves and free people of color. http://www.en.wikipedia.org/wiki/African_Free_School
After the Revolutionary War, Reconstruction included free universal education for black and white children. Communities controlled schools. During the 1960s, a conference in New York led to the reality that 99% of public education in the U S is a crime. Education is being dumbed down and each generation is becoming dumber.
"We must become part of a larger scope to see and advocate for education as a human right along with living wage, decent housing and universal health care. All struggles are linked to public education. Privateers don't want us to know this and they own the media", stated Dr. Anderson. "Grassroots geared toward students, parent, teacher and human rights trump civil rights are a wide movement."
He went on to say how New York Mayor Rudy Guilliani tried to privatize education in the 1990s through The Edison Project (Plan A) which formed the Edison Schools as a for-profit education management organization for public schools. This was done in the United States and the United Kingdom. Anderson talked about this process citing organizing parents at the five schools involved. Once the parents were educated about the organization the voted against the Edison model.
Plan B involved Mayor Bloomberg's, who came from the corporate world, push for mayoral control of the schools. He took opposing organizations to court to slow the fight against the policies he set in place. First he sold the Board of Ed (BOE) building to his friend who converted it to expensive condominiums and moved the public education bureaucracy behind city hall. Second, he took the BOE, which was a pubic entity as a way to get state dollars. Bloomberg then split education into two parts the Board, which was public and the Department of Education, which was private. Public access was only available to the BOE books. Approximately 25 billion dollars per year was put into this semi-public entity. This made it possible to go around the bidding process and award high dollar contracts to his friends.
Bringing in Teach for America (TFA) was the third step. TFA recruits college graduates and professionals to teach for two years before moving on to other jobs. As this program expands, veteran experienced teachers are pushed out of education and replaced with people who after a five-week training are considered capable of teaching in urban and rural districts. This lack of quality teachers substantially increases the achievement gap between minority and low-income students and is working to destroy the public education system. The fourth step is an open discussion of charter schools created by Wall Street. The New York Federation of teachers created 1-2 charter schools under Randi Weingarten.
Now that we understand the evolution of charter schools how do we fight and organize. We must explain to teachers, parents and students that Bloomberg was a mentor for Mayor to copy his style of mayoral control aka dictatorship, which would end public education. The World Intellectual Property Organization's (WIPO) 2010-11 report submitted a request to use their curriculum on African Nations, which would dismantle higher critical thinking educators and replace them with corporate published textbooks and curriculum.
The right wing movement, in 2007-08, began a movement to co-op the language of the civil rights movement. Newt Ginrich was part of the push to publish a new civil rights movement. In response, the Independent Commission on Public Education (ICOPE), which, focuses on education as a human right, was formed. Anderson is part of this group. http://www.icope.org/
The next question is "What is the difference between deform (human rights) and progressive (corporate) models of education?" Human rights include food, housing and dignity. "Don't diminish one set of rights to enhance another set of rights." Every child must have access to quality education that meets their developmental needs leading to rewarding work with decent pay and ongoing learning. "We struggle to learn and learn to struggle." Anderson described this as the purpose of education. Improving our lives has many components including environment (mom vs. nature), human dignity and equitable distribution of resources according to need. This includes no discrimination and a respect for cultural heritage. This can't happen with high stakes testing which disregards anything out of the Euro-cultural norm. The right to development is not in many minority and poor areas. "Teacher labor rights must be respected. These rights are being eroded". Administrators and paraprofessionals are becoming local wardens in public schools, which places them under a great deal of stress. "The business model fails us, the children and educators but works for the 1%. They made lots of money and maintain a school to prison pipe line". We are at a major turning point with the rise of the Opt Out movement. Now there is fight back in many cities by insurgent progressive educators and students who walk out. 'We need to seize power in our schools. To fight educational genocide we must build a movement based in human rights. Civil rights are a part of this". This must be done at the local, regional and national levels. "Every white child who is not in the 1% is in trouble in education. They are in the same predicament as children of color". We have allies everywhere to assist with an education campaign on human rights. "What has happened in public education is a crime against humanity. Put local, state and federal government on file. United Opt Out is central in transforming the whole movement. Be part of the education reconstruction movement". He referenced Getting Out From Under located at icope.org. Once registered you receive a password to access this document. New York City has 250 neighborhoods each containing 8 elementary and 1-2 high schools. Participatory democracy neighborhood schools are run by parents, teachers and students (3rd grade and up) where education elders oversee the mission of the school system and funding goes directly to school. The corporate model, mayoral control, is anti-democratic. New York currently has a liberal mayor and although education needs to be reconstructed, it will only be tweaked and the problems of charter schools, high stake testing, and the disappearance of black and Latino faculty will continue to increased unless organized against. How admissions happens at the high school level needs to be changed. Other high school improvements include eliminating "administrative criteria" to give students choice in their education, increase minority attendance and graduation rates, and open up opportunities for more advanced students. There is a "need for us to think Internationally in our resistance". Examples cited include Mexico and Great Britain teachers. We need to visit other parts of the world to visit and communicate with teachers and other colleagues. Cuba is in the process of rethinking their middle schools. "Teachers need to know this history of their country". A suggestion was made to put together an international conference. Anderson worked with the civil rights group through out the conference to create their piece of a plan for Colorado.
Dr. Samuel Anderson is a retired New York City Mathematics and Black History professor who has taught at various colleges and universities for more than forty years. He is also the author of books on science, technology and the history of slavery. Sam has been active in the Civil Rights / Black Liberation Movements for nearly a half century and has combined his activism with his scholastic work via numerous community organization and Black Studies Departments. He is also co-chair of the Board of Trustees of the Brecht Forum, the Malcolm X Museum, a member of the Black Left Unity Network, a member of the NYC Coalition for Public Education, and Black New Yorkers for Educational Excellence (BNYEE). Sam Anderson is also a parent of two sons who have successfully navigated the New York City public school system. This information was provided by: THE OFFICIAL SCHEDULE FOR OCCUPY DOE 2.0: THE BATTLE FOR PUBLIC SCHOOLS, http://www.unitedoptout.com