CPS hires another outsider for a top executive post
George N. Schmidt - July 03, 2013
It's gotten so the surprise would be if Barbarba Byrd Bennett hired a Chicago principal for any job other than "Transition Coordinator" for a couple of months at a thousand dollars a day. The executive positions in Chicago's public schools have been going to outsiders with no experience of Chicago teaching or being principals for more than a year, non-stop, as if there were a IRISH, DOGS AND CHICAGOANS NEED NOT APPLY sign over the doors at 125 S. Clark St.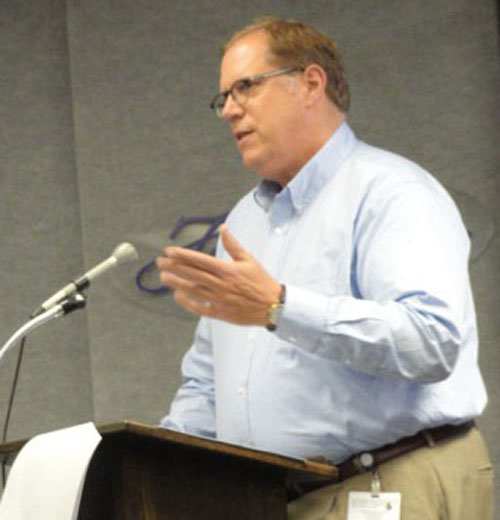 David Ruhland will join CPS as the chief of labor relations on July 8, according to press reports from Michigan.And so, that latest guy to be hired from another town to join Barbara Byrd Bennett's "Cabinet" is David Ruhland, who is supposed to arrive Monday from Farmington Michigan.
If Farmington is the best training ground for a CPS administrator in the era of Rahm Emanuel and Barbara Byrd Bennett, then administrators from Chicago's affluent suburbs should take note. At last report, the Farmingtam public schools had 12,000 students in nine elementary schools, four middle schools, and four high schools. The districts near Chicago that are comparable are those in the affluent northern and western Chicago suburbs. Think Wilmette-Winnetka. Think New Trier. According to reports, Farmington's schools have consistently been recognized as among the best in the Detroit area.
There is no "Why" in the news reports on Ruhland, but Farmington is proud of its work, as the following local news story shows:
Farmington Associate Superintendent Takes Chicago Schools Job. David Ruhland will work in the area of labor relations for Chicago Public Schools, which faces the closure of 49 elementary schools and layoff of 500 teachers.
Farmington Gazette. Posted by Joni Hubred-Golden (Editor), June 28, 2013 at 05:48 pm
Farmington Public Schools' Associate Superintendent of Administrative Support Services David Ruhland has accepted a new position with Chicago Public Schools, the third largest school district in the United States.
Ruhland's new title is Director of Employee Engagement, and he will be responsible for leading the department that oversees labor relations. Chicago Public Schools has 404,151 students, 681 schools and 41,498 employees.
"I have had a desire to make an impact on a large, urban school district with the challenges that it presents and have always wanted to live in downtown Chicago. This position will help to fulfill both of these dreams," Ruhland said. "While I am sad to be leaving Farmington, I feel that I am leaving the District in good hands."
Ruhland will begin his position in Chicago on July 8, as the district faces closing 49 elementary schools and laying off 500 teachers. Superintendent Susan Zurvalec said he has been "a tremendous asset to Farmington Public Schools". "His expansive knowledge and experience in human resources and labor relations coupled with his knowledge of the law has helped to move our District forward over the past 11 years," Superintendent Susan Zurvalec said. "He will be difficult to replace, so I will take time to review how we will go about filling this leadership position."
Farmington officials on Tuesday approved the last two agreements Ruhland negotiated for the district, with the Farmington Association of School Administrators and employees who are not represented by a union. Comment Recommend