How about a 'Chief Officer for Innovation and Incubation' to solve the problems of a public school near you
George N. Schmidt - July 01, 2013
During the eight months that Chicago Public Schools "Chief Executive Officer" Barbara Byrd Bennett was overseeing the production of the latest CPS production -- "Underutilization Crisis 1.0" -- the prattle from the ruling class media, repeated all the time, was that the "crisis" was "real" and that CPS was facing a "BILLION DOLLAR DEFICIT!!!" If mere and simplistic repetition creates fact, then certainly Byrd Bennett's canned talking points, like a religious chant in the background of a scene from, say, "Raider of the Lost Ark", was TRUTH.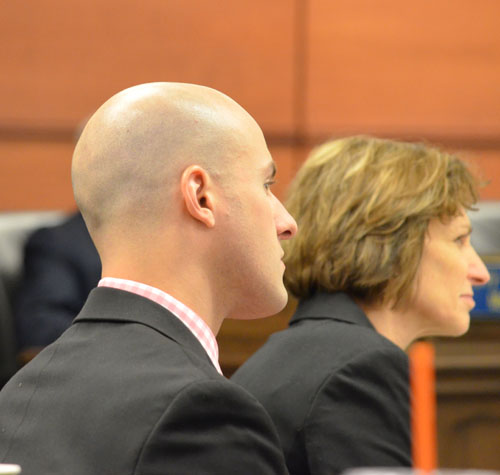 Chicago Public Schools may have been facing a "Billion Dollar Deficit!" in December 2012, but that didn't stop the Chicago Board of Education from hiring Jack Elsey (above left) for $165,000 per year to become the nation's first "Chief Innovation and Incubation Officer" for a public school district in the USA. According to the School Administrator Web site: "Chicago P.S. Appoints Jack Elsey Chief Innovations Officer. Jack J. Elsey Jr. joined Chicago Public Schools as Chief of Innovation and Incubation. Formerly Elsey was Chief Schools Officer for Detroit Rising College Preparatory Schools and Assistant Superintendent in the Detroit Public Schools. Elsey is a Broad Residency graduate and spent four years on staff at Teach for America."But while the dutiful minions of power in the corporate media repeated the "deficit" lie as a foreplay to an attack on Chicago teacher pensions, the Board of Education, month after month, was filling the First Class seats at the Board of Education's monthly meetings with a new generation of exotically titled bureaucrats, at six-figure salaries, with no discussion of whether (a) Chicago needed one of those, (b) that person was the one for the job, and (c) why if CPS were broke it could afford to spend all those dollars on ________, _______ and _________.
A review of the Board Reports (viz., the "Action Agendas") between June 2012 and June 2013 shows that during the months of the most recent financial "crisis" while CPS was facing its most recent (unverified) "Billion Dollar Deficit", CPS went on two expensive binges: a hiring spree to create a bunch of new executive jobs, and a privatization spree to spend as many dollars as possible on outside sourcing for services that should be public and administered within CPS.
Of course, the exotic titles for CPS departments and executives didn't begin when Mayor Rahm Emanuel dumped his first "African American" schools chieftain, Jean-Claude Brizard, and replaced him with Version 2.0, Barbara Byrd Bennett. Brizard had created the "Portfolio Office" and the "Chief Portfolio Officer" almost as soon as he arrived from Rochester New York in June and July 2011 following his appointment by Rahm Emanuel.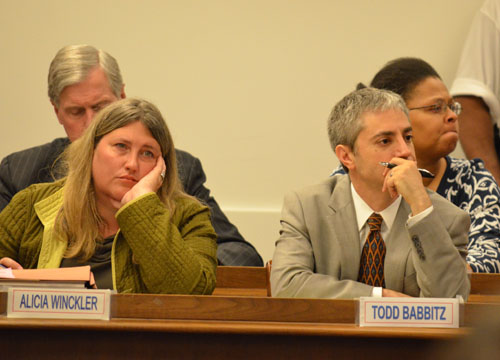 A complete lack of teaching or public school administrative experience constitutes the requirement for the CPS "Chief Talent Officer", Alician Winckler (above left) and "Chief Transformation Officer" Todd Babbitz (right). Both are shown during the June 26, 2013 Chicago Board of Education meeting. Substance photo by George N. Schmidt.But the true creativity in programs and other expensive realities really explodes under Barbara Byrd Bennett. Within two months after she got the top job in Chicago, Byrd Bennet was bringing in her Broad buddies, including Jack Elsey, who is now "Chief Officer for Innovation and Incubation" at CPS.