MEDIA WATCH: The 'Janet Cooke' and Jayson Blair moment marches on... Tribune publication of plagiarized and falsely bylined 'news' during Journatic outsourcing binge is really the tip of a much bigger iceberg of reportorial corruption today
George N. Schmidt - July 13, 2012
While the latest Chicago Tribune scandal is nowhere near as interesting as the one the Tribune could have uncovered had it bothered to check the "high government officials" quoted by their one-time anti-terrorism ace reporter Ronald Koziol during the paper's obsessive libeling of Civil Rights leaders (including Martin Luther King, Jr.) and anti-war protesters (including all of the leaders of the protests against the 1968 Democratic Party convention in Chicago) during the 1960s, the Chicago Tribune's latest mea culpa offers a window into the Trib management's destruction of what was once one of the more reliable sources of information in the Midwest: The Chicago Tribune newspaper and its various other outlets (including WGN radio and TV).
And, of course, a close reading of the Tribune's version of reality as published in its latest story on the Journatic scandal is not that Tribune is firing Journatic and demanding its money back for fraud, but that Tribune management will work with Journalitc to improve things. And apparently, the Tribune's reporters can't find out how much (during a bankruptcy that among other things stripped most pension benefits from rank-and-file Trib workers) Trib has been paying Journatic. "The newspaper's parent, Tribune Co., this spring made an investment of an undisclosed amount in Chicago-based Journatic, which provides coverage for all of TribLocal's 90 town websites and 22 weekly print editions," the July 14 Tribune story told readers.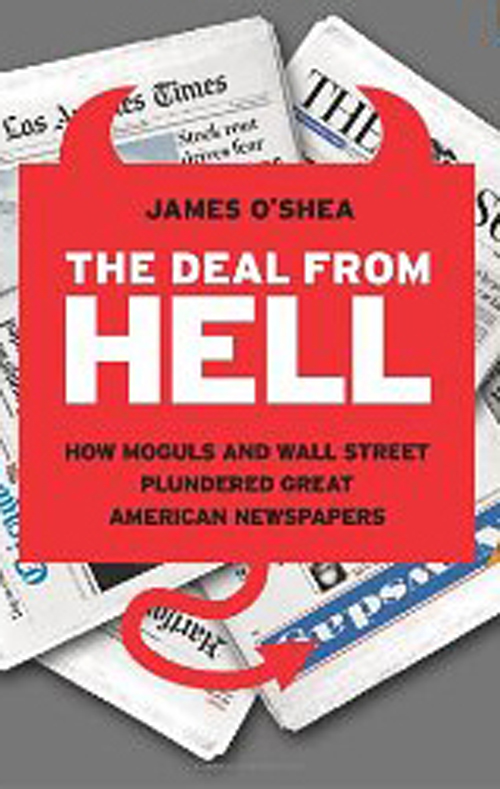 James O'Shea's book on the Tribune's corruption and destruction was required reading in many circles (including the Substance staff) long before the Tribune discovered that phony bylines and plagiarized "news" was coming out of its "outsourced" "content" provided Journatic in July 2012 following a whistle blowing exposé by NPR's "This American Life." And the very words of Tribune management in 2012 (see story at the very bottom below) indicate that the underlying philosophical problems are still festering. Even though the Tribune has gotten rid of the latest iteration of the this problem, the underlying Atlas Shrugged philosophy of the current owners, managers, and executives of Tribune will continue to replicate this scandal. This will take place in various ways, no matter how many mea culpas are offered to the public each time another one of them is exposed (as this one was, not by the Tribune but by another news organization).
What's the basic problem? Ideology.
"Content" is different from news, and anyone who doesn't understand this is an enemy to a few press.
According to Tribune management, newspapers now provide "content" — not news reporting — to readers and viewers of their various on line, print, and other outlets. "Content" has been the term utilized by Tribune bureaucrats for more than a decade to destroy journalism and news reporting and replace what was once an important professional work with on-the-cheap piecework. So, the battles will go on. Trib reporters find themselves in the same position as teachers who are facing attempts by management cadre (with the same Ayn Rand crazed philosophy on their bookshelves) who think that teachers are simply "content deliverers." For the past 15 years, CPS management has acted as if the reality of the classroom and the teacher doesn't matter, that all the world needs is the perfect lesson plan, education's version of newspapers' "content."
That war continues, even as the Journatic battle fizzles.
But the news is that on July 13, 2012, the Chicago Tribune apologized for this latest insult to its readers and subscribers (including the family of this reporter), while Tribune executives continued the same corporate road that produced this latest explosion of disrepute in the first place: a refusal to invest in the expensive and necessary work of news gathering and reporting in a nation that enshrined the free press as one of the five freedoms worth protecting under the First Amendment to the U.S. Constitution. (Trib executives, if they enter the Tribune Tower, might want to read the words carved into the walls and ask who selected them and what that bit of their own history says about their present pickle, but that's probably too much to ask).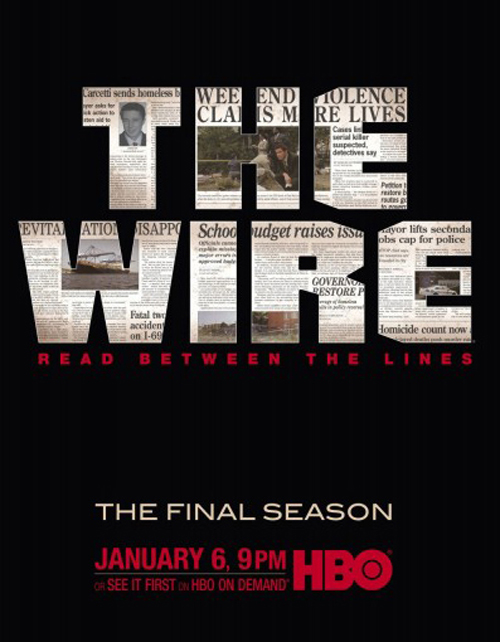 "The bigger the lie, the more they believe..." are the signature lines of the opening scene of the final season of "The Wire," which exposed the growing corruption of news reporting in Baltimore as a fictional portrayal of a growing problem. Six years after that fictional accounting was aired, Chicago Tribune, which helped destroy the Baltimore Sun, is still run by men who follow the basic philosophy of greed (and "John Galt") depicted as fiction in the corrupt newsroom of the final season of "The Wire." But before noting that on Friday the 13th (July 13, 2012), the Tribune announced that it was ending the outsourcing of suburban and other "minor" news to a private company calling itself "Journatic", it's worth noting that the roots of the latest Tribune scandal lie in the same crazy corporate "bottom line" culture that dominates the thinking on public policy being implemented across Chicago by Mayor Rahm Emanuel and his corporate gurus and billionaire backers: CUT CUT CUT!
And then cut some more.
And we're not alone or the first in reporting this. Recently, one book on the Substance staff "Book of the Month" list to reader was "The Deal From Hell" by former Tribune reporter (he reported the 1979 school financial crisis in Chicago, then went on to report the Savings and Loan scandals of the 1980s from lots of places) and editor James O'Shea. The corporate culture the undermined the ethical bankruptcy of Tribune preceded its financial tanking by a few years, and the nastiness of Sam Zell isn't alone in the blame, as the Journatic thing shows again. It's a way of thinking, not just the perverse thinking of one billionaire motorcycle-riding male chauvinist pig thug.
The formula, which tries to base every human activity on the so-called "Bottom Line," is still the basis for much of the thinking that underlies news reporting today. Rather than ask how to do the most effective news reporting, Tribune and other "content providers" ("news" is no longer a part of that discussion) ask how to maximize "output" at a minimum cost.
And the short answer is not outsourcing like the Tribune was caught doing to an outfit that provides "content" as piecework to underpaid men and women in Manila. The real problem is what was once called "speedup" in the gathering of actual news by the number of reporters remaining at the Tribune (and its major "properties" including the Los Angeles Times, Baltimore Sun, and Long Island Newsday).
Reporters' "content" is measured in inches, and time, with now and then a nod towards silly measures like "Hits" on the Website. The copy edited news reports that once were a reliable source of information for Tribune Corporation are now gone, along with the careful copy editors who would make sure things stayed accurate.
I can speak from recent and distant (and lately, ironic) experience on this. Substance maintains some of the most extensive files on Chicago Public Schools currently available in any news organization in Chicago. Most of our fellow reporters are not given the time or resources to dig deeply into any story, and their editors and owners are at the mercy of the massive propaganda departments at both City Hall and CPS that descend like a cocky conquering army on every news story their master dislike. While CPS Minister of Propaganda Becky Carroll (whose $165,000 per year basic salary — she will also get a performance bonus as a top executive at CPS — is greater than any reporter covering CPS) deploys her minions to correct every news story, at the same time CPS simply refuses to provide even the most routine information to Substance reporters. (Every call we do to CPS Communications is becoming part of a future story on how the lady who was so challenged in math in high school could suddenly speak for the third largest school system in the USA on something so complex as the CPS budget, but that's a pleasure for another time...).
But even years ago, Tribune's copy editors (I remember one named Jerry Crimmins) would call with specific factual questions when they were stumped on something that came into a "news" story. One I will remember was a question that came in more than 20 years ago, during one of the many many financial "crises" and "deficits" announced on a regular basis by Chicago Public Schools (which then, by the way, hadn't "branded" itself as "CPS" or "Chicago Public Schools"). Crimmins was calling to ask whether a particular individual was a member of the Chicago Board of Education on a particular day more than a decade earlier. He not only wanted to know if something that had come into a story was factually true, but he needed the source we would use. It turned out the reporter was off by a week or to in reporting who the Board President was, and our source was the Board Agenda (which we had on file). The story was corrected (by the Copy Desk) before it went into print, and the Tribune retained its hard-earned reputation for accuracy.
Those days are long gone. Copy editing no longer exists in the traditional sense at most "content providers." A reporter is on his or her own, which is a good thing, but also a bad one. In a pinch and on a deadline, anyone might cut that last corner, forget to make that last phone call, or simply do a rewrite of a propaganda piece (the public relations press releases that pour out of every agency of government and every major corporation on an almost hourly basis) rather than report the story. Sad, but true. The corruption at the Baltimore Sun reported (fictionally) in the fifth season of David Simon's "The Wire" is pervasive, just as cheating and corruption are now pervasive in the top tiers of banking, or once were in the top ranks of sports (during the steroid eras). If you can't win your "Race To The Top" without doping or lying, then dope and lie and worry about whether you'll get caught later. For this week's Google notes, see "Armstrong," or "LIBOR." A few years ago, it could have been "Sosa" and "McGwire..." It's a strange day when José Conseco becomes one of the most reliable for sports history reporting, but true. In this sense, the latest scandal at the Tribune (reported and attributed to the sources below) is part of a pervasive culture of corruption that, for the average reader of Substance, begins in Education at the White House. Having cheated his way to the "top" at CPS, Arne Duncan is now poisoning the American education system as completely as the strength coaches and drug dealers who provided Sosa, McGwire and hundreds of others with various creams and clears during baseball's steroid years. One question for Chicago, though, is why pick on the Tribune when the Sun-Times has degenerated so much further so much more quickly. Granted, it's an even fight. The Sun-Times seems to believe there is a Pulitzer Prize for the newspaper that prints the photograph of Chicago's mayor on page one the most often during one year. But that's another corruption story, for another time.
JULY 14, 2012 CHICAGO SUN-TIMES REPORT BY REPORTER HUNTER CLAUSS BELOW HERE:
The Chicago Tribune announced Friday night it is indefinitely stopping the use of the company Journatic as a third-party news provider after discovering a sports story published this week had elements it said were plagiarized and fabricated.
"As a result of serious breaches of the Tribune's journalistic standards, we have suspended indefinitely our use of Journatic as a third-party producer of editorial content for our suburban TribLocal publications," Chicago Tribune President Vince Casanova said in a note to readers posted at chicagotribune.com.
"We made the decision after it came to light Friday that a sports story published in this week's Deerfield TribLocal contained elements that were plagiarized and fabricated," the note read.
Part of the story contained a quote "attributed to the subject originally published in a June 7 Deerfield Review story by Bill McLean," Casanova wrote.
Jim Kirk — editor-in-chief of Sun-Times Media, which includes the Pioneer Press' Deerfield Review — said, "we were just made aware of the situation and are investigating."
Sun-Times Media cut its own ties with Journatic's Blockshopper service this summer.
In a note to Tribune employees, Tribune Editor Gerould Kern said the paper learned Friday that the TribLocal story by Journatic had both plagiarized and fabricated quotes.
"These are the most egregious sins in journalism," Kern wrote. "We do not tolerate these acts at the Chicago Tribune under any circumstances, whether from a staff member or an outside supplier like Journatic."
Earlier this year, the Tribune began using Journatic to provide articles for its print and online editions of TribLocal, a five-year-old effort to expand the paper's coverage in specific suburbs. The switch resulted in the layoffs of 11 TribLocal reporters.
The suspect Journatic story cited by the Tribune was entitled "Epstein shows effectiveness on the mound." It included one quote lifted from the Deerfield Review story and another quote that was made up, based on information from a Patch.com story, Casanova said.
Attempts to reach Journatic founder and editor Brian Timpone were unsuccessful Friday evening.
CHICAGO TRIBUNE REPORT ON ENDING JOURNATIC JULY 13, 2012
Chicago Tribune suspends use of Journatic, By Phil Rosenthal, Chicago Tribune reporter, 10:03 p.m. CDT, July 13, 2012
The Chicago Tribune on Friday night said it has suspended its use of content provider Journatic to produce editorial material for its suburban TribLocal publications after the discovery of plagiarized and fabricated elements in a story published this week.
The announcement by Chicago Tribune Media Group President Vince Casanova came two weeks after Journatic's standards and practices were called into question in a nationally broadcast report on WBEZ-FM 91.5's "This American Life." The program noted several Journatic-produced stories had appeared this year on TribLocal websites with false bylines.
The use of aliases, also considered a violation of the Tribune's editorial ethics policy, prompted an internal investigation by the newspaper. Gerould Kern, the Tribune's senior vice president and editor, said in a note to staff that the investigation is not yet compete.
But, Kern noted: "These are the most egregious sins in journalism. We do not tolerate these acts at the Chicago Tribune under any circumstances, whether from a staff member or an outside supplier like Journatic."
The newspaper's parent, Tribune Co., this spring made an investment of an undisclosed amount in Chicago-based Journatic, which provides coverage for all of TribLocal's 90 town websites and 22 weekly print editions. TribLocal is part of the Chicago Tribune Media Group's Targeted Media division.
Tribune editors determined that the writer of a Deerfield TribLocal story included one quote originally published in a June 7 Deerfield Review story and another fabricated from material that appeared in a March 29 Deerfield.Patch.com report. Journatic says it will no longer use freelance writer, Luke Campbell, although a review of his previous TribLocal story did not find any other plagiarized or fabricated work.
Journatic, launched in 2006, provides editorial content for a number of newspaper groups and also owns the real estate news site Blockshopper.com.
It was not yet clear what the long-term impact the suspension would have on Tribune Co.'s relationship with Journatic and what the short-term impact would be on TribLocal. Messages left for Casanova and Journatic Chief Executive Brian Timpone were not immediately returned. Campbell could not immediately be reached for comment.
