Informational pickets continue with spirited line on Madison St. from Emmet school
Kati Gilson - August 22, 2012
It was a warm and sunny Chicago afternoon, and once school let out, the teachers were happy and showed it. Over 40 teachers, parents, community members and students rallied at Emmet Elementary School — located at 5500 W. Madison St. — after school on Tuesday, August 21, 2012. The show of strength and solidarity was one of more than 20 informational pickets taking place at the end of the school day on the second day of citywide picketing by members of the Chicago Teachers Union and parents, students, and community supporters. Not only were the picketing teachers spirited, but they received support from just about everyone who drove by and saw their message.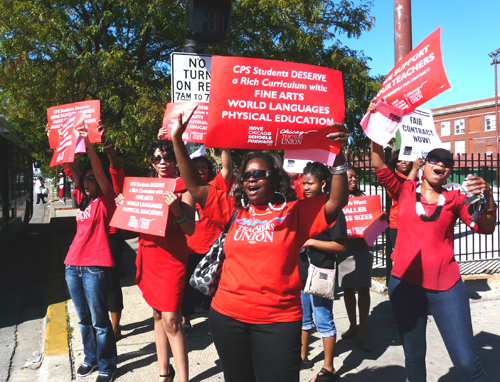 Traffic along Chicago's West Madison Street sounded like a victory party for the Bulls or White Sox as virtually every bus, truck, and police car horn (and most civilians') sounded in support of the teacher picket at Emmet Elementary School on August 21, 2012. Substance photo by Kati Gilson.The picket was to show their support for Chicago Teachers struggle against the bureaucracy that is hindering student education. The teachers, who have been working without a contract since June 30, are fighting to get a fair contract. PURE, Parents and Teachers United for Our Children passed out flyers supporting the teachers in their fight for a fair contract citing the need for reduced class size, the need for more social workers and equitable funding for all schools.
Chants included "We need teachers, we need books, we need the money that Rahm took!" "Tell me what democracy looks like? This is what democracy looks like!" And even "Hey hey, ho ho, Rham Emmanuel has to go!"
Protesters from Emmet were joined by Track R teachers, paraprofessionals, CTU members and other supporters. The two schools that came to support Emmet were Lincoln Park High School and Thurgood Marshall Middle School. Other supporters were present from the Chicago Teachers Solidarity Committee, along with some students from the school and community.
Teachers led the march up and down Madison Street receiving honks and cheers from cars, trucks and even police driving by.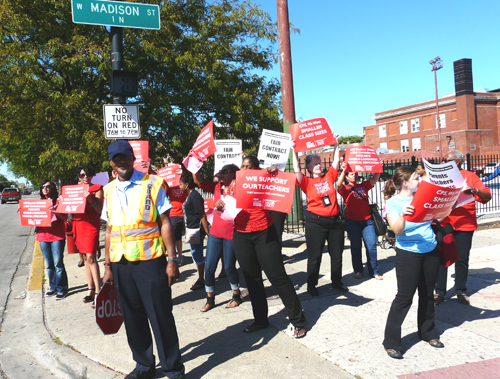 The pickets at Emmet on August 21, 2012 included teachers and PSRPs from Emmet and those from Lincoln Park High School and Thurgood Marshall Middle School who were asked by the union to join the picket, even though they are still on vacation. Substance photo by Kati Gilson.Lashawn Wallace, Taft PSRP Delegate and CTU intern said "I think we have a lot of confidence in the officials. I wouldn't take us out if I couldn't take us back. We need to get what we need for our students and ourselves. We must come back victorious. Follow our leadership they have good essence about it. We are building up morale to tear down the walls of Jordan. The world is watching us".
Tammie Vinson, Emmet Delegate, said "We need to strike before track R starts. Otherwise it will disrupt the flow of the whole systems education, not just track E, because uncertainty is not good for the kids".
A number of teachers piped in with "ASAP, before the 30th" when they heard other teachers talking about when they thought a strike should start. Judith Schechtman, Citywide Delegate, Social Work stated "I think we should have a strike vote at the House of Delegates tomorrow."
Paulette Savage, a Lincoln Park teacher, stated "We need a contract right away to get chaos out of the way. Rahm didn't start his job without a contract. Jean Claude started with a contract and a raise," she added, referring to the fact that the school system's "Chief Executive Officer" received a contract paying him $250,000 per year (the highest salary in CPS history) and moving expenses of $30,000 on top of his salary in June 2011.
The consensus was Emmet is 100% ready to strike!
If all CPS schools and teachers are as irate as the group at Emmet, Rahm Emanuel and his school board have a huge fight on their hands — and the teachers, parents and students intend to win!
