SUBSCRIPT: Chicago aldermen get chance to appear in The New York Times without handcuffs or indictments
George N. Schmidt - October 15, 2009
You've got to admit, the whole concept of getting the photographs of five or six Chicago aldermen into The New York Times — and not one of them being led to prison or indicted — was droll.
More droll was the fact that Mayor Richard M. Daley's media handlers got away with it on October 7, 2009. That's when the city's media handlers and paid propagandists staged that dog-and-pony show with White House help in that press conference room on the Fifth Floor of Chicago's City Hall.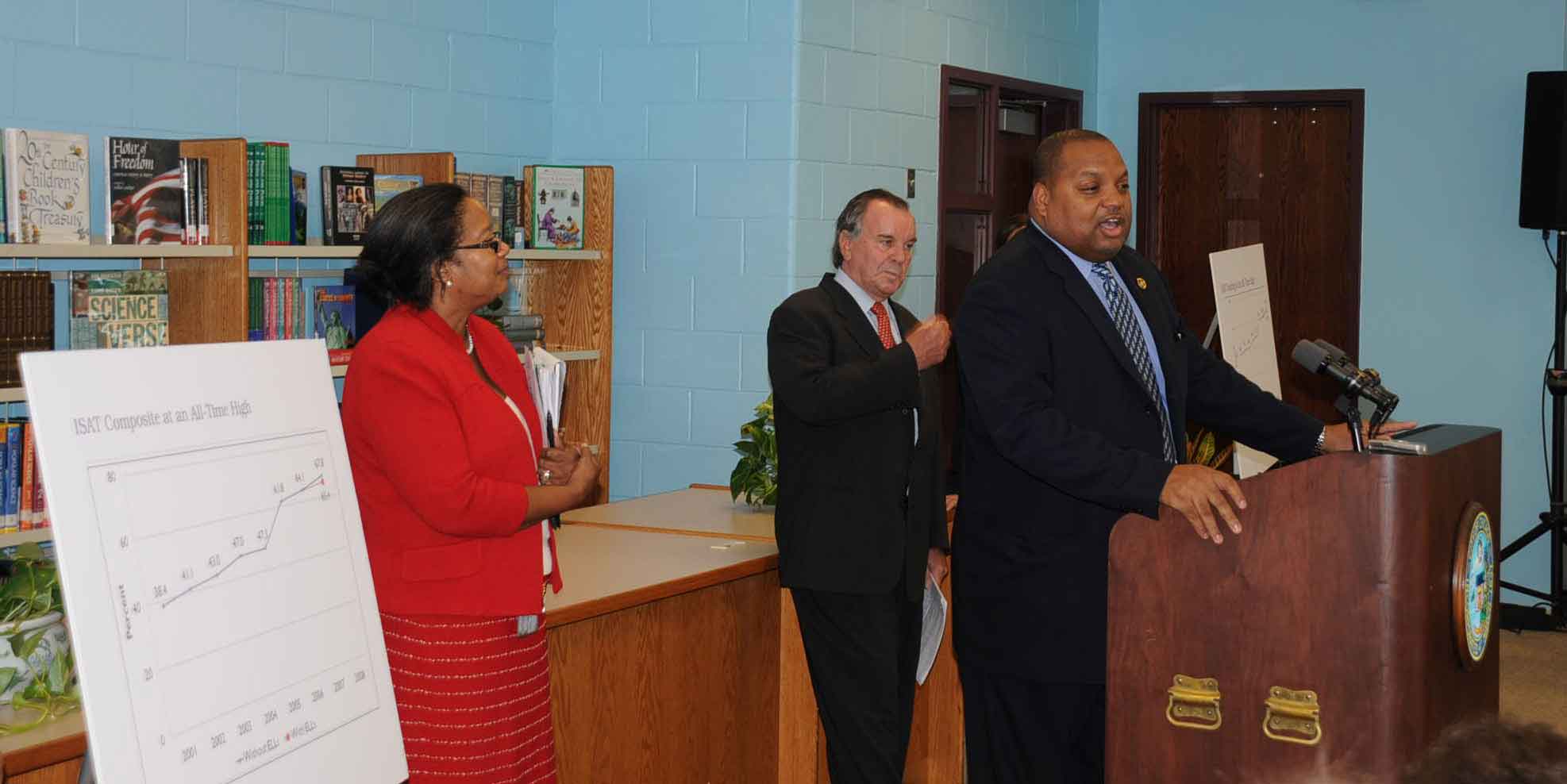 One of the many Chicago aldermen who was not asked to be part of 'Richie's Rainbow' on October 7, 2009, was Isaac 'Ike' Carothers. By October 7, 2009, Carrothers was still in City Council representing the 29th Ward on Chicago's West Side, but he is no longer eligible to do media events for his master, Mayor Richard M. Daley. A year earlier, that wasn't the case. Above, Chicago Mayor Richard M. Daley (center) begins to give a high five to Chicago Alderman Isaac Carothers during a carefully staged media event held on September 15, 2008 in Carothers's ward. The event was held to make the annual announcement that Chicago's elementary reading test scores (on the ISAT test) had gone 'up' again, as required by Daley. The event was held in the library of the Ella Flagg Young Elementary School, which sits in Carothers's 29th Ward. A chart showing the ISAT up from the 2007 - 2008 school year is on the left in the above photo. The person in the red dress smiling in support of Carothers is Chicago's other public schools 'CEO' — Chief Education Officer Barbara Eason-Watkins. Eason-Watkins spoke that day about how wonderful it was that the scores had gone up again thanks to Mayor Daley's visionary work in reforming the city's public schools. At the time the above photograph was taken, Carothers was wearing a wire (yes, like the 'Wire' worn by some CIs in 'The Wire') for the U.S. Attorney, after he got caught taking bribes to approve unusual real estate development deals. The media event about the test scores going 'up' was held on September 15, 2008, the same day Lehman Brothers declared bankruptcy in New York. It featured then Chicago schools CEO Arne Duncan and an audience consisting of more than two dozen CPS executives, not one of whom was being paid less than $100,000 per year. In May 2009, Carrothers was indicted, and he is now awaiting trial. Substance photo by George N. Schmidt.Ostensibly, the media event on October 7, 2009, was staged so that the Attorney General of the United States (Barack Obama's buddy Eric Holder) and the U.S. Secretary of Education (Chicago's own tutor-in-chief Arne Duncan) could make a big announcement about spending millions more federal dollars to fight 'youth violence' and maybe one or two other evils.
Eric Holder was at City Hall to announce that the government of the most powerful nation on earth was going to give tens of millions of more federal dollars to Chicago so that the city could spend those dollars in the hopes of stopping kids from clubbing each other to death on camera across the city's vast South Side and West Side ghettos. Substance will continue to cover the story to see whether the money is being poured into Chicago to stop the kids from killing one another in the city's vast ghettos and barrios — or just to stop them from photographing the murders and then loading them up on You Tube. (In Chicago, you never know; see below).
It was a first, though, and worthy of the Guinness Book of World Records. What was the first? Well, there were actually three of them, minimum. One involves the long historical relationship between members of Chicago's City Council and the U.S. Attorney's Office.
The second involves The New York Times and how news of Chicago's alderpeople usually winds up in America's national newsppaer.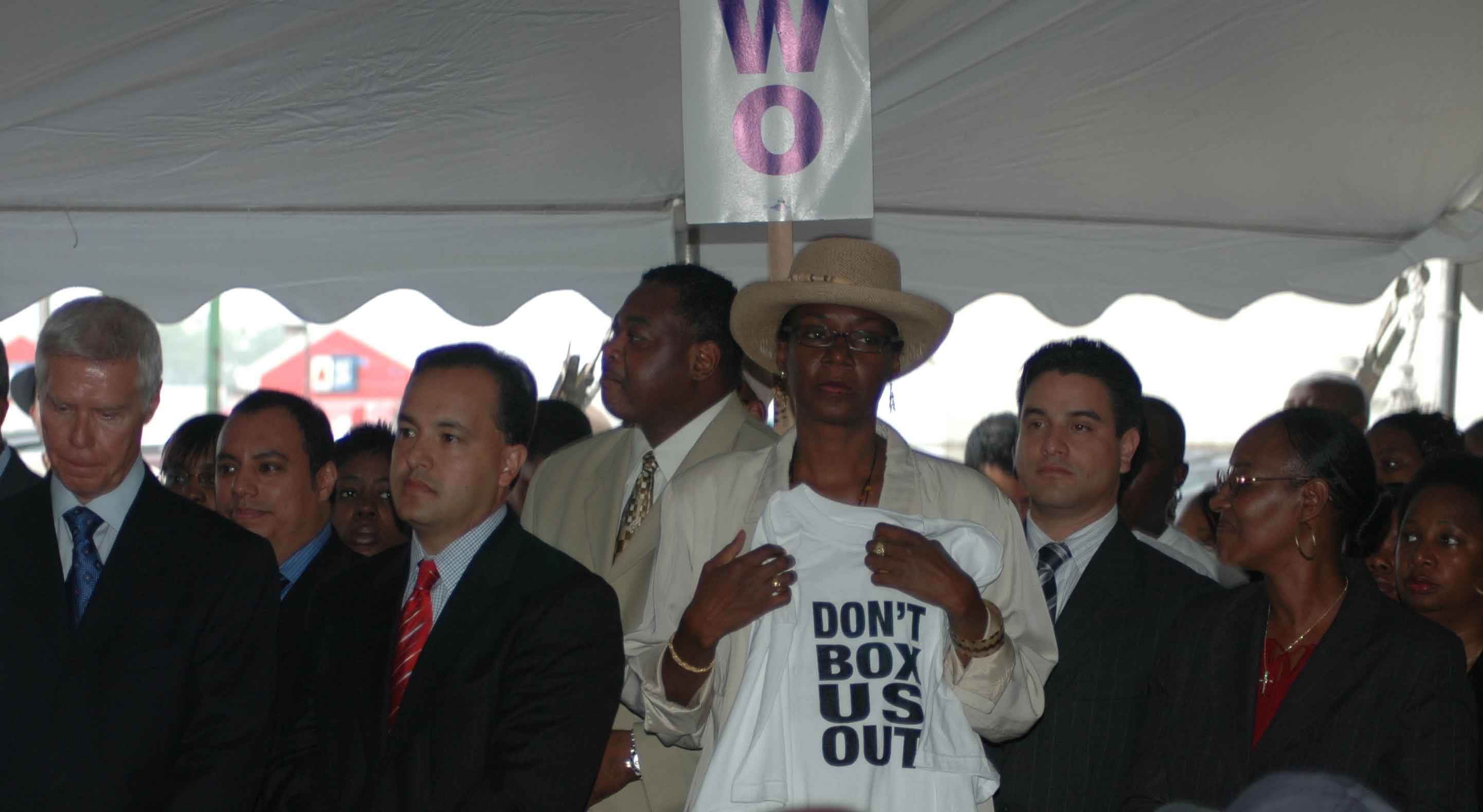 Two years before Alderman Isaac Carrothers joined Mayor Daley at Young school, another Chicago alderman, alderlady Arneda Troutman (above, wearing hat) appeared on behalf of Daley with a large group of political and economic powerhouses in Chicago's 21st Ward in support of Wal-Mart. On September 12, 2006, Alderman Arenda Troutman (above, center) joined Chicago Chamber of Commerce chief Jerry Roper (left), UNO chief Juan Rangal (above, second from left), Alderman George Cardenas (above, third from left) and Alderman Emma Mitts (above, right) to praise Daley and support Daley's proposal to locate a Wal Mart in Howard Brookins Jr's 21st Ward. Troutman was later indicated by the feds after being taped bragging about how all alderpeople in Chicago were "hoes." She is currently serving a federal prison term and was not available to be part of Richie's Rainbow on October 7, 2009. Substance photo by George N. Schmidt.But, one step at a time.
The first First noteworthy event was that a U.S. Attorney (in this case, the Attorney General, of all people) was standing within ten feet of a Chicago alderman and the alderman was not in handcuffs, or at least hearing the charges against him (or her).
Instead of being indicted or fitted with a wire, the alderguys and gals had been lined up by Mayor Daley, straight up from the City Council chambers, to provide that always important "diversity" backdrop Daley requires when the TV cameras roll. In a city where the ghetto stretches 20 miles (that's right, you can drive 20 miles in a line from Chicago's West Side down to the end of Chicago's South Side and never see a white person, that's how segregated Chicago is as the first decade of the 21st Century ends), it's important to make it look like we're "diverse" in the sense that most of the world thinks we are. So the aldermen were lined up for two or three reasons. One, they know how to smile in their diversity: black, white, Latino, black, black, Latino, black… etc.
Second, Chicago aldermen and ladies usually know how to keep their mouths shut when a U.S. Attorney is standing nearby. Daley and his minions had spent the entire day paranoically evading and avoiding the majority of people at Fenger High School and from the communities around Fenger. They didn't dare allow anyone in the room who might talk about reality to all those reporters and TV crews.
In the presence of law enforcement officials (at least those who are not their kin or in their pay), aldermen usually stay quiet as Trappist monks.
So, Daley didn't have any worries about any of the alderpeople standing behind him on October 7 answering any questions from anybody, including the media who were there from all over the world. Another benefit to Chicago's image was pure serendipity. Six of the Alderpeople got their picture in The New York Times.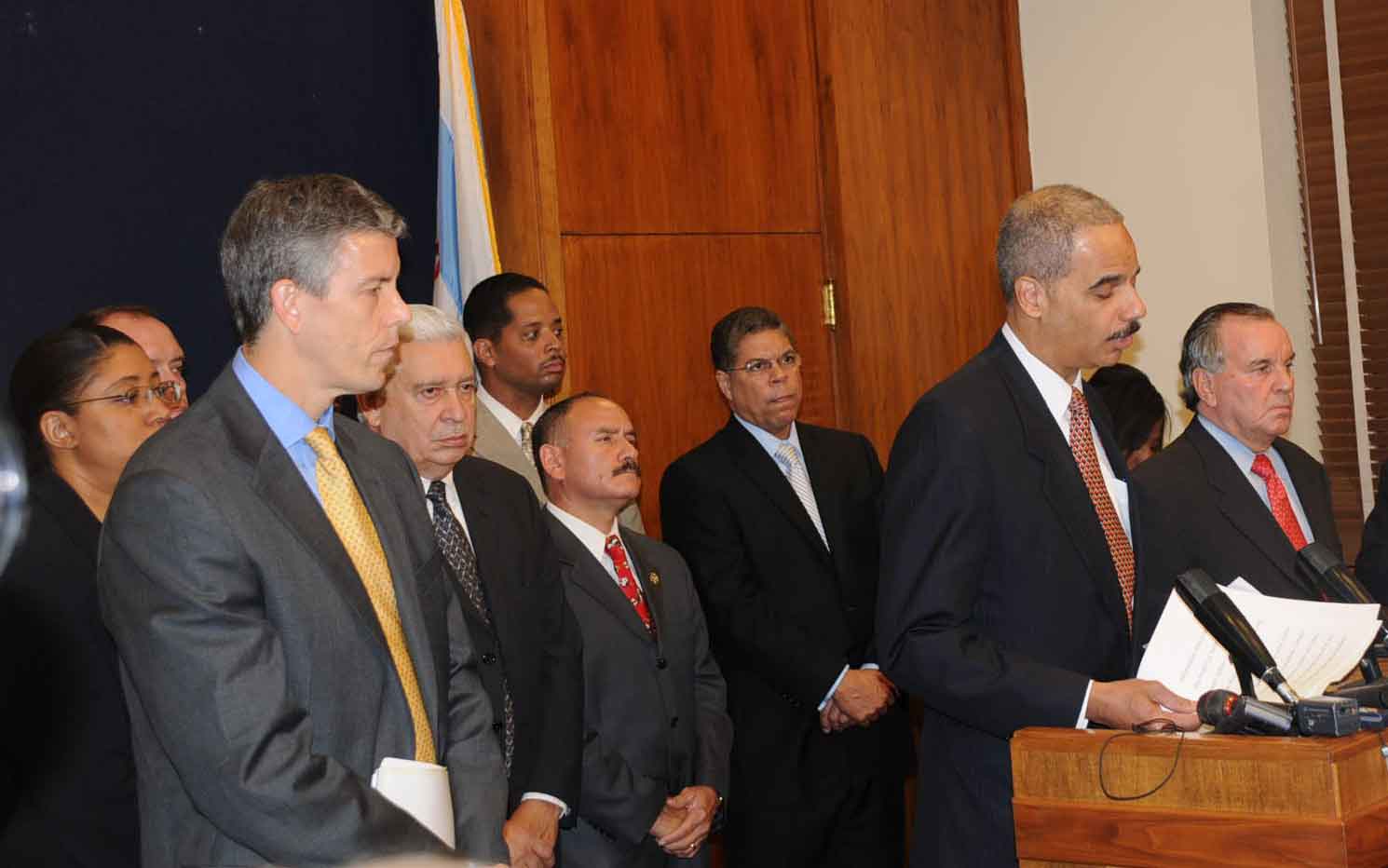 U.S. Attorney General Eric Holder became the first Attorney General of the United States to stand within ten feet of a Chicago alderman who hadn't been indicted. Above, at the October 7, 2009 press conference on 'Youth Violence' at Chicago's City Hall, Holder read a statement about how the U.S. government was going to spend lots of money to stop 'Youth Violence' not only in Chicago but everywhere. Arrayed behind Holder in the mayor's fifth floor office were seven Chicago alderpeople. From left to right (above, including those partly obscured) were: Alderman Latasha Thomas; Alderman John Pope (eyes showing); U.S. Secretary of Education Arne Duncan; Alderman Ray Suarez; Alderman Anthony Beale; Alderman Ray Suarez; Alderman Roberto Maldonado; Attorney General Holder; media chief Jacqueline Heard; and Chicago Mayor Richard M. Daley. Hidden complete behind Holder in the above photo is Alderman Carrie Austin, who heads the Chicago City Council 'Black Caucus.' Substance caption and photo by George N. Schmidt.That's right, All the News That's Fit to Print on October 8, 2009, included a photograph of Arne Duncan, Eric Holder, and Richard M. Daley, standing with John Pope, Anthony Beale, Ray Suarez, Ariel Reboyras, Roberto Maldonado, and Carrier Austin. Not that the World's Newspaper of Record bothered to ask who those well dressed people behind the powerful were. That wasn't part of the story for the world to read, even if it was a big part of the joke back here in Chicago.
Two aldermen who were no longer eligible to be part of the background for Mayor Daley's media events were 29th Ward Alderman Isaac Carothers and former 20th Ward Alderman Arenda Troutman. Carothers is waiting to go to federal prison, and Troutman is already inside. By October 7, 2009, when Attorney General Holder came to Chicago, Carrothers was still in City Council representing the 29th Ward on Chicago's West Side. He is no longer eligible to do media events for his master, Mayor Richard M. Daley, because at the time he did a big one a year ago (see photo) he was wearing a wire, courtesy of the then United States Attorney General Alberto Gonzales. Chicago Mayor Richard M. Daley joined Ike Carothers during a carefully staged media event held on September 15, 2008 in Carothers's ward to hail another miraculous example of Chicago school reform: reading scores had gone 'up' again. The September 2008 media event was held to make the annual announcement that Chicago's elementary reading test scores (on the ISAT test) had gone 'up' again, as required by Daley. The event was held in the bookless library of the Ella Flagg Young Elementary School, which sits in Carothers's 29th Ward. At the time, Daley couldn't have been more filled with praise for Carothers's leadership in the ward and the leadership of Arne Duncan, in the schools. Duncan, Daley, Carothers and others exchanged praise for one another in front of the TV cameras that morning.
Carothers hadn't told Daley that he was wearing his federal wire at the time.
On August 6, 2008, a month before Carothers appeared with Daley at the Young school, former 20th Ward Alderman Arenda Troutman pleaded guilty on federal corruption charges. According to the report in the Chicago Sun-Times: "Former Ald. Arenda Troutman pleaded guilty to two federal counts this afternoon, including admitting to taking bribes as an alderman. Troutman could face up to 56 months in prison. Troutman once adamantly denied taking part in bribe-taking in exchange for zoning preferences while she was alderman. But the FBI ran an undercover sting, recording Troutman while she allegedly engaged in illegal transactions.... Troutman was notoriously captured on tape saying that all aldermen are 'ho's.' The alderman or her former campaign committees were accused in an indictment with collecting about $60,000 in payoffs. In one case, Troutman agreed to write a letter of support for a development on King Drive in 2003. She allegedly handed the developer a flier and tickets for a fund-raiser called the 'Masquerade Ball' that her 20th Ward Regular Democratic Organization was holding and told the developer something like, 'You just bought some tickets.' The developer contributed a total of $5,000 to three of her campaign funds, and the developer's alley access request was granted, the indictment said..."
Perhaps recognizing the fate of reported snitches in prison (even a federal women's prison, which is considered light duty compared to Illinois prisons, which are dominated by the Chicago drug gangs), Troutman made it clear both in the press and in court that she had refused to turn evidence or wear a wire for the feds.
Troutman was no stranger to school reform Chicago style, or to Arne Duncan long before he became Barack Obama's U.S. Secretary of Education. Back in 2005, Troutman hosted a meeting in the 20th Ward to help Duncan destroy Englewood High School as part of the privatization plan called "Renaissance 2010." The story was reported in Substance and is still available at the 'old' Substance Web site. See http://www.substancenews.com/content/view/133/81/.
Troutman's career in support of Mayor Daley didn't only include support for the privatization of public schools under Renaissance 2010. She was an outspoken supporter of the mayor's plans to locate Wal Mart stores across Chicago, despite opposition from labor unions and many others in the city. In September 2007, a few months before she was indicated, Troutman appeared prominently at a rally staged by Daley in support of Wal Mart, where she stood with other aldermen holding a sign that said, 'Don't box us in' (referring to Wal Mart, not prison).
Troutman and Corothers also had numerous dealings with Chicago's most notorious street gangs, especially the Gangster Disciples and the Black Disciples. But among Chicago aldermen Troutman and Carothers are far from alone in their relationships with the gangs. While any politician has to be aware of all the factions in the ward, given the Chicago drug gangs' unique abilities and histories, Substance estimates that the influence of the drug gangs in at least half the city's 50 wards is extreme.
The drug gangs certainly have a more more powerful a voice among the aldermen than teachers. When schools were being closed and flipped into the hands of privatization schemes under Mayor Daley's Renaissance 2010 program, teachers were losing their jobs while gangsters were receiving political favors. Had he asked, Attorney General Holder could have learned a lot about the drug gangs he was denouncing just by spending a few weeks with Chicago's aldermen, including the ones who posed smiling in the photograph of October 7, 2009 — and the ones who were already facing federal indictments or prison but who would have been in the photographs had they been taken a little bit earlier.
Alderman Carothers's father went to prison for corruption as a West Side politician, and by the time he was in politics as a young man, Ike Carothers was regularly accused of being the muscle in his ward, often in alliance with local street gangs. The Carothers family ties to the city's most notorious gangs goes further and deeper. According to Wikipedia, "Carothers' aunt, Anita Rivkin-Carothers, is currently a judge on the Circuit Court of Cook County in the domestic violence court. As an attorney, Anita Rivkin-Carothers ... defended Gangster Disciples leader Larry Hoover in federal court..." Even The New York Times could find out a little information about Larry Hoover and the GDs if they had tried.
Arenda Troutman's intimacy with street gangs became the stuff of Page One news even before her eventual indictment. Even before her 2007 indictment, Troutman had been facing publicity because of her relationships with street gangs and gang members, an activity that some referred to as "ethical lapses."
"Alderman Troutman had also come under scrutiny on numerous occasions for ethical lapses in her career as alderman," Wikipedia put it delicately. "In 2004, it was revealed she may have been dating Donnell 'Scandalous' Jehan, the #2 leader of the Black Disciples street gang, who had fled the FBI after being indicated in a $350,000-per-week drug operation in Troutman's ward. Jehan had been seen driving Troutman's car. A letter from Chicago Police Patrol Chief James Maurer to Troutman on police letterhead was found in the FBI raid on Jehan's home. Troutman commented that she thought he was 'a businessman' and that she let 'everybody' drive her car..."
Troutman began serving a federal prison sentence in June 2009. Troutmen and Corothers are not the only Chicago aldermen with intimate knowledge of Chicago's gangs. Just about every alderman in the New York Times photograph could give some details to the federal war on drug gangs that Holder more or less announced on October 7 following the murder of Derrion Albert out on 111th St. All the Attorney General has to do is assign a few people to look into the workings of the wards that were on display on October 7 behind Eric Holder. One of them is home to the "Motherland" of the Latin Kings. Several others are controlled in wide stretches by the Gangster Disciples. Not one of the aldermen in the photograph could claim ignorance of the city's more notorious street gangs, and several of them are experts, some from personal experience. While youthful experience with Chicago's drug gangs is not a bar to later public service (it's difficult to grow up in Chicago without at least being aware of the gangs), the question would arise, say on Election Day, as to whether the gangs were too intimately involved in the actual working of democracy at the precinct level. Whether U.S. Attorney Eric Holder factors these realities into his promised war on 'youth violence' is a question for the future.
One thing is clear. Holder could have learned a lot more about Chicago's drug gangs — one of the most important sources of 'youth violence' — by hanging around with the people standing behind him that day, and asking a few pointed questions. But he didn't ask.
And one of the reasons they were there is that they can be counted on, like Arenda Troutman, not to tell.
Of course, Holder could also have learned a lot more about how Arne Duncan performed at 'school reform' from the aldermen. Basically, with the help of men and women like Ike Carothers and Arenda Troutman, Duncan purged the city of veteran teachers and turned dozens of schools over to privatized groups that undermined more and more of the public education system in Chicago. Arenda Troutman's alma mater, Chicago's Calumet High School, is now being operated by the Perspectives Charter Schools, thanks to Duncan. When Duncan began privatizing Calumet in September 2004 (the school stopped taking 9th graders and was shrunk each year until the last public school students graduated in June 2008) Calumet was a home to the Black P. Stones street gang. After the privatization of Calumet, the Black P. Stones dispersed across the South Side, increasing violence as they went to schools with heir traditional enemies, the Gangster Disciples. Englewood High School, in Troutman's old 20th Ward, is now the mediagenic 'Urban Prep' charter high school. Urban Prep, with Troutman's help, took over the Englewood building after Duncan fired the public school's teachers. During its three brief years of existence, Urban Prep has had more major news articles about how cool it is than it has graduates. Every event regarding the massive privatization program called Renaissance 2010 in Chicago features Urban Prep.
As the level of national politics, it seems that Holder's smiling professionalism was just another example of the Obama administration's 'Don't ask. Don't tell' policy for Chicago. 
Final edited version of this article posted at www.substancenews.net October 15, 2009, 9:00 a.m. CDT. If you choose to reproduce this article in whole or in part, or any of the graphical material included with it, please give full credit to SubstanceNews as follows: Copyright © 2009 Substance, Inc., www.substancenews.net. Please provide Substance with a copy of any reproductions of this material and we will let you know our terms — or you can take out a subscription to Substance (see red button to the right) and make a donation. We are asking all of our readers to either subscribe to the print edition of Substance (a bargain at $16 per year) or make a donation. Both options are available on the right side of our Home Page. For further information, feel free to call us at our office at 773-725-7502.
