CTU Quiet when Chicago Public Schools is not tracking COVID boosters for students or staff
Substance News - January 07, 2023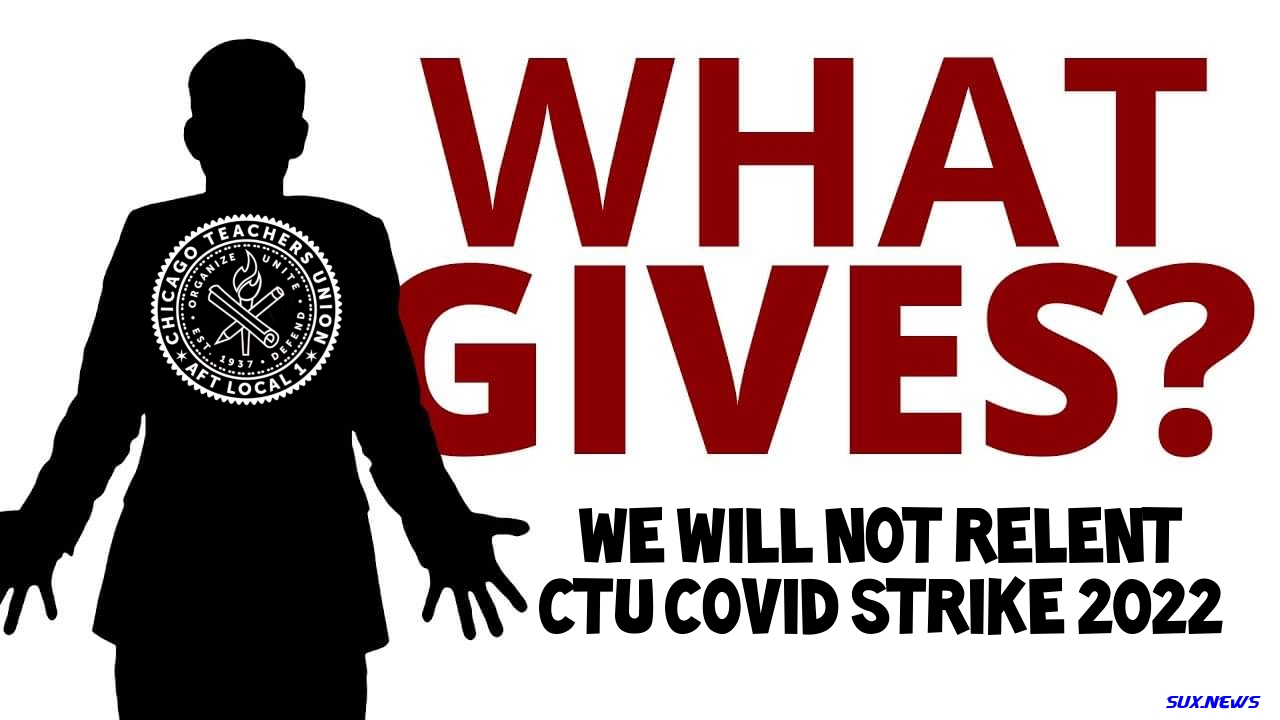 Less than a year ago, the Chicago Teachers Union was attacking the school board for endangering its students and staff during the Omicron surge.
"We will not relent," the CTU said during the second week of the COVID Strike of 2022.
Fast-forward to today the teachers union is quiet like a church mouse, despite COVID XBB.1.5 is spreading quickly, and flu activity remains high.
No Press Conferences
No Statements
No Twitter's
It begs the question was last year fake or was it some kind of organizing drive during the union elections where the current president Stacy Davis Gates could hide her being an outsider from South Bend, Indiana, and having gone to private schools and living a middle-class life, not the street thug she pretends to be.
We believe it's the latter, that the COVID strike and all the hoopla was a smokescreen and diversion from the issues of the union elections. The Union went as far as to attack its own members at this time when they did not get vaccinated or wear masks.
Yeah, this year, they're quiet.
That should tell everyone what last year was really about.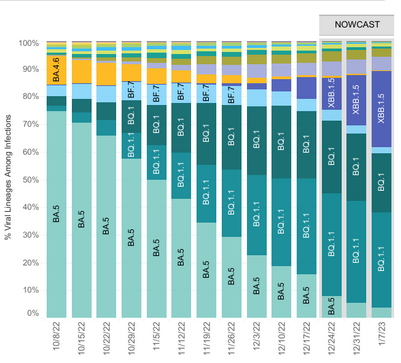 Nowcast estimated variant proportions,
United States: 10/8/22―1/7/23
www.cdc.gov


New Year, Same Variant
Interpretive Summary for January 6, 2023

CDC's goal is to provide actionable information to public health professionals and the American public. Because Omicron sublineage XBB.1.5 data were displayed separately from XBB data on COVID Data Tracker's Nowcast projections for the first time last week, we thought it would be helpful to explain the different variant proportion information CDC provides. This includes how the Nowcast forecasting tool works—what it is (a projection based on a model that has been accurate over time) versus what it isn't (a literal, real-time count of variants based on sequenced viruses from people with COVID-19).

CDC uses two methods to display variant proportions: weighted estimates and Nowcast estimates. Weighted estimates for each circulating lineage are very precise, but it takes two to three weeks for sample collection, specimen treatment, shipping, and analysis to occur. CDC uses Nowcast to forecast variant proportions before the weighted estimates are available.

Sublineages with weighted estimates less than 1% of all circulating variants are combined with their parent lineage for reporting of both weighted and Nowcast estimates. Variant proportion estimates for XBB.1.5 were first separated from its parent (XBB) the week of December 31, when its most recent weighted estimate (based on information from the week of December 10) rose to about 4%. Because of its fast growth rate, its Nowcast estimate was projected to be around 41% by the end of December.

But projections can be uncertain when a variant is just beginning to spread. When Nowcast predicted XBB.1.5 at 41%, there was a wide prediction range of about 23% to 61%. Since then, more data have come in from mid-December, as well as additional data delayed by the holidays. As a result, the projection for the week ending December 31 was revised to 18%, but with a higher degree of certainty (prediction range of 9% to 33%), followed by an increase to 28% for the most recent week of January 6 (prediction range of 14% to 47%).

These findings demonstrate that XBB.1.5 is spreading quickly. At this time, CDC's COVID-19 guidance remains the same about how people can best protect themselves from serious illness. CDC will continue to investigate the ways in which XBB.1.5 may be different from other Omicron lineages and will continue to update COVID Data Tracker's Variant Proportions page on a weekly basis.

https://www.cdc.gov/coronavirus/2019-ncov/covid-data/covidview/index.html

------------
Chicago Public Schools doesn't track COVID boosters for students, staff
By Mauricio Peña
Jan 3, 2023, 5:28pm CST
Data analysis by Thomas Wilburn
Chicago Public Schools, which has struggled with uptake at predominantly Black schools, continues to track the primary COVID vaccine series, but not the updated bivalent boosters.
Chicago Public Schools is not tracking which students or staff have gotten the updated omicron booster, even though district leaders and the city's health commissioner are urging students to get boosted to stave off another COVID surge.
Chicago's practice of not keeping tabs on updated booster vaccination by schools comes as parts of the country are experiencing an uptick in COVID-19, brought on, in part, by a new omicron subvariant known as XBB.1.5. This also comes as cities and school districts have largely eliminated most COVID-19 mitigations.
The district, which has struggled with vaccine uptake at predominantly Black schools on the South and West Sides, told Chalkbeat Chicago in response to a freedom of information request that it does not "comprehensively track student and/or staff COVID bivalent booster information," Annie Righi, a CPS FOIA officer, said in an email response.
Chicago Public Schools continues to track the initial primary series, but not the boosters, according to a district spokeswoman. 
According to the Centers for Disease Control and Prevention website, a person is considered up to date with vaccines after completing the initial series and the latest booster recommended by the federal agency. 
Those ineligible for the booster are considered up to date if they've completed the primary series, according to the CDC.
Although the public school system is not tracking the data, city health department data show about 80,000 school-aged Chicagoans have received a booster as of Jan 2.
On Tuesday, Dr. Allison Arwady, the city's health commissioner, anticipated the COVID risk level to rise in the coming weeks following the holiday break. Chicago schools return to class on Jan. 9.
Arwady said her department continues to monitor cases of COVID, influenza, and other respiratory infections. The flu, respiratory syncytial virus or RSV, and other respiratory infections have resulted in an increase in the number of hospitalizations among children in recent months. 
"I do though, certainly, continue to have some concerns about COVID," Arwady said. 
In Chicago, the city's COVID transmission rate remains medium, according to a CDC rating system. 
Currently, the city's seven-day average of laboratory confirmed cases is 452, according to city records. 
If Cook County reaches a high COVID level, Chicago would issue a formal mask advisory, Arwady said. 
School districts nationwide have leaned on vaccinations as a way to keep children and young people in school amid the ongoing pandemic. Still, districts, including Chicago Public Schools, have struggled with vaccine uptake at predominantly Black and Latino schools.
About half of all students enrolled in Chicago Public Schools — roughly 154,000 children — have gotten their initial COVID-19 vaccination series as of Jan. 2, data shows. But a Chalkbeat analysis shows vaccination rates vary widely by school, with predominantly Black schools lagging behind. 
Majority Black district-run elementary and high schools had an average vaccination rate of 24.7% as of Jan. 2, up from 23% in September. Majority Latino district-run elementary schools and high schools averaged 49.4%, compared with 48.5% in September, according to a Chalkbeat analysis.  
Both Black and Latino schools saw less than a percentage point increase since the start of the school year in the number of students vaccinated at district-run schools, data shows.
It's unclear how many Chicago Public School students have received the updated booster. But city data show about 51,587, or 28.5%, of 12- to 17-year-olds and 29,943 or 14.2%, of 5- to 11-year-old Chicagoans have received a booster as of Jan 2.
According to the district's FOIA office, vaccination information is entered into the system when self-reported or if the vaccine was received at a CPS vaccination site. 
"The data that is collected is not broken down by booster versus initial vaccination, nor is data collected pertaining to which type of booster was administered," Righi said in an email response.
Chalkbeat Chicago requested bivalent booster rates by school as of Dec. 13, but was told by the FOIA Department there were "no responsive records."
In an email statement, Chicago Public Schools said it continues to promote the latest vaccine boosters and initial series and the bivalent vaccines at elementary school and high school/charter school events.
The district did not respond to questions about why it is not tracking the bivalent booster vaccine.
Thomas Wilburn contributed to this report.
Mauricio Peña is a reporter for Chalkbeat Chicago covering K-12 schools. Contact Mauricio at mpena@chalkbeat.org
---------
Sources for Report
Performative activism rises as traditional activism becomes a trend for social media by Hannah Wang & Udita Jonnala @ thewildcattribune.com - January 14, 2022 https://thewildcattribune.com/10174/news/performative-activism-rises-as-traditional-activism-becomes-a-trend-for-social-media
Chicago Schools, Teachers Union Stalemate: What Do Both Sides Want? By Peña, Mauricio, and Cassie Walker Burke Chalkbeat Chicago, Chalkbeat Chicago, 10 Jan. 2022, https://chicago.chalkbeat.org/2022/1/9/22875245/chicago-public-schools-ctu-covid-19-remote-learning
Chicago's COVID-19 Fight With CPS Teachers Hangs Over a 2nd Week as Talks Resume Sunday by WTTW News, https://news.wttw.com/2022/01/09/chicagos-covid-19-fight-cps-teachers-hangs-over-2nd-week-talks-resume-sunday
[ CTU Anti-Safety Reporting ] Davis and Sharkey are the Safety Cops by John Kugler - February 08, 2022 http://www.substancenews.net/articles.php?page=7690
Déjà vu a "secret plan" to strike two days after the election by John Kugler - May 27, 2022 http://www.substancenews.net/articles.php?page=7785
Go, But Don't Go - Confusing Messaging for Chicago schools coming back from Winter Break by John Kugler - January 02, 2022 http://www.substancenews.net/articles.php?page=7606
[Media Bias - CTU Wildcat Strike] What really happened in Chicago? By Steve Rhodes https://kappanonline.org - January 19, 2022 https://kappanonline.org/rhodes-russo-the-untold-story-behind-the-2019-chicago-teachers-strike/
Say it Ain't So -> 68% Say So by Substance News - January 12, 2022 http://www.substancenews.net/articles.php?page=7647
The Smoke Screen of CTU Politics: Unchecked Gentrification and the Loss of Students by John Kugler - January 04, 2022 http://www.substancenews.net/articles.php?page=7607