[ CTU Anti-Safety Reporting ] Davis and Sharkey are the Safety Cops
John Kugler - February 08, 2022
[ Anti-Safety Reporting ] the Chicago Teachers Union has created a Google document so members can turn people in for organizing any Anti-Safety events or actions at schools. Under what authority does CTU have to order union members to monitor activities and report them back to the CTU. This is not strike action nor under the authority of the Union to enfoce in anyway. Seems the Union has now crossed a line into into interference with free speech and concerted activities the very rights they are suppose to protect.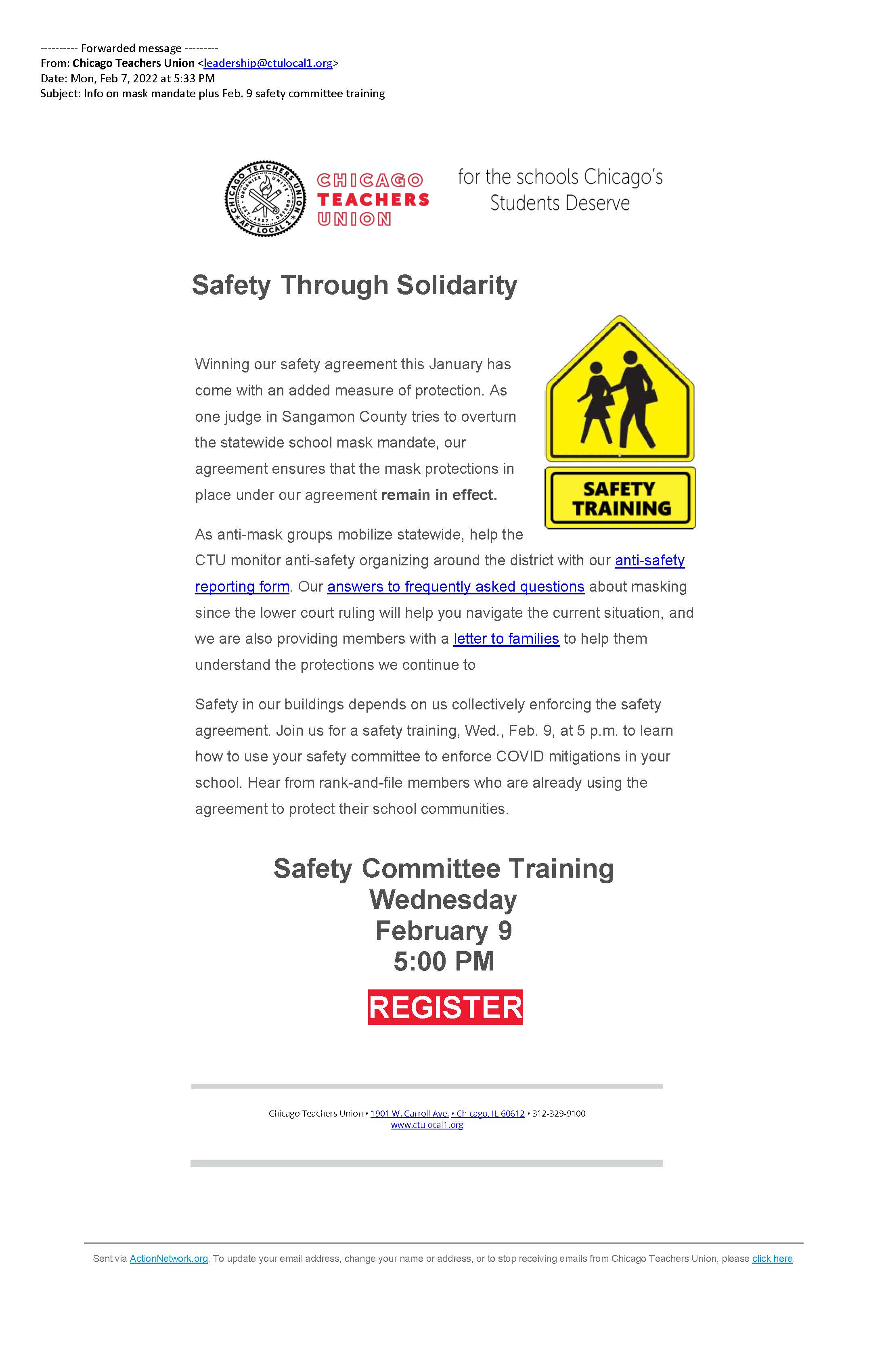 -------------------
Reporting Anti-Safety Organizing in Schools
While the CPS-CTU Safety Agreement requiring universal masking in schools is still in place and our charter schools also have negotiated agreements containing masking requirements in place, we know that some members of our school communities will seek to resist common sense safety measures as the COVID pandemic continues. While the right-lawsuit that found friendly audience in a Sangamon County judge's courtroom, we know that COVID safety measures continue to be critical to the safety of our school communities. We cannot arbitrarily lessen safety measures just when we are coming down from the Omicron surge. Our ability to eventually relax safety protocols depends on our continued vigilance now.
Please use this form to report acute, egregious, or seemingly organized resistance to COVID safety measures in our schools, including organized resistance to mask wearing by students, staff or visitors to our schools, intentional non-compliance with required isolation of COVID positive individuals or quarantine of close contacts, or resistance to regular testing by unvaccinated staff. We want to know where school community members are emboldened by the legal case to resist safety measures so we can help members maintain safety protocols and continue to enforce our Safety Agreement. You may fill this form out more than once if you work in more than one school and need to report acute, egregious, or organized resistance to COVID safety measures in more than one school.
Please continue to raise typical safety protocol compliance issues via your School Safety Committee and report unresolved issues within CPS to the District Safety Committee via ctulocal1.org/report. You can still find all our COVID safety resources at ctulocal1.org/safety.
* Required
Email *
1. Your name (just for internal purposes and follow-up): *
2. School Name *
3. Your role (Check all that apply.) *
ES Teacher
HS Teacher
Clinician
Paraprofessional
Counselor
Librarian
Substitute Teacher
Other Role
CTU Delegate
PPC/PSC Member
Safety Committee Member
LSC Member
Other:
4. Against what policy is your school experiencing significant or increased resistance? (Check all that apply.) *
Required masking by students
Required masking by colleagues/staff
Required masking by visitors/parents
Required quarantine or isolation of students
Required quarantine or isolation of colleagues/staff
Vaccination events
Vaccination deadlines
Mandatory testing for unvaccinated staff
Other:
5. From where is the resistance to these safety policies primarily originating? *
Most resistance Some resistance No resistance
From parents/families From colleagues/staff From students From admin From other community members From parents/families From colleagues/staff From students From admin From other community members
6. Please further describe the resistance to the safety policies. What policies are being resisted and how? Why do you believe this is acute and serious? What actions have those resisting taken so far?
7. What actions are you and your colleagues willing to take to support enforcement of our existing safety agreement and policies?
Hold a union meeting about enforcing safety measures
Review the CTU's FAQ and share it widely with colleagues
Sign a letter to those resisting explaining the need for following the safety policies
Go to the Local School Council or other body to advocate for safety policies to be followed
Speak with parents/community about why the safety measures are needed
Raise issues to our administration within our School Safety Committee
Refer issues to our District Safety Committee
Other:
8. What kind of help do you think you and your members need? (Check all that apply.)
Help with a union meeting
Help with a PPC or Safety Committee Meeting
Help with how to reach out to parents/families
Help with how to press our administration to enforce policies in our school
Other:
9. What else do we need to know? What else do you want to tell us?
Never submit passwords through Google Forms.
This content is neither created nor endorsed by Google. Report Abuse - Terms of Service - Privacy Policy