Sexual Misconduct, Attendance Fraud, COVID Relief Funds Spending Chicago Public Schools' Inspector General Report finds
chicago.chalkbeat.org - January 05, 2023
Sexual Misconduct, Attendance Fraud, COVID Relief Funds Spending Chicago Public Schools' Inspector General Report finds many issues that are systemic yet no high officials have lost their jobs and no CPS administrator has gone to jail for falsifying attendance records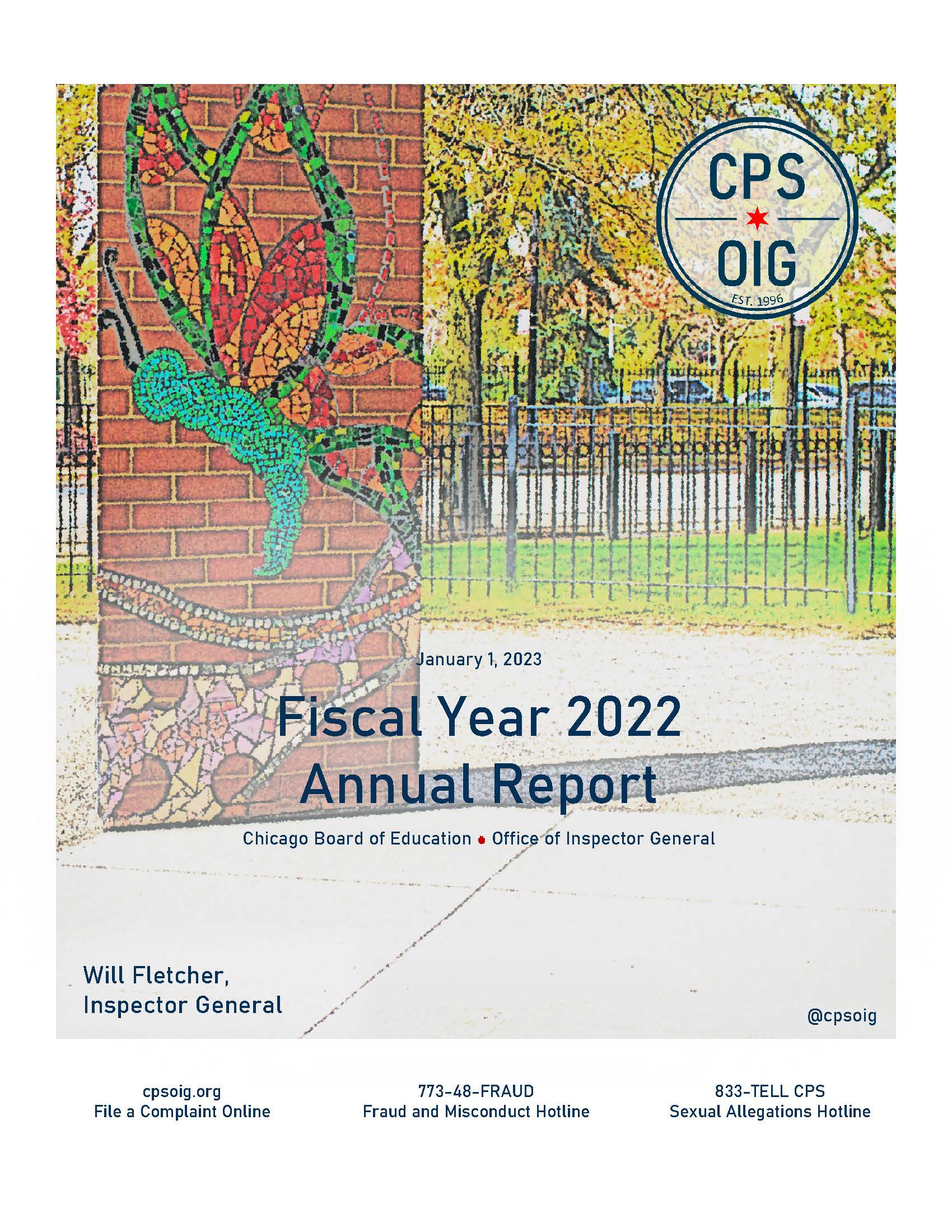 Fiscal Year 2022 Annual Report January 1, 2023
Chicago Board of Education Office of Inspector General

https://cpsoig.org/uploads/3/5/5/6/35562484/cps_oig_fy_2022_annual_report.pdf
Fiscal Year 2022 Annual Report January 1, 2023
Chicago Board of Education Office of Inspector General
https://cpsoig.org/uploads/3/5/5/6/35562484/cps_oig_fy_2022_annual_report.pdf
By Becky Vevea, Mauricio Peña, Mila Koumpilova and Samantha Smylie
Jan 5, 2023, 12:05am CST
Chicago Public Schools' watchdog is raising red flags about sharply increasing extra pay for school staff in recent years, rising sexual misconduct complaints, and a troubling practice of schools mislabeling students as transfers when they're missing school. The district's Office of Inspector General detailed these and dozens of other instances of fraud, misconduct, and wrongdoing in a sweeping 120-page annual report released Thursday. Inspector General Will Fletcher said his office received 1,825 complaints and opened investigations into 725 — or about 40% — of them. Hundreds were allegations of sexual misconduct taken up by a special unit of investigators created in 2018, which also is investigating complaints received in previous years. In response to the annual report, Chicago Public Schools spokeswoman Mary Fergus said in an email that the district supports the inspector general's work. "As a District, we take seriously our responsibility to serve our families with integrity and to address individuals who breach CPS policies and the public's trust — and hold them accountable," Fergus wrote. "CPS will continue to ensure our District policies and procedures support the highest ethical standards to ensure our valued team members act in the best interest of our students."
Here are five highlights from the inspector general's 2022 report. Truant students have been mislabeled as transfers
Chicago Public Schools has a "chronic problem" of mislabeling students who are not showing up to school, according to the inspector general's latest report. Since 2014, there have been five other investigations into the issue. This year, the inspector general found "extensive evidence" schools across the district are mislabeling students as transfers when they are truant, lost, or have dropped out. Fletcher said the district's own Office of Internal Audit and Advisory Service audited dozens of schools in 2019 and 2020. His office's review of those audits found a "districtwide problem of schools failing to document transfers and lost children as required by law and CPS policy." More troubling, Fletcher said, is the district's lack of follow-up to correct these problems. "We have not been able to confirm or see any evidence that CPS is taking adequate corrective actions even when these audits bear out that schools are not in compliance with what they're supposed to be doing to verify transfers or missing students," Fletcher said. "When you have the information, by way of an audit, then you need to correct the problem."
When students are mislabeled as transfers, they are removed from data used to measure how well schools are doing — including their attendance and graduation rates. Besides compromising data quality, this miscoding also means students may not receive support to get back into class and on track with learning. Become a Chalkbeat sponsor
The inspector general's report outlined one case at an elementary school, where 20 students were incorrectly labeled as having transferred without evidence that these students requested transfers. In emails, school staff discussed "dropping" a student who didn't return after winter break. The report said the school's principal retired and one of two clerks resigned during the investigation. The other school clerk received extra training and the school culture coordinator -– who the report said was "most responsible" for the issue — was suspended for one day and got extra training. The audits reviewed by Fletcher's office were from before the pandemic, and data shows students have been missing more school in the two years since then. The inspector general recommends that the district spot-check transfer verification data and create a process to hold schools accountable for reporting false data to the district. A district spokesperson said they are creating a new team within the Office of Student Support and Engagement to "address the improper use of leave codes and the documentation of transfers and dropouts."
Surge in overtime pay, stipends raises red flags
The Inspector General is calling on the district to increase transparency and overhaul how it tracks the way staff earn extra pay beyond their salaries.
The watchdog found a dramatic surge in overtime, stipends and other extra pay that staff earn for taking on extra work, including coaching and after-school supervision. According to the report, Chicago Public Schools paid $73.9 million in extra pay, overtime, and stipends in 2021 — a 74% increase over the previous five years. Amid this increase, the inspector general's office cited "recurring problems and a lack of internal controls" with how extra work is tracked. Investigators found payments with no supporting documentation like digital or paper time sheets. The report noted the problem is not being properly audited because the district lacks rules to limit overpayment and staffing to correct issues.
"There's no one set of rules or directions for how some of these extra pay categories are earned," Fletcher said. "And then after they've been paid out, there doesn't seem to be any kind of central monitoring or oversight on you know, to deter fraud for certain but then also just to make certain that the district is getting the bang for its buck."
Become a Chalkbeat sponsor
Since 2019, investigators found staff engaged in so-called "buddy punching" where they would clock in or out for other employees. The report highlights several egregious cases of fraud, including an employee who collected $150,000 in extra pay over four years with video evidence showing they were at a casino or elsewhere. The watchdog called on the district to implement "clear, concise, organized guidelines" that include written penalties and corrective actions for violating rules. Other recommendations include: mandatory online training sessions for staff; warning and consequences for failing to clock in and out; restrictions on stipend payments; and considering video surveillance of schools' digital time sheet machines, biometric swipes, or other timekeeping upgrades.
A spokesperson said the district will begin training on the "Timekeeper and Supplemental Payment System" Jan. 31 and will require all school clerks to complete it by Feb. 24. The payroll department is also beginning quarterly audits of extended day pay, overtime pay, and stipends, the spokesperson said. No preferential treatment for Lightfoot donor in emergency computer purchase
The district watchdog is closely tracking the district's spending of $2.8 billion in federal COVID relief dollars, the bulk of which is going toward salaries and benefits for current and some new staff. The district recently has begun to spell out more clearly how it's using these dollars — and a state dashboard allows the public to look up district spending — but the inspector general seeks more transparency.
One of the office's investigations into spending federal COVID relief money stemmed from a 2020 report by Chalkbeat Chicago and the Better Government Association about the $1.6 million purchase of roughly 5,000 computers for remote learning from Meeting Tomorrow, a local company owned by a campaign contributor to Mayor Lori Lightfoot. Chalkbeat and the BGA found that Lightfoot personally reached out to Janice Jackson, the district CEO at the time, about the company's interest in providing computers, calling its president and CEO, Mark Aistrope, "truly genuine and very generous." The inspector general's office found that the email from Lightfoot, referred to as Elected Official A in the IG report, did not improperly influence district officials or result in preferential treatment for the company. The office found that the district was facing "an extraordinary demand for computers" amid the abrupt shift to virtual learning and its established technology vendors, CDW and Apple, grappled with delays in delivering tens of thousands of devices the district ordered that spring.
Based on Chalkbeat and BGA's reporting, most of the used laptops and tablets the district bought from the company did not meet district purchasing standards. Officials said that the purchase was largely meant to help out charter schools, and district technology purchasing specifications do not apply to them. The report found Meeting Tomorrow sold the used devices at reasonable prices: at a discount or "only slightly higher" than the new computers bought in bulk from established vendors; it helped set them up and delivered quickly. And although a fraction were missing cameras — an issue that district officials at the time said they discovered after Chalkbeat and the BGA's inquiry — or had other issues, the company replaced them at no cost to the district. According to the inspector general, the company initially cooperated with its inquiry, but its CEO Mark Aistrope ultimately declined to be interviewed, in violation of district purchasing requirements that vendors cooperate with its watchdog's investigations. As a result, the inspector general recommended that the district bar the company from future contracts, a step the district has not initiated.
Automatic assignment to military programs ends
After a 2021 Chalkbeat Chicago investigation revealed a dozen high schools were automatically assigning students to the Junior Reserve Officers' Training Corps, the inspector general opened an investigation into the practice. The district signaled in May it would end the practice of automatic enrollment in JROTC programs, which disproportionately impacted Black and Latino students on the south and west sides. The inspector general's report confirms there's been a sharp drop in enrollment at neighborhood schools where more than 90% of freshmen were enrolled in the military education program without parent consent or notification. The investigation found that a key factor for automatic enrollment into JROTC was the school's lack of a regular physical education program. In Illinois, enrollment in JROTC satisfies the physical education credit required for graduation. "I didn't like being forced to have the class," one student is quoted as saying in the OIG report. "JROTC is not for everyone. It should not be forced on people."
The district said it is committed to making sure every school offers standard physical education and gives students a choice between the two. The report said the changes appear to have had an impact. The report singles out one South Side neighborhood high school where JROTC enrollment dropped from 100% of freshmen to just 9% this fall. The report quotes the principal as saying he hired a physical education teacher and now "students are requesting physical education."
A district spokesperson confirmed that all 37 of the high schools that have JROTC programs also have physical education teachers on staff. Across all schools, there are 911 physical education positions and 32 are vacant, the spokesperson said. Progress investigating flood of sexual misconduct allegations
The most complaints fielded by the inspector general's office this year alleged sexual abuse and misconduct against students. These complaints go directly to a 30-person team of investigators in the watchdog's Sexual Allegations Unit, which was created in 2018 after a 2018 Chicago Tribune investigation that found Chicago Public Schools had failed to protect students against sexual misconduct and abuse from adults in the system. Fletcher said the special unit in his office was "flooded with complaints" since it was created and has been staffing up and improving how it handles allegations. Since 2018, the special investigative unit has confirmed policy violations in 302 instances and its investigations have led to at least 16 criminal charges for sex-related crimes against Chicago Public Schools students. This year alone, more than 600 of these cases were closed — double what was closed last year. One involved the head of Urban Prep Charter Academy, who resigned abruptly this summer amid sexual misconduct allegations of an inappropriate relationship with a student while he attended one of the school's campuses and after he graduated. Chicago Public Schools and the Illinois State Board of Education have since revoked Urban Prep's charter agreements. The report also highlighted an investigation at Marine Leadership Academy, which substantiated allegations against 12 employees and a volunteer for sexual abuse, failing to safeguard students, or helping cover up misconduct.
The watchdog opened an investigation in 2019 following an anonymous tip and issued two reports in 2021. During the investigation, investigators warned district officials and child protective services of pervasive sexual abuse at a West Side school since the start of a 2019 investigation into allegations of misconduct, according to the reports.
The report describes a school employee having a sexual relationship with a student after that student turned 18. Another staffer groomed a student and began a sexual relationship after that student graduated. Another employee sexually harassed and retaliated against a student after the student filed a report. A separate employee groomed a student and crossed boundaries with others.
Seven other staffers failed to report and actively hid suspected violations including the principal, the assistant principal, head of security, a counselor, and a teacher's assistant. They were alleged to have known about the abuses but failed to report, according to the OIG.
The OIG recommended termination, disciplinary actions for staff and administrators, and permanently blocking a volunteer. Most staff resigned and were placed on the Chicago Board of Education's do not hire list, according to the report. Chalkbeat Chicago and WBEZ reported in October that the district's top military officer quietly resigned over the summer in the wake of the investigation and another involving a teacher and student at Roosevelt High School. Other recommendations include an active role by the district to correct culture, training related to mandatory reporting, and evaluate the training for JROTC staff and military instructors.
https://chicago.chalkbeat.org/2023/1/5/23539715/chicago-public-schools-inspector-general-annual-report-2022-misconduct-fraud-waste
Becky Vevea is the bureau chief for Chalkbeat Chicago. Contact Becky at bvevea@chalkbeat.org. Mauricio Peña is a reporter for Chalkbeat Chicago covering K-12 schools. Contact Mauricio at mpena@chalkbeat.org. Mila Koumpilova is Chalkbeat Chicago's senior reporter covering Chicago Public Schools. Contact Mila at mkoumpilova@chalkbeat.org. Samantha Smylie is the state education reporter for Chalkbeat Chicago covering school districts across the state, legislation, special education and the state board of education. Contact Samantha at ssmylie@chalkbeat.org