LABOR BEAT VIDEO: The fight against cuts in Belmont-Cragin in Chicago
Larry Duncan - February 02, 2016
A new Labor Beat video entitled "CPS Cuts and Layoffs At Belmont-Cragin" is now available on YouTube at: https://youtu.be/Vp69CE_kETk. The video reports on the meeting that was held to challenge cuts in public schools on Chicago's Northewest Side.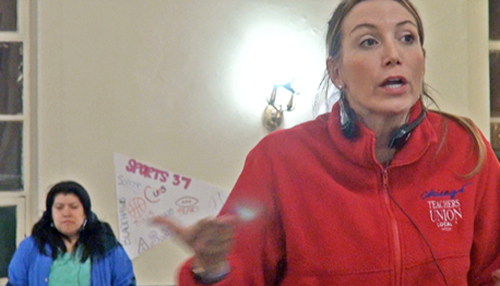 Hanson Park teacher Catherine Cunningham Yee spoke at the meeting. Labor Beat photo.On January 29, 2016 Communities United organized a meeting in Chicago's Belmont-Cragin neighborhood on how the community can resist and reverse the undermining of their schools by Chicago Public Schools policies.
A spokesperson from the Chicago Teachers Union (Andrea Montgomery, Prieto Math and Science Academy), outlined the negotiation process underway between the teachers union and CPS, which may result in a strike. In this digest of an hour-and-a-half meeting, School parents (Rosa Romero, Schubert Elementary, and Mariana Reyes, Burbank Elementary) described how resources for their children's education have been hijacked.
Likewise, Jamara McGarry from Steinmetz College Prep HS, talked about seriously worsening conditions from a student's perspective. It was clear that Belmont-Cragin was digging in for a long-haul fight to gain control of their neighborhood schools, where the Mayor-controlled CPS board has failed to provide required educational resources. Length - 9:32
[TECHNICAL NOTE: Some mobile devices may not be able to playback the audio from the language-translation signal used in this recording.]
A teacher speaks from the floor at the Belmont-Cragin meeting. Photo: Labor Beat
Produced by Labor Beat. Labor Beat is a CAN TV Community Partner, and member of the Evanston Community Media Center. Labor Beat is a non-profit 501(c)(3) member of IBEW 1220. Views are those of the producer Labor Beat. For info: mail@laborbeat.org, www.laborbeat.org. 312-226-3330. For other Labor Beat videos, visit YouTube and search "Labor Beat". On Chicago CAN TV Channel 19, Thursdays 9:30 pm; Fridays 4:30 pm. Labor Beat has regular cable slots in Chicago, Evanston, Rockford, Urbana, IL; Philadelphia, PA; Princeton, NJ; and Rochester, NY. Visit our Web Site:
http://www.laborbeat.org