Chicago Teachers Union rejects 'Tentative Agreement' brought by some of its leaders... Negotiations continue now according to the pre-existing time line... CTU elections to be held in May 2016...
George N. Schmidt - February 01, 2016
The broad-based leadership of the Chicago Teachers Union rejected a 'Tentative Agreement' with the Chicago Board of Education is two swoop on Monday, February 1, 2016, indicating that despite earlier press reports the negotiations between the two sides will continue has they have for more than a year, and the union's 28,000 members will continue working under all of the terms of the old contract, which expired on June 30, 2015.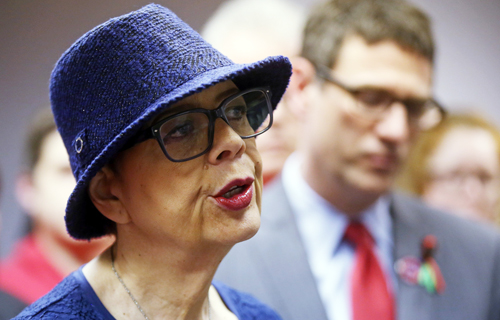 Karen Lewis (left) and Jesse Sharkey (right) the president and vice president of the 28,000-member Chicago Teachers Union announced on February 1, 2016 that the union was rejecting the school board's contract offer. Negotiators will be returning to the table to continue negotiations which have been going on for more than a year. The last contract expired on July 1, 2015 and the union's members have been working under the terms of the old contract. Tribune photo.The rejection of the so-called 'Tentative Agreement,' which she had supported, was announced by CTU President Karen Lewis at a mid-afternoon press conference at the union's headquarters in Chicago's Merchandise Mart. Specifically, the so-called "Big Bargaining Team" told the union officers that it was rejecting the deal, which had been announced the previous Wednesday. Union leaders and rank-and-file leaders have been meeting for long hours for five days over the issues raised by the TA.
At the union's Executive Board meeting, the union's leaders also decided to continue to send 150 delegates to the national and state conventions. The convention of the 1.5 million member American Federation of Teachers, the first of these, will be held in early July in Minneapolis.
CHICAGO TEACHERS UNION PRESS RELEASE, AFTERNOON OF FEBRUARY 1, 2016...
CTU rejects the Board of Education's offer because it fails to address the district's fiscal instability and reductions in education quality
NEWS RELEASE. FOR IMMEDIATE RELEASE CONTACT: Stephanie Gadlin
February 1, 2016 312-329-9100
CHICAGO - After much deliberation, the Chicago Teachers Union has rejected the Board of Education's most recent contract proposal because it does not address the difficult conditions in the schools, the lack of services to our neediest students or address the long-term fiscal crisis that threatens to gut public education in the city. Moreover, educators do not believe the Board will honor its promises because it has lacked the will to join with parents, students, community and others in identifying existing revenue solutions that can stabilize the district.
"Chicago Public Schools (CPS) challenges are a revenue-based problem because two of the three biggest cost drivers are things that have to be paid: pensions and debt service (which includes the swap termination payments)," said CTU President Karen Lewis. "The third biggest cost driver is charter school proliferation-and though they've promised to halt charter expansion there is a state commission that can override their decision. There are no guarantees."
Lewis said CTU members have given more than $2 billion back to the district over the last five years, including $500 million from the 4 percent raise that was rescinded in 2011; $500 million from layoffs over this period, including from the school closings; and $1.2 billion from the three- year partial pension holiday between 2011 to 2013.
"Simply signing a contract with CPS will not bring them a windfall of resources from the state," Lewis said. "We have to exhaust every option available, which includes terminating those swap deals, returning the TIFs to the schools and a financial transaction tax that could bring hundreds of millions of dollars to the city. Without some real movement on the revenue problems, we can't trust that they will honor any words offered in a four-year contract deal."
It should be noted that the CPS bond sale went south last week because investors are skittish about the real financial challenges the district faces. The downgrades came after investors' concerns about the city's inability to raise revenue. Also, the district is using short-term credit lines to manage cash flow because its cash flow is so limited. The money from property taxes is already spent - those short-term lines have to be repaid.
"CPS has been living on borrowing for too long," said CTU Vice President Jesse Sharkey. "Now to turn around and blame teachers and staff for that debt while letting bankers off the hook is not acceptable. We think bankruptcy is a bluff, but if it isn't, the mayor and his handpicked school board need to examine our commitments to progressive revenue."
CPS' uses this math to plug its budget hole:
* $200 million from the state for pensions
* $150 million from the state in a school aid formula change
* $170 million from a new local property tax levy for pensions
* $150 to $175 million from eliminating the teacher's pension pickup and from increased healthcare costs.
"That's about $700 million of the claimed $800 million deficit," said Sharkey. "They want us to foot two chunks of that through property tax increases and classrooms cuts. We need a big fix to school funding at the state level through progressive taxes on wealthy people. The Board cannot continue to balance its budget on teachers and students by cutting our compensation and eliminating vital education services such as special education."
The Chicago Teachers Union represents nearly 27,000 teachers and educational support personnel working in the Chicago Public Schools, and by extension, the more than 400,000 students and families they serve. The CTU is an affiliate of the American Federation of Teachers and the Illinois Federation of Teachers and is the third largest teachers local in the United States and the largest local union in Illinois. For more information please visit CTU's website at www.ctunet.com.
SG:oteg-743-tr...
TRIBUNE ARTICLE FROM ON LINE TRIB FEBRUARY 1, 2016 BELOW HERE:
Chicago Teachers Union bargaining team rejects city's contract offer
Juan Perez Jr. The Chicago Teachers Union has rejected a four-year contract offer from the city, sending talks that have gone on for more than a year into a final stage.
"The real problem is the lack of trust in CPS," CTU President Karen Lewis said at an afternoon press conference.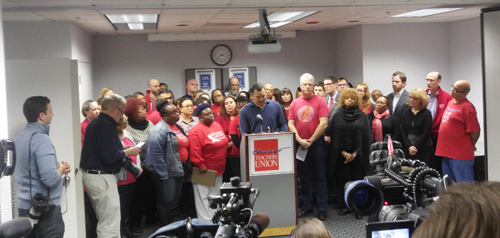 Members of the Chicago Teachers Union 'Big Bargaining Team' spoke to the press at the February 1, 2016 press conference. Substance photo.The union's 40-member "Big Bargaining Team" voted against sending the four-year proposal to the larger House of Delegates. Talks to replace a contract that expired June 30 will now move into a fact-finding stage, which by law must go on for about four months before a strike could occur.
"I know people were expecting something completely different," Lewis said of the union's rejection. "But that's not how we work as the Chicago Teachers Union.
"It doesn't matter what one person wants or what two people want or what three people want. People need to understand that our big bargaining team is an extension of the officers, and the experts and the lawyers who come with us to have conversations with the board."
Chicago Public Schools had offered teachers a four-year deal that would bar economic layoffs, put a cap on privately run charter schools and provide some moderate pay increases, sources said last week. In exchange, union members would have had to make concessions that included paying more toward their pensions and health care expenses.
The district said Monday that its proposal also included a commitment to restore a city property tax levy solely for teacher pensions, a move that would require state approval. In a statement, district CEO Forrest Claypool said he was "disappointed" with the union's decision.
"This agreement provided pay raises, guaranteed job security and met the union's key demands, including restrictions on charter school expansion, raises for seniority in addition to cost-of-living increases, and more classroom autonomy for teachers," Claypool said.
"We are committed to returning to the bargaining table and working around the clock to reach an agreement," he said.
CTU leaders had deemed the city's proposal a "serious offer" in agreeing last week to take it to its bargaining team for a vote.
CPS has for many years picked up 7 percentage points of the 9 percent pension contribution required of teachers and many staff members. Last year, the district ended the practice for its nonunion workers; under the current offer, the practice would be phased out for teachers.
CPS would phase out its longstanding practice to absorb the bulk of teachers' required pension contributions. New hires would have to pick up their entire share of pension costs right away.
CPS also could not increase the number of charter schools beyond the 130 or so that operate now, a source said. The district could approve and open new charter schools if it closes others. The CTU has long opposed the privately run, publicly funded schools, where teachers are not CTU members.
Under state law, the two sides must engage in fact-finding, which involves a representative from each side and a neutral party, for up to 120 days before a strike could take place. Assuming the process gets underway this week, that would extend to the end of May. Final day of classes is set for June 21.
Teachers have already voted to authorize their leaders to call a strike, if deemed necessary.
The union's rejection could impact the district's efforts to add to its already-sizeable debt load in order to stay afloat. The district last week put off a bid to borrow up to $875 million, placing the deal on day-to-day status while courting potential investors.
Mayor Rahm Emanuel's was in New York on Monday for meetings with financial institutions, his office said.
CPS already has scaled back the size of the deal by hundreds of millions of dollars, and if it goes through, the district is expected to pay very high interest rates because of its junk bond rating status.
Claypool has said the district expected to complete the deal by early this week at the latest.
In recent days, negotiators on both sides of the table have said that talks have gained steam following Republican proposals to allow a state takeover of the cash-strapped district, and also allow the district to declare bankruptcy.