BOARDWATCH: Alderman makes powerful push to get CPS to rectify 'toxic swap' deals and straighten our TIF financial issues...
George N. Schmidt - January 28, 2016
Although the line of public officials speaking before public participation at the beginning of the January 27, 2016 meeting of the Chicago Board of Education was shorter than usual, the one Chicago alderman who spoke delivered a powerful reminder to the Board (it would be unfair to call it a "plea") that the Board had to act in the interests of the city's public school children -- and not continue to do the bidding of the mayor who had appointed them.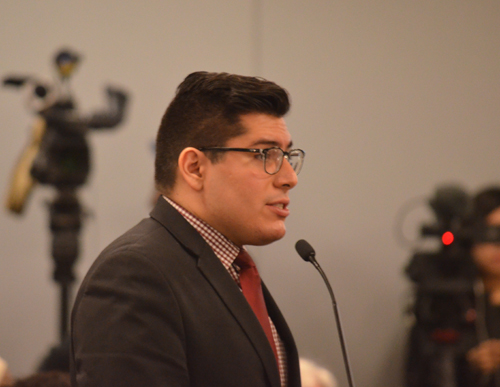 Alderman Carlos Ramirez - Rosa (35th Ward) speaking at the January 27, 2016 meeting of the Chicago Board of Education. Substance photo by George N. Schmidt.Alderman Carlos Ramirez - Rosa (35th Ward), a 2007 graduate of Chicago's Whitney Young High School, spoke to the Board after the reports from CPS officials were completed.
He talked of the $1.3 billion in Tax Increment Financing (TIF) in the city, noting that instead of expensive borrowing CPS could demand the use of surplus TIF dollars for the latest "crisis" in CPS. Ramirez Rosa objected to the facts that in many TIFs, the money often goes to "deep-pockets people" and not to the average person in the community. He stated that CPS is in desperate need of funds and that Springfield should require the city to use the surplus TIF funds for schools. He said that Springfield has said we'll make you do it and wants the Board of Education (BOE) to join this. Rhetorically, he asked, "Who has the power?" and replied, "It is no secret who has it." He added that the fees, fines and interest paid to banks should have gone to schools. He insisted that the moral argument is, "What is a more just use of our money?" He stated that the money needs to go the the schools and that other municipalities do this. He concluded by saying that the BOE should sit down with experts, that there's another way, and that members of the City Council will work and pray that you do the right thing for our children.
SUBSTANCE HAS REQUESTED THE COMPLETE COPY OF THE PREPARED REMARKS OF ALDERMAN RAMIREZ ROSA AND WILL PUBLISH THEM HERE WHEN WE RECEIVE THEM FROM HIM...