Republicans introduce CPS 'takeover' bill in Springfield... Republicans are not pushing for (ultimately) an elected school board in Chicago!
George N. Schmidt - January 23, 2016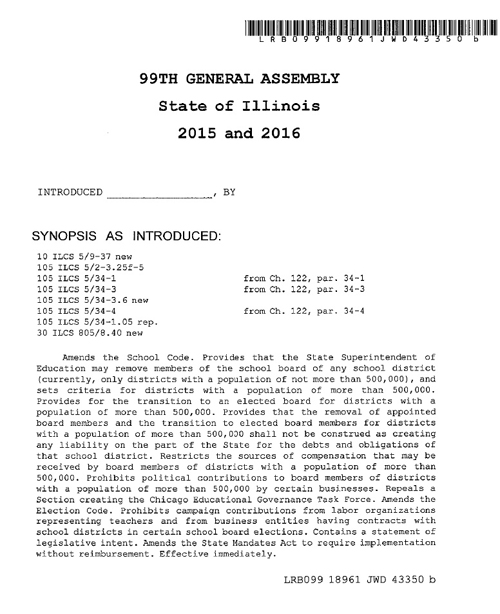 The Republican "elected school board" bill for Chicago.It took four days between the time they announced they intended to do it and the day they finally got around to putting their ideas in legislative language. The two top leaders in Springfield have introduced a bill in the Illinois General Assembly that would allow the (governor's appointed) Illinois State Board of Education to take over Chicago's public schools, stripping the mayor of the power to appoint the members of the Board and the "Chief Executive Officer" of CPS. The bill by the Republicans is also an "elected school board" bill, with the proviso that CPS contractors and unions would be barred from supporting candidates for the Chicago Board of Education.
Despite the recent headlines, as of Friday evening, January 22, he Republican leaders in the Illinois House and Illinois Senate have not -- NOT -- introduced a bill to put Chicago's public schools into bankruptcy. The Republicans in Illinois are the minority party in both the House and Senate, despite the fact that the Governor is Bruce Rauner, a multi-millionaire Republican. The leaders of the Democratic Party in both the House (Michael Madigan) and Senate (John Cullerton) have declared that the Republic "elected school board" bill is dead on arrival.
AS GREG HINZ REPORTER IN CRAIN'S CHICAGO BUSINESS ON JANUARY 22, 2016:
"As promised, the Republican leaders of the Illinois House today introduced legislation to strip the mayor of his control over Chicago Pubic Schools and, eventually, elect members of the Chicago Board of Education.
"I haven't fully read the language yet But under the bill filed by Sen. Christine Radogno and Rep. James Durkin, the state Board of Education, appointed by Gov. Bruce Rauner could seize control of Chicago Public Schools in certain circumstances and retain control via an independent operating board until CPS no longer was 'in financial difficulty.'
A new elected board then would take control, with CPS contractors and labor groups such as the Chicago Teachers Union forbidden from donating to the campaigns of board candidates.
"The Legislature's top Democrats, Senate President John Cullerton and House Speaker Mike Madigan, have effectively said the bill is dead on arrival. But it is worth watching.
A second promised GOP bill, to call on CPS to file for bankruptcy, has not yet to my knowledge been filed."