Barbara Byrd Bennett claimed a 'homeowner-resident' tax break in Ohio for her Ohio home, while firing teachers and others for violating CPS 'Residency' rule... Board members routinely fire teachers exposed for 'residency fraud', but never asked whether their CEO was lying about her real home!...
George N. Schmidt - May 18, 2015
Tax records from Ohio show that Chicago Public Schools "Chief Executive Officer" Barbara Byrd Bennett claimed a local tax reduction on her Ohio residence while enforcing rules against Chicago teachers and other CPS workers who are required to live in the city. No one on the Chicago Board of Education ever asked Byrd Bennett whether her primary residence was in Chicago, as required by law, or in Ohio, where she owns her home.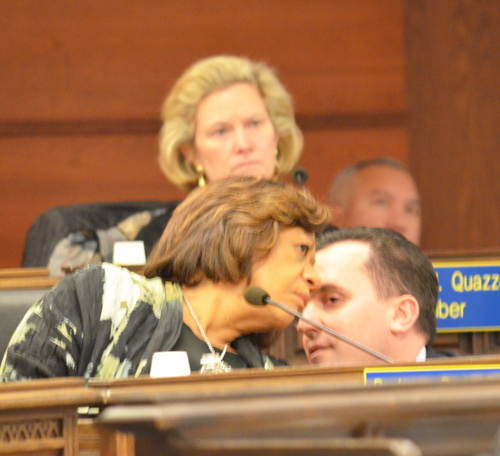 Chicago Public Schools "Chief Executive Officer" Barbara Byrd Bennett (above left) was caught by Substance's cameras huddling with one of the CPS "Chief of Staffs" during the October 22, 2014 meeting of the Chicago Board of Education. Bob Boik (above right) came to Chicago from Michigan where he had worked with Byrd Bennett in destroying the Detroit public schools. Behind Byrd Bennett and Boik is Chicago Board of Education member Deborah Quazzo, who has her own ethics issues since the Sun-Times reported that companies with which she has a fiduciary relationship have increased their business with CPS since she was appointed to the Board by Mayor Rahm Emanuel in June 2013. Substance photo by George N. Schmidt.Additionally, the members of the Chicago Board of Education are still covering up the fact that they routinely disciplined and fired people while ignoring the blatant and cynical abuse of power by their hand-picked CEO. Byrd Bennett was only exposed for her hypocrisies (and put on paid leave) after the papers revealed that she was being investigated by the FBI and three of her hand-picked associates were subpoenaed by a federal grand jury.
According to tax records from Coyahoga County, Ohio, Byrd Bennett signed documents attesting to the fact that he home in Solon, Ohio, was her primary residence and that she lived there. The most recent claim was made in 2014, two years after the Board members voted to make her CEO, replacing their initial CEO, Jean-Claude Brizard, following the 2012 Chicago Teachers Strike. Records of home taxes, including Byrd Bennett's, are easy for anyone to locate: http://fiscalofficer.cuyahogacounty.us/auditorapps/real-property/repi/taxbill.asp The complete tax record follows here:
PRIMARY OWNER, BYRD-BENNETT, BARBARA PROPERTY ADDRESS 38155 FLANDERS Dr, SOLON, OH 44139
TAX MAILING ADDRESS, CORELOGIC, 2500 WESTFIELD DR, ELGIN, IL 60124
LEGAL DESCRIPTION S/L 234 VOL 337 PG13-16 FF98.84 D200.00 OL9 .540AC THORNBURY SUBDIVISION PH8 2006S/R Field Definitions
PROPERTY CLASS, SINGLE FAMILY DWELLING 2014 (pay in 2015) TAXBILL SUMMARY
PARCEL NUMBER, 955-31-025 TAXSET Solon TAX YEAR ASSESSED VALUES MARKET VALUES FLAGS LAND VALUE 38,150.00 LAND VALUE 109,000.00 OWNER OCCUPANCY CREDIT Y BUILDING VALUE 152,460.00 BUILDING VALUE 435,600.00 HOMESTEAD N
TOTAL VALUE 190,610.00 TOTAL VALUE 544,600.00 FORECLOSURE N
HOMESTEAD VALUE 0 CERT. PEND. N
CERT. SOLD N
HALF YEAR CHARGE AMOUNTS RATES PAYMENT PLAN N
GROSS TAX 10,429.23 FULL RATE 109.43 LESS 920 RED 3,112.68 920 RED. RATE .298458 SUB TOTAL 7,316.55 EFFECTIVE RATE 76.769755 ESCROW NON-BUSINESS CREDIT 669.71 ESCROW N
OWNER OCCUPANCY CREDIT 167.42 PMT. AMOUNT 0.00
HOMESTEAD RED. AMOUNT 0.00 ACCOUNT TOTAL ASSESSMENTS 0.00 HALF YEAR NET TAXES 6,479.42 CHARGES PAYMENTS BALANCE DUE TAX BALANCE SUMMARY: 12,958.84 6,479.42 6,479.42 2014 (pay in 2015) CHARGE AND PAYMENT DETAIL Tax Information is up to the hour - tell me more.
TAXSET CHARGE TYPE CHARGES PAYMENTS BALANCE
Solon 1st half tax 6,479.42 6,479.42 0.00
1ST HALF BALANCE 6,479.42 6,479.42 0.00
2nd half tax 6,479.42 0.00 6,479.42
2ND HALF BALANCE 6,479.42 0.00 6,479.42
TOTAL BALANCE 12,958.84 6,479.42 6,479.42
Any member of the Board, or the IG could look up the Ohio tax report under byrd-bennett
http://fiscalofficer.cuyahogacounty.us/auditorapps/real-property/repi/taxbill.asp
By the time the members of the Chicago Board of Education began holding their meetings at the Board's new corporate headquarters in the old downtown Sears building, the Board had been in power for nearly four years. Appointed by Mayor Rahm Emanuel immediately after Rahm's May 2011 inauguration, the "new Board" routinely fired Board employees (including principals and lawyers) who violated the CPS "Residency" rules. But none of them asked about the actual residency of their own "Chief Executive Officer", Barbara Byrd Bennett, following their vote to appoint her CEO in October 2012. Each year, the Board members fired teachers, principals and others for violating residency while ignoring the fact that Byrd Bennett was actually maintaining her primary home in Solon Ohio, as reported several times at substancenews.net. Above, the members of the Board who victimized teachers and others for "residency" but aided and abetted Byrd Bennett at the January 28, 2015 Board meeting. Left to right Mahlia Hines, Jesse Ruiz, David Vitale, Andrea Zopp, and Carlos Azcoitia. Not in the photo are Henry Bienen and Deborah Quazzo. In front are the Board's attorney, James Bebley, and CEO Barbara Byrd Bennett. Substance photo by David Vance. Chicago Public Schools still has a residency requirement for all employees. There is no public record that the Board of Education voted to grant a waiver to Byrd Bennett.
Additionally, the Board of Education receives a report from its Inspector General every year, and every year the IG Report lists those Board employees who are going to be terminated (and placed on the DO NOT HIRE list) because of "residency fraud." "Residency Fraud" is one of the most common violations for which CPS workers have been fired over the past 15 years, as the IG reports show for anyone who has bothered to read them.
In the FY (Fiscal Year) 2014 IG report (which came to the Board in December 2014), more than a dozen teachers and other Board workers were recommended for termination because of residency fraud. These included teachers, principals, assistant principals, and even two Board assistant attorneys.
The 2014 IG report states, in part (beginning on Page 33)...
IG Report (2014)
Beginning on Page 33, of the 2014 OIG report, the report states:
"The OIG recommends "immediate termination" when employee residency violaters also lie about their address. This is because, per the Board's residency policy (see Board Report 08-0227-PO1), an employee who lies about his or her address in conjunction with a residency violation is deemed to have engaged in irremediable conduct, which means that termination if mandatory. In that report, the IG added…
High school teacher living in Antioch
Custodial worker living in Hazel Crest
Residency and tuition fraud by elementary teacher
Senior analyst living in Downers Grove
Residency and Tuition Fraud by Instructional Support Leader
Residency and Tuition Fraud by a Teacher
Residency Fraud by Principal and Assistant Principal at the Same High School
The list even includes lawyers working for the Board, including "Assistant General Counsel Living in Naperville" and "Assistant General Counsel Living in Park Ridge"…
There were others, which anyone can read in the IG report. The latest report was presented to all members of the Board of Education by December 2014. There was no mention of residency fraud by a CEO or other top official, although the IG listed many specific examples of residency violators and the Board fired all of them.