BOARDWATCH: Of course you can take the PARCC with mouse turds on the computer!... Washington High School gets another 'We'll get back to you on that...' a decade after the Board first promised to fix its leaky roof and get rid of the mice, rats, and roaches infesting the building...
George N. Schmidt - March 25, 2015
More than a decade after the Chicago Board of Education promised to fix the leaky roof and make other repairs on Washington High School on Chicago's far Southeast Side, parents returned to a meeting of the Chicago Board of Education on March 25, 2015 to remind the Board that they are still facing the same problems. What the Washington parents didn't note was that during the time the Board has been claiming there is no money to repair a dangerously leaky roof and eliminate vermin in the school, it has spent nearly a million dollars on facilities upgrades and new buildings in the more affluent parts of town. The Board members, led by multi-millionaire David Vitale, told the parents from the city's working class community, that they really want to help, but money is short...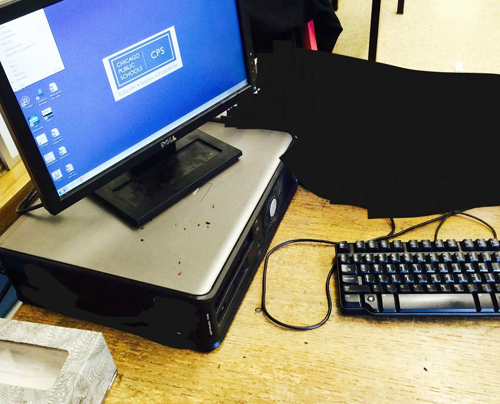 Students at Chicago's Washington High School are forced to bursh mouse shit off their computers before they can use them. Above, a photo provided to the Board members by Washington parents at the March 25, 2015 Board meeting. The black dots on the computer and desktop are mouse turds. Substance photo courtesy of Washington High Schools. The parents came prepared with a dramatic portfolio of photographs of the problems their school is facing. The Board sighed and told the parents how much they all cared. Then they sent one of their army of "We'll get back to you on that..." bureaucrats to sweet talk the parents -- so that maybe in ten more years another bit of sweet talk will yield the same result.
The three-person delegation from Washington High School outlined what amounts to a crisis threatening the health and safety of all those who attend or work at Washington. But this was far from the first time the problems have been brought to the attention of the school board, or the first time the Board cynically neglected them because Washington is simply too far from Chicago's corporate media centers to draw the reporters who sometimes dictate the public agenda.
Nearly a decade ago, the same problems described on March 25, 2015 were documented in grievances filed by the Chicago Teachers Union. The grievances were stalled, then "won" but the Board, after making numerous promises, never dealt with the problems. Instead of a new roof, the Board hired contractors who did a poor job patching the aging existing roof. The other problems likewise remained for a new generation of school parents and students.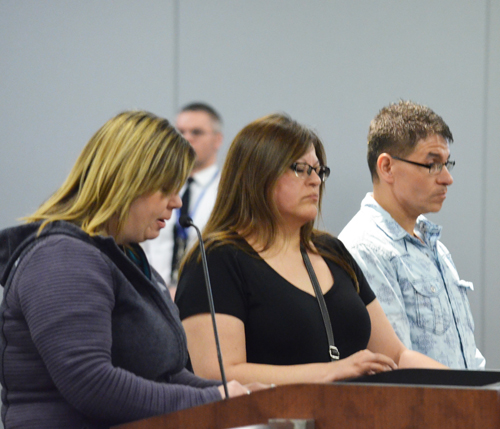 Washington High School Local School Council member Kimberly Torres (left) described in detail the unsafe and unhealthful conditions continuing at the school during the March 25, 2015 meeting of the Chicago Board of Education. Substance photo by George N. Schmidt.And while the current Board of Education, appointed by Mayor Rahm Emanuel in May 2011, has spent tens of millions of dollars on unnecessary improvements to schools in the Gold Coast and North Lake Shore areas of town, Washington High School stands as one of many lurid examples of how cynically the Board members treat working class and middle class people. During the past three years, over protests that even included wealthy community resident from Lincoln Park, the Board has approved the construction of an unnecessary additional building to Lincoln Elementary School and an addition to Walter Payton High School (which the Board praised for its smaller size when it was opened by Paul Vallas and Gery Chico during the late 1990s).
And so Washington High School returned to the new headquarters of the nation's third largest school system to update the indignities and worse facing the school's students, workers, and community.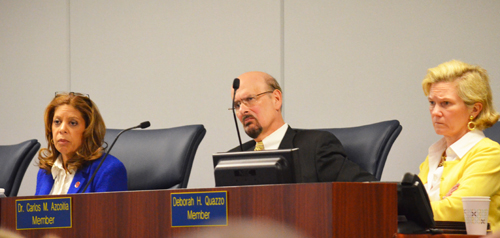 As usual, the members of the Board of Education tried to look as concerned as possible during the presentation about the atrocious conditions at Washington High School, and later they made sure they put questions on the record about the issue. Earlier during their terms, the Board members approved millions of dollars for unnecessary additions to schools serving the city's wealthiest communities, while later telling people from working class schools like Washington that there is "no money." One of the tricks of power in the 21st Century is to make sure that every public body has a "rainbow" of "diversity" overseeing the neglect of poor and working class communities. Above, three of the seven current school board members, Andra Zopp (CEO of the Chicago Urban League), Carlos Azcoitia (a retired principal) and multi-millionaire venture capitalist and "entrepreneurial investor" Deborah Quazzo. Substance photo by George N. Schmidt.The Washington High School speaker was Kimberly Torres, who is a parent rep on the Local School Council. Her remarks provided to Substance follow here:
Good Morning, my name is Kimberly Torres and I am a parent representative from George Washington High school LSC.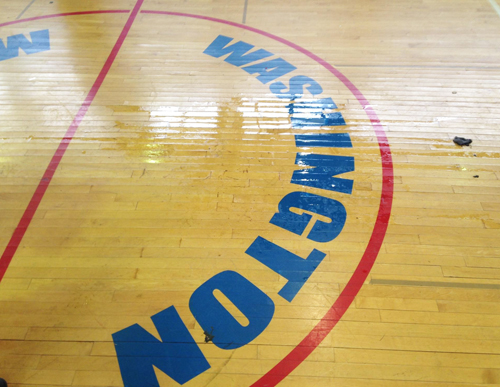 The gym floor at Chicago's George Washington High School has already been ruined by the leaking roof that the Chicago Board of Education refused to replace after it promised to do so six years ago. Substance photo courtesy of Washington High School concerned community. Our school is in need of a new roof, remodeling and a deep cleaning. It has been neglected far too long. In 2009 we were promised a new roof and the Board broke that promise only to patch it once again.
It has been leaking for years. Buckets of standing water are in our halls since this past fall. The building is disgustingly dirty, infested with mice and our pool has not been operational for almost two years. Thrown into the stagnant water are weights and gym equipment that were donated by our alumni association. This was done by students who have had access to this area without any adult supervision because the area is not being locked.
These conditions are a health risk and a tragedy waiting to happen.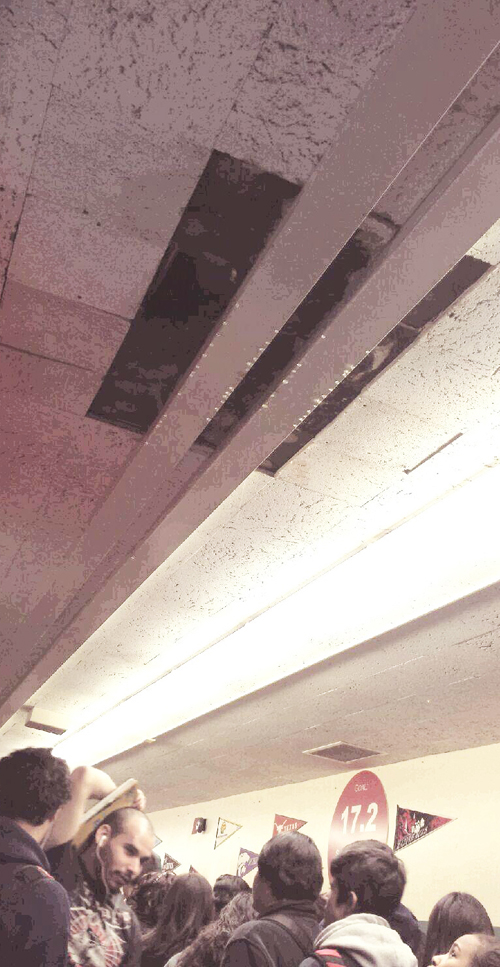 Some Washington High School students cover their heads to shield themselves from "indoor rain" caused by the Chicago Board of Education's policy of neglect against the working class school near Chicago's Indiana border. "You wouldn't see this at Walter Payton or Jones (College Prep high schools serving the Gold Coast), one Washington supporter told Substance. Substance photo courtesy of Washington High School concerned community. Also, just recently we were made aware that our principal has violated our students' right to an education by punishing students who were tardy to 1st period by keeping them in the lunchroom during that period and marking them for a "school function," denying them hundreds of minutes of instructional time. I and many others received a letters explaining this violation in detail. This letter was sent twice, the first one suppressed by administration as we have been informed.
The letter is an excerpt of the 2014 OIG report explaining how the administration violated CPS policy. I am concerned about this practice and the Compensatory minutes that are mandated by federal law to diverse learners and how they will be recovered for these students?
Considering these issues, Would you accept this for your children? We will not accept this for our children.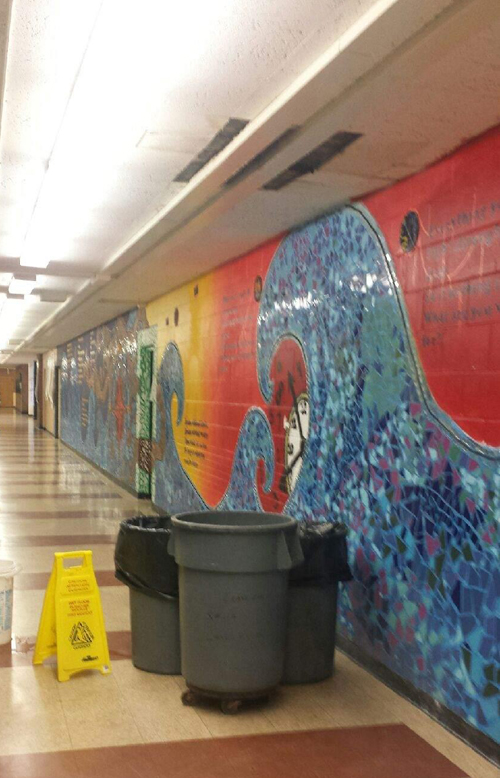 Whenever it rains or when winter snow melts, the halls and some classrooms at George Washington High School are lined with buckets to catch the "indoor rain" caused by years of Board of Education promises and the cynical neglect of a working class community that has gotten nothing but promises while tens of millions of dollars have been budgeted for unneeded additions to Lincoln Elementary School and Walter Payton High School by the administration of Barbara Byrd Bennett and approved by the Board of Education headed by David Vitale. Substance photo courtesy of Washington High School concerned community. Our school is thriving academically, all of our teachers have gone above and beyond and our students have achieved year after year for the last seven years. We will not be overlooked anymore. We will not have our mail suppressed and we will not ignore the unsanitary conditions and neglect of our school, we will not accept data manipulation that denies our children an education, we will not accept poor stewardship by principals of our school. We pay taxes and expect remedy to this situation.