Names of the Dead from Sandy Hook Elementary School in Newtown Connecticut
George N. Schmidt - December 16, 2012
Substance readers and staff are having many responses to the latest murders in a public school. Evil is the word that best describes what was done. We cannot be silent, but must choose our words for care and sensitivity. As editor, I have decided that the following list is most appropriate at this time. Anyone who wishes to comment should feel free to do so. Any comment we deem inappropriate will not be allowed and will never be forgiven.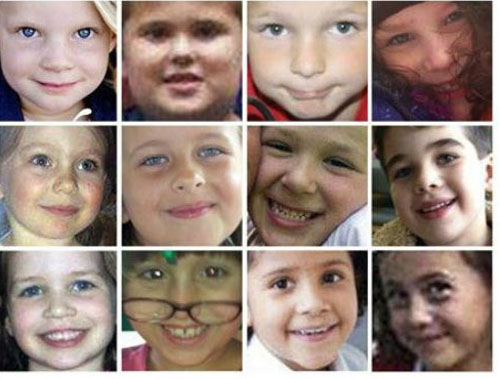 Reuters photo of some of the victims at Sandy Hook elementary school.NAMES OF THE DEAD:
Victims of the Newtown Shootings, Published: December 15, 2012 via The New York Times.
Charlotte Bacon, 6
Daniel Barden, 7
Olivia Engel, 6
Josephine Gay, 7
Ana Marquez-Greene, 6
Dylan Hockley, 6
Madeleine Hsu, 6
Catherine Hubbard, 6
Chase Kowalski, 7
Jesse Lewis, 6
James Mattioli, 6
Grace McDonnell, 7
Emilie Parker, 6
Jack Pinto, 6
Noah Pozner, 6
Caroline Previdi, 6
Jessica Rekos, 6
Avielle Richman, 6
Benjamin Wheeler, 6
Allison Wyatt, 6
Rachel Davino, 29 (TEACHER)
Dawn Hochsprung, 47 (SCHOOL PRINCIPAL)
Nancy Lanza, 52 (MOTHER OF GUNMAN)
Anne Marie Murphy, 52 (TEACHER)
Lauren Rousseau, 30 (TEACHER)
Mary Sherlach, 56 (SCHOOL PSYCHOLOGIST)
Victoria Soto, 27 (TEACHER)