Veteran's Day protest highlighted TIF gifts to the super-rich... Moratorium on school closings demanded by labor and community groups, new video shows growth of the movement
David Vance - November 23, 2012
A dramatic protest that went from the plaza adjacent to the Tribune Tower to the Hyatt marked part of the growing movement against school closings this school year in Chicago, and there is now a video about it. A growing coalition of union and community activists is demanding a moratorium on school closings for the 2012 - 2013 school year. The growing movement against the so-called "Hit List" of schools to be closed and otherwise transformed has launched a series of protests against the policies, one of which can be seen in a new You Tube video produced by Chicago's Labor Beat. For those who cannot utilize a hot link, the video is on YouTube at: http://youtu.be/b3zfgV4NQ3g.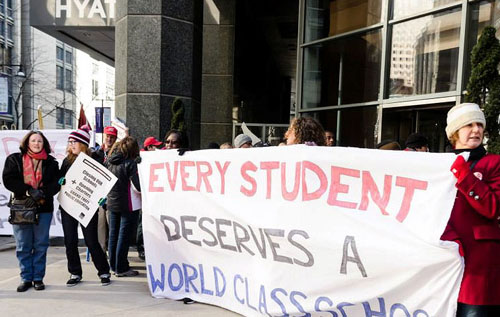 When the protesters reached the Hyatt, one of the banners they unfurled demanded real public schools. The sign carried by many of the protesters demanded that there be no more school closings and no new charter openings. Labor Beat photo by Lisa Russell.In the weeks since the conclusion of the 2012 teachers strike, the momentum for defending public education in Chicago continues and grows. Only days after the highly successful advisory referendum for an elected school board, the teachers union and community allies held a rally and march on November 12, 2012, to call for a moratorium on school closings. It was held on Michigan Ave. in the 'Gold Coast' district.
"The Board's request to move back the deadline for the school closings announcement is a recognition of the failure of their policy," stated Jesse Sharkey, Vice President of the Chicago Teachers Union. "It is disorganized and in shambles…What the school board should do is take a year off, have a moratorium on school closing." He called for a process where the parents, community and teachers have real say in what happens to the public schools.
Sharkey added: "We're here to serve notice to the appointed board that if you close our schools, we're coming after you." Although Vice President Sharkey was squarely on solid ground when he warned the school board that they will face a political fight for their actions, the President of the school board, David Vitale, at the very next Board meeting, bristled at such "threatening language". . The millionaire Vitale did not approve of the serfs talking back or organizing resistance.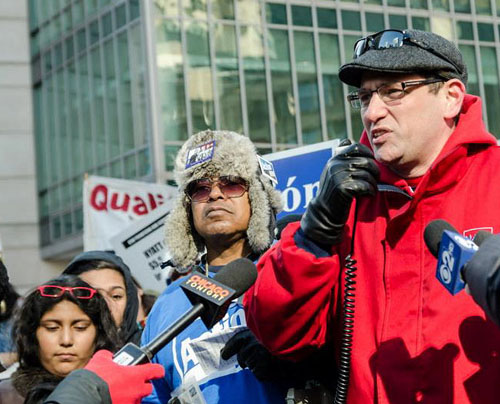 The speech delivered by Chicago Teachers Union Vice President Jesse Sharkey (above) at the Veterans Day protest caused the President of the Board of Education to make a public attack on the union and a union officer at the school board meeting two days later. Labor Beat photo by Lisa Russell.Lisa Russell, a parent of a CPS student, pointed to the racism behind threatening to close 100 schools in minority neighborhoods: "Can somebody tell me why?...There should be equal opportunity. Education should be the same across the board." The length of the video is - 8:26.
LABOR BEAT: A donation to Labor Beat (Committee for Labor Access) will help rank-and-file tv stay alive. We are regularly schedule on cable-tv in 7 U.S. cities: DONATE HERE