Unions to protest Rahm at Milwaukee fundraiser Wednesday for right wing Democrat candidate
George N. Schmidt - March 23, 2012
Union members from Illinois and Wisconsin will be protesting in Milwaukee on Monday, March 28, 2012, against the appearance in Milwaukee of Chicago Mayor Rahm Emanuel at an expensive fundraising event on behalf of mayoral candidates Tom Barrett, who is running for Mayor of Milwaukee on a platform that sounds like Rahm's Chicago program.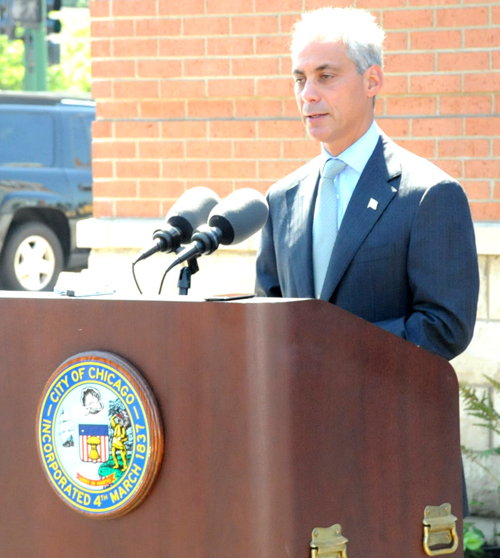 Chicago Mayor Rahm Emanuel has staged more media events in the ten months since he became mayor in May 2011 than all of his predecessors combined. Above, Emanuel hosted a carefully staged event to praise Chase Bank on August 16, 2011 on Chicago's Northwest Side. Substance photo by George N. Schmidt. On March 23, Norine Gutekanst of the CTU organizing committee, sent out the following:
Sister & Brother unions in Wisconsin are organizing this picket to protest Rahm Emanuel's support of Tom Barrett (Milwaukee mayor) right-wing Democratic Candidate for Mayor. He is challenging another Democratic candidate, Kathleen Falk, who has pledged not to use the union-busting Gov. Scott Walker laws against unions. I am passing this information on to any one who wishes to participate in this action against Rahm Emanuel and Tom Barrett, two anti-union Democrats.
WHAT'S DISGUSTING? UNION BUSTING!
RAHM EMANUEL to HOST FUNDRAISER FOR TOM BARRETT
Wednesday, March 28th
11:00 am
Italian Community Center
631 East Chicago Street
Milwaukee
Mayor Barrett and Mayor Emanuel have a lot in common…
They have both saved their cities money by extracting concessions from public employee unions.
In Chicago, Mayor Emanuel put the screws to organized labor last summer to find $30 million in concessions.
Instead of protecting public sector workers in Milwaukee, Mayor Barrett chose to utilize Governor Walker's rights stripping legislation of Wisconsin Act 10.
Chicago Mayor Emanuel iced out the Chicago Teachers Union, unilaterally adding on a longer school day without input from the negatively affected teachers.
He has increased privatization of public services, and expanded charter schools. Emanuel ("Mayor 1%) is an original architect of the job killing bill NAFTA.
"…The politics and policies of Barrett and Emanuel, the record shows, also have similarities.
If Tom Barrett were to run for Governor, whose Governor would he be?
His policies, which break similar to Emanuel's; as well as Barrett's campaign donors, do not bode well for Barrett as a progressive candidate reflective
of the new Wisconsin Movement."
http://bdgrdemocracy.wordpress.com/2012/02/23/chicago-mayor-rahm-emanuel-privatizing-and-union-busting-like-scott-walker-and-barrett-may-jump-right-in/
Lunch Ticket Prices Range: $400-$2,500. How many public sector workers in the City of Milwaukee can afford that?
Doors open 11:30 am.
For more information:
Ed Sadlowski, AFSCME, esadlowski@afscme40.org; 608-751-4554