Rahm insults tens of thousands, calls protests against turnarounds, closings and phase outs 'noise'...
George N. Schmidt - February 24, 2012
By the time Operation PUSH met on Saturday morning, February 23, 2012, just about everyone who had been protesting against Mayor Rahm Emanuel's hypocritical attack on the city's real public schools and the launching of the largest and most lucrative "turnaround" attack in history (AUSL will get $300,000 per school for each of the six schools that Emanuel's Board voted to give to the politically connected corporate reform group) knew that the mayor was capable of saying and doing just about anything as he reflected what was referred to, years earlier, as "the arrogance of power." But even some of Emanuel's critics were surprised when he referred to the passions and protests of thousands of people against the closing and turnarounds as "noise" — and then quoted Martin Luther King Jr. in defense of his attacks on the city's public schools.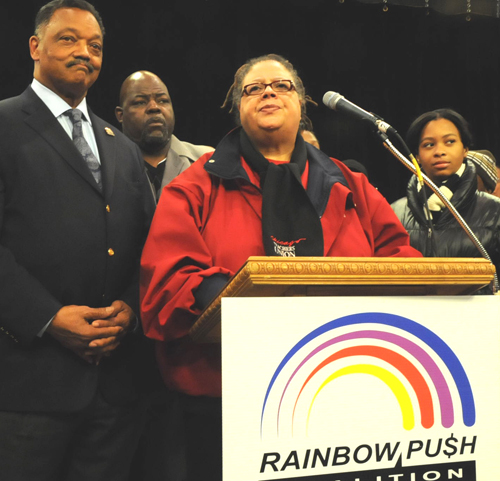 Rev. Jesse Jackson Sr. (left), Jitu Brown, and Karen Lewis during the press conference at Operation PUSH on February 24, 2012. A growing coalition of community organizations, unions, and others is calling for an end to mayoral control of Chicago's schools and an elected school board, following the vote of Mayor Rahm Emanuel's appointed seven member school board to turnaround ten schools and close of phase out six others. The organizing was given a push Saturday morning when people read that Rahm Emanuel has referred to the massive, well informed and sustained protests against his school actions as "noise." Substance photo by Sharon Schmidt. The "noise" quote and the King citation came in a February 23, on line Chicago Sun-Times story by City Hall reporter Fran Spielman, who has an inside track to Emanuel:
BY FRAN SPIELMAN City Hall Reporter fspielman@suntimes.com February 23, 2012 2:34PM
Mayor Rahm Emanuel said Thursday he's sensitive to the "noise associated with change" caused by the decision to close or turn around 17 underperforming schools, but he said he's more concerned about the deafening "silence of failure."
The Rev. Jesse Jackson Sr. and Chicago Teachers Union President Karen Lewis denounced the school board's actions as "educational apartheid," noting that the overwhelming majority of students impacted are black and brown.
On Thursday, Emanuel countered the racism charge with a quote from the Rev. Martin Luther King Jr. that's also a favorite of President Barack Obama.
"I'm driven by — to quote Dr. Martin Luther King in his speech on the mall [in Washington D.C.] — by the 'fierce urgency of now,' " the mayor said.
"I cannot wait another year and allow a child to be caught in a school system that, for five years running, has been on the watch list or the troubled list with no prospect of getting off of it. … Nothing to me is worse in the sense of discrimination than leaving kids in a system that, year-in-and-year-out, has been scored as failing."
The mayor acknowledged, what he called the "noise around change," adding, "I understand change is hard. I understand change creates angst. I'm very sensitive to it. It's not easy to change."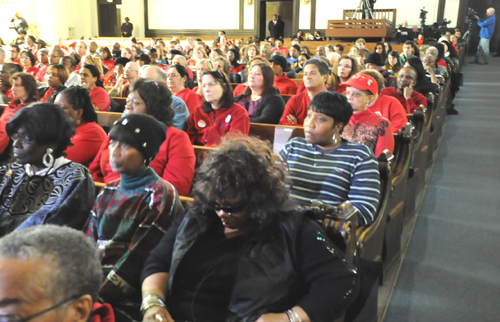 Part of the crowd at Operation PUSH on Saturday, February 24, 2012, the majority of whom were wearing Chicago Teachers Union red. Substance photo by Sharon Schmidt.But he said, "It's harder to watch failure and be silent about it. … I can't stand by and watch the silence, which is deafening, of failure. So, between the noise that comes with change, which is the process, and the silence that comes by watching failure year-in and year-out and no prospect for academic achievement — that, to me, is more deafening than the noise associated with change that achieves educational opportunity for our children that otherwise could not be available."
Earlier this week, the mayor's handpicked school board voted unanimously to close or phase out seven chronically failing schools and to turn around 10 others amid cries of, "Shame on you" and, "Rubber stamp."
Jackson declared that closings disproportionately impacting black neighborhoods and teachers amounted to educational "apartheid" and said he was exploring a civil rights lawsuit and a push for an elected school board that would strip Emanuel of his appointment power.
He was among a long line of critics who complained that targeted schools had been starved of materials and resources, reading and math specialists and libraries, contributing to their demise.
On Thursday, the mayor noted that the unanimous vote culminated a process that included "over 60 neighborhood meetings, way beyond what was required."
He also noted the 11th-hour proposal to replace the old Crane with a new neighborhood high school that would focus on health sciences and tap the medical expertise in the area.
"That's the process of listening and being open," Emanuel said.
The mayor was asked about Lewis' concerns about the security of students forced to travel farther, through rival gang turf, to their new schools and about Lewis' threat to fight it out in court.
"My focus is not on the courtroom. It's on the classroom," he said.