Broward County Florida AFT President out, AFT takes over local after audit reveals possible corruption
Al Korach - November 22, 2011
As a long time union activist, CTU member, one time Vice President of the Chicago Teachers Pension Fund, Executive Board member (and numerous other things, including school delegate and retiree delegate), I'm alwazys disheartened by the amount of corruption around us. It's worse when that corruption comes from inside our union and gives our enemies a chance to take potshots at us. But I'm from Chicago, after all: There has been an old joke that soon you could call a meeting of the city council at the local penitentiary. The corruption covers all facets of city, state and local government. Much of business crime seems in some cases aided and abetted with the cooperation of government officials.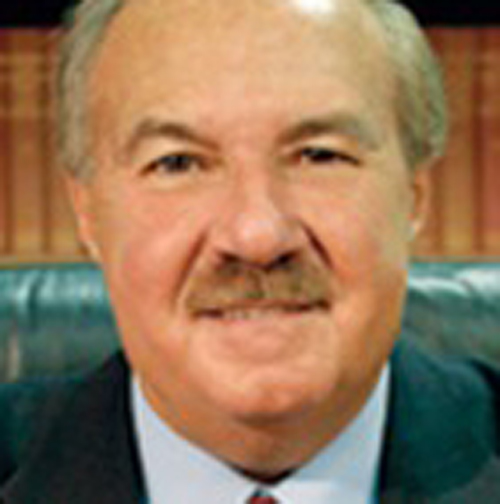 Broward County union chief Pat Santeramo has been removed from office while the American Federation of Teachers investigates financial problems in the large South Florida union local.My wife (a former school clerk) and I have been retired for years, and I'm currently in Florida recovering from four surguries. I was surprised — but honestly not shocked — to hear in press reports that the Broward teachers Union's day-to-day operations were recently taken over by the American Federation of Teachers (AFT).
According to news reports, Pat Santeramo, president of the Broward Teachers Union, is under investigation by the Broward State Attorney's Office and the Florida Elections Commission. In August the AFT conducted an audit of the 2009-2011 BTU, s finances. The results of the audit and its findings prompted four board members to call for Santeramo expulsion.
Santeramo salary peaked at $189,000 a year before he took a cut of 21%. Dues for the 11,500 members are approximately $600.00 a year. (This is all according to various news reports here in Florida). There have been no raises for the union's members for the past three years. An internal audit by the union found that $3.8 million in reserve funds were spent over the past six years on political campaigns, protests, rallies and contract negotiations. Auditors found over 20 people were involved in apparent campaign violations. It seems that funds were given to union leaders and their relatives to reimburse them for campaign contributions they made, according to local news reports.
On November 15, the union's executive board transferred administrative power to the national union and on December 7 will hold a hearing to determine if Santeramo will be indefinitely stripped of his powers. In the meantime, the former president of the Pittsburgh Teachers Union, John Tarka will watch over the day-to-day operations of the Broward Teachers Union.
There will be an expulsion hearing set for next month by the Broward Teachers Union. It will be interesting to see how this plays out. This is not the best time for situations of this nature to come out. With all the news back home of state, city and union officials double and triple dipping into the pension funds it only helps the anti union factions.
Also of interest is that the incoming superintendent of Broward's public schools is a Chicago administrator named Robert Runcie. Ironic that he arrives in town just in time for some Chicago-style corruption news.
HERE IS WHAT THE MIAMI HERALD REPORTED ON NOVEMBER 17, 2011 BASED ON DETAILS OF AN INTERNAL AUDIT THAT WAS OBTAINED BY THE NEWSPAPER
Broward Teachers union. Audit details spending at Broward Teachers Union... Broward Teachers Union chief Pat Santeramo could be stripped of his powers after an audit uncovered possible financial mismanagement. BY LAURA FIGUEROA (LFIGUEROA@MIAMIHERALD.COM)
As Broward public schoolteachers faced layoffs and furloughs over the past two years, their local union boss charged $128,600 in unexplained expenses to union credit cards and signed off on $25,000 in union checks made out to cash, according to an audit obtained Wednesday by The Miami Herald.
On top of his $155,000 salary, Broward Teachers Union President Pat Santeramo, now the focus of two state investigations, had access to a $300 monthly expense account, a $600 auto allowance, and the use of a gas card with charges ranging from $175 to $250 a month, according to the audit.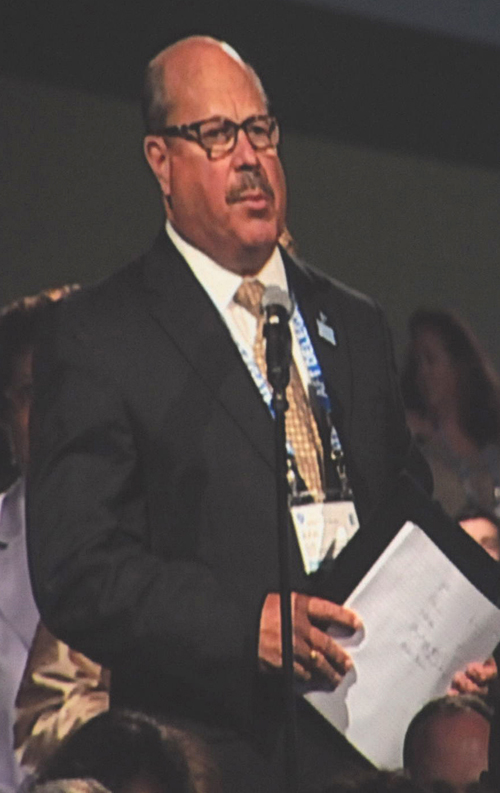 AFT Vice President (and former Pittsburgh union president) John Tarka has been placed in charge of the Broward local by AFT President Randi Weingarten. Substance photo from the 2010 AFT convention by George N. Schmidt.Conducted by the union's national parent organization — the American Federation of Teachers — the audit uncovered two years of financial mismanagement, prompting local board members to vote Tuesday night to strip Santeramo of his powers, at least temporarily. A Dec. 7 board hearing is scheduled to determine if Santeramo will be removed from his position altogether.
For now, the day-to-day operations of the 11,000-member union will be handled by an administrator to be appointed by the AFT on Friday. AFT is also paying for a financial manager to take over the union's records.
In an 11-page report that covers July 2009-June 2011, the auditors detail how the local union haphazardly reported expenses on union credit cards and used union dues to reimburse staffers and their relatives for campaign contributions. The organization also spent $710,000 more than its $9.4 million budget this year.
Among the report's other findings:
• A dozen checks were made payable to cash, including $12,400 explained as an "organizing" expense, and two checks totaling $13,200 for "holiday gifts." The union responded in the audit that the bulk of the $12,400 was spent in a campaign to give teachers $10 for every new union member they recruited.
"No checks should have been made payable to cash," the report said. "They should have been made to an individual, and proper documentation should be obtained. Accordingly, if funds are used for sign-up gifts, a list of those persons who signed up should add up to the check amount. The remaining cash should then be deposited into the checking account."
• Santeramo, has access to "unlimited accumulation of sick days and vacation time" — which as of June 30, 2011, amounts to $255,020. Other union staffers can cash in up to 20 sick days a year.
"This is a generous benefit in light of the local's current financial difficulties," the report said.
This year the Broward County School District had to cut 1,100 teachers' jobs and cut programs to deal with a $190 million budget shortfall.
• The union pays $106,859 to a local construction company for building maintenance at the union's Tamarac headquarters at 6000 N. University Dr. A further $525 a month goes to service a small grassy lot in front of the building, and $1,044 a month is spent on cleaning.
AFT spokesman Michael Powell said the union would not comment on the nature of BTU's business practices or apparent lack of checks and balances.
"We are sending a very confident financial manager who will implement sound accountable practices," Powell said.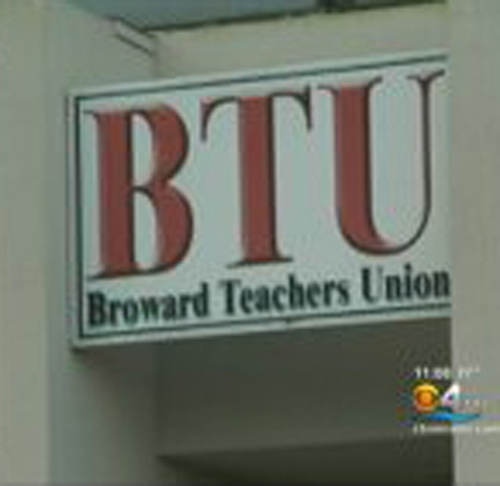 The Broward Teachers Union has 11,000 members.The audit came after complaints about the union's finances in August from some members of the executive board. They approached both the AFT and the Florida Education Association, of which BTU is also a member.
Separately, the Florida Elections Commission and Broward state attorney's office have also launched investigations into whether Santeramo broke campaign finance laws in reimbursing campaign contributions.
Santeramo's attorney, Michael Moskowitz, maintains that all of the allegations are "untrue."
The audit also flags $128,634 in credit card expenses, most lacking documentation to explain the charges. The AFT is allowing Santeramo to review the list of items to explain the business purpose of each and respond with documentation.
"If the business purpose cannot be determined for charges, the AFT (and the IRS) would consider them a personal expense and request reimbursement," according to the report.
Auditors listed 12 recommendations for the local union to adopt, including establishing an audit committee and creating a policy manual that outlines a "conflict of interest policy, a whistleblower policy and a document-retention policy." The AFT also recommends the union review all of its leases and contracts with third parties "to ensure that BTU is receiving what has been contracted for."
On Wednesday [November 16, 2011], Santeramo, who has led the union for the past 10 years, attended the union's regularly scheduled steward meeting at Plantation High School, where he introduced Broward Superintendent Robert Runcie, there to speak to the crowd of teachers.
Read more: http://www.miamiherald.com/2011/11/16/2505899/audit-details-spending-at-broward.html#storylink=misearch#ixzz1eSskYknb
