Brizard a lawbreaker... Illinois Labor Board rules Chicago Public Schools committed unfair labor practices during the 'Longer School Day' waiver voting at 13 schools
George N. Schmidt - October 13, 2011
The Illinois Education Labor Relations Board (IELRB) issued a ruling on October 13, 2011, that the Chicago Public Schools had violated Illinois labor law in the way in which CPS officials and local school principals handled the August and September 2011 votes at 13 schools in favor of the so-called "Longer School Day" pushed by Chicago Mayor Rahm Emanuel.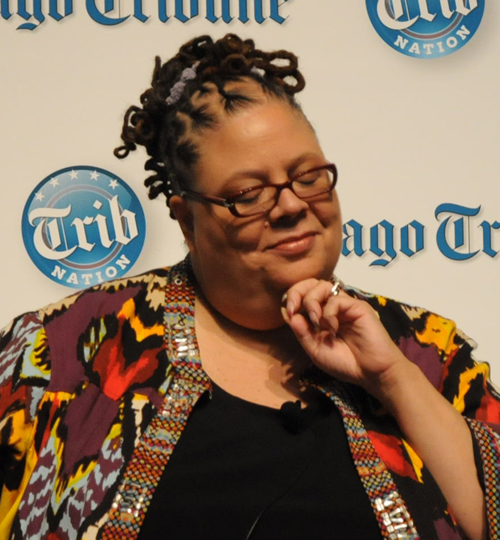 Chicago Teachers Union President Karen Lewis had to defend the collective bargaining laws agains the media based and biased attacks from Chicago's mayor, school officials, and corporate media during the four months of the "longer school day" broohaha. Above, Lewis during the forum with schools CEO Jean-Claude Brizard on September 13, 2011 at the University of Illinois at Chicago. Substance photo by George N. Schmidt.Despite the pressures and a number of carefully scripted and staged media events and "protests" (often with hired protestors) by Mayor Emanuel and CPS officials, by the end of September CPS had only gotten 13 schools to vote in favor of the waiver. An intense media campaign, which even includes a special section of the CPS website, dubbed those schools the "Pioneers". Other media events promoting the push for the immediate longer school day included a carefully orchestrated City Council vote in favor of the proposal (without specifics), and at least two demonstrations where demonstrators or their leaders were paid to support the mayor with noisy publicity stunts.
The union will be holding a press conference on Friday October 14, according to union sources: WHO: Chicago Teachers Union President Karen Lewis and union attorneys. WHAT: Press conference. WHEN: Friday, October 14, 2011. 1:00 p.m. WHERE: Chicago Teachers Union Headquarters, 222 Merchandise Mart Plaza, 4th Floor, Chicago, IL 60654
At September's end, the following 13 schools had voted in favor of the waiver (the date in parenthesis is the date the "longer school day" is supposed to begin according to CPS):
Genevieve Melody Elementary School (January 2012)
Skinner North (September 26, 2011)
STEM Magnet Academy (September 26, 2011)
Benjamin E Mays Elementary Academy (January 2012)
William H Brown Elementary School (September 26, 2011)
Disney II Magnet Elementary School (September 26, 2011)
Henry H Nash Elementary School (September 26, 2011)
John Fiske Elementary School (September 26, 2011)
Julia Ward Howe Elementary School of Excellence (October 17, 2011)
Mary McLeod Bethune Elementary (November 14, 2011)
Moses Montefiore Special Elementary School (October 17, 2011)
Austin O. Sexton Elementary School (October 17, 2011)
Morton School of Excellence (October 31, 2011)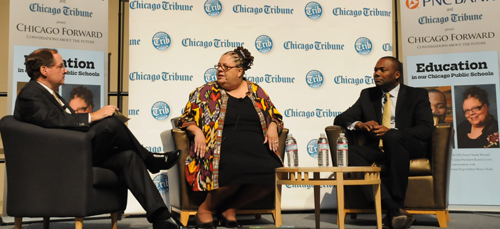 One of the problems that faced the public during the "Longer School Day" broohaha in Chicago from July through September 2011 was that the Chicago Tribune led the city's corporate media in biased news reports against the Chicago Teachers Union, as well as in editorial comments in favor of the push by CPS CEO Jean-Claude Brizard and Mayor Rahm Emanuel. During the debate, the Tribune's news reporters routinely ignored the facts and repeated the talking points and sound bites of the Emanuel administration and its appointed CPS officials. Above, Tribune Editorial Page Editor Bruce Dold (left) moderated the discussion on Chicago's schools on September 13 between Karen Lewis, a 20-year-veteran teacher and lifetime Chicago resident, and Emanuel's appointee, Jean-Claude Brizard, whose controversial and possibly corrupt time as superintendent of the Rochester New York public schools immediately preceded his arrival in Chicago in May 2011. The majority of officials placed in the top jobs at CPS by Emanuel and Brizard are now paid more than any public school officials in Chicago history, while almost all of them know nothing about Chicago's schools and have no experience with either the city or its schools. Substance photo by George N. Schmidt.According to a Chicago Teachers Union press release:
Illinois Educational Labor Relations Board Issues Complaint Against CPS For Coercing Longer School Day Votes;. Union Calls on CPS to Stop Encouraging Illegal Waiver Votes and Discuss How to Implement a Better School Day System-Wide
Chicago, IL – Officials with the Chicago Teachers Union announced today that the Illinois Educational Labor Relations Board had issued a multi-count complaint against Chicago Public Schools (CPS) for coercing longer school day votes in 13 CPS schools. The complaint found that CPS had committed dozens of different unfair labor practices. CTU officials urged CPS to stop encouraging the illegal waiver votes and discuss how to implement a "better school day" system-wide.
"We have offered several ideas for how to actually plan and implement a better school day," said Karen Lewis, President of the Chicago Teachers Union. "Now that CPS' ill-thought out gimmick has been found to be illegal, we hope that CPS will sit down with us and discuss how to actually implement a better school day that includes a broad curriculum, rather than simply adding more time for standardized test preparation."
​The IELRB found that CPS unlawfully threatened and coerced teachers who participated in school votes to extend the school day, including by threatening possible school closures if they did not support it. The Board also found that CPS offered teachers illegal inducements, such as lump sum payments, iPads, and extra compensatory days off in exchange for voting to extend the school day. ​The IELRB also ruled that CPS had barred Union representatives from speaking to teachers who were considering the extended school day. The Board also ruled that CPS unlawfully refused to inform the Union as to the details of the votes in which teachers were forced to participate.
​The IELRB ruled that CPS's actions interfere with employee rights, unlawfully discourage teachers from supporting the Union's leadership, and undermine the Union's legitimate role as bargaining representative on behalf of CPS teachers, violating Sections 14(a)(1), (3) and (5) of the Educational Labor Relations Act.
​The IELRB has ordered a hearing on its complaint for December 14, 2011. On October 20, the IELRB will consider whether to seek preliminary injunctive relief to block the extended school day from taking effect pending the conclusion of its unfair labor practice proceeding.
As of midnight October 13, 2011, the Chicago Public Schools Communications office had not issued a response to the ruling.