Michigan legislature, governor moving to stop automatic payroll deduction dues payment for teacher unions
George N. Schmidt - September 18, 2011
The Republican attack on teacher unions continued, with the Michigan House of Representatives voting this week to approve a resolution that will deprive teacher unions of the right to deduct union dues from teacher paychecks. The process, called "dues checkoff," has been in place for as long as anyone can remember. If the bill passes the Republican-controlled Michigan Senate, it is expected to be singed into law by Republican Governor Rick Snyder.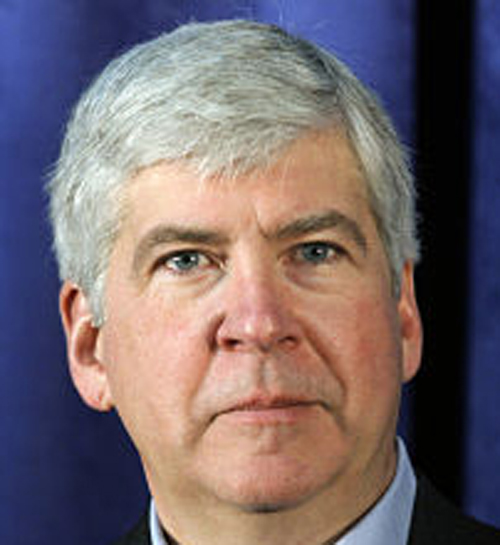 Michigan Governor Rick Snyder.One report on the legislation was published in the Detroit News.
House passes bill barring districts from deducting teachers' union dues. Karen Bouffard/ Detroit News Lansing Bureau
Lansing — School districts would be barred from deducting union dues from teachers' paychecks under a bill that narrowly passed in the House this afternoon.
The bill passed 55-53, with most Republicans supporting the measure and most Democrats opposed.
Republicans said money now deducted for union dues will now go into teachers pockets so they will have the option of not paying if they don't want to. Democrats argued the measure won't save any money, and is meant to undermine unions.
"I don't understand how giving people money back in their paycheck is a bad thing," said Rep. Joe Haveman, R-Holland, the bill's primary sponsor. "It makes them more accountable.
"It's better if they have to make that conscious decision on a monthly basis (to pay their union dues.)"
Rep. Maureen Stapleton, D-Detroit, a former Detroit Public Schools teacher, said the bill "makes no sense."
"This bill does nothing more than … hurt teachers and inconvenience them," Stapleton said. "It's a code in a computer system to generates those payments — it costs nothing and won't save a dime.
"Why would anyone want to continue to be a teacher in the state of Michigan today?"
The bill still needs to be passed by the Republican-controlled Senate and signed by Gov. Rick Snyder to become law.
