Labour against labor unions in Britain? Former PM Tony Blair — George W. Bush's Iraq invasion lap dog — now opposes teachers' strike
George N. Schmidt - June 27, 2011
A major controversy with possible impact on the United States has broken out in Great Britain as a result of a threatened teachers' strike, which is scheduled to begin Thursday (June 30, 2011). Like the United States, Britain has a supposedly "progressive" party (the Labour Party) and a conservative one (the Conservative Party, which is currently pushing a ruthless austerity program and neoliberal economic policies in a coalition government with the "Liberal" party). But the question in Britain about "Labour" (the party) strikes the same notes as any question in the USA about the Democratic (party): Is this really the party of the working class and middle class, or is it just a slicker wing of the neoliberal party in defense of billionaires, monopoly finance capitalism, oligarchs, and plutocracy?
Recent austerity attacks on working people by the British government have drawn growing protests, just as they have in the USA, Greece, China and other capitalist countries. The attack on pensions has forced unions in Great Britain to threaten a general strike of public workers, including teachers, to begin on June 30, 2011.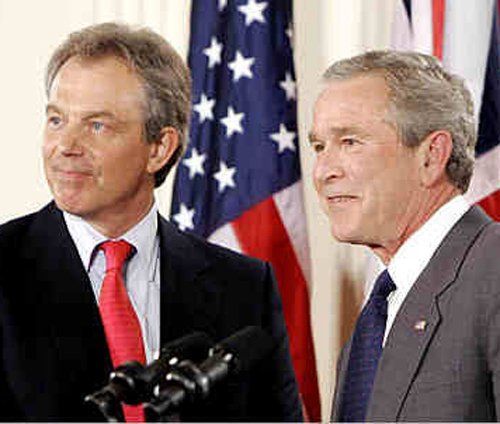 Then-British Prime Minister Tony Blair (above left) was the key supporters of U.S. President George W. Bush's 2003 invasion of Iraq. The issue that is prompting the strike in Great Britain? An attack on public employee pensions by neoliberal leaders in government and the corporate media.
Recently, the Guardian newspaper published an interesting story on that topic:
Michael Gove's Call For Parents To Break Strike Provokes Union Fury
Education secretary accuses unions of militant strike action as Vince Cable intervenes over 'war-like rhetoric' by Polly Curtis and Patrick Wintour (guardian.co.uk, Sunday 26 June 2011)
http://www.guardian.co.uk/politics/2011/jun/26/michael-gove-teachers-unions-militant-strike
A war of words has broken between Michael Gove and the teachers' unions in an echo of the bitter divisions of the 1980s on the eve of crucial talks to avoid mass strike action on Thursday.
Teaching unions reacted with anger after the education secretary accused them of risking their members' professional reputations by taking "militant" strike action and suggested that parents could volunteer to break the strike and keep schools open on Thursday.
Thousands of schools — along with colleges, universities, ports, courts and jobcentres — are expected to close in the walkout over pensions.
Crunch talks with ministers are scheduled for Monday, with some unions billing them as the government's last chance to avoid strikes. Ministers have extended the deadline for negotiations into the summer.
Gove told the BBC's Andrew Marr Show on Sunday: "I do worry that taking industrial action, being on the picket line, being involved in this sort of militancy will actually mean that the respect in which teachers should be held is taken back a little bit."
He said he didn't want to ratchet up rhetoric against unions, but added: "The public have a very low tolerance for anything that disrupts their hard-working lifestyles."
Mary Bousted, the head of the normally moderate Association of Teachers and Lecturers (ATL), told the Guardian: "I think the threat to get parents to cover teachers is just ludicrous, the idea that children can usefully spend time in school being baby-sat ups the ante even more. This is inflammatory and it is inept. Michael Gove's intervention is further evidence of ineptitude and cack-handedness.
"The last thing my members want to do is strike. This is the first time in 127 years. We're looking for government to negotiate in good faith."
Tensions have escalated in the runup to Monday's talks amid renewed suggestions the government would try to change the strike laws and public funding of union activity should industrial action get out of hand.
Whitehall sources confirmed that the use of public money to pay union officials to organise is now "under review" as part of a wider rethink in the civil service.
Bousted said her union would challenge any attempt to toughen up strike laws – such as raising the threshold of the proportion of union members who take part in a ballot in order to trigger a strike – in the European court of human rights. But the business secretary, Vince Cable, who is responsible for strike laws, intervened to cool the rising tension.
Insisting that he was speaking for the government, he said it had no plans to change strike laws and no need to prepare anti-strike contingency plans.
His tone was markedly different from what he said was war-like rhetoric coming from some parts of government, including Gove.
Cable told BBC Radio 5 Live: "There are people who are pushing from both sides, some people want strikes, some people want strike legislation. That's not the way I'm going, the way the government wants to deal with this is through negotiation."
He added: "What I'm expressing is a government view. I'm not just expressing a personal or Lib Dem view.
"And there is a view across government that we want to talk sensibly to the trade unions and we recognise the vast majority of trade unionist we talk to, whatever the rhetoric in public, is basically constructive and they want to avert large-scale disruption and we have to negotiate in good faith with them and will do so."
Most of the unions refused to comment in advance of the crunch talks.
But Mark Serwotka, the head of the Public and Commercial Services union (PCS), whose members will also strike on Thursday, said: "My prediction to you now is that they will have the shock of their lives on Thursday.
"And it is just the beginning unless the talks develop. Our task is to attend those meetings, represent our members, but to organise for a sustained battle."
PCS and ATL will be joined by the National Union of Teachers and Universities and College Union on Thursday's strike.
They are calling for the government to reverse a decision to change the method of uprating pensions, which they say has already drastically reduced their members' pension pots.
They are also calling on ministers to put the question of whether their contributions should increase by an average of three percentage points from next April – not just how they go up – on the negotiating table.
Ministers say contributions must go up to reduce the taxpayers' cost and safeguard defined-benefit schemes in the public sector. Most other public sector unions – along with the professional associations representing headteachers – are poised to ballot for strike action. The British Medical Association will debate whether to ballot for industrial action at its annual conference in Cardiff this week.
Tensions are also simmering between the unions and the Labour party after the head of Unison, Dave Prentis, told his conference last week that his union would withdraw support from Labour candidates who did not back their aims during the selection process.
In a Guardian interview on Saturday, Ed Miliband, the Labour leader, said that this week's strikes were a "mistake". On Sunday, the former prime minister Tony Blair urged unions to "engage with the process of change".
He told the BBC's Politics Show that the unions "have got to modernise" and added: "The thing about the trade unions is that they too have got to modernise. I said this constantly when I was leader and they used to think that meant I was anti-union. I'm not. I'm in favour of strong trade unions — I think it's great. But you've got to understand today how fast the world is changing. "What you've always got to be careful of — particularly with public sector unions — is you don't become 'small c' conservatives."
Francis Maude, the Cabinet Office minister, said: "I can assure the public now that we have rigorous contingency plans in place to ensure that their essential services are maintained during the strike action on Thursday."

This story was brought to Substance via "Portside", which many of us check out daily http://portside.org