SUBSCRIPT: Was Michael Scott's death only related to his failed restaurant investments and real estate speculation on the Olympics 2016 sites in Chicago?
George N. Schmidt - December 21, 2010
SUBSCRIPT: …The death of Chicago Board of Education President Michael Scott last November — reportedly a suicide on November 16, 2009 on the banks of the Chicago River just west of the Merchandise Mart and the Apparel Center — raised more questions than were answered at the time, and the answers really haven't come since. Now, with the publication (December 20, 2010) of a Chicago Sun-Times report (in conjunctions with the Better Government Association) that Scott's finances had been undermined when Chicago lost its bid to host the 2016 Olympics, the questions become even more interesting.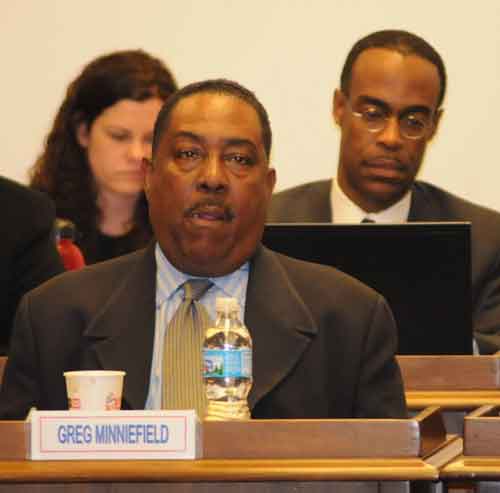 Both times Michael Scott served as President of the Chicago Board of Education during the 21st Century, a highly paid position in the Board offices was found for Scott's friend and aide Gregory Minniefield (above, center). At the time of Scott's death in November 2009, Minniefield was being paid nearly $100,000 per year (more with benefits calculated in) working in the Office of the Board. Every year during the times he served on the Board, Scott joined CPS executives (both Arne Duncan and Ron Huberman) to assure the corporate media that CPS was facing a "deficit" but that the Board's administrators had "cut administrative waste" to the bone. Above, Minniefield at the November 23, 2009 meeting of the Chicago Board of Education, as various individuals spoke on behalf of Michael Scott. Substance photo by George N. Schmidt.Did the corruption that was a feature of Michael Scott's political career end at the schoolhouse door, or was it even more pronounced in his dealings in the public schools? What was left out of the Sun-Times article was any indication that Scott's financial problems had to do with the way he used clout from his post as President of the city's school board.
But at least two examples are worth noting, since the Sun-Times missed them. First, when Scott left the Board four years ago so Rufus Williams could become Board President, Michael Scott Jr., who had been working for the Chicago Park District, suddenly became highly qualified for a job in the Bureau of Sports Administration at CPS. Second, both times Scott was President of the Board, he brought along with him a buddy named Greg Minniefield, who was paid more than $100,000 per year each time in some vaguely-titled administrative job.
Now, with the Sun-Times story on the record trying to be definitive, the public is supposed to believe that Scott's dicey financial dealings were all outside the main part of his public work, and that he had no deals going with CPS contractors and others drawing from the Board's annual budget of more than $5 billion during the Scott years?...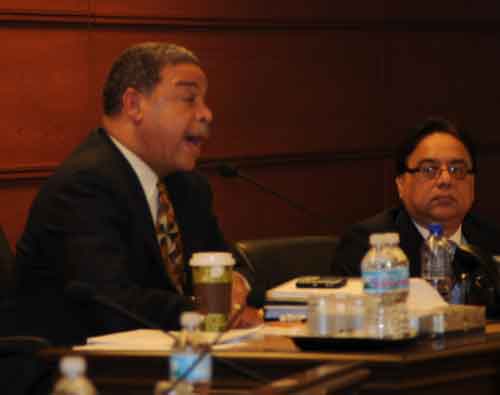 Three weeks before his suicide on November 16, 2009, Michael Scott presided over the October 28, 2009 meeting of the Chicago Board of Education. Above, Scott answers a question while Board member Tariq Butt looks on. Substance photo by George N. Schmidt.BELOW IS THE DECEMBER 20, 2010, SUN-TIMES ARTICLE IN FULL:
The Watchdogs: Michael Scott was under financial pressure before death (By Chris Fusco and Time Novak, with the Better Government Association, Chicago Sun-Times December 20, 2010).
More than a year after he took his own life, new details are emerging that show former Chicago School Board President Michael W. Scott had been under growing financial pressure.
Scott — a developer, close friend of Mayor Daley and onetime Chicago 2016 Olympic organizing committee member — was found dead of a self-inflicted gunshot wound on Nov. 16, 2009, in the Chicago River west of the Apparel Center. He was 60.
About two weeks before Scott's suicide, a development company that had been paying him $10,000 a month "for consultation in regards to future projects involving the possible Olympic Games in Chicago" canceled his contract, according to new details from the Chicago Police Department that officials previously had refused to release. Scott lost that lucrative part-time job because the city failed to land the 2016 Games, according to an unredacted police report on his suicide obtained by the Better Government Association.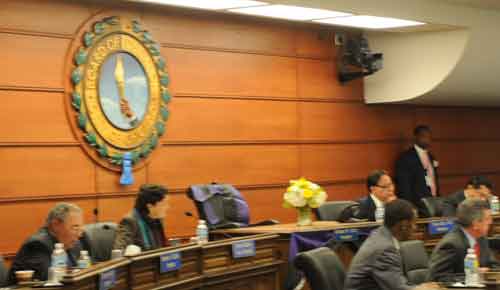 The Chicago Board of Education postponed its scheduled meeting for November 18, 2009, from November 18 to November 23 following the death of Michael Scott. Above, at the November 23 meeting, the members of the Board had the meeting chaired by Board vice president Clara Munana (second from left above) while the President's seat was festooned with mourning cloth and flowers. Substance photo by George N. Schmidt.Two downtown fast-food restaurants Scott co-owned — part of a franchise called Salad Creations — had gone out of business shortly before his death, and a third closed shortly thereafter, according to Phil Gershman, Scott's partner in those eateries. Scott had been negotiating to build a fourth Salad Creations, this one at Midway Airport, but that deal didn't materialize, Gershman says.
Lenders are now seeking a total of about $1.2 million from Scott's estate, probate records show. Nearly $1 million of that stems from a pair of loans that Scott and Gershman obtained for their restaurants in 2007 from First Chicago Bank & Trust. First Chicago also wants $182,025 from the estate to pay off a loan it gave Scott in 2005. American Express also has gone to probate court seeking $46,633 — the apparent unpaid balance on a Scott credit card.
The new information about Scott's consulting contract appears to contradict statements that had been made by Scott and Mayor Daley that Scott wasn't planning to cash in on his dual roles as an Olympic organizer and a real estate developer.
In January, when the Police Department initially released the reports of its investigation of Scott's death in response to a Chicago Sun-Times request under the Illinois Freedom of Information Act, it blacked out much of the documents — including the previously undisclosed details of Scott's consulting deal.
The BGA later obtained the same heavily redacted police reports. It argued that leaving out so much of the police findings violated state law, and the police ultimately agreed to release some of the previously withheld information.
Scott had a rent-free office in the South Loop at Fogelson Properties, which is owned by developer Gerald Fogelson. About two weeks before his death, Scott went there and "was inquiring in regards to his monthly payment of $10,000, which he had not received," according to police.
Referring to a Fogelson executive, investigators wrote: "Timothy Desmond stated that he explained to Michael Scott that the terms of the contract . . . were if the Olympics were not to be in Chicago their contract would be void. Scott appeared surprised but later contacted him and apologized for the misunderstanding."
Fogelson and Desmond did not return calls seeking comment. Lawyers for Scott's family declined to respond to calls and written questions.
Around the same time that Scott's consulting deal evaporated, his restaurant business was imploding.
Loan documents in Scott's probate case show First Chicago renegotiated an $875,000 loan to Scott and Gershman in March 2009. That was apparently based in part on their plans to open a Salad Creations restaurant at Midway Airport.
Scott and Gershman, according to the loan, had a "commercial pledge agreement by" Midway Airport Concessionaires, which is owned by businessmen Timothy Rand and Everett Rand and has a city contract to lease restaurant space at Midway.
But Salad Creations never opened at Midway. The Rands and their attorney didn't return calls seeking comment. 