CTU begins delegate training at King High School December 4
George N. Schmidt - December 01, 2010
In what will be a lengthy process, the new leadership of the Chicago Teachers Union begins training for union delegates this Saturday, December 4, 2010, at King High School (4445 S. Drexel Blvd) in Chicago. The training is an early version of what will take place in a longer format in March. For the past several years, the delegate training done by the CTU, under former President Marilyn Stewart, has been spotty, according to delegates.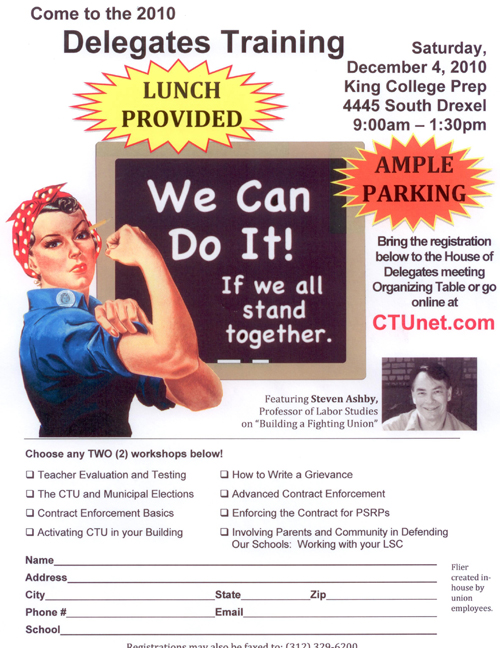 Delegates have been asked to participate in a one-day training session sponsored by the Chicago Teachers Union. A longer training will be offered in March 2011.Workshops (two of which are to be selected) are: Teacher Evaluation and Testing; The CTU and Municipal Elections; Contract Enforcement Basics; Activating CTU in your building; How to write a grievance; Advanced contract enforcement; Enforcing the contract for PSRPs; and Involving Parents and Community in Defending Our Schools — working with your LSC
The keynote address will be given by Steven Ashby, Professor of Labor Studies at the University of Illinois.