Teachers, other workers protest President Barack Obama's 'Race to the Top' during President's Chicago visit on August 5, 2010
Substance Staff - August 05, 2010
More than 100 teachers organized by CORE (Caucus of Rank and File Educators) protested the visit of President Barack Obama to Chicago on August 5, 2010. The teachers assembled with picket signs at the Chicago Art Institute and then marched down Michigan Ave to the Chicago Cultural Center, where Obama was speaking. Signs read criticisms of Obama and his education plan.
Teachers were not the only people protesting. They were joined by anti-war activists and other union members, including some from the Chicago Transit Authority who had previously been under attack from Mayor Richard M. Daley and current Chicago Schools CEO Ron Huberman (who was President of the CTA until Daley appointed him to the CPS job in January 2009).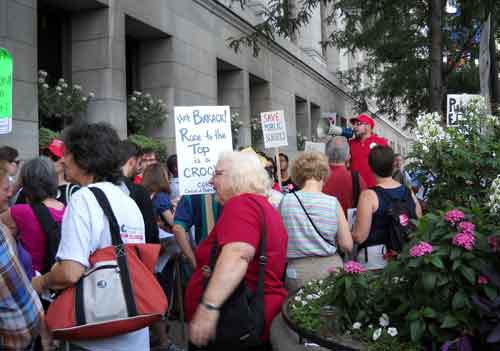 Nate Goldbaum, a Chicago elementary school teacher and editor of the CORE newsletter, spoke to the August 5 crowd outside the Chicago Cultural Center while Barack Obama was featured at a Democratic Party fundraiser inside. One of the signs read: "Hey Barack! Race to the Top is a Crock." Substance photo by Susan Zupan.The plan for the protest was approved unanimously at a CORE meeting at Chicago's Operation PUSH headquarters on July 26, a week earlier, and was implemented by CORE members while the caucus was undergoing reorganization. After a lengthy debate, CORE members (more than 100 of whom were at the July 26 meeting) voted unanimously to protest during one of the fundraising parts of President Obama's visit. The CORE members defeated suggestions that the protests be held at President Obama's Chicago home, which is four blocks from PUSH in Chicago's Hyde Park-Kenwood community.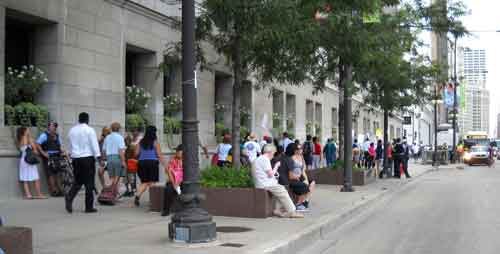 Members of the protesting groups march on the sidewalk on the Michigan Ave. side of the Cultural Center on August 5, 2010. Substance photo by Susan Zupan.Following the July 26 decision, there was heated debate about who should protest and how much the protest should denounce Obama's education policies (as opposed to just discussing the policy called "Race To The Top").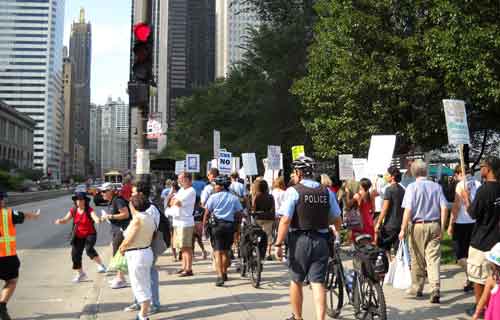 The group first assembled at the Art Institute of Chicago at Michigan and Adams Streets. Then it marched (above) to the Chicago Cultural Center at Michigan and Randolph three blocks to the north. Substance photo by Susan Zupan.Obama's Race To The Top is being viewed by a growing number of people as an attack on public education, while the demand that public school districts across the USA embrace charter schools, a form of privatization, is highly controversial.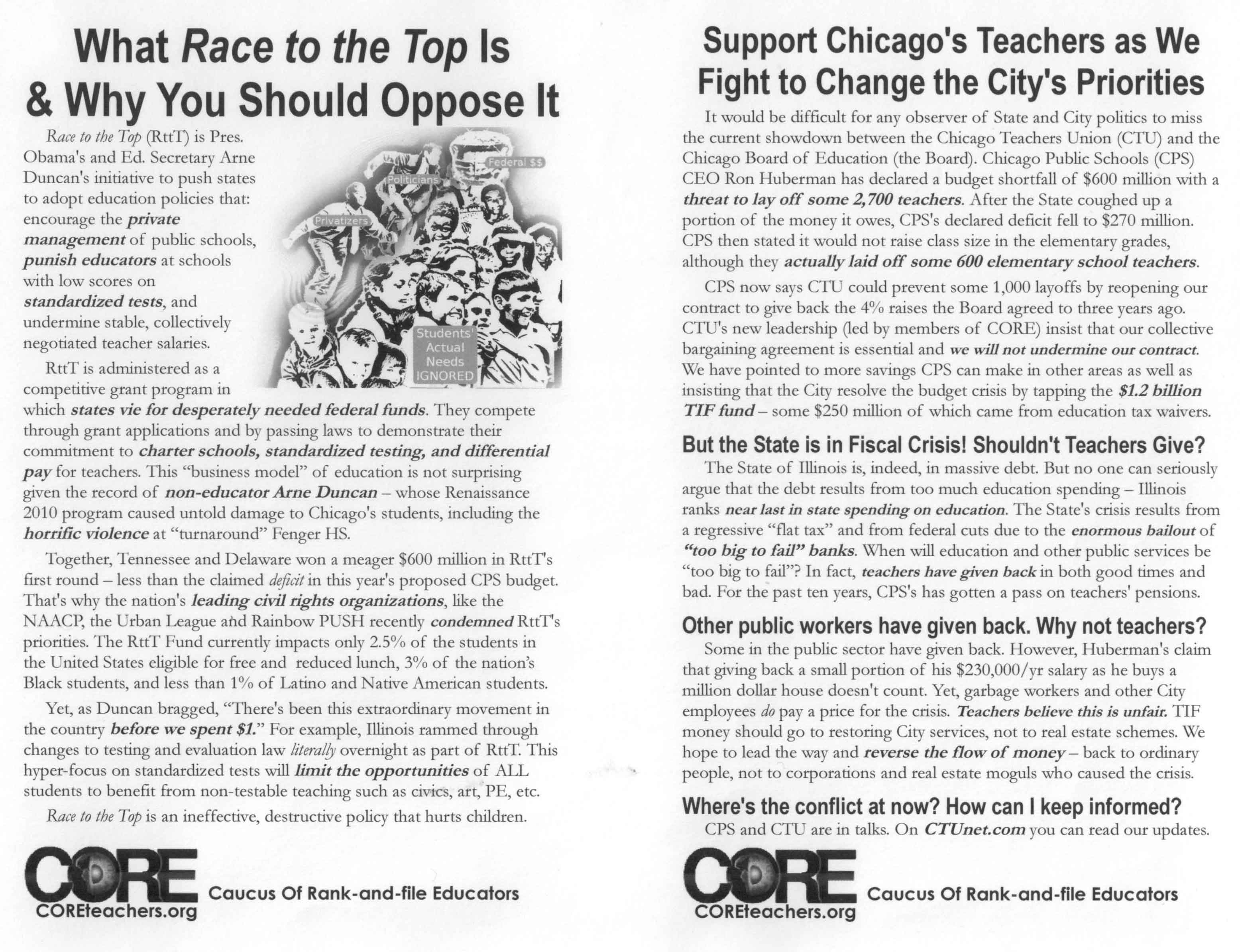 CORE distributed hundreds of copies of a factsheet (above) downtown during the August 5 protest. The leaflet distributed by CORE not only outlined problems with the President's education policy, but also explained the situation in Chicago, where CORE leaders, now serving as officers of the Chicago Teachers Union, are facing off against Chicago Board of Education attorneys. The Board is demanding concessions from the CTU.
Prior to his election as President of the United States, Barack Obama was an Illinois State Senator and United States Senator from Illinois. He was elected President in November 2008. One of his first cabinet appointments was to designate the controversial Chicago Schools Chief Executive Officer Arne Duncan to be U.S. Secretary of Education. Duncan began serving in January 2009, and by the summer of 2009 he had published the basic elements of "Race To The Top", which bore a strong resemblance to the failed "Chicago Plan" for so-called "school reform." 