CTU President calls on Chicago Public Schools chief Ron Huberman to freeze new hires until all fired teachers are back to work
George N. Schmidt - July 22, 2010
Chicago Teachers Union President Karen Lewis on Wednesday, July 21, 2010, called on Ron Huberman, Chief Executive Officer of Chicago's Public Schools, to freeze all new hiring until every veteran teacher currently out of work is back to work teaching children. The call from Lewis came two days before the CTU leadership was scheduled to meet with Huberman regarding Huberman's request that CTU make concession in the current contract (which expires in 2012) because of what Huberman has claimed was a huge budget "deficit."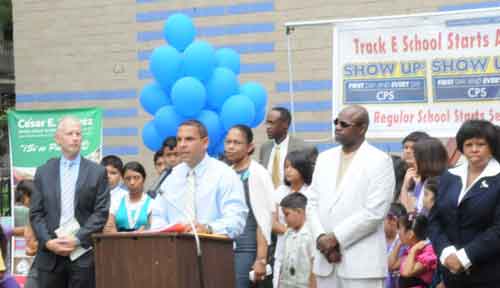 Chicago Public Schools Chief Executive Officer Ron Huberman (speaking, in front of the blue balloons) called on children to start school on time in a July 19 media event at Chavez elementary school. Two days later, Chicago Teachers Union president Karen Lewis called on Huberman to ensure that every child has a teacher at the beginning of schools by getting more than 200 recently fired teachers back to work. Substance photo by George N. Schmidt.In a press release distributed on July 21, the CTU reported as follows:
FOR IMMEDIATE RELEASE: CONTACT: Liz Brown, Media Relations, July 21, 2010 Cell: 773-606-4876, Office: 312-329-6205. Website: www.ctunet.com
Chicago Teachers Union Calls for New-Hire Hiring Freeze as Budget Talks are Set to Begin
Chicago Teachers Union (CTU) President Karen Lewis called on the Chicago Board of Education today to institute a new-hire hiring freeze for the upcoming school year.
"In the past few weeks, CPS's Human Capital department cruelly fired over 239 fully certified and highly qualified teachers with decades of service to CPS. These are the best in our city but they were treated them like chattel. These loyal teachers are not data points — they are family, community. They were fired without warning, without due process, and cut off without benefits."
According to the CTU, 239 teachers have been cut. The majority, 214, are city-wide teaching coaches recognized as "teachers of teachers." Another 17 were home/hospital based and 14 city-wide Office of Specialized Services teachers.
Mrs. Lewis demanded that as the CTU joins CPS for budget talks to begin July 23, 2010, these teachers be the first hired before any new hires, including Teach for America novices, are considered.
Noting that CPS CEO Ron Huberman announced its 2010 back to school campaign "Show Up! First Day and Every Day", Lewis stated: "I hope Mr. Huberman sends the same message to his Human Capital department. This year, for once, let's have a teacher in front of each and every student on day one."
According to Lewis, CPS chronically fails to hire enough teachers in time for the first day of school, or even the first months. The CTU plans to track, research, and resolve all unfilled teaching positions that deny a child's right to a full and robust academic year. Lewis called on her members to "diligently protect students' rights by reporting staffing shortages in each and every building to the CTU. We demand fully certified, highly qualified teachers in every classroom 'First Day and Every Day', and we plan to help students and schools get just that."
