SUBSCRIPT: Two down, one to go?
George N. Schmidt - February 22, 2010
TWO DOWN, ONE TO GO? Less than two years ago, on September 15, 2008, Chicago Mayor Richard M. Daley appeared at a major media event at the Ella Flagg Young Elementary School (1431 N. Parkside) on Chicago's West Side. Flanked by Arne Duncan and others, Daley was there to announce another example of "rising" standardized test scores in Chicago. Daley explained that the ISAT (elementary) test scores had gone "up" the year before, but refused to try and explain why the high school (PSAE) scores had not gone "up."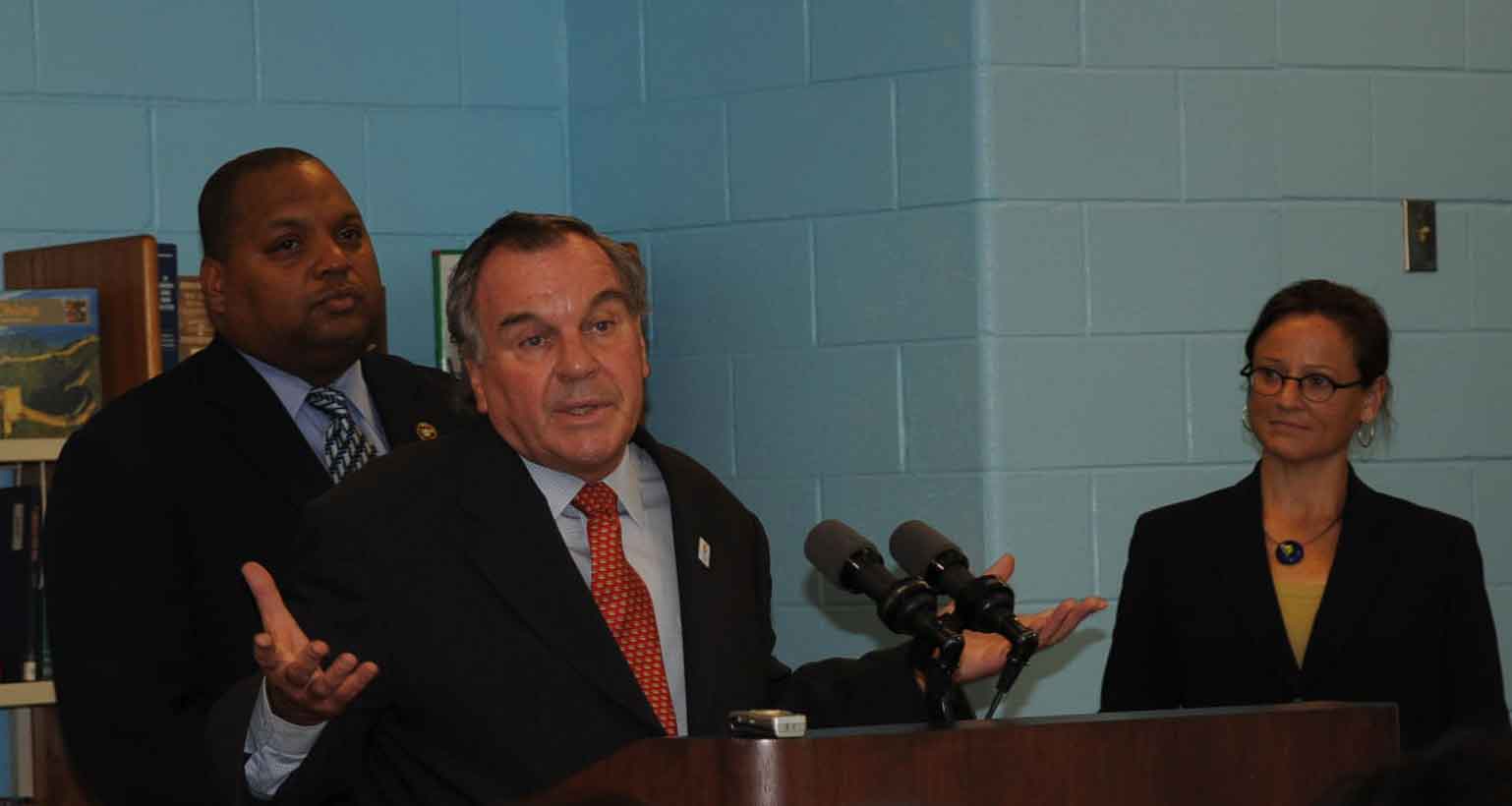 Chicago Mayor Richard M. Daley (above, center) explaining how ISAT scores went "up" in 2008. Behind Daley is Alderman Isaac Carothers, who is now on his way to prison, the 28th Chicago alderman to be found guilty of corruption since 1972. To Daley's left is (then) "Chief Accountability Officer" Ginger Reynolds, who was fired by Daley's newly appointed CPS "Chief Executive Officer" less than nine months after the above picture was taken. Substance photo by George N. Schmidt.Daley appeared with (then, 29th Ward) Alderman Isaac Carothers and the (then) Chicago Public Schools "Chief Accountability Officer" Ginger Reynolds. Carothers announced at the end of January 2010 that he is pleading guilty to accepting bribes and is now on his way to prison. A few months after the photo above, Ginger Reynolds was the main CPS witness at the 2009 Hit List hearings, explaining why CPS should "turnaround" Johnson and Bethune elementary schools and Fenger High School. Two months after that, Daley's new CPS CEO, Ron Huberman, fired Reynolds and replaced her with a newly hired "Chief Performance Management Officer" and a $20 million Performance Management staff... 