CORE completes slating for CTU election... Karen Lewis and Jackson Potter to head slate
George N. Schmidt - January 07, 2010
CORE, Chicago's Caucus Of Rank-and-file Educators, completed its slating process for the top of its slate for the 2010 Chicago Teachers Union elections on January 6, 2010 at the United Electrical Workers (UE) Hall in Chicago.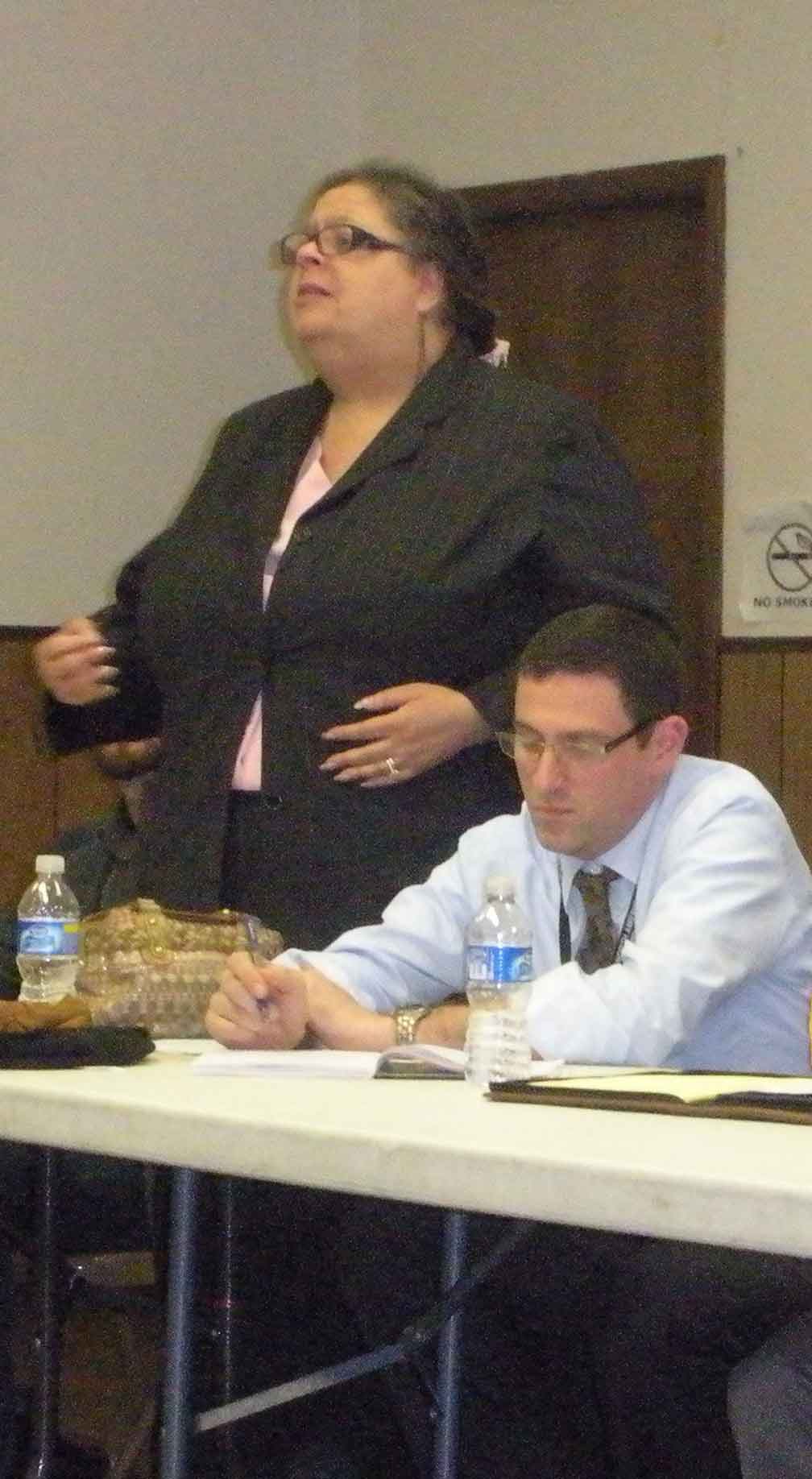 Karen Lewis (standing) presented her candidacy to CORE at a candidates' forum at the UE Hall on December 2, 2009, and was slated by CORE to run for President of the Chicago Teachers Union in voting on January 6, 2010. Lewis is CTU Delegate at King High School. Also above (right) is Jesse Sharkey, a member of the CORE steering committee, who is delegate from Senn High School. Substance photo by George N. Schmidt. According to CORE, the candidate for President will be Karen Lewis, who teaches at King High School. Vice President will be Jackson Potter, who teaches at Little Village High School for Social Justice.
The CORE results were distributed to CORE members after the voting on January 6. The unusual procedure followed by CORE was that CORE members were able to vote for one of five slates. (Full disclosure: this reporter participated in the election as a member of CORE and voted January 6).
The candidates are supposed to be introduced to the Chicago media at the "Education Summit" sponsored by CORE and GEM (Grassroots Education Movement) at Malcolm X College in Chicago on January 9, 2009.
The results came in as follows:
Slate #1 (67 VOTES)
Karen Lewis (President)
Jackson Potter (Vice President)
Michael Brunson
Kristine Mayle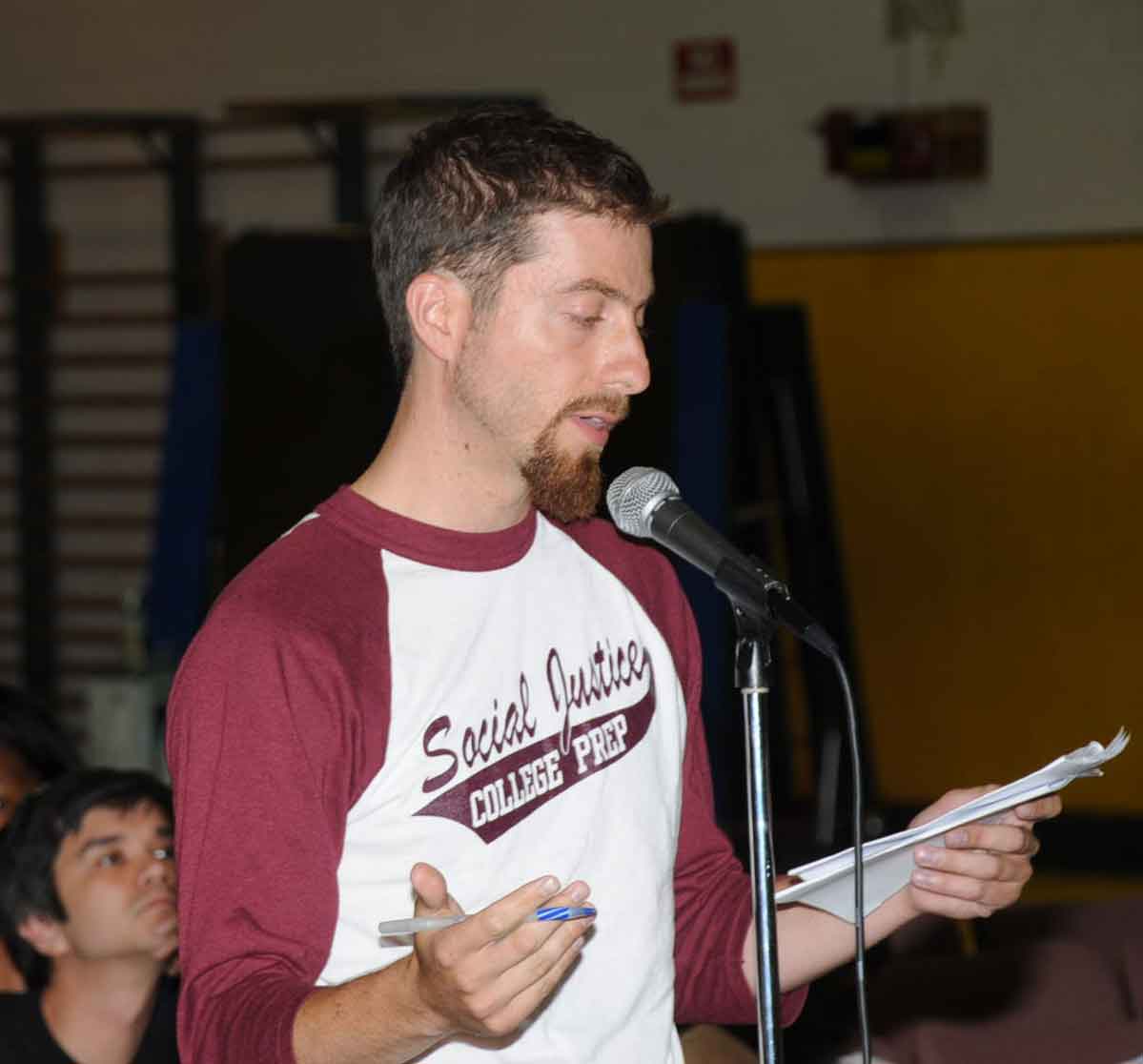 CORE's candidate for vice president is Jackson Potter, who is presently a teacher and union delegate at Social Justice High School, part of the Little Village High School campus. Above, Potter was one of several CORE members who spoke on the Board of Education's proposed 2009 - 2010 budget on August 19, 2009, at Black Magnet School on Chicago's South Side. CORE has been studying the budget and testified at both the 2008 and 2009 hearings on the budget. Substance photo by George N. Schmidt.Slate #2 (7 VOTES)
Karen Lewis (President)
Jackson Potter (Vice President)
Michael Brunson
Bill Lamme
Slate #3 (10 VOTES)
Karen Lewis (President)
Jesse Sharkey (Vice President)
Kenzo Shibata
Jim Vail
Slate #4 (13 VOTES)
Jay Rehak (President)
Jackson Potter (Vice President)
Michael Brunson
Kristine Mayle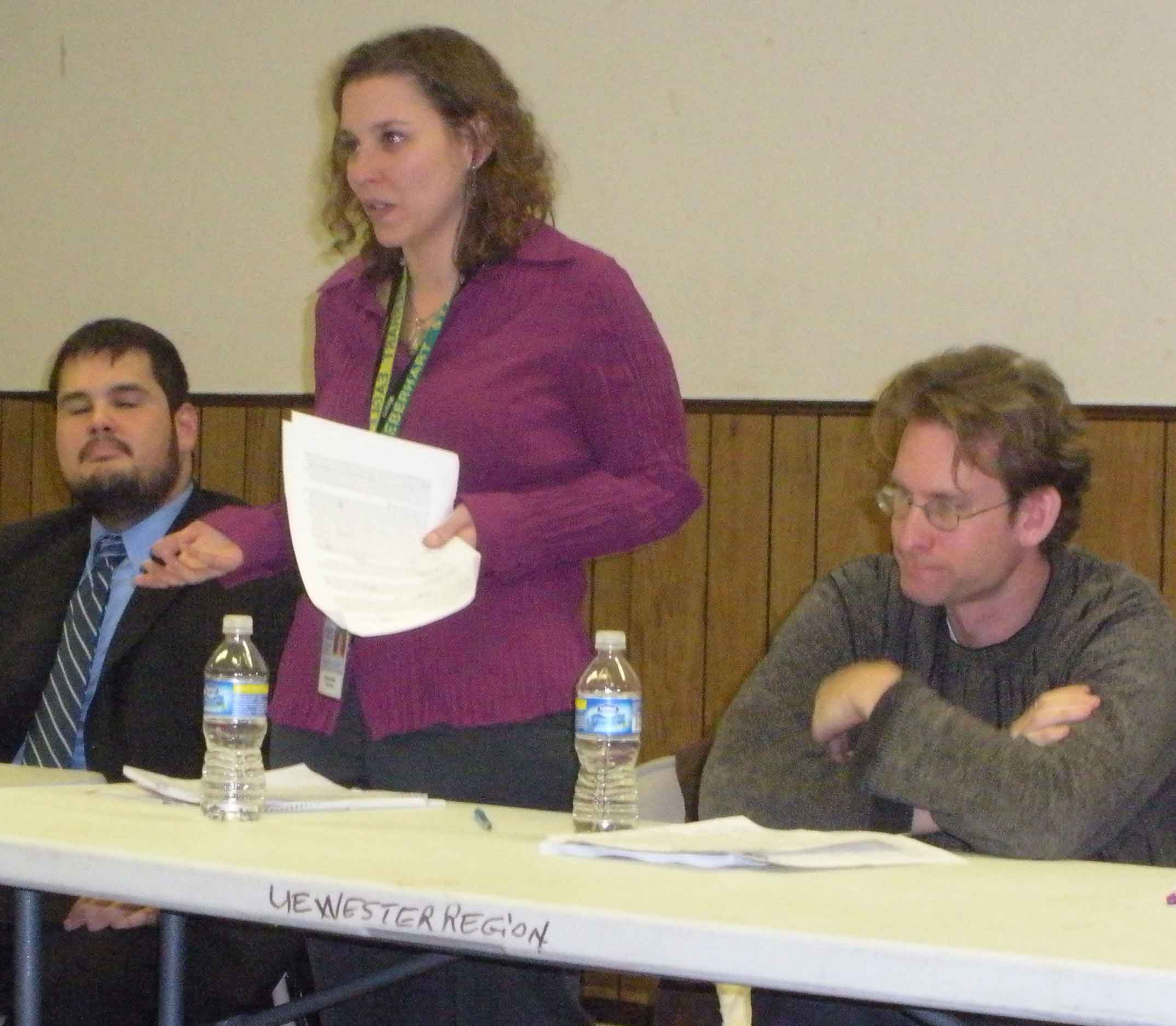 Kristine Mayle, currently teaching special education at Eberhart Elementary School, helped lead the fight at De La Cruz Middle School against the closing of the school and the takeover of the building by an UNO charter school. Mayle (shown above speaking at the CORE forum on December 2, 2009) will be the CORE candidate for recording secretary of the Chicago Teachers Union. In the above photo, Mayle is flanked by Kenzo Shibata (left) and Jim Vail. Substance photo by George N. Schmidt.Slate #5 (3 VOTES)
Jay Rehak (President)
Jesse Sharkey (Vice President)
Sara Echeverria
Kurt Hilgendorf
TOTAL BALLOTS CAST: 100
TOTAL VOTES COUNTED: 100
In order to complete its slate, CORE now has to slate candidates for all executive board positions to be elected in the Chicago Teachers Union. Based on proportionate election of "functional vice presidents" for the different categories of CTU members, the executive board seats will total around 45. The actual number of seats to be elected will be known at the January 13, 2009 meeting of the CTU House of Delegates, when the delegates get the report from the union's Rules-Elections Committee.
The election will be held on May 21, 2010 if past precedent and the union's constitution and by-laws are followed.
With CORE officially in the race, there are now four candidates for President of the Chicago Teachers Union.
CTU Treasurer Linda Porter is running on the slate of the Caucus for a Strong Democratic Union (CSDU).
Above, the CORE candidate for financial secretary of the CTU, Michael Brunson, speaks at the GEM press conference in support of a general high school for Altgeld Gardens prior to the December 16, 2009, meeting of the Chicago Board of Education. Brunson taught at Aldridge Elementary School in the Gardens prior to his becoming a displaced teacher this year. Substance photo by George N. Schmidt.Former CTU President Deborah Lynch (currently a teacher at Gage Park High School) is running on the PACT slate (Pro-Active Chicago Teachers and school workers). Elementary teacher Marcia Williams is running on the slate of the Independent Caucus.
A fifth caucus, the "School Employees Alliance" (SEA Caucus) has yet to announce its candidates. The SEA caucus has leafleted the CTU House of Delegates meetings since October, and has, according to its website (www.seacuaucs.net) held on general meeting. They did not list a phone number or address until recently, so it was a challenge contacting them.
Observers assume that Marilyn Stewart will run for a third term as head of the United Progressive Caucus (UPC). When contacted by Substance, CTU communications director Rose Maria Genova, who had been the "publicist" for the UPC in the 2004 election (when Stewart defeated Deborah Lynch in a hotly contested election that resulted in a runoff and extensive recount) said that she would let Substance know when the UPC had an official spokesperson.
At a November referendum, Marilyn Stewart successfully got the union's members to vote to reduce the number of elective offices from five to four, eliminating the office of treasurer, suppoesedly to save money. The four top officers of the union will now be: President, Vice President, Recording Secretary, and Financial Secretary.
Only two of the current union officers will possibly be running for re-election in May 2010.
Marilyn Stewart remains as President of the 31,000-member union.
Stewart purged her vice president, Ted Dallas, after he engineered her election in 2004 and her re-election in 2007. The office of vice president has been vacant for one year.
Stewart tried to purge the union treasurer, Linda Porter, but failed, so Stewart organized to eliminate the office of treasurer.
Recording Secretary Mary McGuire is reportedly retiring at the end of this school year.
Financial Secretary Mark Ochoa is reported to be running for re-election, although some say he may run for another office.
All of the officers of the Chicago Teachers Union are on leave from teaching jobs in the Chicago Public Schools. While on leave, their salaries and benefits are paid by the union's membership dues, which this year are nearly $1,000 for regular and substitute teachers. Education Support Personnel (ESPs) pay a smaller amount.
If CTU tradition is followed, the caucuses will be able to pick up nominating petitions in February, and are required to turn in completed nominating petitions in mid-March. The dates for both will be set at the January 13 meeting of the House of Delegates.
In order to be nominated, a candidate has to get signatures on nominating petitions from five percent of the voters eligible to vote for that office. The CTU currently has approximately 28,000 full-time working members (retired members are not eligible to vote or be candidates in the CTU elections, so their numbers are not counted for this purpose). Thus, candidates for citywide offices must get a minimum of 1,400 signatures on nominating petitions.
Because of the complexity of the rules governing elections in the union, the largest in Illinois, there have been very few individual candidates running. Candidates for office organize "caucuses" (basically, political parties within the union) and field slates of candidates in the name of the caucus. The ballots list candidates by office under the name of the slate, and voters can either mark ballots for individuals or for the entire slate. Historically, more than 85 percent of ballots have been cast for slates.
In addition to electing officers and executive board members, the CTU members will vote on delegates to the conventions of the American Federation of Teachers (AFT) and the Illinois Federation of Teachers (IFT). The convention delegates are voted on on a separate ballot. Historically, CTU has sent 150 delegates to the conventions, and also elected 35 alternates.
The rules for the election will be presented to the union's House of Delegates on January 13, 2010. All of the caucuses opposing Stewart in her re-election bid are facing an unprecedented obstacle that Stewart has thrown in their way with the help of CPS Chief Executive Officer Ron Huberman. In violation of federal labor law, they are being warned that they cannot circulate literature or hold campaign meetings in the city's more than 600 public schools until after the caucuses have been certified by the union's Rules-Elections Committee following the submission of the nominating petitions in late March. The certification of candidates for CTU elections usually takes place at the April House of Delegates meeting in an election year.
So what Huberman and Stewart have teamed up to do is eliminate the possibility of campaigning until April and early May. This process began in December after CORE candidates Lois Ashford and Jay Rehak defeated Stewart's candidates for trustees of the Chicago Teachers Pension Fund (CTPF) in the October 31, trustee election and sustained their victory in a recount on November 16. Supported by CORE, Rehak and Ashford mounted a spirited campaign in hundreds of schools in the weeks leading up to the October 31 vote.
Once she lost, Stewart and her supporters looked for a way to make what Rehak and Ashford and CORE had done illegal.
This story was first reported at Substance News in December:
http://www.substancenews.net/articles.php?page=1024&section=Article
A few weeks after her December letter, Stewart sent a letter on union stationery warning principals that they would be in violation of the union contract if they allowed the caucuses to distribute literature or hold meetings in the schools. That letter was reproduced this month at substancenews...
http://www.substancenews.net/articles.php?page=1057&section=Article
