CTU President continues to destroy union democracy, works with Ron Huberman and Mayor Daley to build largest company union in Illinois
George N. Schmidt - December 18, 2009
One month after she was awarded the first charter school to be operated by a union in Chicago (without getting the approval of the Chicago Teachers Union's House of Delegates) and two years after she announced that she was the "Chief Executive Officer" of the Chicago Teachers Union (she had been re-elected president the previous May), CTU President Marilyn Stewart continued her conversion of the CTU into the largest company union in Illinois by issuing a warning to teachers and delegates that they are not to host meetings of prospective election candidates in their schools. The warning came in the form of a December 14 letter to all local school delegates from Stewart.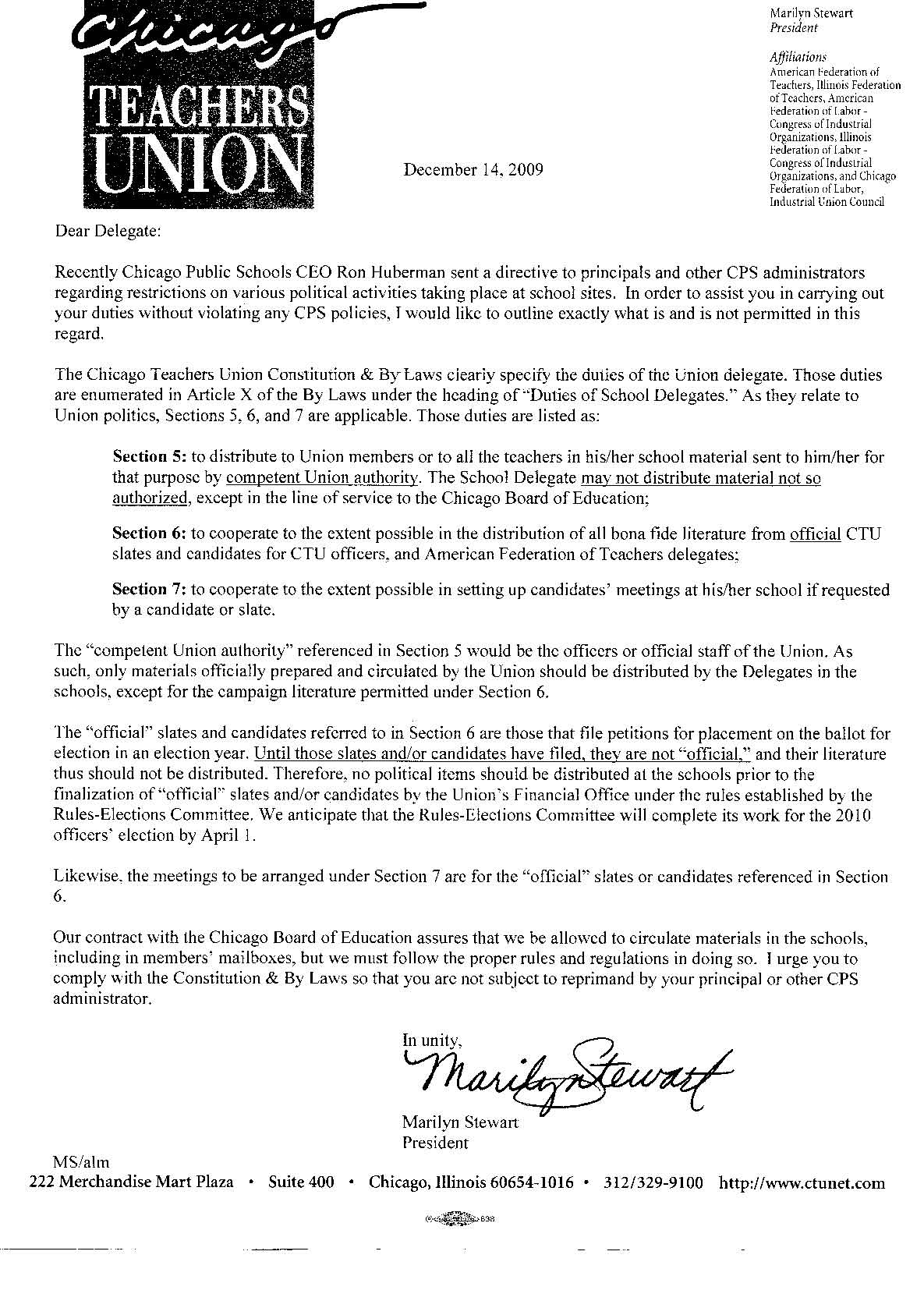 Marilyn Stewart's December 14 letter to local school delegates ignores more than 70 years of battles for the rights of teachers to exercise freedom of speech in the city's public schools, and sides with a recent policy statement by CPS CEO Ron Huberman that institutes the most draconian restrictions in a decade. Among the court precedents that have upheld teachers rights is a 1980 case (Substitutes United for Better Schools v. Rohter) that established that Substance could be sold in the city's public schools. Instead of defending the rights of teachers, Stewart is desperately trying to win reelection by siding with management against the rights of teachers and other school workers. The letter, dated December 14, claims that the union constitution forbids the meetings until candidates for union office have been approved. But since the official announcement of candidates does not take place until one month before a union election, Stewart is effectively trying to bar any political activity (other than her own) between January and April 2010 is anticipation of what promises to be the most hotly contested union election in six years. The letter supports the position taken by CPS CEO Ron Huberman that he can radically curtail the rights of teachers to discuss matters of importance within their schools and using school communications systems, such as e-mail.
Traditionally, the Chicago Teachers Union has encouraged, rather than stifled, union democracy. For decades, the union's newspaper, The Chicago Union Teacher, included on its cover the quotation from John Dewey: "Education for democracy; democracy in education." That slogan was removed by Stewart six years ago.
Stewart's letter of December 14, 2009, comes almost two years to the day after she launched her attack on the union's elected vice president, Ted Dallas. In a December 26, 2007, letter to former CPS CEO Arne Duncan (which she signed "In Solidarity"), Stewart told Duncan that she had ordered the union's elected vice president to cease all communications with CPS officials on matters pertaining to contract enforcement. Dallas, treated as an employee of the union who had been hired by Stewart, was subsequently ordered not to involve himself in any activities on behalf of the union's members. Simultaneously, Stewart began undermining the powers of the union's elected House of Delegates by orchestrating a purge of Dallas through the union's Executive Board, which has virtually been appointed by Stewart herself. (The composition of the CTU Executive Board is a secret; the names of Executive Board members cannot be found anywhere in CTU literature or on the union's Web site). See "CTU Leadership Splits..." in the February 2008 edition of Substance [available on line at http://www.substance news.net/edit_ article.php?page=153& section=Article].