CTU leads protest over Martin Luther King Jr. holiday weekend against school closings
George N. Schmidt - January 13, 2013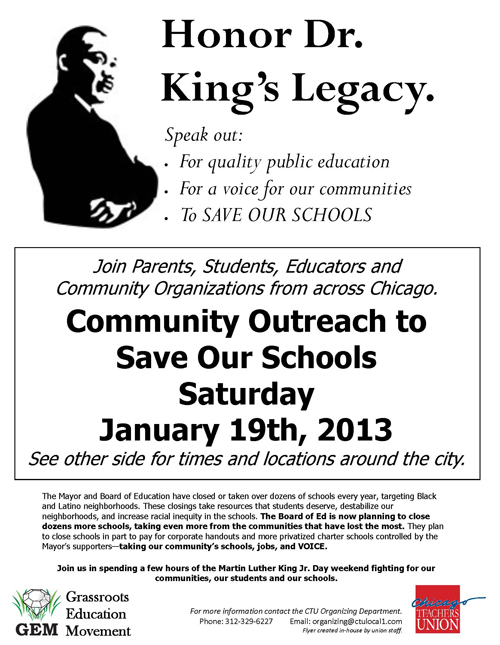 More information about the January 19, 2013 actions can be gotten at the Chicago Teachers Union website, www.ctunet.com.The Chicago Teachers Union will be leading a coalition of groups protesting against Chicago's plans to close more public schools this year. The protests, to take place on Saturday January 19, 2013, are outlined in the statement below (from the CTU website) and detailed in the leaflet illustrating this article. More information can be found at www.ctunet.com. The union will be working with community groups to coordinate activities across Chicago in honor of the day.
Last year, CTU joined parents, students and community groups in protest against the school closings and turnarounds proposed by the Emanuel administration and the seven-mamber Chicago Board of Education appointed by Mayor Emanuel. This year, the mayor's supporters evaded a law that required December 1, 2012 notification regarding this year's proposed closings and will not be releasing a Hit List until March 31, 2013.
CTU WEBSITE ANNOUNCEMENT:
Join us Saturday, January 19 to Defend Public Schools
The Mayor and Board of Education have closed or taken over dozens of schools every year, targeting Black and Latino neighborhoods. These closings take resources that students deserve, destabilize our neighborhoods, and increase racial inequity in the schools.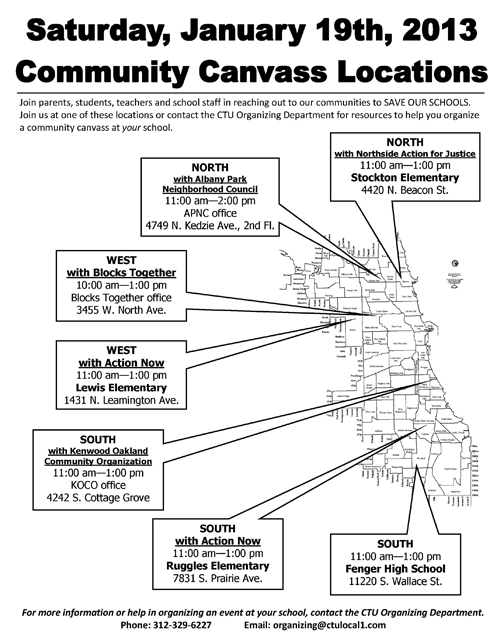 At least seven community based actions will take place on january 19 in honor of Dr. King's memory.The Board of Ed is now planning to close dozens more schools, taking even more from the communities that have lost the most.
They plan to close schools in part to pay for corporate handouts and more privatized charter schools controlled by the Mayor's supporters—taking our community's schools, jobs, and voice!
Join us in spending a few hours of the Dr. Martin Luther King Jr. Day weekend at one of seven North, West and South side locations on Saturday, January 19th. We will be fighting for our communities, our students and our schools, and speaking out...
For quality public education
For a voice for our communities
To SAVE OUR SCHOOLS