Has CPS privatized teacher evaluations without telling anyone? Who or What is 'Batelle for Kids' and when did Chicago agree to put it in charge of teacher evaluations? CPS has already privatized and outsourced 'value added' teacher evaluation work to an Ohio corporation!
George N. Schmidt - May 09, 2012
While CPS Chief Executive Officer Jean-Claude Brizard continues to repeat his carefully rehearsed platitudes and talking points whenever he is forced into a public appearance (which CPS has been trying to control), behind the scenes the most controversial teacher evaluation system in Illinois history is moving forward at lightning speed in what appears to be a secret privatization agreement between Brizard's administration and a controversial Ohio corporation that specializes in public relations work for the controversial "value added" approach to teacher evaluations.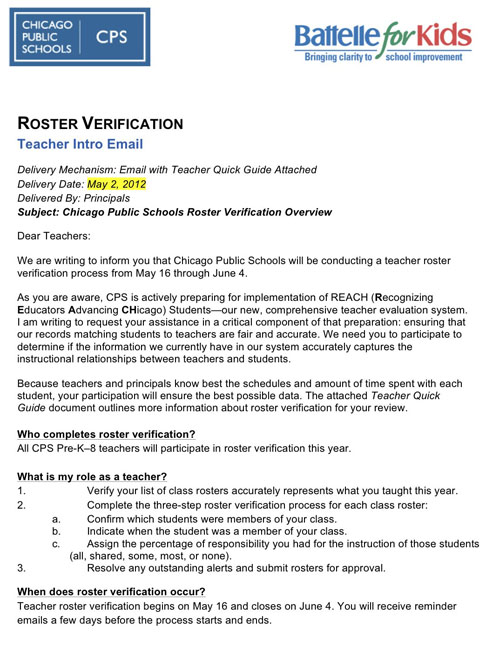 Above, the first page of the two-page memo to principals that CPS sent out on May 2, 2012. In the face of the most controversial teacher evaluation system in CPS history, the Brizard administration has outsourced the main data collection for REACH to an Ohio corporation which specializes in public relations. The memo above, by the way, indicates at the bottom of its second page that it is "copyrighted" by "Batelle for Kids" (which is a trademark of a private corporation with dozens of employees based in Ohio, according to its Website). On May 2, 2012, Chicago Public Schools issued to all principals an elaborate memo outlining how all teachers were being required to "verify" the students they had taught in the previous year — even down to estimating how much of the "learning" these students did should be attributed to the individual teacher.
The first public exposure of the system came in the form of a "Roster Verification" memo dated May 2, 2012 and issued jointly by Chicago Public Schools and an outfit called "Batelle for Kids" (a pun on "Battle for Kids"? in keeping with the CPS habit of casting everything in military terms perhaps...). According to the memo, CPS "will be conducting a teacher roster verification process from May 16 through June 4..."
During the "Roster Verification" process, teachers are going to be required to submit what should be confidential CPS information to a private corporation which has not been publicly identified until now. Materials distributed to CPS principals and teachers (provided to Substance and verified as actually having been distributed) do not even provide teachers with a phone number to contact should problems arise.
Because any "value added" system requires verification of the actual students taught by each teacher, a system of identification is necessary. But the strange memo issued by CPS indicates what many critics in recent years have believed: CPS has reduced its essential central office staff by so many people that it no longer has experienced and trained staff to do this kind of work. Although CPS has been in a radical expansion of top-level central office staff during the past 10 months, it has simultaneously been forcing out others, many of those who knew the actual workings of the school system. It has not only been veteran teachers and principals who are being purged by the Emanuel administration under Jean-Claude Brizard.
The result is that CPS is apparently giving away the most important data in the recent history of teacher evaluations to a private corporation based in Ohio whose main activity has been, so far according to its website, public relations. The May 2, 2012 CPS "Roster Verification" memo is reproduced below here:
ROSTER VERIFICATION Teacher Intro Email
Delivery Mechanism: Email with Teacher Quick Guide Attached
Delivery Date: May 2, 2012
Delivered By: Principals
Subject: Chicago Public Schools Roster Verification Overview
Dear Teachers:
We are writing to inform you that Chicago Public Schools will be conducting a teacher roster verification process from May 16 through June 4.
As you are aware, CPS is actively preparing for implementation of REACH (Recognizing Educators Advancing CHicago) Students—our new, comprehensive teacher evaluation system. I am writing to request your assistance in a critical component of that preparation: ensuring that our records matching students to teachers are fair and accurate. We need you to participate to determine if the information we currently have in our system accurately captures the instructional relationships between teachers and students.
Because teachers and principals know best the schedules and amount of time spent with each student, your participation will ensure the best possible data. The attached Teacher Quick Guide document outlines more information about roster verification for your review.
Who completes roster verification? All CPS Pre-K–8 teachers will participate in roster verification this year.
What is my role as a teacher?
1. Verify your list of class rosters accurately represents what you taught this year.
2. Complete the three-step roster verification process for each class roster:
a. Confirm which students were members of your class.
b. Indicate when the student was a member of your class.
c. Assign the percentage of responsibility you had for the instruction of those students (all, shared, some, most, or none).
3. Resolve any outstanding alerts and submit rosters for approval.
When does roster verification occur? Teacher roster verification begins on May 16 and closes on June 4. You will receive reminder emails a few days before the process starts and ends.
What resources are available to me?
Downloadable roster verification resources materials such as a Teacher Tutorial, Teacher Roster Verification Overview and Teacher Guide are available online through the BFKLink® solution. You are encouraged to take the Teacher Tutorial which describes the teacher roster verification process in detail and walks you through the tool.
What if I have questions?
If you have questions about the roster verification process, please contact your school support team. Your support team is identified on the main page of the BFKLink® solution.
Thank you for your ongoing efforts to enhance our data quality.
Sincerely, First Name Last Name Principal