MEDIA WATCH: 'High Flyers' report from right wing Fordham Foundation crashes and burns
George N. Schmidt - October 13, 2011
I have to admit that every time I see a crash coming from Chester Finn, it's a happy moment for Chicago. Long before he became a national reactionary pundit, Finn was hard at work in Chicago undermining the city's public schools. In the early 1990s, just before mayoral control was instituted, the Chicago School Finance Authority, as part of the first round of "school reform" laws, also became the "Chicago School Reform Authority" (which should have warned everybody — and not just Substance — where this whole corporate "school reform" thing was going). The head of both entities was the every present Atlas Shrugged "free market" fundamentalist, the ubiquitous Martin Koldyke (who is still around with everything from AUSL to the boards of WTTW and the Chicago News Coop, for anyone who is keeping track).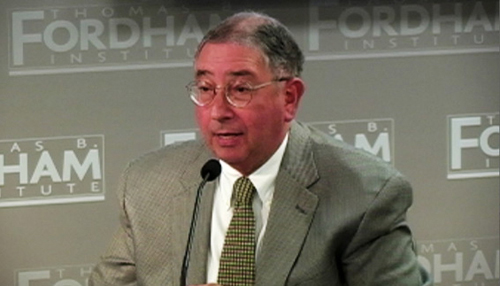 Chester Finn (above), currently of the "Thomas B. Fordham Foundation" (not to be confused with Fordham University) has been one of the nation's most ubiquitous opponents of traditional U.S. public education for more than a quarter century. Beginning as a professor of education at Vanderbilt University (during which time he was a highly paid consultant to Chicago's School Finance/Reform Authority on "school reform"), Finn has established an almost unbroken track record of preparing propaganda, often under the guise of scholarship, to back up the fads of those attacking public education, teacher unions, and traditional democratic American approaches to universal schooling.Anyway, the "School Reform Authority" needed an authority on "school reform" (italics deliberate) to serve as a consultant. They were unable to find anyone who really knew his "school reform" stuff within 500 miles of Chicago, so Koldyke chose a fast-talking right wing professor at Vanderbilt University named Chester Finn for the quarter million dollar job. On several occasions, I got to attend the Chicago School Finance/Reform Authority meetings, and to listen as the lawyers and other important people of the SFA/SRA listened to the voice of Chester Finn explaining why Chicago's public schools needed additional doses of privatization and maybe vouchers to really do "reform" right (pun intended, this was all "right" right from the beginning...). Finn made some nice money in those days, and as far as I could tell, he never even bothered to come to Chicago and visit one public school. Instead he pundited on the basis of "data" provided from somewhere, probably Koldyke's millionaire friends.
The whole "Chicago School Reform Authority" thing was killed by mayoral dictatorship, the Amendatory Act of 1995, which made Rich Daley dictator of CPS for the next 16 years (just as for the past six months, Daley's successor Rahm Emanuel is dictator). By that time, Chester Finn ("Checker" to most people) was also moving on, eventually to head the "Thomas B. Fordham Foundation" and continue to dispense right wing dribble (not even in many cases any longer "data based") to the corporate media, which by the early 21st Century was quoting him regularly on just about anything pertaining to how to corporately "reform" public education. Finn really went into orbit during the days of "No Child Left Behind," as the "data" coming in from the Bush administration's manic testing programs fed the urge to replace public schools with privatized entities (usually not vouchers, since the same destruction of public wealth could be achieved through charter schools).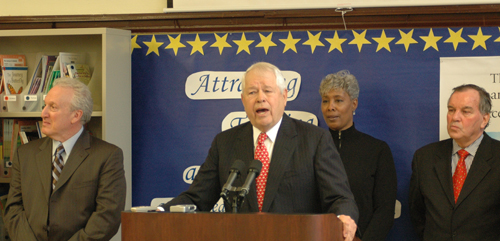 Retired Private Equity ("Frontenac Partners") multi-millionaire Martin Koldyke has been one of the most powerful and influential right wing forces in corporate "school reform" in Chicago for a quarter century. Above, Koldyke is seen speaking to the press at Chicago's so-called "Sherman School of Excellence," one of the nation's first "turnaround" schools, on January 31, 2008, while Donald Feinstein (head of AUSL), alderman Joann Thompson (a fierce enemy of public schools in her south side Chicago ward) and Mayor Richard M. Daley look on. Substance photo by George N. Schmidt. Now, thanks to the "Think Tank Review Project" at the University of Colorado, another Checker Finn bit of nonsense is debunked. Somehow, I have a hunch that Education Week, which tends to spread this stuff like filthy drinking water spreads cholera, will publish the following (or the full report), but here is it from Substance:
LOW MARKS FOR 'HIGH FLYERS'... Low Marks for "High Flyers" Report. Leading expert finds Fordham Foundation study claiming low-performing students gain at the expense of high-achievers uses faulty methods and reaches faulty conclusion
Contact: Jamie Horwitz, 202-549-4921, jhdcpr@starpower.net, Jaekyung Lee, 716-645-1132, jl224@buffalo.edu
To access this press release: http://tinyurl.com/43y3m4z
BOULDER, CO (October 13, 2011). Is it true that education policies are so skewed toward boosting academic achievement among low-performing students that high-performing students suffer? A recent report jointly released by the Fordham Institute and Northwest Evaluation Association, Do High Flyers Maintain Their Altitude? argues that the academic performance of high-achieving students is being undermined by a policy focus on lower-achieving students. Is this claim supported by evidence?
The National Education Policy Center (NEPC) asked University at Buffalo, SUNY, professor Jaekyung Lee to review the High Flyers report as part of NEPC's Think Twice think tank review project. Lee, a nationally known expert on accountability and equity issues in education, found that the report's conclusions rested on biased methodology and misleading arguments.
The review is published by the National Education Policy Center, housed at the University of Colorado Boulder School of Education.
"Do High Flyers Maintain Their Altitude?" tracks reading and math achievement trends for students who scored extremely well on the Measures of Academic Progress, and concludes that while three in five such students maintain high-achiever status, substantial numbers fall behind compared with their original performance, ultimately costing them access to such benefits as greater college choice and greater merit-based financial aid. It suggests that a possible reason for some high achievers slowing down is the focus on low-performing schools and students, prompted by the federal No Child Left Behind act, or on struggling readers on the part of the Reading First literacy strategy.
Lee concludes that the report offers little of value to policymakers. Indeed, he notes, "the report's arguments about the loss of potential human capital and about a purported trade-off between excellence and equity can be more harmful than helpful."
In his review, Lee describes a number of flaws in the report, including "its black-box approach that assumes a link between its findings and NCLB-related policies." Lee also points to two key elements of the report that are unclear and inconsistent: the study's approach to defining high achievers and its tracking of academic progress over time. At one point, the report uses percentile ranks in each grade, which is guaranteed to produce "winners" and "losers," and elsewhere it uses developmental scale scores, which as Lee observes "allow for continuing growth regardless of change in relative status; thus all students can be winners or losers." As Lee points out, it is difficult for readers to make sense of these decisions, because the report fails to provide complete technical information on its methods, such as the construction of the samples of public school students on which the report's findings are based.
To test the High Flyers report's findings, Lee constructed a similar study of his own using a different national dataset, and he found results varied widely depending on which of the report's two metrics was used. Lee also found that the study didn't adequately account for regression to the mean, a statistical artifact that occurs when researchers examine the difference between two imperfectly correlated measures—in this case, achievement tests taken by students at different grades. Due to this measurement phenomenon, "lower-performing students tend to improve their performance status more than higher-performing students," Lee notes. This occurs even if there is no actual change in the achievement being measured.
Find Jaekyung Lee's review on the NEPC website at:
http://nepc.colorado.edu/thinktank/review-do-high-flyers-maintain-their-altitude
Find Do High Flyers Maintain Their Altitude? co-authored by Yun Xiang, Michael Dahlin, John Cronin, Robert Theaker, and Sarah Durant, on the web at:
http://www.edexcellence.net/publications-issues/publications/high-flyers.html
The Think Twice think tank review project (http://thinktankreview.org), a project of the National Education Policy Center, provides the public, policy makers, and the press with timely, academically sound, reviews of selected publications. The project is made possible in part by the support of the Great Lakes Center for Education Research and Practice (GLC).
The mission of the National Education Policy Center, housed at the University of Colorado Boulder School of Education, is to produce and disseminate high-quality, peer-reviewed research to inform education policy discussions. NEPC is guided by the belief that the democratic governance of public education is strengthened when policies are based on sound evidence. For more information on NEPC, please visit http://nepc.colorado.edu .
This review is also found on the GLC website at http://www.greatlakescenter.org/