'... the rapid expansion of charter schools is not a panacea...' Valerie Leonard's comments at the February 13 hearing
Valerie Leonard - February 14, 2013
[Editor's Note: Chicago Public Schools officials are refusing to keep a transcript of the hearings on the school closings, or allow all of those who show up at the hearings to speak. The manipulation of the meetings -- and of the cynical claim that CPS is "listening" -- is now part of the public record. But the majority of the men, women and children who wish to speak at not allowed to speak at each hearing. Although similar hypocrisies have taken place during the ten years since massive closings were begun by Arne Duncan, this year may have reached the apogee in both mendacity and hypocrisy. Not one Board member has been at a hearing, nor have they asked that a real transcript of the public's comments be produced. Instead, they are subsidizing the distortion of history that will be provided by Phillip Hampton in his report to the Board for when it finally votes. We will try to publish as many of them as we can get from the prepared words of the possible speakers.]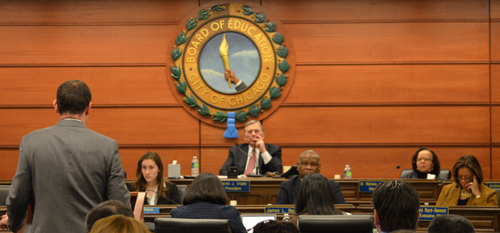 CPS has adopted a policy of undisguised hostility towards critics during the past year. Above, Board President David Vitale watches while CTU vice president Jesse Sharkey (left, back to camera) addresses the Board at its January 23, 2013 meeting. Barbara Byrd Bennett ignored most of what Sharkey had to say. Vitale has ordered the Board Secretary to disrespect union officials during Board meetings. Substance photo by George N. Schmidt.Going Over the Public Education Cliff: Public Comments to CPS Regarding School Utilization, February 31, 2013
My name is Valerie Leonard, the Co-Founder of the Lawndale Alliance. We are a groupof residents who have come together to address issues of concern to the community, includingeducation, TIF reform and mortgage foreclosure. We are here today to ask you to put amoratorium on school closings until you complete your strategic plan and master facilitiesplanning process.
We are very concerned about the fact that you have decided to proceed with rapidly expanding charter schools while closing public schools en masse.
Your actions are akin to a corporation cannibalizing its own flagship brand in favor of an untested product. A great example is when Coca Cola changed its formula to make it sweeter in order to beat Pepsi at its own game. We know how that turned out. The biggest marketing fiasco in the 100+ year historyof the company. Coke had to go back to its heritage and focus on the original Coke, the brandthat brought them worldwide notoriety We don't need to do what Coke did in order to learnvaluable lessons. We respectfully request that you hold off on any school actions until you cancomplete your 10-year master facilities planning process.
We also support Alderman Matt O'Shea (19), Alderman Scott Waguespack (34), Alderman Pat Dowell (3) and Alderman Rick Munoz (22), who have signed a City Council resolution calling for a moratorium on the creation of new charter schools until you can get a better handle on the school utilization crisis caused by years of poor planning driven by political and economic agendas, as opposed to what's best for the children. As we said before, the rapid expansion of charter schools is not a panacea. Some charters that performed well when they operated a single facility have seen a decline in academic performance after they opened several additional sites within a short time frame.
According to theCenter for Education Reform, 15% of U.S. charter schools will fail due to performance. In theCity of Chicago, 33% of charter schools are performing at the lowest levels. Some charterschools have experienced financial strain after taking on multiple construction projects.
A study by Catalyst Chicago indicated that nearly 50% of Chicago's charter schools have run a deficit in recent years. Substance News reports that a significant number of charter schools are having difficulty making teacher pension payments on time. Schools that have financial difficulty usually have difficulty maintaining high quality staff and programs.
Over the past 15 years or so, we have seen Chicago Public Schools opening new charter schools in communities with declining populations, and delaying school construction in communities with expanding populations. As a result, Chicago Public Schools has more available seats than students. CPS has at one point claimed that there are over 500,000 seats in the system, and only 400,000 students. CPS is in the process of preparing to close up to 193 schools in an effort to correct theproblem. Unfortunately, the data you are using to make decisions are incomplete and inaccurate.
CPS has only recently engaged a firm to help them complete a master facilities planning process. The study--which will only include half of CPS's school buildings-- will not be complete beforeJune, 2014. In the meantime, CPS will release a list of schools to be closed within the next couple weeks or so without a master facilities plan in place. Closing schools has serious consequences that could impact communities for years tocome. We need to ensure that the utilization debacle is never repeated again.
Unfortunately, if left to your own devices, CPS will continue business as usual. We need an objective body that will review financial, utilization and market data to ensure that facilities planning is driven by community need and financial feasibility rather than political agendas. We have asked the State Legislature to create an Illinois Education Facilities Planning Board that will review the planning and development of new schools throughout the State of Illinois. School districts should be able to demonstrate that any new schools have the financial wherewithal to develop the construction project, maintain day to day operations and fund teacher pensions--without emergency bailouts from a State Legislature
We also ask that you, and the CPS Board of Education aggressivelylobby the Illinois Legislature for TIF reform that will return uncommitted, surplus TIF funds tothe taxing bodies including CPS. If the Mayor can consider using TIF funds to hire more Policemen when that is not an allowed purpose, truly, our Board of Education can lobby to ensure that the CPS portion of surplus TIF funds are returned to the school district every year, instead of imposing the maximum tax increases allowed by law each year.
If the data you are providing to the public is any indication of the tools you're using to drive this process, it is fair to say that you are using inaccurate and incomplete data to make your decisions. For the past year or so, you have indicated to the press that you must close schools because you are facing a billion dollar deficit. This is one of the main reasons you give forclosing an unprecedented number of schools at once.
You indicated in the 2013 budget that you would be closing a $435 million budget gap by depleting your cash reserves. As a result, CPS' bond rating was lowered. Even after you closed out the 2012 school year in June, 2012 with a $322 million windfall, you did not disclose this fact in your bond documents for your December 2012 bond issue. This fact was not known until after the CAFR came out last week.
Closingschools is a serious matter, and should not be taken lightly. You must make every effort to beopen and honest in your communication with investors and taxpayers. Most importantly, the data used to drive your decisions should be accurate and consistent. We are also concerned about the conflicting messages you are sending concerning the need to cut costs. On one hand, you indicate that you need to cut costs because of the growing budget deficit, and you can no longer afford to spend $313 million a year operating school buildings when half of them remain empty. However, you budgeted $375 million to pay for professional services, including lawyers, accountants and consultants at the beginning of the 2012 school year. By the time the school year was over, you spent $412 million on professional services that may or may not have had any impact on the classroom. Yet, there is no sense of urgency to cut those costs.
CPS does not lobby as hard as you should in Springfield to ensure that all children get a decent public education. Springfield cut education spending by $200 million dollars, with plans to cut up to $400 million more. Yet, we don't hear a word from you. However, you support UNO's efforts to secure a $35 million earmark from the Legislature to build their schools while you close public school. This, on top of the $98 million they received during the last school year.
We have since learned that 25% of this funding went to friends, family and political allies of members of the board of directors and high ranking UNO employees. A review of utilization data reveals that you have included performance data for all schools. You included data regarding the length of time schools have been on probation for public schools, but omitted those data for charter schools, even when it's publicly available.
If you include these data for public schools they should be included for charters to make sure you are making balanced decisions. Finally, we are very concerned about the public safety implications of school closures forour elementary students.
As we learned in the case of Fenger, Clemente and Orr high schools,school closures could exacerbate school violence as a result of students having to cross various gang territories, or creating deadly mixtures once school populations are combined. We also know that elementary school children are often recruited to carry out the dirty work for adult gang members, thinking they will get less time.
We have attached a copy of maps depicting gang territory in the 10th and 11th Districts, which service North Lawndale. If CPS is really serious about your desire to "right size" the district, you would take your time to make sure the process is done in a manner that will create win-win situations foreveryone involved. This will not happen if you continue to plow forward without a masterfacilities plan in place.
Respectfully Submitted,
Valerie F. Leonard
Co-Founder