Stop the sentimental silliness about Michael Scott... Hood News video shows how Chicago worked while Arne Duncan and Michael Scott served Richard M. Daley to destroy Collins HS and privatize dozens of Chicago public schools
John Kugler - November 21, 2009
Perhaps it's true that people should try and speak only good things about people who have passed along in a shocking way.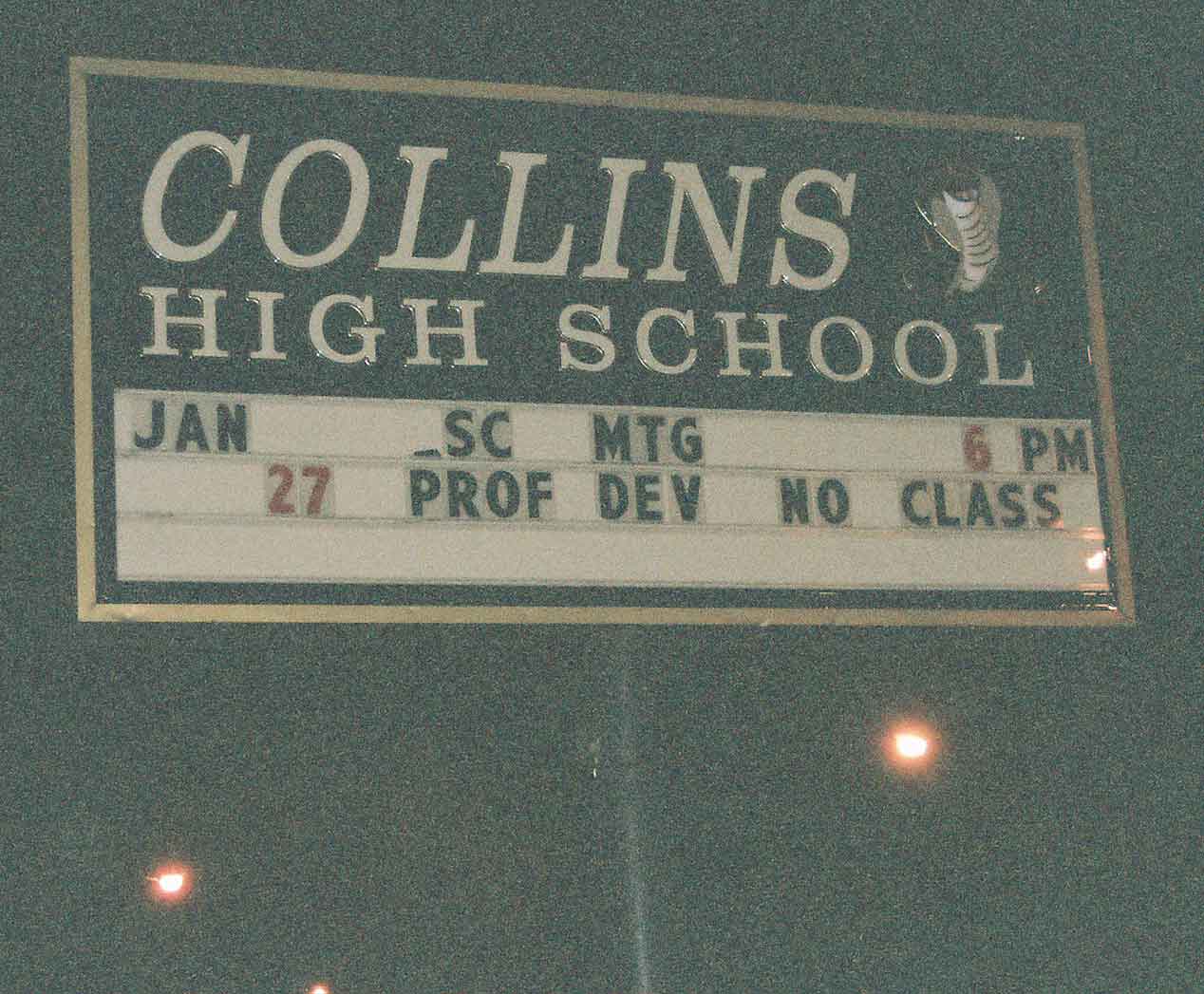 The Collins High School sign on the night of the massive community meeting to protest the Duncan and Scott administration's plan to close Collins as a public high school. One of the key figures in Mayor Daley's program to close and privatize dozens of Chicago public schools was Michael Scott, who as President of the Chicago Board of Education played Daley's divide-and-conquer game in Chicago's African American community while Arne Duncan took the scripted plans from the planning stage through implementation. In February 2006, the Board of Education, with Scott as chairman, vote to close Collins by freezing 9th grade enrollment. By 2009, Collins had been ended, with the newly remodeled "campus" being give away to the Academy for Urban School Leadership (AUSL) and North Lawndale College Preparatory Charter High School. Substance photo by George N. Schmidt.But while Chicago gets ready for the Michael Scott memorial at the University of Illinois (November 22, 2009), everyone should at least take a look at the video of just one of the backroom deals that Arne Duncan and Michael Scott did during the years they were closing more than 60 Chicago public schools and privatizing them under the program called "Renaissance 2010."
The video of Scott, Duncan (now U.S. Secretary of Education), Congressman Danny Davis (still Congressman Danny Davis), and (still) Illinois State Senator Ricky Hendon meeting in the back room of Edna's Restaurant on Chicago's gritty West Side tells more about the way Chicago's school politics worked in those days (in this case February 2006) than most college "political science" textbooks. Others at the back room meeting were Scott's lieutenant Greg Minniefield (who kept himself off camera) and one of Danny Davis's aide.
And, of course, Arne Duncan, who smiled a lot but tried not to say anything at all while the cameras were on.
"Hood News" is still in business, although they've never received the kind of recognition (or funding) that would have gone to them had they been willing to stand up for Mayor Daley and Michael Scott, rather than stand with the 1,000 students and teachers of Collins High School on the West Side whose lives were being destroyed by Scott, Duncan, and the others depicted in this video.
You can catch the video now at
http://www.schoolsmatter.info/2009/11/breakfast-at-ednas-backroom-starring.html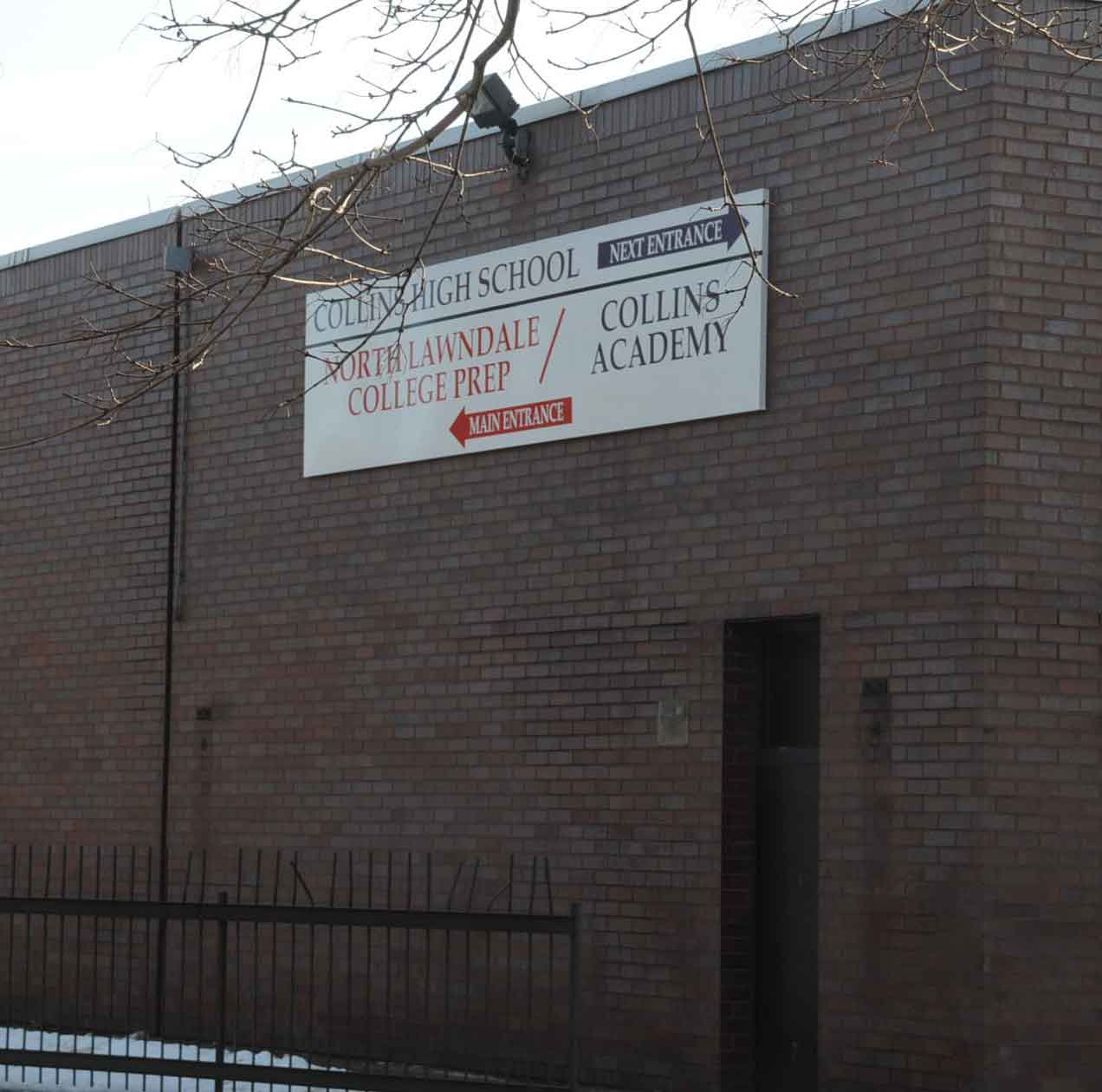 By 2009 (above) Collins was no longer a public high school open to everyone in the community, but contained two selective schools. The "Collins Academy" is operated by the Academy for Urban School Leadership (AUSL), while "North Lawndale College Prep" is a charter school the excludes most community students through a series of complex admissions and behavior rules. One of the ironies of Michael Scott's life was that Scott's mother was one of the leaders of the community protest movement that forced the Chicago Board of Education to build Collins as the "school in the park" in the early 1970s. Collins was opened as a general public high school in September 1976 and destroyed when Scott and Arne Duncan voted to close it for what they called "underperformance" beginning in 2006. Substance photo by George N. Schmidt.Along with a good article from the time by Chicago teacher and Substance staff writer Jesse Sharkey. Thanks to Schools Matter for giving this video another lease on life.
Anyone who thinks "Race to the Top" is about making the schools better should consider how Chicago did its school closings back in the day when Arne Duncan was cowering as the Hood News team burst into his backroom breakfast. To repeat, here is the Jesse Sharkey article that has now been posted, with the three Hood News videos, at Schools Matter:
Breakfast at Edna's (Backroom), Starring Arne Duncan and Chicago's Top Political Posers
Today we go the vault of golden oldies to remember the good ole days in Chicago, when Daley's henchmen played out their well-rehearsed Kabuki roles aimed to preserve their relationships with their constituencies while actually stabbing them in the back, or in the backroom, anyway.
A backroom deal in Chicago?
By Jesse Sharkey, Socialist Worker, March 10, 2006 CHICAGO ACTIVISTS opposed to a school-closing plan broke in on a backroom meeting that they believe was aimed at sealing the deal. Top school officials were found at a popular West Side restaurant Edna's--across the table from U.S. Rep. Danny Davis and state Sen. Ricky Hendon, whose districts include Collins High School, one of the schools slated to close.
Last month, the Chicago Board of Education (CBOE) voted unanimously to close four Chicago schools as part of its citywide privatization plan, called Renaissance 2010. The closings, announced a month earlier, aroused an outpouring of anger at the four high schools--Frazier, Farren, Morse and Collins--and the surrounding communities, all poor Black neighborhoods.
Davis and Hendon were among the most militant-sounding critics of the closures plan. At a town-hall meeting against the Collins closing, Davis and Hendon both denounced the city's plan as racist, and emphasized their long connection to the North Lawndale neighborhood. "We're going to show them how we fight," Hendon told the cheering crowd.
Several days later, at the CBOE hearing, Hendon threatened to cut off funding if the Collins closure went through. "You're not going to see a penny," he told Chicago Public Schools CEO Arne Duncan.
But Hendon seems to have been sending a different message behind the scenes. Last month, neighborhood activists spotted Hendon, Davis, Duncan and CBOE President Michael Scott in a back room at Edna's. Scott is also a local real estate developer with substantial business interests in the gentrifying West Side neighborhood.
After being alerted about the gathering, reporters from a local public access show, Hood News, burst into the room, with video rolling. "Is this the sellout crew?" the reporter asked. "Is this a secret meeting about Collins High School?" Ricky Hendon told the reporters, "Kiss my ass!" while Davis went for his cell phone and called police.
None of the participants would tell reporters what was on the agenda for the secret meeting. It is illegal under the Illinois Open Meetings Act for multiple elected officials to meet about policy in secret.
But it soon became clear what deal had been made when the board announced that Collins High School would close as planned--but only for one year, according to the board.
Hendon and his supporters hailed this as a victory, but the board had only ever planned to leave Collins closed for a year. Under Renaissance 2010, the board's scheme is to reopen closed schools as new charter schools, with new students and nonunion teachers.
Far from a victory, Hendon's deal gave the board exactly what they wanted--while delivering nothing to the teachers, parents and students in the neighborhood he and Davis pledged to represent.
More to come... Please add your comments after you've seen this exciting video from nearly four years ago (February 2006) when the men in the video were determining the fate of Chicago's George W. Collins High School behind closed doors in the backroom of Edna's Restaurant. 
Final edited version of this article posted at www.substancenews.net November 21, 2009, 5:00 p.m. CDT. If you choose to reproduce this article in whole or in part, or any of the graphical material included with it, please give full credit to SubstanceNews as follows: Copyright © 2009 Substance, Inc., www.substancenews.net. Please provide Substance with a copy of any reproductions of this material and we will let you know our terms — or you can take out a subscription to Substance (see red button to the right) and make a donation. We are asking all of our readers to either subscribe to the print edition of Substance (a bargain at $16 per year) or make a donation. Both options are available on the right side of our Home Page. For further information, feel free to call us at our office at 773-725-7502.
