November 4, 2009 meeting... Stewart holding on, barely, in Chicago Teachers Union House of Delegates
Jim Vail - November 07, 2009
Chicago Teachers Union (CTU) President Marilyn Stewart tried to show she is still in control when she fielded a question from this reporter at the recent House of Delegates meeting November 4 (2009) concerning the incendiary remarks by the Reverend and State Senator James Meeks, a friend of Stewart's, who said the Chicago Teachers Union is the worst gang in the city.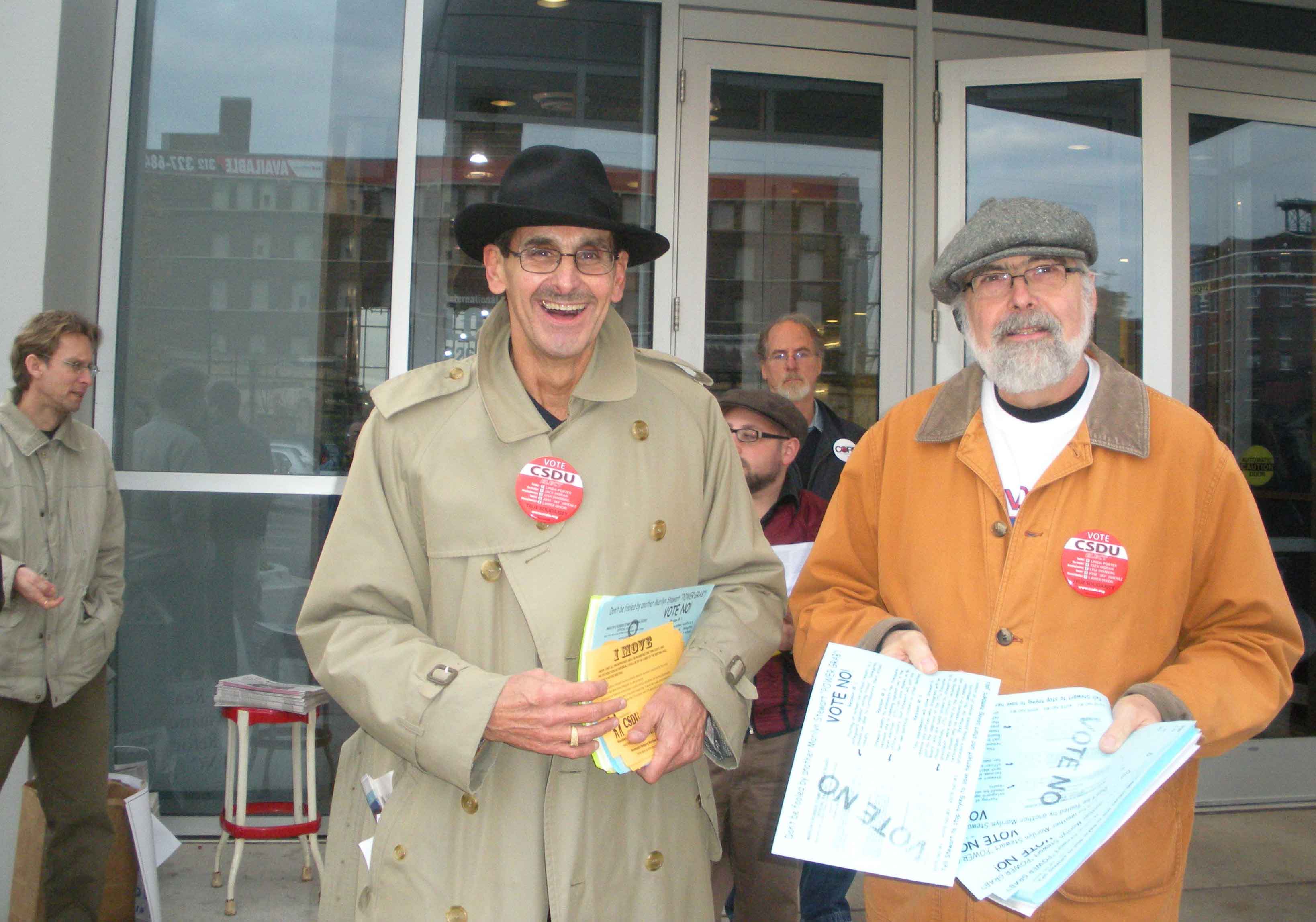 Former Chicago Teachers Union Vice President Ted Dallas (with black hat, center) and retired Wells High School teacher Anthony Aborreno (right, holding "Vote No!" leaflets) were passing out leaflets in front of the Chicago Teachers Union House of Delegates meeting on November 4, 2009. The leafleting was banned by Chicago Teachers Union Marilyn Stewart when she moved the union meetings to the remote site of the offices of Local 399 of the Operating Engineers, but the ban was removed after a fight led by Substance. Behind Dallas are (left to right) Substance and CORE leafleters Jim Vail, Nate Goldbaum, and Earl Slibar. Substance photo by George N. Schmidt.Question: Is it true Mr. Meeks receives money from the CTU and will this stop?
Marilyn: Yes, and we stopped payments today (applause from the delegates).
Question: Mr. Meeks then followed up his outrageous remarks with an op ed in the Chicago Tribune in which he mentioned the Fenger student Derrion Albert's murder had something to due with poor teacher ratings, (which the Chicago Tribune agreed with in a follow-up editiorial supporting Meeks' attack on the city's public school teachers.) Why have you not responded?
Marilyn: Yes, I will have an article responding to Mr. Meeks in the Tribune on Friday
Stewart's comments appeared as a letter in the Tribune.
Jesse Jackson's Operation PUSH, where Meeks made his speech, has not issued any statement so far condemning this attack on teachers, mostly directed at those who teach on the south and west sides of the city. [Editor's note: Read the entire October 17 speech by Meeks at PUSH here at Substance News. http://www.substancenews.net/articles.php?page=969&section=Article]
Last week Stewart was knocked down hard when CORE, a new caucus in the union (founded in April and May 2008 and active ever since), upset the UPC and won the two teacher trustee slots on the Chicago Teachers Pension Fund. Never before has the ruling UPC party lost a pension trustee election.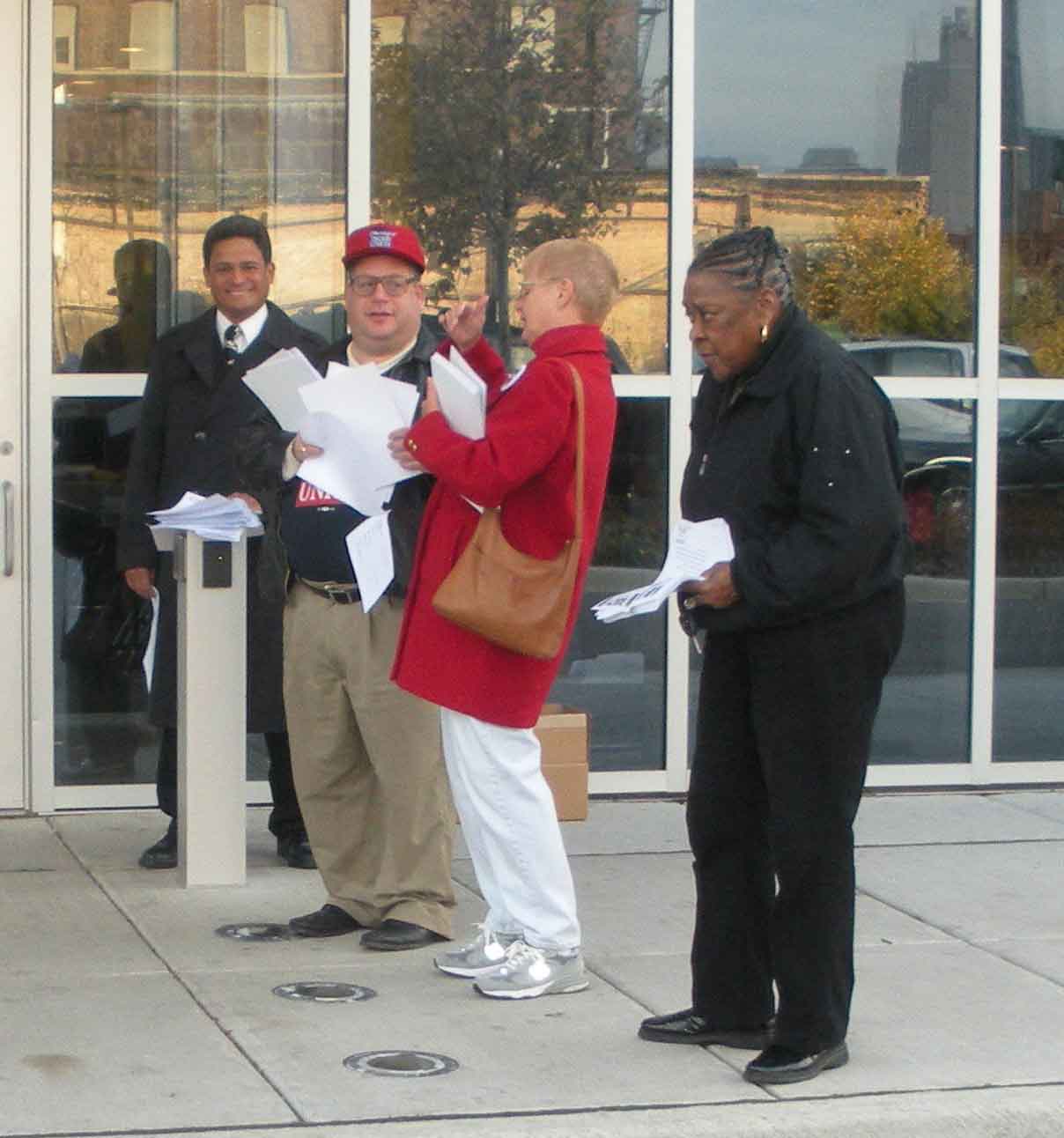 Taking advantage of the nice weather and the right to distribute literature outside the meetings of the Chicago Teachers Union House of Delegates, members of Marilyn Stewart's United Progressive Caucus (UPC) gave out two leaflets before the November 4 meeting. The first leaflet, distributed in the name of and signed "UPC" outlined the UPC's latest version of union events. The other leaflet was unsigned and tried to portray a recent loss in a civil lawsuit over the name and bank account of the "United Progressive Caucus" as if Ted Dallas and Linda Porter (CTU Treasurer) had been found guilty in criminal court. The headline on the anonymous leaflet distributed by Thelma Perkins (in black, above right) was "Guilty" and was not attributed to the UPC, although it was distributed by their members, including Perkins. Substance photo by George N. Schmidt.But after this blow, Stewart came out strong to defend herself in the House of Delegates meeting by responding forcefully to CORE's relentless questioning. She stated that the CTU has issued a resolution condemning Meeks' statement and that she called him personally, but said Meeks refused to apologize.
Then, trying to steal the thunder from CORE, Stewart attacked the Renaissance 2010 Plan to privatize the schools and spoke about the unfair attack on Pulaski School and that they will push for city hearings on Ren2010.
"I asked for a moratorium on Ren2010" Stewart told the delegates. "I told Ron Huberman he doesn't know what he's doing. No one (Huberman and Board members) has an education background. The Renaissance Plan is a collective sabotage on education. I want a public hearing on Renaissance."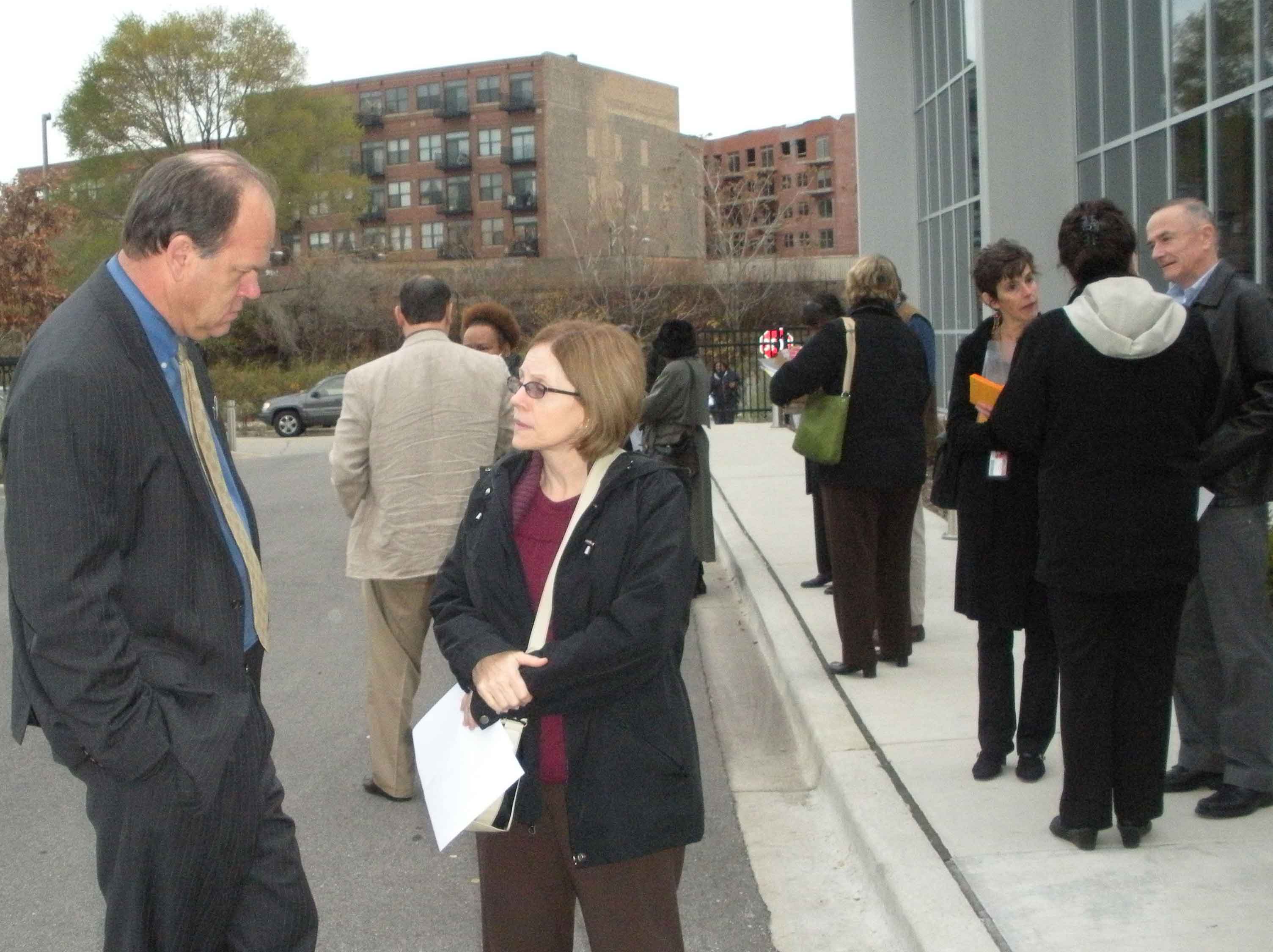 Newly elected pension trustee Jay Rehak (above left) talks with Linda Gogg, one of the United Progressive Caucus members who has been serving on the pension board, outside the November 4 House of Delegates meeting. In the background, Michael Kane is talking with Lois Ashford, who was elected with Rehak in the October 30 upset (see Substance story earlier this month on this home page), while to the right in the background, former CTU president Deborah Lynch talks with teaches while leafleting on behalf of her PACT caucus. Substance photo by George N. Schmidt.Only her true colors appeared amidst her uncharacteristic fighting rhetoric when delegate Lisa Dimberg, who is a candidate on the slate of CSDU (Caucus for a Strong Democratic Union, one of five caucuses presently organizing in opposition to Marilyn Stewart's United Progressive Caucus) running in the May election, asked her in a loud and fighting voice if she will help lead a protest of Meeks because of his most hurtful comments.
[Dimberg also asked an important question about how much PAC money is going to CTU endorsed legislators during these heavy attacks on the teachers' union. State Representative Monique Davis, considered a good friend of the Teachers Union, told Substance earlier that she thought the CTU was in support of charter schools. Davis, who was against charters that replace public schools and public school teachers with non-union teachers, is now supporting charter schools. She refused to comment on the latest ISBE report that half of the Chicago charter school operators are "failing" according to the Board's criteria.]
"No, I don't think we should protest, "Stewart responded. "He's just having a temper tantrum, so let him cool down."
The Kennedy High School delegate asked if the union can do something to stop their principal who declared he will lower all the teachers' ratings. The Union said he must follow procedure because he cannot just arbitrarily lower ratings.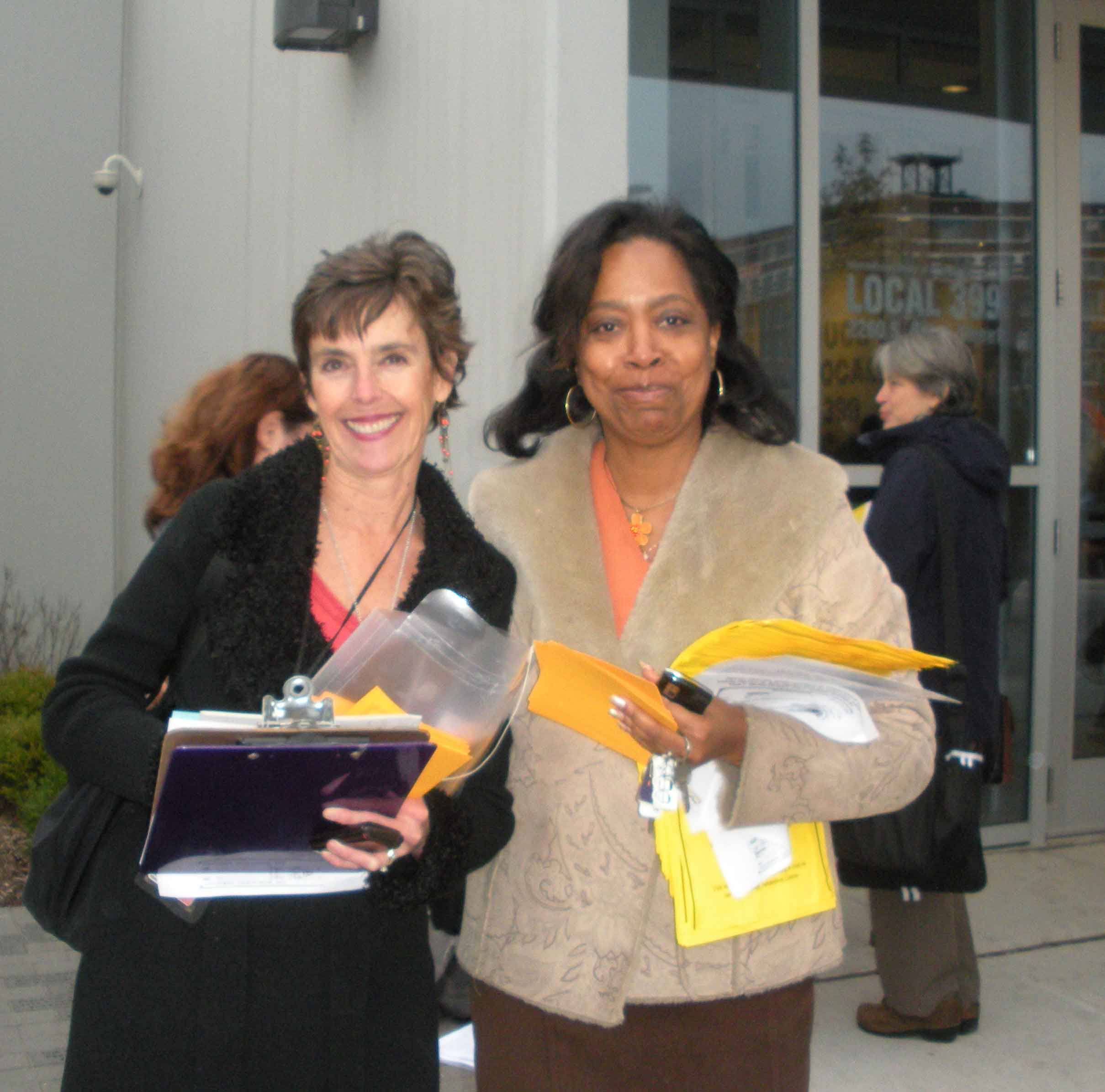 Former Chicago Teachers Union President Deborah Lynch (above left) was leafleting outside the November 4 meeting, as was former CTU presidential candidate Marcia Williams (center), who once worked on the staff of the CTU while Lynch was president. Lynch is running as head of the PACT slate, while Williams has been organizing the "Independent Caucus" and plans to run for CTU President in what may turn out to be a six-way race. The union won't know who the candidates are until March 2009, when nominating petitions will likely be due at the union's offices. The actuual slates of candidates are not certified until April 2010, with the election tentatively scheduled to be held on the third Friday of May 2010. In the background (above), CORE's Carol Caref leaflets under the sign for Local 399 IUOE. Substance photo by George N. Schmidt.Stewart and the UPC's uncharacteristic soft-touch handling of the delegates meeting (the Question and Answer which the Union usually only allows a few questions went much longer this time) shows she's feeling the heat. Stewart was sweet, even allowing CORE member and delegate Carol Caref from Chicago Vocational to make a motion during her new business report. However, she shook her head in incredulity and lashed back when Carol's motion was to move for Jackson Potter, the founder of CORE, to be eligible to run in the union election next May. The Union is claiming that Potter did not pay his inactive teacher dues on time in 2007-2008 school year when he was on a board approved study leave. Caref wanted to argue that the Union still cashed his check and issued a union card to him for that year — signifying they accepted he was in good standing.
All sweetness immediately disappeared and Stewart's gloves came off.
Marilyn: "Absolutely not, this is unconstitutional!"
Then, pandemonium briefly broke out before the words from the podium blurted out that the meeting was adjourned. 