At huge Chicago City Hall press conference... Duncan lies about impact of 'turnaround' on Chicago's Fenger High School
George N. Schmidt - October 07, 2009
Speaking to a press conference that consisted of more than 80 reporters from around the USA and from other natioins, U.S. Secretary of Education continued to lie about the impact of his policies of so-called "turnaround" on Fenger High School. Chicago's Fenger High School (located at 11220 S. Wallace Ave. in the city's South Side African American ghetto) has been the focus of international news attention since the September 24 murder of Fenger honor roll student Derrion Albert after school on September 24, 2009. The Albert murder and the subsequent international outcry after a video of the murder was broadcast internationally brought Duncan and U.S. Attorney General Eric Holder to Chicago for meetings on "youth violence."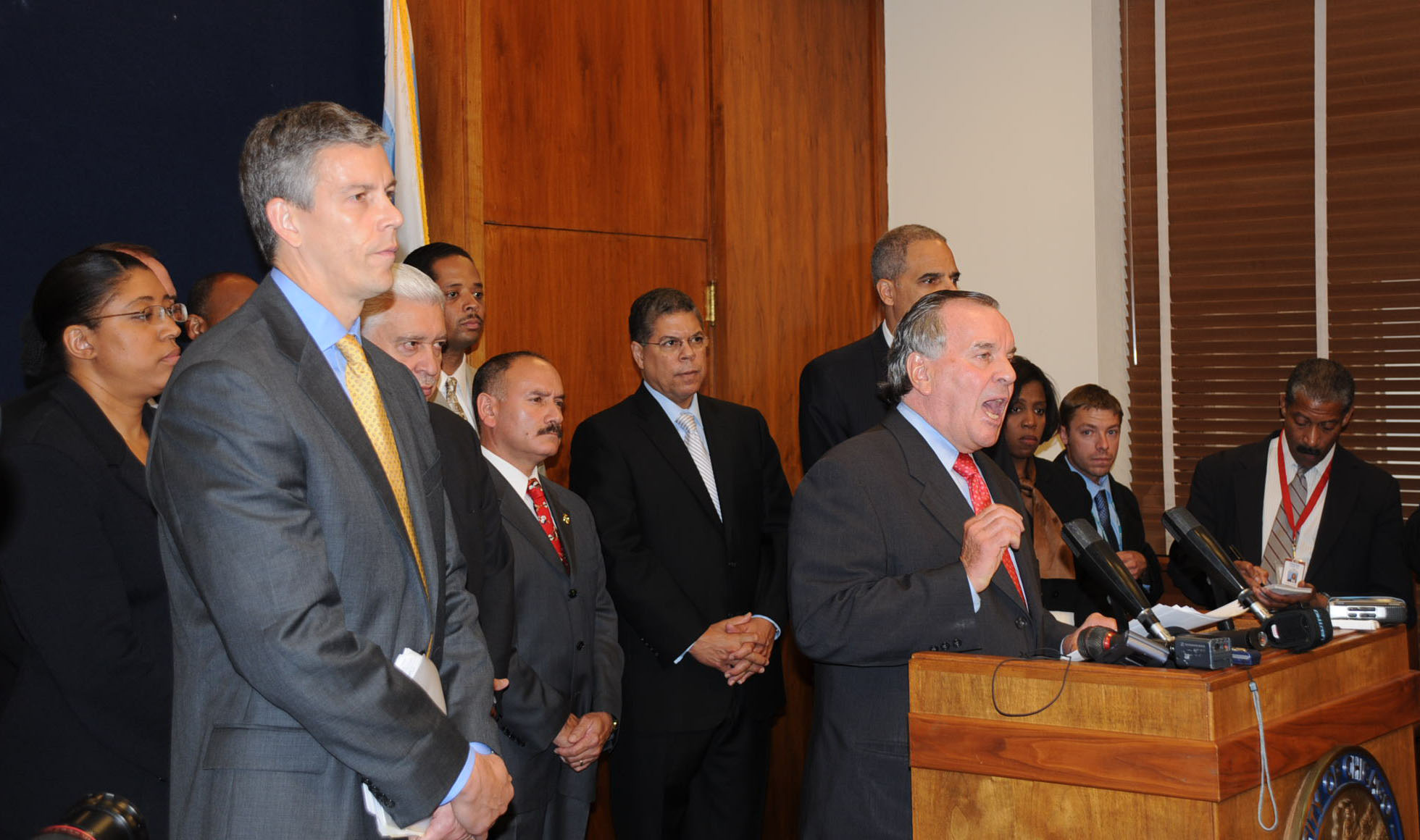 U.S. Secretary of Education Arne Duncan (second from left) stands waiting to speak at a packed City Hall press conference in Chicago on the issue of school violence. At the podium gesturing is Chicago Mayor Richard M. Daley, who hosted the press conference in his fifth floor office at Chicago's City Hall. Behind Daley is U.S. Attorney General Eric Holder, who accompanied Duncan to Chicago to deal with the "crisis" of youth violence that became a national scandal following the beating death of Fenger High School junior Derrion Albert on September 24, 2009. Substance photo by George N. Schmidt.There were three speakers at the press conference. Chicago Mayor Richard Daley read a prepared statement and then took questions. U.S. Attorney General Eric Holder spoke. And U.S. Secretary of Education Arne Duncan read a prepared statement and took questions.
During the question-and-answer session at the press conference, one Chicago reporter got in a question about "turnaround." Specfically, the reporter asked what Duncan's response was to people who said the chaos at Fenger this year was caused in part by Duncan's policy of so-called "turnaround."
Under "turnaround", which Duncan is proposing for 5,000 (supposedly "failing") schools across the USA, everyone on the school's staff is fired if the school has low test scores. Duncan began applying "turnaround" in Chicago four years ago, based on corporate models that he followed for many things. Under "turnaround" nothing matters, including circumstance such as poverty and drug gangs, but test scores.
While he was Chief Executive Officer of Chicago's 400,000-student public school system, Duncan subjected more than a dozen schools to "turnaround," including six high schools (although in some cases it was not yet called "turnaround"). At all of those schools, the majority of teachers were fired, and replaced with a cadre of teachers who had supposedly been trained in "turnaround" methods.
Prior to his appointment as U.S. Secretary of Education by Barack Obama in December 2008, Duncan had prepared a proposal that Fenger High School be the only high school to face "turnaround" during the 2008-2009 school year. Duncan's proposal was carried through by his successor, Ron Huberman, who ignored the moving testimony of a lengthy hearing and proposed to the Chicago Board of Education at its February 2009 meeting that Fenger be turned around.
In June 2009, the principal and the overwhelming majority of the teachers and other staff at Fenger were fired. The student population remained the same. A completely new group of teachers and a new principal was brought in to the school. Most had little experience with schools like Fenger.
The result of "turnaround" was chaos inside the school from the opening week of school. Students complained that the novice teachers and principal didn't know what they were doing. Things came to a dramatic head on September 24, 2009. In the morning, a student fired shots outside the building. In the afternoon, a massive gang fight a half mile from the school on 111th St. resulted in the brutal murder of student Derrion Albert.
When Arne Duncan was asked whether "turnaround" had helped cause the chaos at Fenger, he said "No." Then he began to talk about how there were more than 400 students from the Altgeld Gardens housing project attending Fenger, ignoring the fact that Duncan's turnaround policy is what had destabilized Fenger from the inside. Neither Duncan nor the mayor allowed any follow up questions clarifying Duncan's lie about turnaround. Turnaround was not about the students from the Altgeld Gardens housing project. It was about firing teachers at challenging inner city schools because test scores are low.
Duncan, U.S. Attorney General Eric Holder, and Mayor Daley left the press conference by a back door and left the building by a back staircase. In the process of leaving, they avoided a large crowd of African American community activists that was protesting outside the mayor's fifth floor office. One of those snubbed during the press conference was the Rev. Jesse Jackson, who had previously supported Daley and Duncan's corporate "school reform" policies. Jackson was among the community activists who spoke critically about the day's events to the press following the quick exist of Duncan, Daley, and Holder. 
Final edited version of this article posted at www.substancenews.net October 10, 2009, 5:00 p.m. CDT. If you choose to reproduce this article in whole or in part, or any of the graphical material included with it, please give full credit to SubstanceNews as follows: Copyright © 2009 Substance, Inc., www.substancenews.net. Please provide Substance with a copy of any reproductions of this material and we will let you know our terms — or you can take out a subscription to Substance (see red button to the right) and make a donation. We are asking all of our readers to either subscribe to the print edition of Substance (a bargain at $16 per year) or make a donation. Both options are available on the right side of our Home Page. For further information, feel free to call us at our office at 773-725-7502.
