City Hall insiders say she should be fired, but controversial official has found a home at CPS. 'Who is Adriennce Hiegel?' query should be: What is the Office of Performance Managment and who is Sara Kremsner!
George N. Schmidt - October 05, 2009
Earlier today, District 299.com (which some of us no longer frequent because it's operating over in the land of the Chicago Scabune) asked 'Who is Adrienne Hiegel?' and why is she still hanging around with Ron Huberman and the Huberteam.
Two things. Adrienne Heigel is now being paid $127,000 per year to work in the Chicago Public Schools.
And Adrienne Hiegel is one of the people at the head of the thing called the "Office of Performance Managment."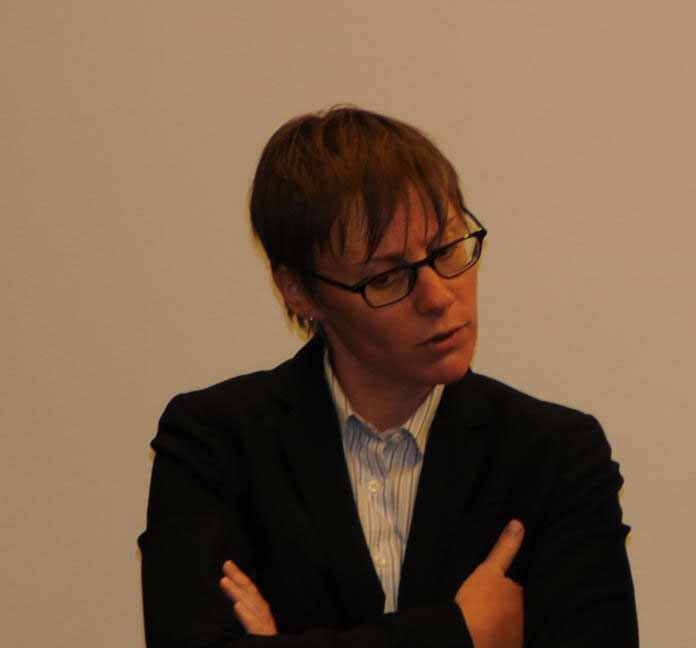 The new "Office of Performance Management" at the Chicago Public Schools was established by Ron Huberman when he took over as CEO in February 2009 and put under the direction of Huberman's crony from the Chicago Transit Authority, Sara Kremsner (above). As "Chief Officer, Office of Performance Management," Kremsner is being paid $150,000 per year. She quickly hired controversial City Hall bureaucrat Adrienne Heigel at a salary of $127,000 per year (on March 23, 2009, although there is no Board Report). Kremsner's "Office of Performance Management" was given a budget of nearly $5 million in the Budget for 2009 - 2010 despite claims by Ron Huberman that he had "cut" central office costs. The appointment of Hiegel to what appears to be the Number Two position in Kremsner's office has come as a surprise to many at CPS. Kremsner was absent from the September 23, 2009 Board of Education meeting. The photo above was taken during the August 26, 2009 Board meeting. CPS Communications Chief Monique Bond refuses to allow Substance to interview Ron Huberman about his budget, including the establishment of the new central office "Office of Performance Management" and the hiring of Kremsner and Hiegel. Substance caption and photo by George N. Schmidt.Here are the data from the Board's current Position File: Hiegel, Adrienne, Position Number: 327175, Unit 16050 (Office of Performance Management). Job Title: "Senior Professional". Date of hire: March 23, 2009. Annual salary: $127,420.00. I just checked the Board Reports for the Board meeting of March 25, 2009, and I don't see a Board Report from Ron Huberman hiring her. However, she is now at CPS and being paid at that salary level. Someone else can check to see if Huberman ever put through a Board Report to hire her.
The "Office of Performance Management" is that strange entity that Ron Huberman set up to host those Friday morning sessions with Power Point and spreadsheets for tormenting senior managers. (A rendition of the activity was provided to the public in Season Three of "The Wire" with the Baltimore Police COMSTAT meetings at which the deputy for operations humiliated district commanders and other officers using "data driven management" techniques).
Most of the people working in the newly established "Office of Performance Management" have no educational or teaching credentials or experience. They are Huberman's cronies, led by a woman named Sarah Kremsner, who came over from Chicago Transit Authority (where she was legendary).
Kremsner is being paid around $150,000 per year, appointed by Huberman two months before Huberman hired Hiegel.
According to the Board's Position File, Kremsner is now one of the 50 highest paid people in public education in Chicago. The Position File state: Kremsner, Sarah, Position Number: 326424; Unit, 16050 (Office of Performance Management); Title: Chief Performance Officer; Date of Hire: January 30, 2009; Annual Salary: $149,874.00.
The Office of Performance Management is budgeted for the 2009 -2010 school year at just under $5 million, a completely new entity. There was not one word of discussion at any public meeting of the Board over the establishment of this office, and the Board members voted to approve the budget proposed by Huberman at the August 26 meeting without even mentioning that Huberman was claiming to reduce "central bureaucracy" while adding this office (and others) at top salaries to people who would not be allowed to work in any other school district in Illinois.
Sources at CPS also tell Substance that Huberman is refusing to comply with a Board policy to put on record the resumes of all executive hires. As we've already reported at Substance, Huberman is also refusing to provide the Agenda of Action following the Board meetings and votes. Every month, the delays the Action Agenda by at least a week while he apparently mulls over the Board Reports. Thing is, the Board Reports have already been voted on by the Board, so there is nothing more to mull. 