Huberman's corruption at City Hall beginning to get attention ($2.25 Million Irregularities under Huberman)... CPS corruptions are ignored
John Kugler - October 03, 2009
The City of Chicago's Inspector General's office is recommending that Jim Argiropoulos at Chicago's Office of Emergency Management and Communications be fired. But while the name Jim Argiropoulos may not be well known in Chicago, the name of the person who was his boss and who went along with the work that led to the firing recommendation is: Ron Huberman. The office of "Emergency Management and Communications" where the scandal is unfolding was once run by Ron Huberman.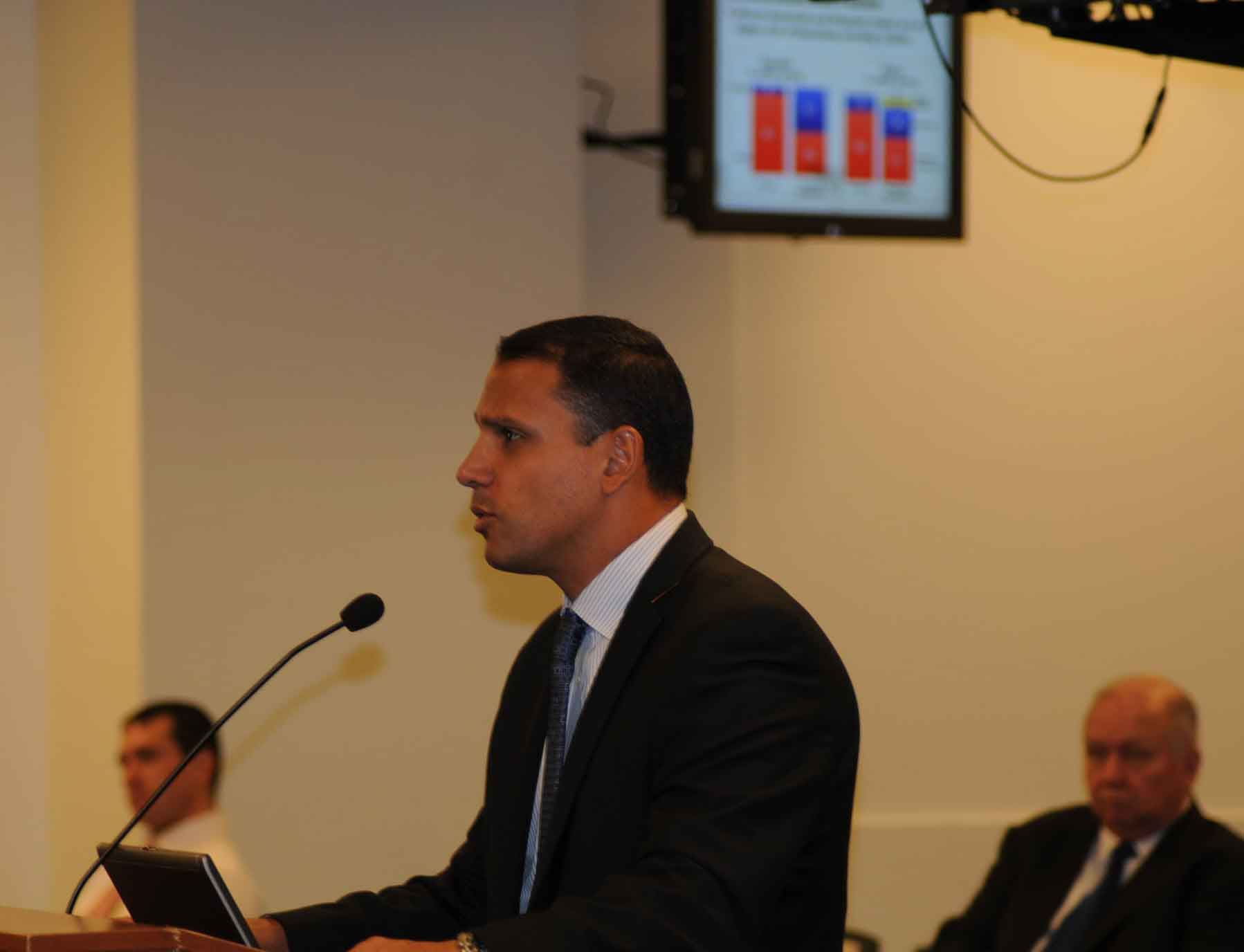 Chicago Schools Chief Executive Officer Ron Huberman (above, at microphone) has faced increasing scrutiny for the corruption that took place while he served as head of the city's emergency management communications program three years ago. But Huberman's basic methodology — considered by most professionals to be irrelevant, dangerous, or both — continues at the Chicago Public Schools. Above, Huberman presents a Power Point (which he considers his medium) on a new CPS program, funded with federal dollars, to use computers to identify those students most like to die from violence. Under the $60 million two-year program, Huberman claims that CPS will reduce the murder deaths of its students. Not one member of the Board of Education asked a critical question after Huberman made his presentation at the September 23, 2009, Board meeting (above). Substance caption and photo by George N. Schmidt.Argiropoulos was found to have made contract irregularities that cost taxpayers $2.25 million in 2004 and 2005 — during the time Mr. Huberman was his boss. This revelation is a shock due to the fact that Mayor Richard M. Daley has the highest praise for Mr. Huberman as someone that comes and fixes up departments. Huberman has also been able to avoid critical media scrutiny (except from Substance) during the nine months he has served as "Chief Executive Officer" of Chicago's public schools system. "If you searched throughout the public and private sector, it would be hard to find anyone better qualified to succeed Sheila O'Grady [as mayoral chief of staff] than Ron Huberman," Daley told a City Hall news conference four years ago. "In 13 short months, he has taken an emergency communications system that already was the best in the nation — and made it even better." (May 2005, City of Chicago Press Release).
After his appointment as mayoral chief of staff, Huberman said his main goal is to "help restore taxpayers' confidence in the integrity of city government... Although the vast majority of city employees and contractors provide honest services, there are still far too many who are gaming the system," Mr. Huberman said in a City Hall press conference. "We must implement disciplined management controls, and systematically identify and remove those individuals who fail to live up to the highest standards." (18 May 2005, Craines Business).
Since he took over the Chicago public schools in January 2009, Huberman has been repeating the same language, perhaps from the same script. Now comes the news that under Mr. Huberman's watch at the Office of Emergency Management and Communications, there is at least $2.25 million that cannot be accounted for. Apparently a very dubious disclosure for someone now running an operation whose budget is well over $5 billion per year.
The original article of the report from the Sun-Times follows. A second article came out on October 2, giving more details on the scandal of Huberman's City Hall days.
Huberman has avoided press conferences and through his spokesman Monique Bond has ignored repeated requests for an interview from Substance editor George N. Schmidt.
Report: Fire city public safety exec (Chicago Sun-Times September 29, 2009) BY FRAN SPIELMAN City Hall Reporter fspielman@suntimes.com
The inspector general's office is recommending the firing of the No. 2 man at Chicago's Office of Emergency Management and Communications for alleged contract irregularities that cost taxpayers $2.25 million. Jim Argiropoulos, the $149,832-a-year first deputy who once served as OEMC's acting director, is accused of engineering a scheme that culminated in the falsification of documents to expedite the purchase of a new 911 dispatch console system from Schaumburg-based Motorola.
Chicago taxpayers have yet to receive anything for their money. The alleged irregularities took place in 2004 and 2005 while Chicago Public Schools CEO Ron Huberman was running OEMC.
Without a contract to justify the console purchase — and apparently unwilling to wade through the normal bidding process — Argiropoulos allegedly ordered underlings to find a way to get it done. As a result, a phony voucher was issued for 18,000 handheld radios under an existing Motorola contract.
No sooner had the company started ordering software than Argiropoulos allegedly demanded an upgrade, with the $2.25 million payment applied to the new system.
When Motorola balked at the demand, Argiropoulos allegedly played hardball: If Motorola didn't give him what he wanted, its future city contracts would be in jeopardy, according to sources familiar with the inspector general's report.
Argiropoulos could not be reached for comment. Motorola spokesman Steve Gorecki referred questions to the city. The company was not accused of wrongdoing.
The Motorola investigation was first disclosed by the Chicago Sun-Times in May 2008. The following day, the newspaper reported that Argiropoulos had stripped a $104,804-a-year underling of his responsibilities after the subordinate provided key information to investigators probing the $2.25 million in payments to Motorola beyond the scope of the company's contracts.
References:
http://www.chicagobusiness.com/cgi-bin/news.pl?id=16533&seenIt=1
http://www.cityofchicago.org/city/webportal/portalContentItemAction.do?BV_SessionID=@@@@1080935166.1251892194@@@@&BV_EngineID=cccdadeiekmfdlmcefecelldffhdfhk.0&contentOID=536926313&contenTypeName=COC_EDITORIAL&topChannelName=Dept&blockName=Mayors+Office%2FMay%2FI+Want+To&context=dept&channelId=0&programId=0&entityName=Mayors+Office&deptMainCategoryOID=-536882034
http://www.suntimes.com/news/cityhall/1795986,CST-NWS-scheme29.article The Sun-Times, in a rare show of interest in the levels of corruption at CPS, continued its coverage of Huberman in its October 2, 2009, edition, but refused to look into how much damage Huberman has done during the nine months since he was appointed "Chief Executive Officer" (CEO) of Chicago's public schools.
Although the October 2 Sun-Times reported that Huberman had cost Chicago $2.5 million through mismanagement while he was in charge of the emergency management system, the Sun-Times continues to refuse to look into any type of corruption at CPS. According to the editorial position of the Sun-Times, which is reflected in its news columns, Mayor Daley's "school reform" has been a great success.
For now, the following story about once incident in Huberman's career before he arrived at CPS will have to suffice.
The following was published in the Chicago Sun-Times on October 2, 2009:
Report rips Huberman's oversight of contracts 
Inspector general says 'management failure' cost city $2.25 million (October 2, 2009, BY FRAN SPIELMAN City Hall Reporter fspielman @suntimes.com).
Chicago schools chief Ron Huberman — Mayor Daley's former corruption-fighting chief of staff — is being accused of a "significant management failure" that set the stage for alleged contract irregularities at the city's 911 center that cost taxpayers $2.25 million.
In an explosive new report, the city inspector general's office characterizes Huberman as so derelict in the oversight of a contract with Motorola while he was executive director of the Office of Emergency Management and Communications that he should be suspended if he still worked for the city.

Adrienne Hiegel, Huberman's top deputy at OEMC in 2005, was accused of "altering documents" and failing to follow the city's procurement procedures.
If Hiegel still worked for the city — instead of as a Huberman underling at the Board of Education — she should be fired, the 38-page report states.
At issue are the March 2005 signatures of Huberman and Hiegel on a voucher for 18,000 radio accessories supposedly delivered by Motorola. Only after they signed on the dotted line was the company paid the $2.25 million. It was the largest of 130 vouchers that Huberman signed during his 13-month stint at OEMC.
In fact, no such radio accessories were ever delivered by Motorola, nor did the city need them.
It was all a scheme — allegedly engineered by OEMC's first deputy Jim Argiropoulos — that culminated in the falsification of documents to expedite the purchase of a new 911 dispatch console system from Motorola.
Chicago taxpayers have yet to receive anything for their money. The new console system that Argiropoulos portrayed after a 2004 system failure as a matter of life-and-death has yet to be delivered.
The inspector general's report accuses Huberman of a "significant management failure to supervise" the Motorola contract.
"The evidence does not support that Huberman knew that the paperwork submitted to the Finance Department was false," the report states. "Huberman's involvement appears to have been limited to his failure to review the details of one purchase voucher."
Hiegel did not get off so easily. The report accuses her of directing underlings to "work backwards to get to $2.25 million — the cost of developing the Motorola software — by using 18,000 radio parts to add up to" the same amount.
Hiegel could not be reached for comment. Huberman issued a prepared statement saying he was "disappointed" to learn after reading the IG report that "a few" of his OEMC underlings "failed to follow the procurement process."
"I regret that this misconduct occurred during my tenure," he said. "My involvement was the signing of one purchase voucher. As a [public official] who has always made it a priority to ensure that all policies and procedures are followed, I should have reviewed the document in question more carefully."
The Chicago Sun-Times reported earlier this week that the inspector general's report recommends Argiropoulos be fired.
The report marks the first major detour in Huberman's meteoric rise as Daley's go-to guy — from Chicago police officer to 911 center chief to Daley's chief of staff.
Huberman also served as CTA president before being appointed schools CEO earlier this year to replace U.S. Education Secretary Arne Duncan. Hiegel has followed Huberman virtually every step of the way — and Huberman was silent on her role in the contract and her future. 
Final edited version of this article posted at www.substancenews.net October 3, 2009, 7:00 a.m. CDT. If you choose to reproduce this article in whole or in part, or any of the graphical material included with it, please give full credit to SubstanceNews as follows: Copyright © 2009 Substance, Inc., www.substancenews.net. Please provide Substance with a copy of any reproductions of this material and we will let you know our terms — or you can take out a subscription to Substance (see red button to the right) and make a donation. We are asking all of our readers to either subscribe to the print edition of Substance (a bargain at $16 per year) or make a donation. Both options are available on the right side of our Home Page. For further information, feel free to call us at our office at 773-725-7502.