Murder of Derrion Albert, Chicago's Fenger High School tragedy caused in major part by Chicago's school closing, 'New Schools,' and 'turnaround' policies
George N. Schmidt - October 01, 2009
[Editor's Note: The following article originally appeared at www.substancenews.net on September 29, 2009. It is being repeated here, with a few additions, because the Substance News Home Page begins anew on the first of every new month. The original article can still be viewed by going to "Back Issues" (use the menu bar at the top of this page) and going back to September 2009].
Chicago police announced on September 29, 2009, that officers had arrested four individuals and charged them with the murder of Fenger High School junior Derrion Albert.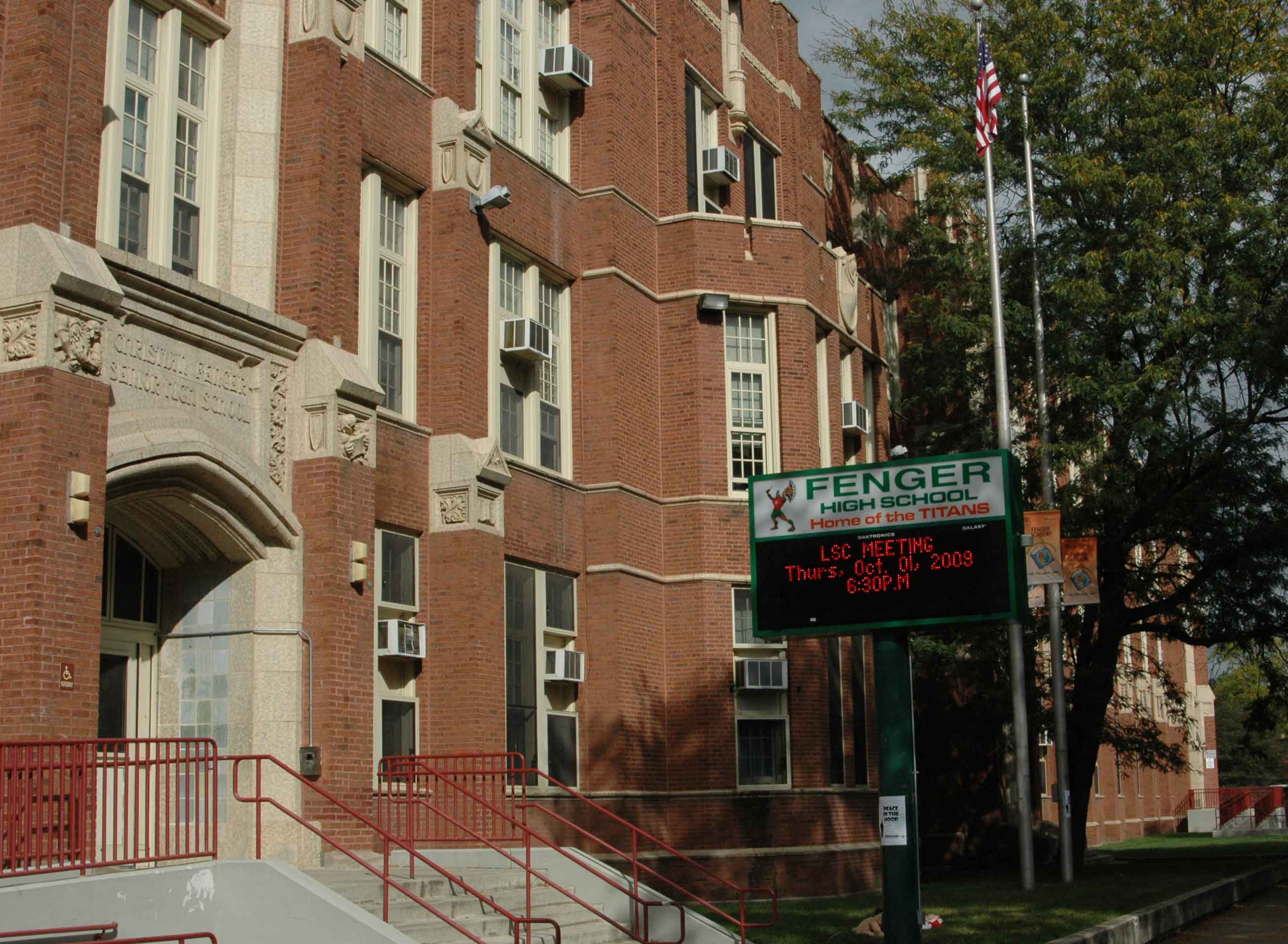 The tragedy at Chicago's Fenger High School was not the only one resulting from the murder of a teenager during the last full week of September 2009 — only the most dramatic because the murder itself was captured on a video that the world is now watching. But more than most other gang induced murders in Chicago — and affecting the public schools — the murder of Derrion Albert is the result not only of the city's massive drug gang problem, but of the Chicago Board of Education's policies of 'New Schools' and 'School Turnaround.' By closing Calumet, Engelwood, and Carver high schools — and forcing the most challenging students from those schools into Fenger and nearby schools — Mayor Daley and Chicago schools officials appointed by him guaranteed that Fenger would "fail." When Fenger failed, Daley's school board voted to fire all of Fenger's teachers and force a program called 'turnaround' on Fenger. The destabilization resulted in chaos in September 2009. Substance caption and photo by George N. Schmidt.In a press release and statement issued at 5:00 p.m. on September 28, Police said: "Chicago Police charged two adults and one juvenile in Thursday's beating death of Fenger High School student, Derrion Albert, 16. Eugene Riley, 18, of the 13200 block of South Ellis Avenue, Silvonus Shannon, 19, of the 130 block of South Evans Avenue, and a 16-year-old male were each charged early this morning with First Degree Murder. Derrion Albert was fatally beaten on Thursday, September 24 (2009) after he unknowingly walked into the path of a fight involving two large groups of people in the 300 block of West 111th Street. Area 2 Detectives, reviewed video footage obtained from Fox News showing the offenders attacking Albert with wooden planks, and physically punching and kicking him as he lay helpless on the ground. With the help of the video, witnesses and the community, Detectives were able to identify and locate the offenders who were then taken in to custody. Arrestees were scheduled to appear in Central Bond Court, 2600 S. California today at noon."
Later on September 28, a fourth individual, identified as Eugene Bailey, 17, of the 7900 block of South Throop. Like the others, Bailey was charged with Murder. Police said that Bailey was scheduled to appear in Central Bond Court, 2600 S. California on September 29. Two of the four adults charged in the murder have addresses in the Altgeld Gardens public housing project. The fourth lives in the Englewood community. All have been identified by reliable sources as affiliated with the Gangster Disciples street gang. News reports and Board of Education statements have indicated that Derrion Albert was not affiliated with a street gang.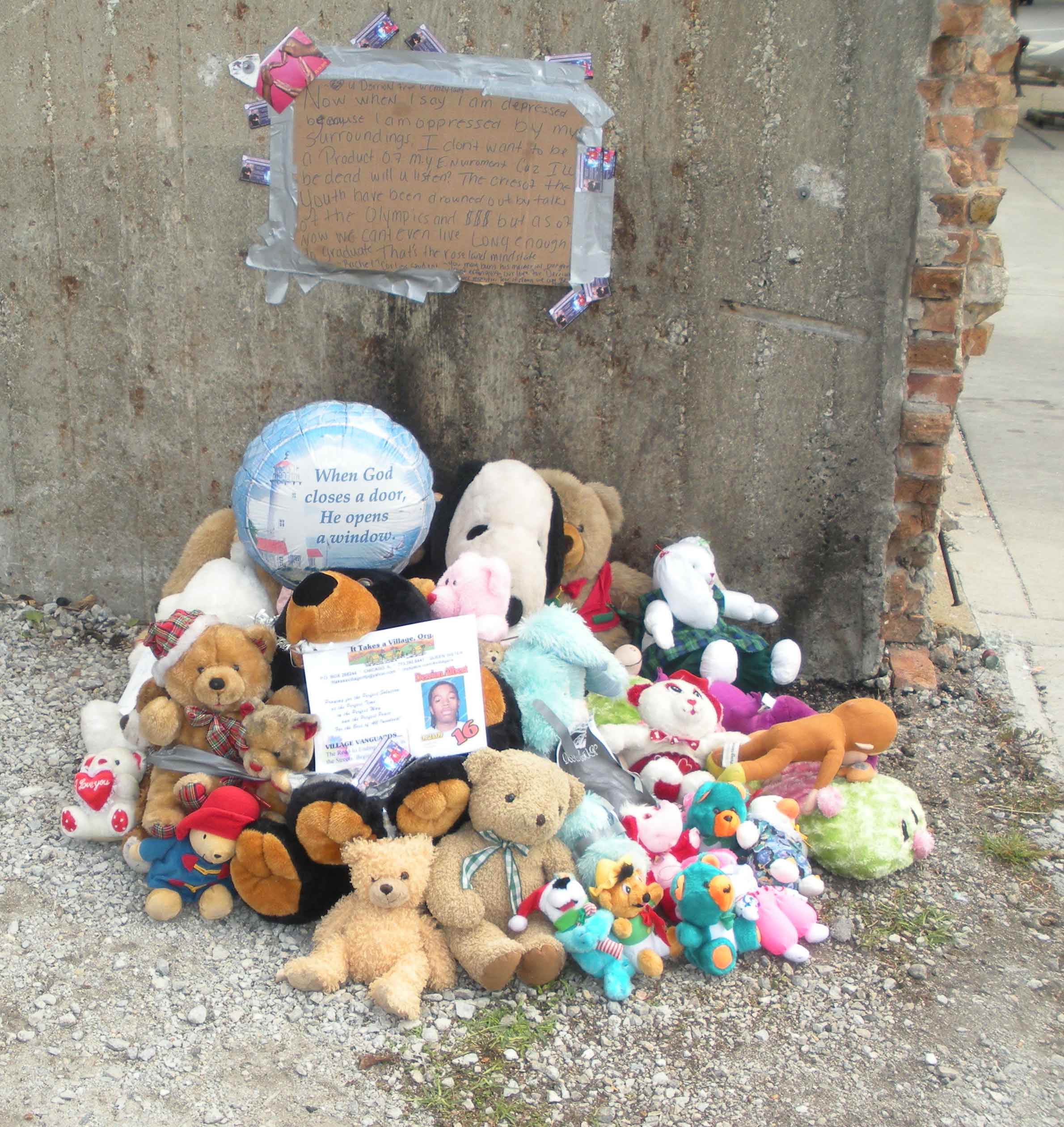 The memorial to Fenger High School junior Derrion Albert sits against the west wall of the "Agape Center" on 111th St. in Chicago, a half mile (and a full five blocks) from Fenger High School. Derrion Albert was murdered on September 24, 2009, when he reportedly walked into a gang brawl on 111th St. while going home from school. The dramatic video of the beatings that led to Derrion Albert's death have made the murder more of a media event that the others that have befallen Chicago teenagers since the public school year began on September 8, 2009, for more than 400,000 students. But the memorials like the one above have been built by the hundreds during the years since Chicago Mayor Richard M. Daley was first elected in 1989. Daley's policies of allowing the city's major drug gangs to flourish in the city's segregated African American and Latino communities (and in a few working class white areas) are viewed by many as a contributing factor to the ongoing wave of what Chicago's media refer to as "youth violence." While not all teenage murders in Chicago are committed by street gang members or are gang related, the vast majority are related to the gangs and their activities. The fact is, most Chicago youth are no more violent than young people in any other place, but the toxic expansion of the "People" and "Folks" gang nations has made Chicago unique in the USA as a center of drug gangs north of the Rio Grande River. Substance caption and photo by George N. Schmidt.The murder of Derrion Albert, which was caught on video by a person who was at the scene, was committed with the use of fists, feet, and large boards which some witnesses have indicated were taken from nearby railroads. The video was provided to Fox News, which shared it with the police and also aired it during newscasts.
Derrion Albert died of head wounds suffered during the beating. The beating took place, according to police and other reports, when two large groups of people, many of them Fenger High School students, began fighting in the 300 block of 111th St. after school let out on Thursday, September 24, 2009. Fenger High School, located at 11220 S. Wallace Ave. on Chicago's far south side, has been the scene of gang violence since school began in Chicago for students on September 8, 2009, because of "turnaround," according to many sources who asked Substance not to name them because the Chicago Board of Education has terminated a large number of veteran teachers, both from Fenger, and other schools, during the past five years.
Fenger in particular was stripped of its veteran teachers this school year under the Chicago Board of Education's so-called "turnaround" program. CPS officials, including CEO Ron Huberman, Chief Education Officer Barbara Eason Watkins (who heads "turnaround"), "Chief Turnaround Officer" Donald Fraynd, and officials in the large CPS "Office of Communications" have refused to be interviewed by Substance of discuss these issues.
Substance will re-instate a request for interviews on September 29, 2009. According to sources at Fenger High School and in the community, only nine of the more than 100 teachers who had taught at Fenger were retained when the school was subjected to "turnaround" (a form of school reconstitution) was begun in June 2009.
During previous iterations of "turnaround," CPS has also purged the majority of veteran teachers from the schools, but this year the difference was that at Fenger the "turnaround" team was not allowed to purge the school's most challenging students as well. Chicago Public Schools officials have refused to answer questions regarding the denuding of the Fenger staff by "turnaround", and CPS has also refused to comply with a request under the Illinois Freedom of Information Act for the Board of Education's current "Position File" which would enable Substance to independently verify the names of the teachers and other staff who are at Fenger this year against the list of staff who were at Fenger last school year.
Fenger erupted from first week of school
Because the Chicago Board of Education was stung in 2008 by press reports and reports from community organizations indicating that previous high school "turnarounds" had scored improvements in test scores by simply getting rid of their most challenging students in the first year of "turnaround," this year Fenger, the only high school hit by turnaround in 2009, was forced to keep its incumbent 10th, 11th and 12th grade students, as well as admitting eligible 9th grade students. Fenger, called an "Academy" under the unusual naming policies of the Chicago Board of Education, is a general high school.
Huge drug gangs are a plague across South Side communities
By the end of the second week of school, Fenger students and teachers began reporting to Substance staff that Fenger was the scene of increasingly violent street gang fights, both inside and outside the building. Community residents noted an increase in police presence at and around the school. One source told Substance that teachers had been injured during some of the altercations, but Substance was unable to confirm the reports, and CPS officials refused to answer any questions regarding the Fenger situation.
By the third week of school, which began September 21, sources at the school reported that school staff had told the gangs to "take it outside" and away from the school. The gangs involved in the fighting at the school were reportedly the Gangster Disciples, the largest gang in the "Folks Nation", and the Black P. Stones, the largest gang in the "People Nation."
On the morning of September 24, 2009, Fenger High School was already in turmoil. A Fenger student (and known street gang member) was arrested shortly after classes began in the morning for firing a gun outside the school at the corner of 113th St. and Wallace Ave. in the quiet middle class community that surrounds Fenger itself. The student, a 15-years-old, had been involved in a number of altercations in and around Fenger since the opening of school on September 8, according to school sources.
Chicago and Illinois have the largest drug gangs in the United States, and the gangs are divided into two large "nations" which operate both on the streets and within the jails and prisons, according to police sources and the Chicago Crime Commission ("The Gang Book"). Chicago Board of Education spokesperson Monique Bond failed to answer Substance questions, left by voice mail, regarding the "take it outside" order or the escalation of violence at Fenger prior to the murder of Derrion Albert.
Fenger draws some of the most difficult students from the far south side, mainly today as a result of Board of Education polices which have closed three high schools within three miles of Fenger.
CPS policy of closing African-American high schools for "failure" caused much of Fenger's problem in 2009
Beginning in 2004, CPS policies, developed and implemented by former Chicago Schools Chief Executive Officer Arne Duncan, closed Calumet, Carver, and Englewood high schools.
Carver Area High School, at 13100 S. Doty Ave., which had served children from the Altgeld Gardens public housing project on Chicago's far south side, was closed as a general high school and turned into "Carver Military Academy" three years ago. Carver now rejects students who do not want to take part in its military program.
Calumet High School, at 8131 S. May St., was ordered to stop admitting 9th graders in September 2004. Calumet was closed as a general high school by Arne Duncan after graduating its final class in June 2007. The Calumet building, after a $20 million rehab, was given by the Chicago Board of Education to the Perspectives Charter Schools. Perspectives now operates three charter schools within the building, which is called its "Calumet Campus." Two of the Perspectives charter schools are high schools, and one is a middle school. Perspectives requires students to apply for admission and routinely gets rid of students who fail to follow the rules of Perspectives.
Perspectives administrators also pride themselves in rejecting calls to the Chicago Police Department, as has been reported previously in Substance and at www.substancenews.net. According to one former Perspectives teacher who left Perspectives and who testified at the January 10, 2009, hearing sponsored by CORE at Malcolm X College, Perspectives administrators have told the staff that the police oppress youth in the community.
Englewood High School, located at 6201 S. Stewart Ave., was closed as a general high school (by stopping taking 9th graders in 2005) and graduated its last general high school class in June 2008. Englewood "campus" now houses the widely publicized "Urban Prep" charter high school and a smaller public high school ('Team Englewood") on its so-called "campus."
Schools and veteran teachers aware of gang presence, keep it under control
Prior to the radical changes in the high schools of Chicago's south side, Calumet High School was widely known in the community as a school that had members of the "People", specifically the Black P. Stones, among its students. Englewood and Carver were known as "Folks" schools. With the closing of Carver, Calumet and Englewood as general high schools, the remaining students from those schools — as well as those who were kicked out of the military high school or the charter schools — went to other south side high schools, with the majority of those from Altgeld Gardens going to Fenger.
At public hearings in February 2009, and earlier, teachers, community leaders and others (including this reporter, who served until 2004 as director of security and safety for the Chicago Teachers Union) warned that disrupting the general high schools of Chicago's South Side would lead to increasing gang violence and destabilization.
Most recently, Fenger teachers and their supporters issued the same warning when Arne Duncan announced that he wanted to subject Fenger to "turnaround."
Duncan left Chicago to become U.S. Secretary of Education in January 2009.
Huberman ignored Fenger staff and community warnings, did not even attend school closing hearings in January and February 2009
The new Chief Executive Officer of the Chicago Public Schools, Ron Huberman, did not attend any of the hearings on the proposed closings and other "turnarounds" in January and February 2009. Nor did he read the dramatic testimony in the transcripts which were available to CPS executives and Board of Education members on February 25, 2009, when the Board voted on Huberman's recommendation to subject Christian Fenger High School to "turnaround."
Since he became U.S. Secretary of Education in January 2009,
Arne Duncan has begun pushing so-called "turnaround" as a model for the USA, based on what is claimed to be the success of the program in Chicago.
President Barack Obama has also endorsed "turnaround," singling out one corporate group in Chicago, the "Academy for Urban School Leadership" (AUSL), as a national model for turnaround and a supposed national source for "turnaround specialists." At the time of the murder of Derrion Albert on 111th St. in Chicago, Obama had announced that one of the AUSL "turnaround" teachers was going to Copenhagen to help promote the Olympic bid for Chicago. Substance reported the Fenger hearing extensively in February and March 2009.
The Fenger chaos was predicated by students, teachers and community leaders at that time, and ignored by the Board of Education when it voted at its February 25, 2009 meeting to subject Fenger to "turnaround". At the time, not one member of the school board had read the dramatic transcript of the Fenger hearings.
The Board members relied on the recommendation of the "hearing officer," Respicio Vazquez, who was exposed in Substance as having a massive conflict of interest. Despite the fact that he told the hearings he was "independent" of the Board, he is in fact a partner in the Franczek law firm. The Franczek firm received the largest amount of outside legal work from the Chicago Board of Education between 2002 and 2009, amounting to several million dollars.
Recently, Arne Duncan hired one of the Franczek partners (Charlie Rose) to work as general counsel for the U.S. Department of Education. Despite these conflicts, the Board of Education voted to destroy Fenger High School, the teachers were fired in June and July 2009, and the history since September 8, 2009, is now a matter of record.
The Substance Fenger reports can be found in "back issues," especially Kristine Mayle's story at http://www.substancenews. net/articles.php?page=636. The Substancenews search function works very well at locating stories on particular Chicago schools. 
Final edited version of this article posted at www.substancenews.net September 29, 2009, 7:00 p.m. CDT. It was updated on October 1, 2009, at 8:00 a.m. If you choose to reproduce this article in whole or in part, or any of the graphical material included with it, please give full credit to SubstanceNews as follows: Copyright © 2009 Substance, Inc., www.substancenews.net. Please provide Substance with a copy of any reproductions of this material and we will let you know our terms — or you can take out a subscription to Substance (see red button to the right) and make a donation. We are asking all of our readers to either subscribe to the print edition of Substance (a bargain at $16 per year) or make a donation. Both options are available on the right side of our Home Page. For further information, feel free to call us at our office at 773-725-7502.