CTU Propaganda Chief tries to censor Substance
George N. Schmidt - October 01, 2009
After refusing to answer any questions from Substance, the leaders of the Chicago Teachers Union now seem to think that they can censor Substance reporters. On September 30, 2009, CTU propaganda chief Rose Maria Genova sent an amazing e-mail to me (as editor of Substance). The e-mail is printed below, but first some background.
For the past six years, Marilyn Stewart, President of the Chicago Teachers Union, has refused to talk with Substance or answer any questions from Substance.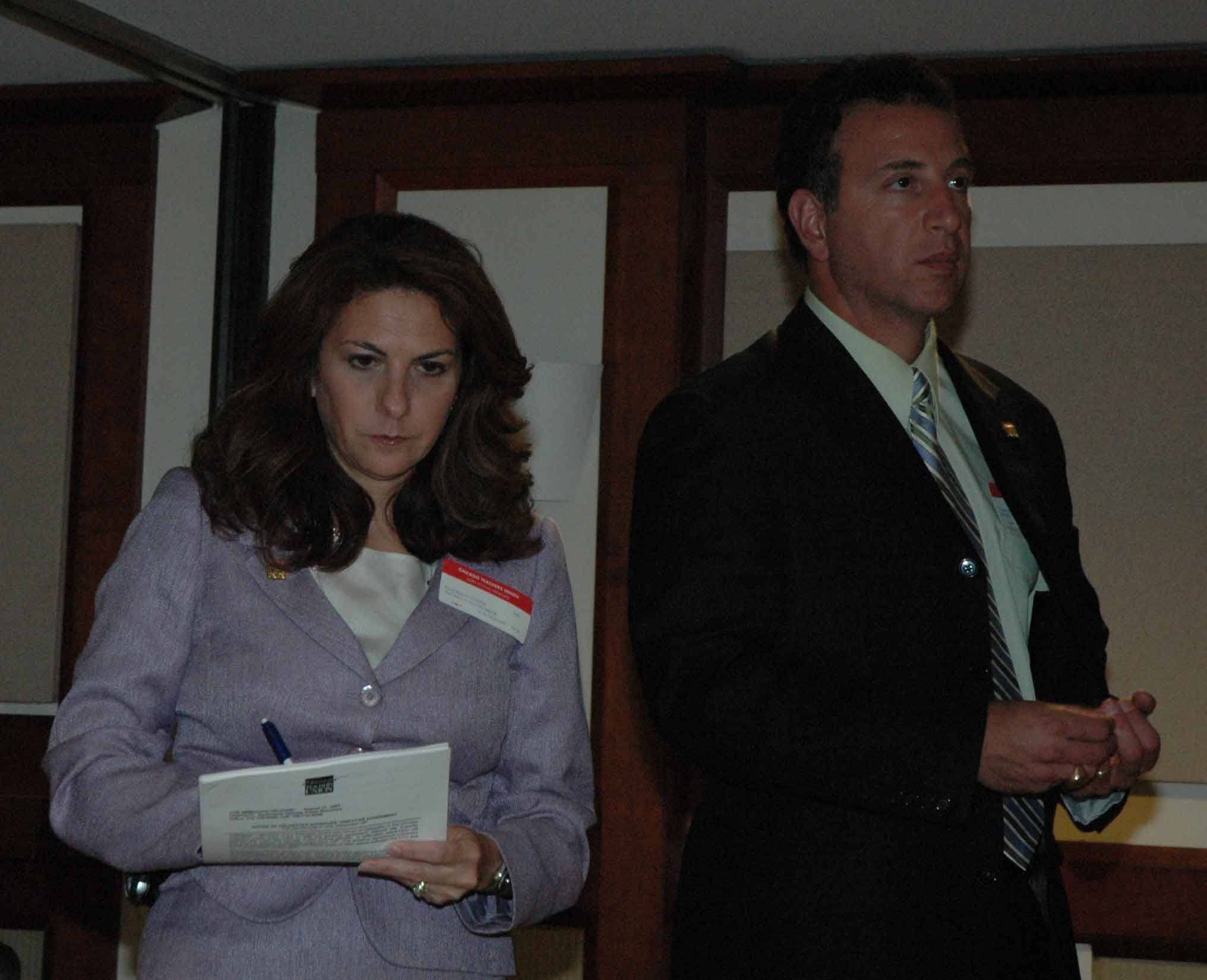 Chicago Teachers Union publicist Rose Maria Genova (above left) has gone from ignoring questions from Substance to demanding that Substance allow our reporters to be censored by the CTU bureaucracy. Genova has been lying for Marilyn Stewart since Stewart took office in August 2004, and the photograph above shows one of the more dramatic examples. The photograph above was taken at the CTU "Press Conference" hastily called on the evening of August 31, 2007, following the quick adjournment of the Friday night meeting of the CTU House of Delegates meeting, which had been debating the proposed 2007 - 2011 contract that Marilyn Stewart had negotiated. Genova in the above photograph is holding a CTU press release that announced the delegates had voted to approve the contract recommended by Stewart and her team. Actually, the delegates had done no such thing. A few minutes before the scene above, Marilyn Stewart had refused to allow the "No" votes to be called and counted during a heated House meeting which she adjourned before the controversial contract had even been discussed in full. Genova had printed up the press release announcing the "YES" vote before any vote had been taken, and at the time she was distributing it a loud demonstration was taking place outside the press conference room because of the refusal of Stewart to call for the "No" votes. A few minutes after the photograph above was taken, reporters left Marilyn Stewart behind and covered the real story of the night: the irate delegates who had opposed the contract and who had not been allowed to vote "No." Substance caption and photograph by George N. Schmidt.From August 2004 until May 2008, Stewart claimed that the reason she couldn't talk with Substance was that I had sued the union for breach of contract when Stewart fired me from my job as Director of School Security and Safety at CTU when she took office in August 2004. After I won my lawsuit for unlawful termination — and received a check for $160,000 signed by Stewart for back pay and interest — I continued to periodically send Stewart questions, either directly or through her "publicist", a women with no union experience named Rose Maria Genova. During that time, the CTU spent more than a quarter million dollars on lawyers defending Marilyn Stewart against unlawful termination lawsuits filed by her own employees, myself and six others. All of us won our cases, with mine being the most expensive to the union because Stewart and her aides had vowed they would never settle with me. As a result of their four-year stall, CTU not only had to pay all back pay, but they were also assessed $24,000 in statutory interest.
So by June 2008, the excuse that the union was in litigation with me had ended. But that didn't end the CTU stall against Substance. Marilyn Stewart has not answered one question raised by Substance since she first took office in August 2004. Now, after four months of ignoring several important questions I had asked, Ms. Genova has communicated with Substance. I'll share verbatim an e-mail sent to me on September 30, 2009: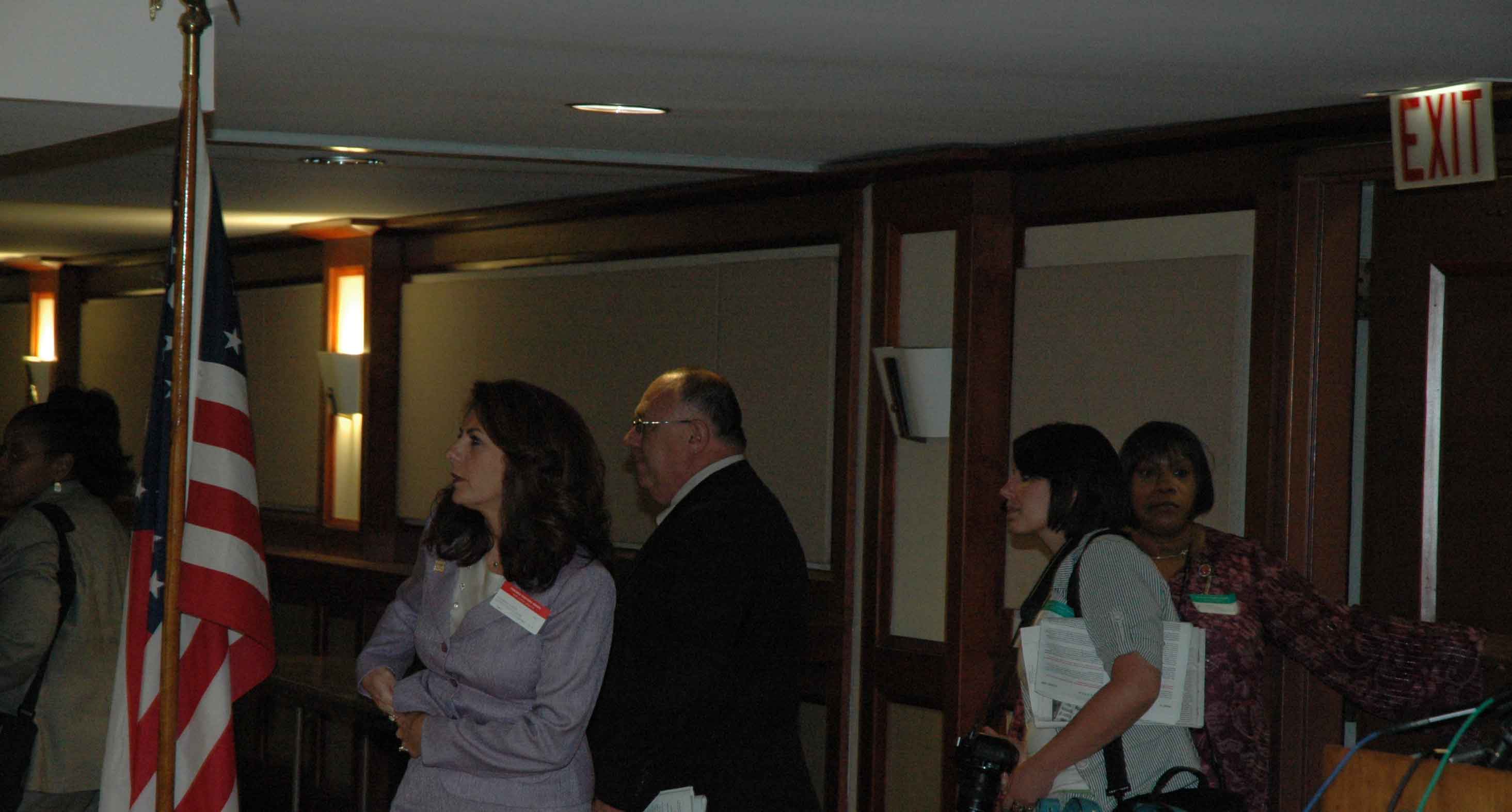 As more than a dozen reporters leave the press conference being held by Marilyn Stewart on August 31, 2007, because of the protest by delegates who had not been allowed to cast a vote against Stewart's contract proposals, a group of Stewart's most interesting employees watched. Left to right (above): Traci Cobb Evans, CTU legislative director; Rose Maria Genova, CTU 'publicist'; John Ostenberg, CTU 'Chief of Staff''; and Jenny Celander, who does most of the work on the union's newspaper, the Chicago Union Teacher. One of the four above scabbed on a CTU strike, and the other three were never union members until Marilyn Stewart gave them more power in CTU than any delegate has. Substance photo by George N. Schmidt.George, I understand that one of your employees Jim Vail did an "unauthorized"
interview with a member of CTU's staff. The protocol has been for the
past five years and continues to be that all media calls come through my
office. Please be advised that your employee did not identify himself as a
member of the media and did not indicate that his discussion with Dr.
Connee Fitch-Blanks was an interview. She thought she was responding to
questions from a CPS delegate.
Therefore, none of Dr. Connee's comments or discussion may be used in
any way within your publication. If you have any questions regarding
this, please let me know and I will put you in touch with our legal
department.
Thank you for your cooperation in this matter. Rosemaria Genova
Rosemaria Genova, Press Secretary
Chicago Teachers Union
222 Merchandise Mart Plaza, Suite 400
Chicago, Illinois 60654-1016
Phone: 312-329-6250
Cell: 708-712-4629
Fax: 312-329-2550
E-mail: rosemariagenova@ctulocal1.com
Just to put the most recent Genova e-mail into the context of current events, Genova send me an e-mail as a "Reply" to an e-mail I had sent to her four months ago. After watching what had been taking place inside the House of Delegates following my election as CTU retiree delegate in January 2009, I wrote to Ms. Genova with a question -- both as a reporter and as a member of the union. She did not reply, but here is the question, more relevant now than it was back in June when I first wrote it:
CTU publicist Rose Maria Genova has refused to answer questions from Substance for more than six years. One recent group of questions (see article) asked for the specific authorization by means of which Marilyn Stewart has hired off-duty Chicago police officer to patrol the meeting of the Chicago Teachers Union House of Delegates and intimidate delegates from the schools on Stewart's orders. Since the questions were first asked by e-mail in June 2009, Genova has ignored them. Above, Genova tries to avoid questions from Substance editor George N. Schmidt outside a meeting of the Chicago City Council in 2007. Substance photo.
-----Original Message-----
From: Gnschmidt@aol.com [mailto:Gnschmidt@aol.com] Sent: Sunday, June 07, 2009 5:27 PM
To: Genova, Rosemaria
Subject: Questions
6/7/09
Rose Maria:
It was good to hear from you here. We will be working on a large number of stories during the next eight
weeks as SubsanceNews expands.
One that I am facing a deadline for right now involves the four
individuals who for some reason circulate during House of Delegate meetings without identifying themselves but pose as "security" when incidents are
provoked by the chair during the meetings. As you know, I served in the House for
the better part of 25 years (1974-1999) and was also at every House meeting
when I worked for the union (2001-2004). At no time -- no time -- did CTU ever
have unauthorized individuals on the floor of the House, especially
individuals who were apparently deputized to function in some capacity as
"security."
We have questions for an article on CTU operations we are preparing for publication on the Web and in print (Web deadline, June 8; print, June
10).
Above, one of at least three off-duty Chicago police officers who have been hired to intimidate and harass delegates inside the Chicago Teachers Union House of Delegates meetings since 2005. The above photo was taken at Plumbers Hall following the attempt by Marilyn Stewart to arrest former CTU President Deborah Lynch during the June 2005 House of Delegates meeting. Despite repeated requests from delegates and Substance, Stewart has refused to identify these individuals, who wear a name tag without a name on it that simply says (as above) "Security." During the June 2009 House of Delegates meeting, large numbers of delegates refused to allow the above individual and his colleagues to intimidate delegates who disagreed with Stewart during heated debates. The practice of placing plain clothes police officers inside CTU meetings is unprecedented, one of the many innovations of the Marilyn Stewart regime. Substance caption and photo by George N. Schmidt.1. How many individuals does CTU employe as "security" during CTU House
of Delegates meetings?
2. What are the names of those individuals?
3. Are those individuals Chicago police offiers? (If not, what is their basis for working as "security" at CTU?)
4. How much are these individuals paid? By whose authorization?
5. Where on the CTU Website or in other documents of the union was this unprecedented action proposed, voted on, authorized, or otherwise
legitimized?
George N. Schmidt
Editor, Substance
To date, CTU has not informed us at Substance, the delegates, or the members how many Chicago police officers are now lurking inside the House of Delegates meetings, how much they are paid, or how long they have been lurking. For the record, we're publishing a couple of pictures of them here so that the rest of our readers can share, too. 
Final edited version of this article posted at www.substancenews.net October 2, 2009, 7:00 a.m. CDT. If you choose to reproduce this article in whole or in part, or any of the graphical material included with it, please give full credit to SubstanceNews as follows: Copyright © 2009 Substance, Inc., www.substancenews.net. Please provide Substance with a copy of any reproductions of this material and we will let you know our terms — or you can take out a subscription to Substance (see red button to the right) and make a donation. We are asking all of our readers to either subscribe to the print edition of Substance (a bargain at $16 per year) or make a donation. Both options are available on the right side of our Home Page. For further information, feel free to call us at our office at 773-725-7502
.