Were CPS derivative deals through Lehman Brothers illegal under Illinois law and Chicago Board of Education policy? It certainly looks that way!
John Kugler - September 01, 2009
The recent revelation in the U.S. Bankruptcy Court (Southern District New York, August 27, 2009) that officials of the Chicago Board of Education had invested Chicago Public Schools funds in speculative derivatives through one of the many parts of the now-bankrupt Lehman Brothers investment bank not only raises questions about how much money CPS lost from its investments over the past six years (since the trading began, according to the court filing, in 2003), but which CPS officials from former Chief Executive Officer Arne Duncan on down were involved in the decisions.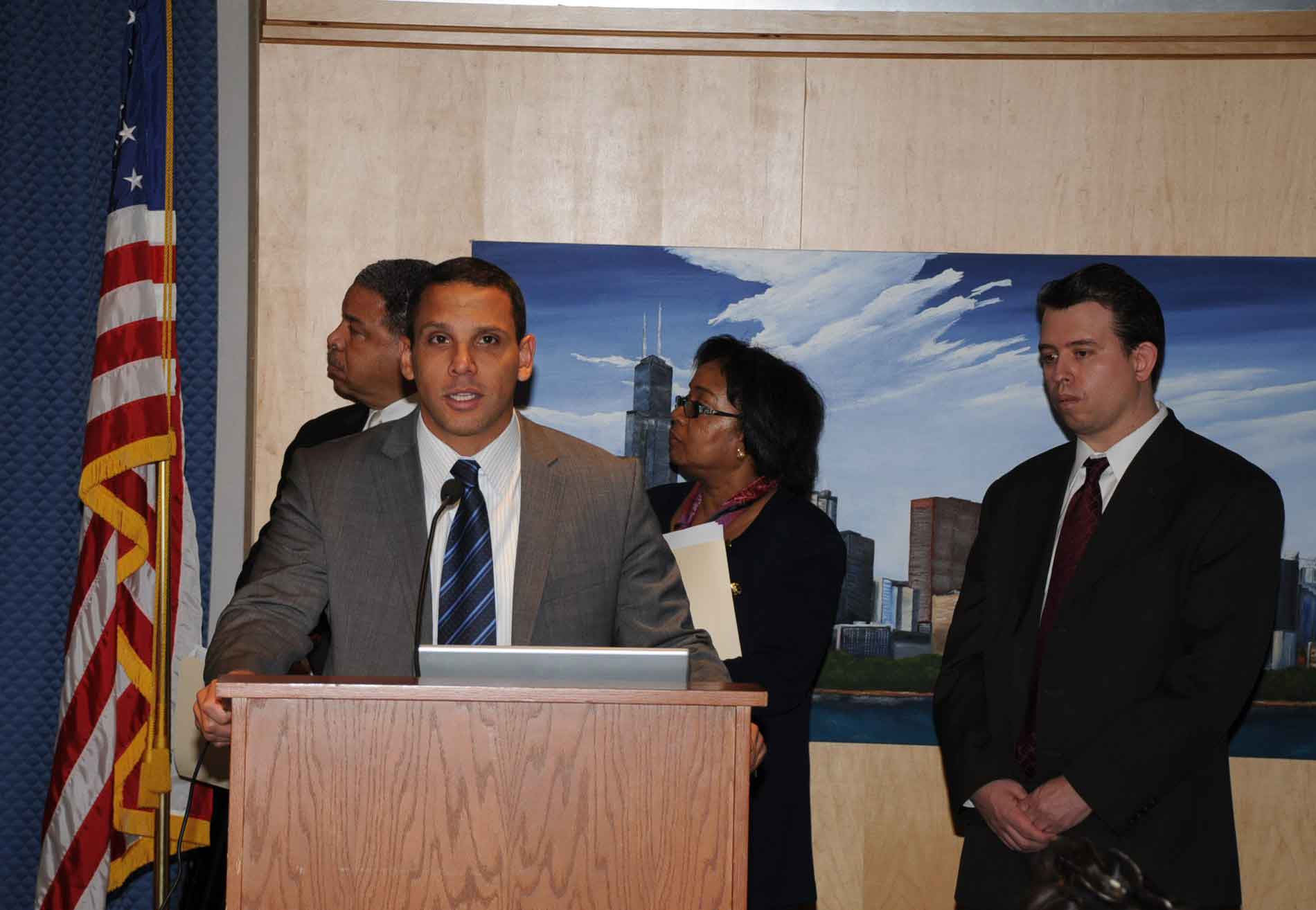 The May 11, 2009, press conference at Chicago Public Schools headquarters at 125 S. Clark St. repeated the claim that CPS had been facing a 'deficit' of $475 million and the charge by CEO Ron Huberman (above at podium) that the 'deficit' was largely caused by the school system's obligations to teacher pensions. At the time those claims were being made by Huberman the the Board's executive staff, Huberman, top financial officials of CPS, and the members of the Board of Education were under a legal obligation not to invest Board funds in derivatives, collateralized debt obligations, and other speculative instruments. Substance is trying to determine who knew what about the Board's risky investments, and when. On August 26, 2009, Huberman appointed the former Chief Financial Officer of CPS (Pedro Martinez, above right) to head one of the school system's area offices, despite the fact that Martinez has no experience, training, or certification in education or educational administration. Also in the photo above are Board President Michael Scott (far left, behind Huberman) and "Chief Education Officer" Barbara Eason-Watkins (between Huberman and Martinez). Substance photo by George N. Schmidt. At least one Board of Education policy and one Illinois State law seem to have been violated when the Board of Education of the City of Chicago was doing business with one of the subsidiaries of the Lehman Brothers investment bank and knowingly allowing those investments to be in derivatives.
The reason?
It has apparently been against both Illinois law and Chicago Board of Education policy to do what CPS did.
According to the CHICAGO PUBLIC SCHOOLS INVESTMENT POLICY, Section: 403.1, Board Report: 08-0827-PO1 Date Adopted:, August 27, 2008 http://policy.cps.k12.il.us/documents/403.1.pdf
"XVIII. Prohibited Transactions − Collateralized Mortgage Obligations Investments whose returns are linked to or derived from the performance of some underlying asset or index such as bonds, currencies or commodities. Examples of this are range notes, inverse floaters or any other kind of embedded option IOs, POs, CMO Residuals, Z-Tranche CMOs, and other derivatives that are speculative in nature are prohibited. The use of instruments that would cause the portfolios to be in any way leveraged is also strictly prohibited. Treasury or agency securities that have a call option are not included in this prohibition...."
Illinois law also prohibits the kind of investments the court filing has revealed was being made by officials of the Chicago Board of Education because the Board was required to put its money in banks that met certain public service criteria. There is no evidence the New York and London based Lehman Brothers during the years 2003 - 2008 (when it declared bankruptcy) fulfilled these requirements under Illinois law. According to (30 ILCS 235/) Public Funds Investment Act. (30 ILCS 235/2.5). Sec. 2.5. Investment policy.
(10) a policy establishing at least quarterly written reports of investment activities by the public
agency's chief financial officer for submission to the governing body and chief executive officer of the public agency. The reports shall include information regarding securities in the portfolio by class or type, book value, income earned, and market value as of the report date;
(30 ILCS 235/) Public Funds Investment Act. (30 ILCS 235/8) Sec. 8. Consideration of financial institution's commitment to its community.
(a) In addition to any other requirements of this Act, a public agency is authorized to consider the financial institution's record and current level of financial commitment to its local community when deciding whether to deposit public funds in that financial institution. The public agency may consider factors including, but not necessarily limited to: (1) for financial institutions subject to the federal Community Reinvestment Act of 1977, the current and historical ratings that the financial institution has received, to the extent that those ratings are publicly available, under the federal Community Reinvestment Act of 1977;
(2) any changes in ownership, management, policies, or practices of the financial institution that may affect the level of the financial institution's commitment to its community;
(3) the financial impact that the withdrawal or denial of deposits of public funds might have on the financial institution;
(4) the financial impact to the public agency as a result of withdrawing public funds or refusing to deposit additional public funds in the financial institution; and
(5) any additional burden on the resources of the public agency that might result from ceasing to maintain deposits of public funds at the financial institution under consideration.
Much of the information that should have been public information about these investments and other financial activities during the years since Mayor Richard M. Daley took control over Chicago's public schools in 1995 has been kept from the public. As previously reported at www.substancenews.net, the Chicago Board of Education has voted every six months to keep the minutes from its executive sessions secret from the public. The most recent vote, on a motion by Board member Tariq Butt, took place at the July 2009 meeting of the Chicago Board of Education. It was a motion to keep secret all of the minutes of the Board's executive session from July 1, 1995 through June 30, 2009 (the years since the Daley takeover). Substance will attempt to gather some of the information pertaining to the Board's investment losses and the Board's policy on the secrecy of its meetings in the coming weeks. 