EXTRA! Deregulation at 'CAO' level lets convicted frauds run Chicago areas... Huberman appoints convicted fraudster to new 'AO' position
John Kugler - August 26, 2009
A preliminary review of the new executives of the Chicago Public Schools being appointed at the Chicago Board of Education's August 26, 2009, meeting shows that at least one of them has admitted to criminal fraud (in two other states) and others are being brought into CPS with no experience, training, or certification to lead public school systems in Illinois.
News reports from Ohio and Kentucky show that Jon Reinhard, who is being proposed today to become "Chief Area Officer" (CAO) of "Area 25" in Chicago's public schools, a job that will pay more than $150,000 per year by the end of the 2009-2010 school year, admitted on two occasions that he had deliberately double billed for expenses while he was working in Ohio and Kentucky. CPS publicity announcing CEO Ron Huberman's intention to appoint Reinhard at the August 26 meeting only states that Reinhard "was most recently the National Director of the Academy of Engineering for the National Academy Foundation in New York..."
Rinhard could not be reached for comment. CPS spokesman Monique Bond requires that all questions to CEO Ron Huberman be put in e-mail form and does not return phone calls (that is, when her phone is being answered). Reinard is one of several outsiders who are replacing veteran educators who once served in top positions in the Chicago Public Schools under the reorganization being conducted by CEO Ron Huberman, who took office in January 2009 following the departure of former CEO Arne Duncan for the job of U.S. Secretary of Education. In offering the public its listing of the new "Chief Area Officers" (CAOs) who are to be approved by the Chicago Board of Education at its August 26, 2009, meeting, Chicago Schools Chief Executive Officer Ron Huberman said in a prepared press statement: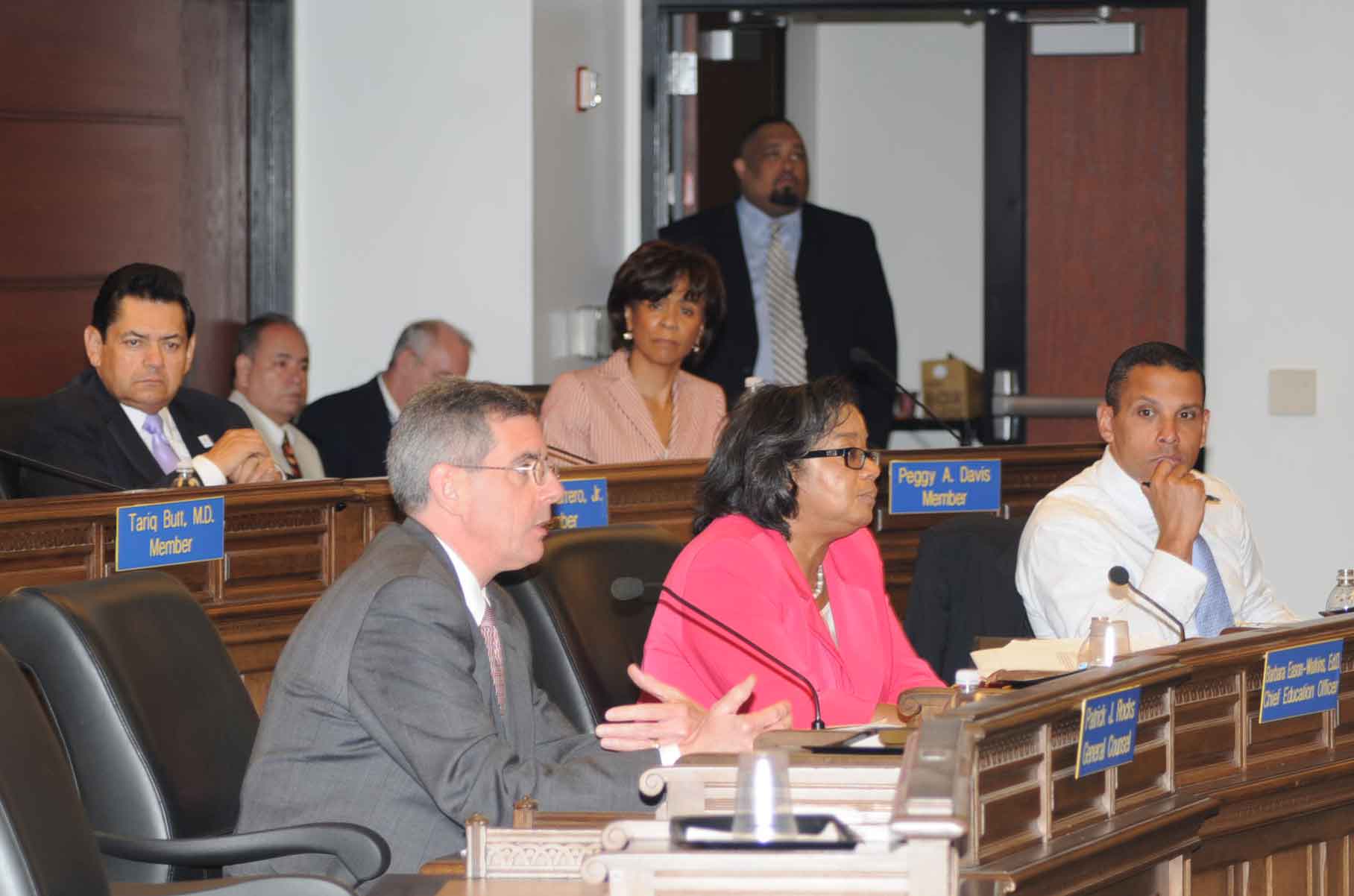 Since Chicago Public Schools Chief Executive Officer Ron Huberman (above right) took over the school system from Arne Duncan in January 2009, he has expanded the system's bureaucracy to an unprecedented level, appointing people with no qualifications or experience in education to a growing number of top CPS jobs. Above, Huberman and others at the July 22, 2009 meeting of the Chicago Board of Education. Left to right (front): Attorney Patrick Rocks; "Chief Education Officer" Barbara Eason Watkins; "Chief Executive Officer" Ron Huberman. in the back row are two Board of Education members, Alberto Carrero (hands folded) and Peggy Davis (staring at the Substance camera). Davis and Carrero are fundamentalist "free market" corporate executives who rubber stamp all matters brought before the Board by Huberman. Substance photo by George N. Schmidt. "We conducted a nationwide search for effective leaders, receiving over 500 applications and interviewing 60 candidates. The new CAOs will be a strong mix of new talent, former AIOs, former principals, and Central Office leaders. I am confident that with their leadership we will continue to improve student outcomes and the educational opportunities for Chicago children..."
Apparently, that search did not include checking whether the candidates (who no longer have to have any teaching experience or supervisory Type 75 certification to run 'data driven' meetings with Chicago public school principals) had ever stolen money from public school systems.
While Huberman was purging the ranks of men and women who had taught for decades in Chicago classrooms, then served as assistant principals, principals, and finally Area Instruction Officers", he was refusing to ask even the most basic questions about those he was appointing. The reason why Huberman wants to create the newly entitled "Chief Area Officers" (CAOs) to replace the "Area Instructional Officers" (AIOs) is that the new AIOs do not have to be trained and certified educators, principals or teachers. Deregulation has gone further than ever in Chicago as the Huberman administration unfolds.
One of those on the list released by CPS on August 25 for the position of AO is a guy named Jon Reinhard. A quick check shows some interesting things in the record of at least one "Jon Reinhard" active in education. Is this is the same person now nominated to be CAO?
According to the CPS media advisory about the area officers: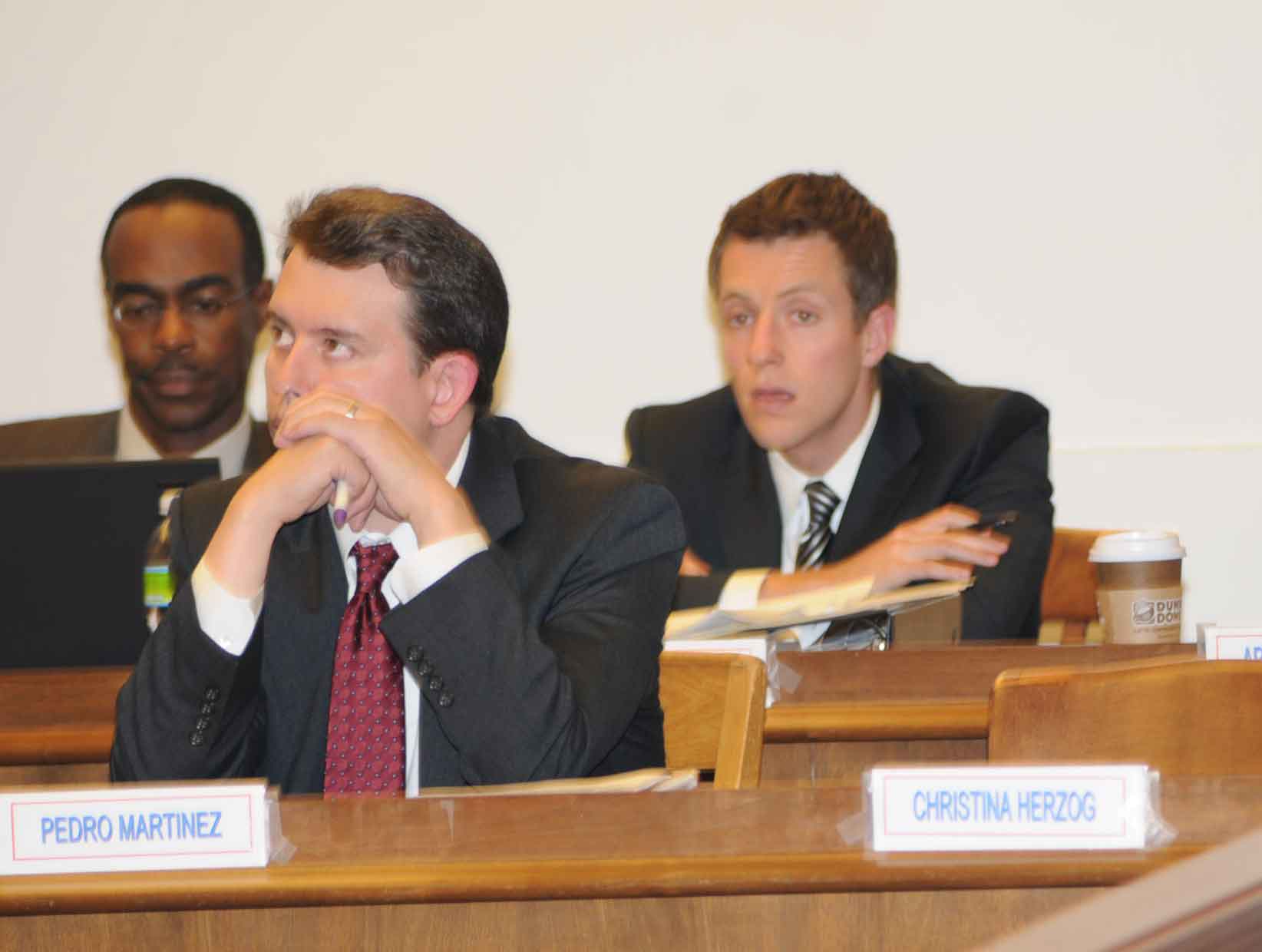 Above (center), Pedro Martinez served as the Board of Education's "Chief Financial Officer" until August 2009. Schools CEO Ron Huberman is expected to appoint Martinez, who has no educational experience, teaching credentials, or Illinois Type 75 administrative credentials to be one of the new "Area Officers" at the Board of Education's August 26, 2009 meeting. Substance photo by George N. Schmidt."Area 25:... Jon Reinhard was most recently the National Director of the Academy of Engineering for the National Academy Foundation in New York, where he designed and implemented a national STEM program to increase the representation of women and minorities in science programs. In addition to 10 years of experience as a principal and assistant principal in Ohio, and 7 years of experience as a teacher, Jon has worked internationally as an educational consultant. Jon has received Doctorate, Master's, and Bachelor's Degrees in Education from the University of Cincinnati..."
Some further searching shows a picture from the 2000 article where the charges were admitted and certification was stripped from him. It's the same person being hired by CPS, younger. There is also a picture of him at Solution Tree consulting. According to press reperts in Kentucky and Ohio, the man at least twice was kicked out of public education jobs because he tried to defraud the school districts for whom he was working.
Ex-school official denied in Ky... Double-billing on his record
http://www.enquirer.com/editions/2000/05/10/loc_ex-school_official2.html
Cincinnati Enquirer, Wednesday, May 10, 2000
By Sheila McLaughlin (The Cincinnati Enquirer)
MASON — A former school board member with a history of double-billing Tristate school districts lost his chance to become a Kentucky high school principal Tuesday after state officials denied him a teaching license.
A local decision-making council at Franklin County High School in Frankfort, Ky., will officially decide Jon Reinhard's fate at a meeting tonight.
But a spokesman for the district indicated the council didn't have much choice.
"As far as (the superintendent) is concerned, he has not met the requirements of the contract," district spokesman Wayne Dominick said. "He has to have a clean criminal records check. The job was contingent on him getting certified."
School officials said last month they were unaware of Mr. Reinhard's conviction on a misdemeanor theft charge in September in Warren County when they offered him the job.
Allison Weber, an attorney for the 17-member independent Kentucky Education Professional Standards Board, declined to comment on why the board refused to certify Mr. Reinhard, saying the proceedings were closed to the public.
The board reviews cases if an applicant indicates they have a criminal history or other incidents involving schools or children.
"He filled out the form correctly. He accompanied it with a letter of explanation as we ask them to," Ms. Weber said.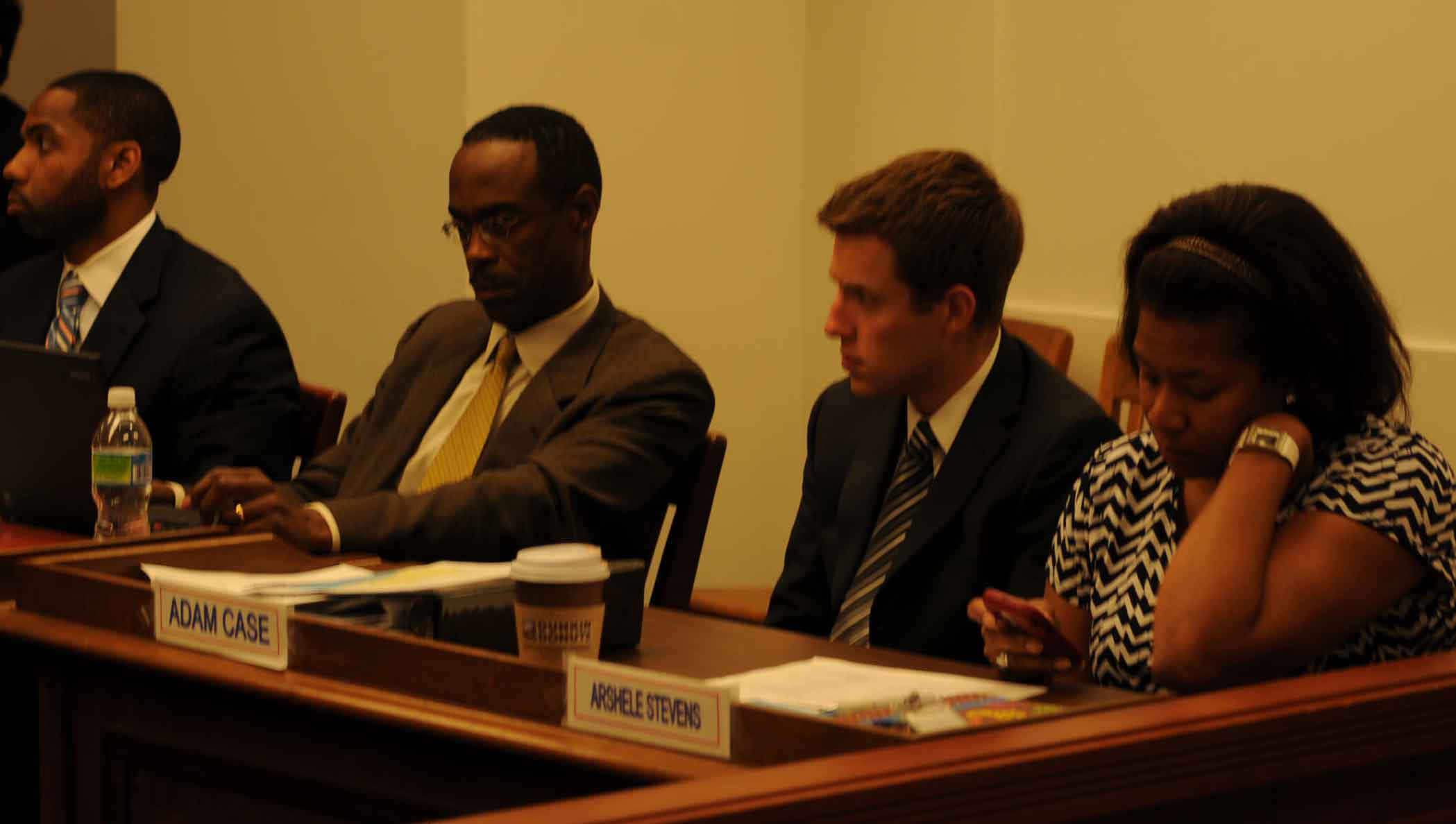 By the time of the July 22, 2009, meeting of the Chicago Board of Education, CEO Ron Huberman had almost completed his purge of the system's top executive ranks and the replacement of the remaining experienced teachers and principals with novices from outside the system whose qualifications included subservient loyalty to Huberman and Huberman's boss, Chicago Mayor Richard M. Daley. Almost all of the executive appointments made by Huberman prior to the August 2009 meeting of the Board (scheduled to take place on August 26, 2009) were to people whose primary qualification was a pledge of loyalty to Huberman and Daley. Most had no educational training, experience, or certification and would not be allowed to work as substitute teachers in any school districts in Illinois. Above, four of the Huberman appointees at the July 2009 Board meeting (left to right): Sean Harden (Chief Officer, Community Relations); Robert Runcie (Chief of Staff); Adam Case (Chief of Staff); and Arshelle Stevens (Chief Technology Officer). CPS has continued to refuse to provide information about the work histories, curriculum vitaes, or education and training of its top executives, despite repeated requests under the Illinois Freedom of Information Act. Substance photo by George N. Schmidt. All but one board member, who recused himself, voted to deny a teaching certificate, Ms. Weber said. Mr. Reinhard has 30 days to appeal the decision.
Mr. Reinhard, 38, was placed on probation for two years in Warren County and forced to resign from the Mason school board after pleading to a misdemeanor theft charge for double-billing the district $378.78 in travel expenses for the Ohio School-to-Work program.
A month earlier, Clermont Northeastern school officials forced Mr. Reinhard to resign for double-billing $3,000 in travel expenses for the same program.
Mr. Reinhard could not be reached Tuesday. However, he told the Enquirer earlier that he did nothing criminal and attributed both double-billing incidents to sloppy bookkeeping.
The Ohio Department of Education is now investigating Mr. Reinhard to determine whether any disciplinary action should be taken against his Ohio teaching certificate.
The strange career of Jon Reinerd has actually been reported widely. A simple background check by Ron Huberman and his supposedly "data driven" management team would have raised questions about whether Chicago should be paying Reinerd more than $150,000 per year and giving him the power to bully principals across a large portion of the city. Ten years ago, the Cincinnati Enquirer reported:
Wednesday, October 13, 1999
Former school official sentenced... Theft charge yields probation, fine
http://www.enquirer.com/editions/2000/05/10/loc_ex-school_official2.html
BY SHEILA McLAUGHLIN (The Cincinnati Enquirer)
LEBANON — Accused of stealing, Jon Reinhard lost a respectable job as school principal in Clermont County and a 10-year seat on the Mason school board.
That was enough punishment, a Warren County judge said Tuesday when Mr. Reinhard was sentenced on a theft charge for double-billing the Mason district $376.78 in travel expenses last year.
Instead of six months in jail, Mr. Reinhard will spend the next two years on probation.
"It is the court's opinion that those impacts on career and reputation are sufficient ... any jail term would be redundant," said Judge Neal Bronson, of common pleas court.
He suspended a six-month jail sentence and $750 of a $1,000 fine, ordering Mr. Reinhard to pay $250.
After standing silently before the judge, Mr. Reinhard declined comment as he left the courtroom.
"I've said all I've got to say," Mr. Reinhard said.
The 38-year-old Mason resident has maintained his innocence, saying the double-billing was a bookkeeping error. Even so, he admitted guilt to a misdemeanor charge of theft in a plea agreement that also forced him to resign from the Mason school board.
Mr. Reinhard told The Cincinnati Enquirer last month that the guilty plea was a legal maneuver so he would not have to give up his teaching career.
Prosecutors had threatened to seek a more serious charge of theft in office against Mr. Reinhard. A conviction could have sent him to prison for up to a year and would have barred him from teaching in Ohio and from holding public office.
Mr. Reinhard's legal woes in Warren County began in August after a forced resignation from Clermont Northeastern High School, where he was principal for two years.
There he was accused of double-billing the district $3,000 for travel expenses. School officials decided not to pursue criminal charges if he quit.
In Warren County, prosecutors said he submitted expenses and was reimbursed for a business trip to San Antonio, including meals, in December. He received reimbursement from both the Ohio School-To-Work program and the Mason district. 
Final edited version of this article posted at www.substancenews.net August 26, 2009, 4:00 a.m. CDT. If you choose to reproduce this article in whole or in part, or any of the graphical material included with it, please give full credit to SubstanceNews as follows: Copyright © 2009 Substance, Inc., www.substancenews.net. Please provide Substance with a copy of any reproductions of this material and we will let you know our terms — or you can take out a subscription to Substance (see red button to the right) and make a donation. Materials copyrighted by other news organizations and published in whole or in part as part of this article should be attributed to those news organizations in full. We are asking all of our readers to either subscribe to the print edition of Substance (a bargain at $16 per year) or make a donation. Both options are available on the right side of our Home Page. For further information, feel free to call us at our office at 773-725-7502.