Teacher Profile: George Cummins, Bowen High School Chicago
Maribel Quezada, Bowen High School, Class of 1990 - August 16, 2009
[Editor's Note: With all the teacher bashing passing as policy in the USA and Chicago today, we were recently reminded of how much we have to defend as we continue this work. With this issue of Substance, we will be initiating a regular profiling of teachers by former students. We don't know where this feature will go, but in the face of all the lies currently being promulgated in Chicago and elsewhere in the name of "school reform" we were glad to hear, nearly 20 years after his impact became clear, the our old friend George Cummins, who devoted much of his life to teaching the students at Bowne High School in Chicago, was still remembered. If you have other suggestions for this feature, contact us at Csubstance @ aol.com. George N. Schmidt, Editor, August 16, 2009].
Memories of Mr. George Cummins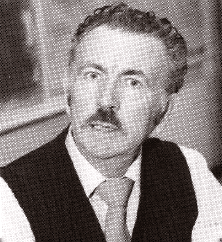 Bowen High School English teacher George Cummins in the early 1990s. Photo courtesy Bowen High School yearbook.Mr. George Cummins was my Division teacher for three years at Bowen High School in Chicago. During those twenty minutes after Second Period, he primarily did what other teachers: took attendance. There was little time for much else, really.
I'd heard stories about Mr. Cummins as a teacher long before I ever stepped foot in his classroom during my senior year at Bowen High School. I'm the youngest of six children, most of whom took his A.P. English class, so I had preconceived notions about what was to come.
My older sister Rosa, two years my senior, warned me about his 'quirkiness.' I thought to myself, 'How bad can it be?' Prior to Day 1, my curiosity was already piqued. The first day of class, Mr. Cummins explained that he organized each student's desk so he was able to see everyone's face from a seated position at his own desk at the front of the room. This appeared rather odd to me, because it clearly had taken a lot of thought, but especially because most teachers spend their time at the chalkboard talking 'at' students. That isn't to say that he never got up from his desk, but the point is that he never really needed to.
His was certainly the quietest and most respectful class I ever had the privilege to sit in. Despite the fact that the school was located in a dodgy neighborhood, he never talked down to his students. Other than his Irish ancestry, I never knew much about Mr. Cummins' background. I believe that something in his past made him empathetic toward his mainly Latino and African-American students. His aim was never to make anyone feel inadequate and less intelligent; he wanted to improve his students' grasp of the English language, which he understood is at the heart of successful communication.
Mr. Cummins regularly used a few phrases that I recall and use as reminders to this day. My favorite phrase related to writing style. While he encouraged us to write creatively, he instructed us to, 'Be terse. Take out the extra words, the fluff.' In my corporate communications role, I often remind myself to abbreviate my sentences and, 'Get to the point.'
I've also never been in a classroom where a teacher required their students to read approximately one book per week for the duration of the course. Obviously, we weren't asked to read War and Peace lengths, but each book was approximately 100-150 pages long, which is more than most students read on average at this age. I've also never met an instructor who picked one sentence out of each book and had students 'fill in the blank' during weekly exams. Nowadays, when I describe those events to my friends and co-workers, most of can't believe Mr. Cummins went to such lengths to ensure we actually read and comprehended our reading materials. Truth be told, I've never taken such detailed notes or acquired such a high level of comprehension about books the way I did during that year.
Mr. Cummins was also one of the few teachers I met who employed the Socratic method prior to my college years. And while I can visualize the other teachers, I don't recall their names. One was a history teacher: a tall, slim, soft-spoken man with steel-blue eyes (Mr. Hanley?); the other was Mr. Wilson, a Civics teacher and the coach of the Mock Trial team. Interestingly, I became enamored with Mock Trial and pursued it throughout college as both a student and later an instructor and coach.
During my final year at Bowen High School, Mr. Cummins asked me to join the Academic Olympics in the Essay category, which was a citywide creative writing competition. Admittedly, I'm not very good at creative writing; adjectives and verbs are not my friends. I knew what the judges were looking for because Mr. Cummins coached me on strategy: 'Write the sentences and get to the point. Then go back and add colorful words, sparingly but appropriately.' Thanks to Mr. Cummins, I took first place in that contest. It was a day I'll never forget.
I moved to London late last September for a 23-month secondment with my company. Over the last year, I've visited Dublin three times. And while I understand that Mr. Cummins was from Cork, I often wonder whether my travels to Ireland would amuse him.
My role while in London is primarily that of a communications professional, which I think Mr. Cummins [and Mr. Bernard Rosenstein, one of my English teachers and the man responsible for publishing Bowen Arrow, the school newspaper I wrote for during my senior year] would appreciate. Each time I'm inclined to write a long-winded sentence in a newsletter, e-mail or on a website, I think of Mr. Cummins and go back and edit my words. The irony of having an American as the voice of one of the most diplomatic and intelligent Britons I've had the pleasure to work, is not lost on me. I am, however, quite fond of my 'z's' and am stubbornly refusing to adopt superfluous 'u's' - at least for the time being.
Lastly, I love sports, both as a player and spectator. While in the States, I played 12" and 16" softball, flag American football, I ran, and rode my bicycle along the lakefront. While I still run, some of my beloved sports are not played in London so I've adopted mixed touch rugby and 5-a-side football (i.e., soccer) to compensate. I recall that Mr. Cummins was was fond of the soccer team at Bowen. I often wonder what he would think about my playing style if he were my coach. If he were as difficult on the pitch as in the classroom, I would undoubtedly be a stellar footballer.
I was recently informed that Mr. Cummins passed away in Cork, Ireland. My single regret is not returning to Bowen or writing to him to thank him for the guidance and inspiration, which have lasted through the years. I hope other students recognize how lucky they were to have such an incredible individual in their life. And to his family, I send condolences and mountains of gratitude.
Thank you Mr. Cummins. You will never be forgotten.
Kind regards,
Maribel Quezada
Bowen High School, Class of 1990